INEXPLICABLE OBJECT OF THE WEEK
Week of 3/26/00:
WEEK 102
AN OPEN LETTER TO AMERICA
My fellow Americans:
(note: if you are from Canada or New Zealand or some other backward Third World nation that is not populated entirely by Americans, please stop reading this and go back to being Communist bastards or whatever it is you UnAmericans do)
America has conquered the world.
We bask in the cash of history's greatest economic boom.
We live in a period of peace, unchallenged by the weaker nations, which are only filled with goddamn foreigners anyway.
But our economy is built on the play money of the stock market.
Our peace was won only by raining Tomahawk cruise missiles on every country that even looked at us funny.
And the balance of world power could change overnight.
And change for the Bad.
The Bad, The Bad!
And the Bad isn't Good!
We need leaders who can get us through the coming turmoil. We need leaders with vision. Leaders with courage. Leaders with intelligence.
As the primaries end, we look to America's two Best and Brightest, the two potential presidents who will lead us with their leading into the coming century. And we, bursting with American pride, can only say
..You're shittin' us, right?
A quarter billion Americans, and THEY'RE the best choices?!
"Jeepers, should I vote for the Robot? Or the Clone?"
NOW is the time for a REAL choice!
Because now we have formed
THE INEXPLICABLE PARTY!
The only party that dares to admit what you've felt all along:
There's something WRONG with just about EVERYTHING.

We're going to build a bridge to the 21st Century and burn it behind us!

We will prove that it takes a village to raise a child, but it takes only DOZENS of children to SMASH THAT VILLAGE TO RUBBLE!

We're Reformers with Results AND a chewy nougat center!

We're gonna ROCK THE VOTE!
With ROCKS!
Thrown at the heads of people who won't VOTE FOR US!

And we have a candidate who will change the face of American politics forever!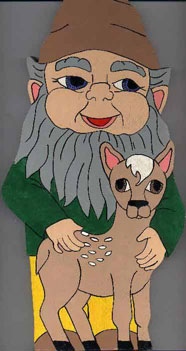 SODOMY in 2000!!
You ask, "Are you crazy?! Your presidential candidate is a deranged Bambi-banging lawn gnome?"

Darn tootin' he is! We've done many demographic and focus-group surveys, and SODOMY has all of the characteristics of the major candidates!
SODOMY IS:
...a piece of wood with a smile painted on it, giving him all the personality of Al Gore

...doing to that deer what George W Bush wants to do to all America

...a hideously deformed evil little goblin from the Realm Of Nightmare,
just like H. Ross Perot

...a thick slab of board, easily the intellectual equal of Jesse "The Gonad" Ventura

...a buggerer of defenseless woodland creatures, ranking him only slightly lower in the personal morals department than Bill Clinton

...100% as likely to get elected as any Libertarian or Green candidate
SODOMY is our man in 2000! Or gnome.

The only real question is, "How do we balance out the ticket with a good vice presidential candidate? One that will gain us votes, but also offset our weaknesses? Weaknesses like our 'Tequila for School Breakfasts' platform? Our 'Let's Raise Taxes on Everyone But Us and Give The Moolah to No One But Us' initiative? Or our 'Save Social Security for Future Generations of Us by Killing Off Everyone Older Than Us' thing that's hurting our appeal to the retired vote?
Or, for that matter, Sodomy himself?"

We in The Inexplicable Party are true believers in Democracy, and so we leave it up to YOU!

YES! YOU will elect our Vice Presidential candidate! Read through their bios, then vote at the bottom of the page. If you want to know more about the candidates, clicking on their picture will take you to their Object of the Week.

SPEEDY

Vice-Presidential-Candidate Heaven must be missing an angel, because SPEEDY'S running!
SPEEDY is HOT! And she's qualified for the vice presidency cause of her extensive experience with being HOT!
Oh, Speedy, sweet Speedy! I'm copying names off of tombstones and registering them at the DMV so I can vote for you multiple orgasms!
TIMES! Multiple TIMES, not--You know what I mean, divine Speedy!
Hey! If I'm voting for a female veep, she should be HOT! SCREW this Elizabeth Dole crap!
Umm, actually, DON'T screw her. That'd be like doing your Grandma.
KEN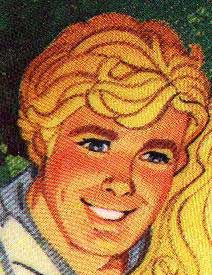 He has boyish good looks and a hollow head made of plastic--
But that didn't stop Dan Quayle, now did it?
And there won't be any Clintonesque sex scandals with Ken, given his lack of genitalia.
KEN! As politically correct as he's anatomically incorrect!
PUTZ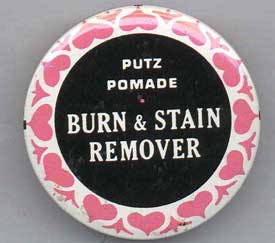 Throughout American history, almost every Vice President has been a putz.
Only The Inexplicable Party has the guts to admit it.
RAMBIMBO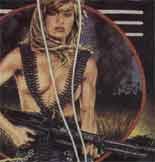 George W Bush has said:
"I will have a foreign policy with a touch of iron - driven by American values and American interests."
By who, YOU?! Wait till you meet--RAMBIMBO!
YEAH!
Finally, a veep that lets the WORLD know how America stands on foreign affair issues! With several touches of iron! Rapidly fired into their STOMACHS!!!
"You STUPID FOREIGNERS!
DO WHAT WE SAY OR ELSE! WE AMERICAN! YOU DUMB FOREIGNERS! U SHUT UP, OR WE BOMB! HOPE U LIKE STONE AGE, CUZ WE BOMB U THERE NOW! 2 STONE AGE, THAT IS!!! DAMN DUMB FOREIGNERS! WHY THEY SO MANY OF U?!?! GET OFF OUR PLANET!!! BEFORE WE BOMB YOU OFF IT! d00dZ!!"
She's also, like, this naked chick, so she'd get like 100% of the votes from guys driving trucks that have decals of Calvin pissing on something.
PIA ZADORA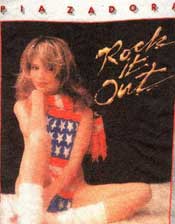 Nominated for her fine work for flag preservation, and her...
Her...
Christ.
We have no damn idea. Sodomy insisted we nominate her.
We have no idea why.

.
Though he also wants her to dress up in a woodchuck costume.
DISCO SNOOPY

The only candidate that 's done more coke than George Wiffer Bush
REAGAN'S HEAD IN A BOX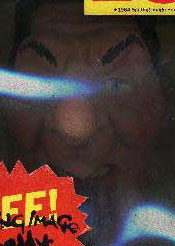 Today, the Gipper is more like the Drooler. But when George Weasel Bush and John Wayne McCain fought over who was the most "Reaganesque," we figured that his head is still just as smart decapitated today as it was attached in '80.
Why they wanted to be so closely identified with a guy who can't wipe himself without help is an enigma only the truly Republican can explain.
SAINT WHATEVER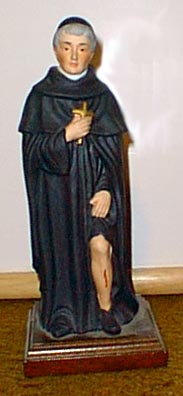 America has a clearly stated doctrine of the seperation of Church and State, so this means that all the presidential candidates have to swear to God in every other sentence. You know, we kinda question the wisdom of putting nuclear weapons in the hands of guys who think they're chosen by God, but, hey! If it works, The Inexplicable Party will co-opt this knee-jerk religious-vote reaction by enlisting the election's only actual SAINT!
(despite our not knowing his name)
He'll also have a good shot at locking up the Horrible Bleeding Leg Gash vote.
SATAN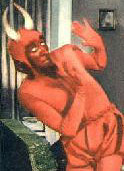 Just in case we were wrong about that religious vote thing.
CTHULHU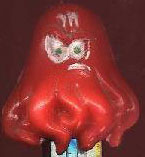 In case we were REALLY wrong about that religious vote thing.
MY CAT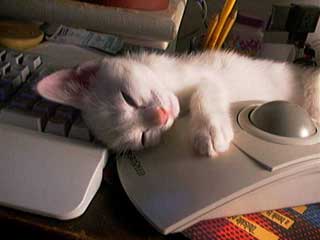 Kill Kill's latent cute-ocity could outbalance the voters' general reaction to Sodomy's overall nauseating repulsiveness.
Not that I'd leave her alone with that little pervert for a nanosecond.
JELLIED VEAL LOAF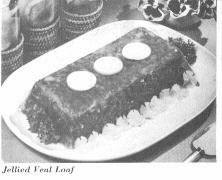 What qualifications does a Jellied Veal Loaf have for the vice presidency?
AH-HAHAHAHA!!
Do you realize how DUMB that question sounds?!
Picture a Jellied Veal Loaf in a debate with the other Vice Presidential candidates!
Ah-HAHAHAHA!
Picture the Senate votes, when they have to ask a Jellied Veal Loaf to break the tie on National Health Care!
AHHHH-HAHAHAHAHHAHA!!!
Picture Sodomy the Lawn Gnome planted in the Rose Garden, and assassinated by a careless landscaper on a ride-on mower! Then we'd have PRESIDENT JELLIED VEAL LOAF!!! And when all the world leaders came to Sodomy's funeral, there'd be this Jellied Veal Loaf in a BLACK SUIT!!
AHHHHHHHHHH--
HAHAHAHAHHAHAHAHAHAHAAAAA!!!
OK, maybe it's just me.
Choose Our Veep!
(Voting has ended. Click "Currrent Results" for the final tally)
THE INEXPLICABLE PARTY VICE PRESIDENTIAL PRIMARY
Who should be The Inexplicable Party's Vice Presidential candidate?

Speedy
Ken
Al *I, Robot* Gore, GWBush/batch5/clone9a, or some other obedient corporate-owned lab monkey
Putz
A nice Caesar salad
Rambimbo
A pitcher of warm spit
Pia Zadora's ass
That same nice Caesar salad, but with a side of garlic bread
Disco Snoopy
Reagan's Head in a Box
Saint Whatever
My invisible friend Mr Boingypants
Maybe a 3 bean salad? Oh, I can't decide about ANYthing!
Satan
Sisto
Cthulhu, who's really quite nice when you get to know him. Or so he says.
That Guy--You Know, That *guy*! Who did that *thing*! You know! That GUY!
My Cat Kill Kill
Either of these 2 user names I saw on www.napster.com: mrbutfuk; herpes4all
Jellied Veal Loaf
Boba Fett. Or Stretch Armstrong. Or both! Man, a Stretch Boba would be COOL!
The Hideous Re-Animated Zombie Corpse of Redd Foxx
Tony from Accounting
Bill the Splut



Current Results

Remember to VOTE INEXPLICABLE!
And to shout:

I want SODOMY in 2000!!
Though it's best to be careful where you shout it.



Inexplicable Link of the Week
Who's Dumber?
(Well, Quayle obviously, but he had longer to practice)

©2000 Bill Young