INEXPLICABLE OBJECT OF THE WEEK
Week of 2/14/99:
Another Saint Somebody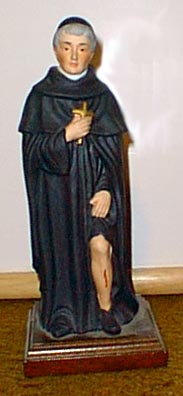 Guess my hagiographic skilz are a little weak...
I'm not sure who this particular Saint is. Not that that'll stop me from guessing.
My theory:
Saint Barker of Shins, Patron Saint of Minor Cuts & Abrasions.
KMDS' theory:
Saint Gillette, Holder of the Sacred Safety Razor.
Groovygirl's theory:
Saint Schwinn of the Bent and Rusty Kickstand.

©1999 Bill Young