INEXPLICABLE OBJECT OF THE WEEK
Week of 10/3/99:
WEEK 77
The Ground Meat Cookbook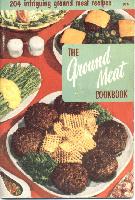 Fortunately, none of the recipes approach the gut-wrenching level of Meat Recipes for the 1960s, although every third one has "a 1/2 teaspoon of monosodium glutamate" listed as an ingredient (and garnish with crushed lead paint chips). And there is a recipe for "Meat Muffins"--
AHAHAHAHAHAHA!!
Meat Muffins, that cracks me up!
"Quiz an American on his food preferences and
you will uncover a devotee of hamburger,
a lover of succulent ground meat oozing in a bun."
Hey, Ma, can I have a slice without so much ooze in it next time?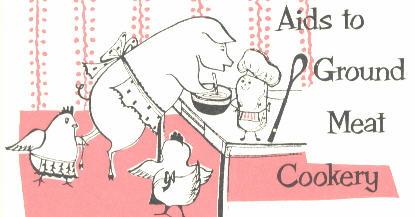 Everybody loves ground meat!
It's loved by the apron-wearing pig!
It's loved by the apron-wearing chicken!
It's loved by the apron-wearing--
...ummm...
Pancreas!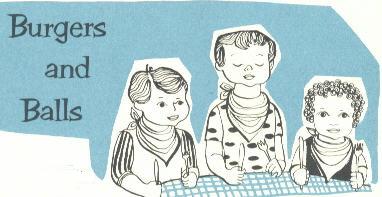 All kids crave the big, bold taste of--
No.
It's just too easy.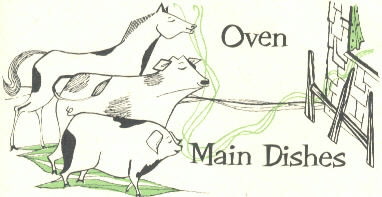 Nothing teases the tastebuds of barnyard animals like the smell of their dear departed relatives' roasting flesh!
PIG:
"Ahh, Uncle Hamilton! Who says my family doesn't have good taste!
Ha ha ha!"
COW:
"Mmm, ground veal! So that's what they meant when they asked if my kids could come over for dinner!"
HORSE:
"What the hell am *I* doing in this picture?! (sniff, sniff) My Fried Flicka!"
If you actually got that last joke, give yourself 100 bonus points and a shot of Geritol.
Inexplicable Link of the Week
Ride the Magic Sausage Slide into Someone Else's Brain!!

©1999 Bill Young