. The first Roger Ramjet Youtube and "Why Man Creates" are worth viewing.

My Rocky and His Friends book looks more and more like something that was made before Bullwinkle became a star. They were just working from press materials: Sherman is blond, and Bullwinkle is not an idiot savant (who's mainly an idiot). This is based on what is probably the only early 1960s kids cartoon that ever based a joke on molybdenum.
(Bullwinkle accidentally rolls over a boulder from the top of a mountain of worthless rocks. It smashes into the assayer's office, covered in bits of precious metals. Boris & Natasha find it. Boris puts it into a machine that analyzes it)
MACHINE: "beep beep, silver."
BORIS: "SILVER!"
MACHINE: "beep beep, gold."
BORIS: "GOLD!!
MACHINE: "beep beep, diamonds."
"DIAMONDS!!!"
"beep beep, molybdenum."
"MOLYB...de...n...MO...lyb...MORE GOLD!"
The book's still more on-model than Amazon's new series. It looks like it was made by someone who hasn't seen a cartoon since a 1998 Flash animation ripping off the last cartoon THAT guy had ever seen, a Ren & Stimpy repeat. Might as well tape your body to crutches now, before those sides start a-spilttin'!

I awoke to BOOOM! and all the power going off. I thought "A transformer blew up," but all it did was flip the fuse switch off in only the bedroom. Weird: this is the 3rd time it's happened in less than 3 weeks. A bit later, after an inch of sleet overnight and then a windstorm, thunder went BOOOM again. Byron was right by the window, and jumped. Jumped at the sound. He went around the room, obviously having heard it but apparently unclear as to where it came from.
The three clock radios, all 20 to 30 years old, were fine after the power surge. My 4 year old phone answering machine apparently is dead. Great. Six months ago, I would've welcomed it. Now, I have a job, and not every call will be the ping scam.

4/23

"DON'T PUT THE CAR ON TOP OF THE BANANAS!" is not a phrase I thought I'd ever hear.
I expected some funny workplace stories, but the damn registers are fucking non-stop sensory bombardment. And as a person with a lifetime of chronic insomnia, Brain On Fire After Work only made be happier that I was back to a schedule that started at noon. As I was getting to sleep around dawn.
"You're on Express?" asked a coworker. "I hate express!" I said "Is it just me, or does express get the slowest customers?" I personally liked the people who'd give you reusable bags, which is what I use, but Express has no counter room, so unless they bagged their stuff, things just slowed to a crawl. And you don't get a bagger when you're on Ex, and you get the people who refuse to even put their damn bags in their damn cart.
"Have you gone on break yet?" I was asked, because it's a Union store, and your bosses make sure you get what you're paying for. "Wait," said another manager, "J. has to go too!" I figured J had been there longer that day and worked harder. Then later I had a feeling I saw for the 1st and last time a teen who was tasked with emptying register trash cans. I had a long line, and both me and the customer were bagging. He was hovering in the background, then came up and said "Do you want me to finish your bagging?" to the customer, when she had 1 can and 2 bags of chips left. His tone made it clear that the answer he wanted was "No." He was J. He wasn't working harder, he just whined harder about getting his break.
Then I was told I was going to be helping do the Remodel...at 8 fucking AfuckingM in the mornfucking. Their crew was already there; I was the only store labor involved. I was helping strip the organic/natural aisle with a couple of Other Place's guys. One said to the other "Someone asked 'Where is the juice now?' and he said 'IN THE JUICE AISLE!'" and I had a feeling that spectacular punchline was going to be repeated every other minute, and it was! Just like the ad on the store radio for Hefty Trash Bags! Did you know smelly bags are "STINKY STINKY STINKY!"? I sure do. Then Juice Man dropped a bag of coffee beans, and his coworker said "Someone spilled the beans!" which is actually clever and wasn't repeated like a fucking garbage ad.
Then I finished my section, with some left over. I asked what I should do, and was told "I can't make any decisions, and we're all going to lunch now." So I wandered around trying to find out what I should do, and ended up in the grocery department, which is what I was hired for. And that's what I did. My hours were getting billed to the remod people, but why should I care if they want to pay me to do something that's all for the store? Of course, my training was "Put this away." "This" was a bunch of crap that was almost everywhere in that half of the store. "I SUCK" I thought, but was told "Wow, you powered through that first cart!" I took my lunch at home, because I live 2.2 miles from the store, but I only spent 15 minutes there, so maybe not worth the gas. As I hadn't been paid yet.
Turns out that actually I had, just not as direct deposit. My pay stub is...interesting. I was paid CT minimum wage ($10.10/hr) as Regular Pay, $15.15 in Overtime (what overtime?!), and $11.10 for REG NIGHT ST, which stands for...Standard Time? ShifT? Short Term? I have no idea, but my average rate was $11.81/hr. As opposed to 16.65 at Old Job, but since I didn't HATE EVERY FUCKING MINUTE I WORKED, hey, sounds fair. I didn't get docked for my labor union dues, and I'm getting that addressed tomorrow. I want to be Union!

We think we're the first advanced earthlings -- but how do we really know? Interesting article, but assumes the same thing that every "Alien Intelligence theory" assumes: Intelligent life has to be exactly the same as human intelligence. Must have technology, and must use it the same way humans do!
Yeah, get back to me when humans can talk to cetaceans. If we can't communicate with other mammals obviously intelligent, but just in a way that's different from exactly us, then we're going about it wrong. Start at home, then imagine your Star Wars walrus-head guys. Maybe the smartest species DON'T develop atom bombs. Or even the plow. I think that "intelligence" doesn't automatically mean spaceships, and especially aliens that discover faster than light travel and come trillions of miles to make crop circles, anally probe weirdos, and only appear to people who can't operate a camera.
Boing Boing looks at the same article.

The Christmas Bullet Was The Worst Plane Ever Made. The corrupt bastard who built a plane with a 100% death rate just continued to fail upward. Too bad he's dead, as Trump would make him head of the FAA.

Oh, and the car was a Hot Wheels. It weighed far less than the bananas. Maybe his kid was going to eat the banana peel, and Dad didn't want imaginary oil dripping on it.

4/26

I got in trouble at work. I was late 3 days. This was because the store manager said I'd be working 8-430, but the grocery manager scheduled me 730-4, since no one had showed me where the actual schedule was posted, so I didn't know.. He said "Oh, no problem." And it wasn't. Since the remod people said that they didn't need me, he rescheduled me to come in later. Until next week, when I'm back at 8AM helping the remodders...after leaving at 9PM on Sunday. Overtime, but wow, is that next Monday going to suck. And every other day I get up at liquor store hours. I thought that was behind me.
And there's the clear problem that I'm doing some brutal physical work. Ever pick up a 24-pack of plastic water bottles? Ever pick up a hundred in 10 minutes?
The remod--where product is everywhere, the natural/organic stuff is literally in 4 different aisles, most of which is on wire racks with no rhyme or reason to its positioning. The natural juice aisle was my first day on the floor, and I was told "Keep everything in the same order it is on the shelf!" But there were 7 shelves being put on 5 shelves of wire racks, and 7 don't divide by 5 that great. And when things are reset, the remods don't change the signs, so every day we come in, shit's in a different spot. All this money our company's spending on this, they couldn't require one remodder to stay and just direct people to where stuff is now? I've only begun to realize how much of anything and everything grocery stores sell in a day. There were 2 of us stocking eggs yesterday, and there was a guy restocking them the next day. And while the shelf tags are kind of easy to read (if you know the last few digits of the UPC), if you pay minimum wage, from some people you'll get minimum effort.
And, to add to customer confusion, for some reason the 1st week of the remod involves the 1st week of the store Dalek. "Marty" is a robot that wanders the aisles, looking for spills and telling some other robot to declaim "CLEAN UP ON AISLE 3." It--for some reason, the people behind this technology insist on calling it "Him" in no way foreshadowing this thing taking all our jobs--will eventually scan the shelves to make sure items are stocked correctly. And to ID items that are in the wrong spots, it is so not going to take our jobs. Just as the self-scan registers didn't. And I really thought that I'd found the last brick&mortatr job that would never be replaced by technology. (If you're wondering, adorable "Marty" frightens children, creeps out adults, and is made by Badger Technologies because the name Skynet was already taken.)
Coincidentally, today I read that the #2 job in Modern America is cashier. And that security robots are going to take over our schools, because banning guns is just too offensive. Just scroll down, and see that one of Killbots looks like Marty.

From femme fatale to complex superhero: The evolution of the MCUís Black Widow

Admit it, you'd buy #8 too. And make sure to read the package on #3...It's what Marty dreams when in sleep mode.

4/29

This Cat Has A Disability But His Facial Expressions Are Going Viral

50 years ago, a piano was dropped from a helicopter

Still not as good as the classic:

5/5

Things seem okay on the job front. I was expecting to come to work at noon, but I've been there at 8 for the remodel. And ending up doing store work instead. So...why am I coming in at 8 again? OTOH, I assumed I'd be working part time, and did 38 hours last week and up for 32 next week. At 730AM, great.
But, unlike the last job, the people are universally nice, and time does not crawl by. I briefly ran into a beer delivery guy from that job, so the cat's out of the bag if he tells the old job I work there. But he was always the least interested in talking to anyone when I was there, always in a rush to get some 2nd load action, and if I'm right about who got my job, no driver wants to talk to that asshole.

The cat's also out of the bag as far as actual cats in actual bags. There's a lot of discontinued stuff--I'm sorry, "B-items"--that are 50% off. I got a little tray of Lindt's chocolate, and a bunch of freeze-dried cat treats. OK, all of the freeze-dried cat treats. I have an employee discount of 5%, which is 5% more than I expected, and while $1.89 is kinda expensive for a tiny bag, the kids love 'em. Byron so much that he looked in the plastic grocery bag to see if there were more. He got his stuck his head through the handle and was wearing it as a Superman cape. He walked backwards, that didn't work. He stepped on the bag and walked forward, that didn't work. He then stepped on the bag and walked backward, and it came right off. Smart guy.

I watched Avengers not yet. Maybe soon, when the lines cool down. I watched something I was unaware of, 2016's Shin Godzilla. This is the Japanese reboot concurrent with the American reboot, and I've lost track of fucking many reboots there've been on both sides of the Pacific. The first was titled Godzilla 1985. I think this is the 3rd Japanese reset? It's the Mean Green's latest first appearance, so he doesn't have a name. Like the recent US version, he's known by a dorky acronym first (US: Massive Unidentified Terrestrial Organism, or MUTO. Japan: Giant Unidentified Life Form, or GULF). He initially appears as a lungfish type critter: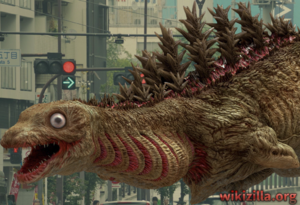 Oh no, there goes Tokyo, go go GOOFZILLA!
He mutates from his original dollar store craft section googly eyes to a bigger, and equally googly-eyed version, before finally turning in a more recognizable squinty-eyed one, who also just kind of...stands there a lot.
It's like the old school movies, and I mean like the really old movies. There's a lot of boring bits where people talk about Gojira and how much Americans are assholes. I'm glad I watched the dubbed version, as this doesn't just have subtitles, but overtitles. You get the name and function of every government official and piece of military hardware and exact location, literally every few seconds. It's better than just remembering "He's the Secretary of Agriculture" because you eventually give up, epecially when at least 3 times the location tells you "on a rooftop." I...think it's modeled after the official response to the tsunami? There's a lot of snippets of press conferences and ministers and several debates over whether Japan can use its army to attack a giant monster, because the constitution forbids and Americans boss everybody around. The best scenes come when they finally do counterattack. Of course Bullets Don't Even FAZE Him! And G develops some pretty righteous anti-aircraft beams and bad breath. Best part: I guess the movie's called Shin Godzilla because when the (Type 10) tanks attack, they shoot him in the fucking shins. Sadly, no one says "Gojira's Achilles Heel is his shins!" because all it does is annoy him, like he stepped on a very large Lego.
All in all, it was, whethere intentional or not, a great tribute to the old films and the newer. Non-goofy Godzilla is pretty badass, and the fight scenes are awesome. Worth viewing, even if G doesn't do a flying leap at Megalon.
Remember when the Jetsons promised us the 4 hour workweek? If automation is everywhere, why do we have to work 40 or more hours? If you threw every CEO out of their penthouse windows, it would affect the stock portfolios of the rich. If every garbage company and grocery store and water plant went on strike, would you be shooting squirrels for food and throwing their corpses on your lawn after drinking their piss? ĎI had to guard an empty roomí: the rise of the pointless job "Everyone is familiar with the sort of jobs that donít seem, to the outsider, really to do much of anything: HR consultants, communications coordinators, PR researchers, financial strategists, corporate lawyers or the sort of people who spend their time staffing committees that discuss the problem of unnecessary committees. What if these jobs really are useless, and those who hold them are actually aware of it?"
Speaking of bullshit jobs: I placed a stop on any payments from my checking account to Farmers Insurance / Bristol West / Foremost Insurance, as they've called themselves seemingly at random to me. They wanted me to print out, fill out, photograph, and then fax them proof that I had other insurance. That done, they wanted me to do the same with other documents. FAX them. Why? Was the Pony Express rider's horse sick? Now they sent me a cranky letter saying that because I blocked payment, my insurance with FI/BW/other FI will be cancelled. That was the idea, guys! Hopefully that's the end of it. Then again, they may want next to have me send them my death certificate by semaphore flag.
5/10
I was hoping that I'd eventually get 25 or so hours a week at the Job. At minimum wage, that puts me even with my monthly bills. I've worked 32 to 38 ever since I went to the Grocery department, so, sure. I did explicitly say that I wanted to come in no earlier than noon, and put it in writing in my paperwork. Because I'm "helping" with the remod--for 1 to 2 hours--I've been coming in way earlier than I'd ever want. But that's temporary, I've been told.
The...I think Assistant Store Manager? There are a lot of managers with jobs I have yet to learn--pulled me aside today. I thought "This is probably not good." In essence, her offer was
"Do you want to scrub fucking toilets?"
Not put that way, of course. I asked "Am I really doing this that badly?" No, she wants someone "reliable" to clean the store. I basically said "...If that's what I have to do..." She said "Don't tell [ASM of groceries--I think] about this, she'll flip out. And don't worry--it's only temporary."
I've worked there a month. I have no idea what "temporary" means to them. I "temporarily" worked the early shift at Shit Job for almost 9 years.
Afterwards, I thought "Cleaning boy?! It's not like I need this job," and then PING! I really DON'T need this job. I could quit and live off of my savings for 5 to 6 years. After only a month, it's not going to look any worse if I don't list them as a past job. I have no problem giving maximum effort as a minimum wage stocker, but a minimum wage janitor? Yeah, there's a resume: As a former hire and fire manager, without any outside information I'd see Bill's career arc as "Laid off after 14 years; 2 weeks as cashier; moved to grocery. 1 month as grocery, demoted to shit-licker. So: couldn't do math, couldn't stock shelves, replaces urinal cakes. Yeah, I'd better snap this guy right up before someone else does!"
I can make minimum wage anywhere. We'll have to see what tomorrow brings. Maybe another extended vacation. If worse comes to worst, she unintentionally gave me an out: Don't be reliable.
5/14
"Sorry I haven't had a chance to check up with you," said the guy who interviewed and hired me, "but this [remod] madness takes up a lot of time. How are you doing? Do you like it here?"
I responded cagily. "I'm very happy with my current position, if you hear the staement that...I'm not stating?" Meaning the Job Change to God-Emperor of the Urinal Cakes.
Of course he didn't. Would you get that from my Riddle of the Sphynx? So I said "I was told not to say anything, but I'm going to say something." And he agreed that the store "desperately" needed a reliable toilet polisher. "But I don't think you're the guy for that. I think [the ASM] doesn't know about your retail management background."
So. Looks like I may not have to quit. I don't know what will happen when the remod ends, when my hours get directly billed to the store and not the remod--I was told that I'd probably get less hours, but I've worked anywhere from 32 to 40 since it started. I was expecting 25 when I was hired; that's enough to keep the bills at bay without touching my savings.
I'm glad I said something. I'm not glad that I waited for someone to ask me. I was planning on asking that very guy. After he reassured me that everything was fine, he said "I can see the tension lifting from you!"
My next day off is soon. I needed it off for Ms Killsy's latest bloodletting. But that happens late enough that I can see Avengers! I hope the effects are as good as they were in the Captain America films!
5/22
Bad stock photos of jobs. Every scientist needs 3 things: a lab coat, a stethoscope, and a test tube of colored liquid.
If you're interested and have 25 minutes, Brian Eno's career at 70 (actually at 60; it's a rerun)
Still in Kickstarter mode, but coming out at the end of the year in some form: the card/board game awesomely named Space Cats Fight Fascism. A cooperative game, so it would work solitaire too. In a misstep, the Fascists are sentient rats, but not called Ratzis. And speaking of fighting fascists in Space: Star Wars Without Any Star Wars.
5/25
We all know that Kill Kill got her name from a 60s Russ Meyer film. The name was chosen over a decade before I decided to adopt a kitten. You may not know that I didn't see the movie until she'd lived here for 15 years! Before that, I'd owned CDs called Beat at Cinecitta, all of soundtracks from 60s Italian movies. I'd heard those many times over (they're awesome, and probably on Youtube). I recently decided to check the lyrics for one of my favorites. Bada Caterina. Nice little lyrics site: there's a small video window so that you can see the song with the translated lyrics. I think if I knew those lyrics 19 years ago...Maybe her name would be Bada Caterina. Meaning "Catherine, be careful!" which is a thing you might say repeatedly to a rambunctious little kitten.
Passion the website-- really user pleasant and who?e lots to see!
It seems that my Hotmail spamtrap trapped a lot of--
Thanks, this —ēite is extremely beneficial.
--Hormel meat products. Guh-LUBB!!
ŠŹöuperb website y–ĺu have here. ?hank yo? Macbook pro For sale sharing this e?cellent web-site
Yes, anonymouse pers?n, although you were either Wendy or Pammy or Chad or I'm sorry, there were 150 of these in my spambox, all with relatively acceptable Americano names, and never the same one twice, in the course of a 5 hour overnight bombardment to an old comments page, Speed and Machines Are the Art of Our Empire. How old? 2004, when this page had maybe 50 regular readers. HOW OLD? The last topic was fucking Gonterman.
–£ou're a veÔĹíy beneficial site
Yes, why thank you, I think my site is gibberish too.
Your tips ?s incredibly ?seful.
These were the most interesting, although Kimberley and Ashley and Brandon and Justin and Jason and Jordan and Carey and Lila and Zorglox the Great Devourer tended to repeat themselves.
I enjoy treadmill book holder reading rack thr?ugh y?ur website.
Why, yes, so do I! Several comments from Jennifer and Jughead said I must've written my own code!
H?w ?re ?ou, cool websites y?u have got there.
Wait--is that an insult? Your code was written by a broken motorized spaghetti-winding fork in Cyrillic!
Hello there, tidy web-site you've here.
Oh, yeah, rub it in there, Brandy. "Be a shame if sumtin' happened to it, ay squire?"--Luigi Fricotti
Sustain the incredible ' ork !! Lovin' —Ėt!
Wait, what did you say, Evan?
I enjoy this website - its so usefull solar panels and battery set helpfull.
...Glad to hear that, Kirk or Aldo or Dirck or whatever your algorithm just spat out.
s?y thanks to s? considerably f?r your web site ?t aids a lot.
I read through 150 of these tributes to my utter brilliance, or about what Mike Pence says about Trump in 37 seconds.
On the other hand, "Sustain the incredible ' ork !! Lovin' —-t!" is totally going on a bumper sticker! SUSTAIN THE INCREDIBLE ' ORK MOTHERFUCKERS !!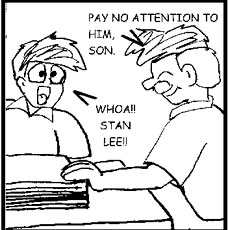 5/30
I knew working Saturday it would be busy. The main day--and only good day weatherwise--of a holiday weekend, and people are stupid robots who all think the same thing at the same time and decide that they can wait until the last minute to buy groceries, just as they always did with booze. (Well, not all--Thurs and Fri were also busier than normal, because some people thought at least that far ahead)
One of my (many) bosses and I were called up front for carriage roundup. She said "I'll get the carriages, you jump on a register." The first customer was screeching at her for not having ALL the registers open, and continued to loudly bitch at me, despite the fact we'd just opened a register and she was first in line. She probably had a great-great grandmother who was in the first lifeboat to launch from the Titanic, and complained "I suppose now room service will be late!"
She snarled "Did everyone call out sick?!" as if that made sense.
"No. It's the start of a major holiday weekend, of course it's busy," I said.
"Monday is the holiday!" she snapped, as if that made sense.
"Everybody has to go to work Tuesday, so they do all their parties on Sat or Sun."
"Everything's closed on Monday!" she nearly yelled, as if THAT made any sense.
I laughed. "No they aren't! Even the liquor stores are open!" The next customer said "They are?!" "Yes, for over 5 years now."
She left, still bitching. I have a new rule from my limited grocery career: You don't get to complain about a line if you have 10 fucking items and are too lazy and entitled to go the self-serv register and do it yourself. For a liquor store comparison, there was an always-asshole guy who bought a 4 liter jug of $10 wine, drank it all, then was back the next afternoon to complain "It gave us a headache." Yeah, so does hitting yourself over the head with a baseball bat, go sue Louisville Slugger over it.
The Irish Ban on their Abortion Ban got little attention in this country, maybe because the pro-life-until-you're-born-then-fuckyou guys want to ignore it. So here's an ex-Australian in the UK's take.
Here's SCRAPPY! An early 1930s cartoon that I was unaware of. I guess back in the Depression, little kids wanted escape by watching near-nightmares. Here's a pair of them, and SPOILER ALERT: Racism from nowhere, and the first one has a cartoon human baby centipede.
Speaking of cartoonish racism from nowhere, Roseanne is out of work. Jeez, all she did was say some black lady was a Muslim ape! She still believes that Pizzagate is real and George Soros was a Jewish Nazi. What did ABC expect?
Funny, I was thinking of her just the day before! The store radio switched to "patriotic" muzak for the holiday, which was good in that it wasn't the same damn 3 hour loop of songs, instead a 3 hour loop of oldies and such toe-tappers as "Hail to the Chief." One of the oldies was "Muskrat Love," which is what Roseanne feels for Trump's hair. A coworker and I shook our heads at hearing the same fucking horrible, screeching rendition of "GAAAWWWWD BLESS... AAAAMERIKAAAAHHH" in 2 hours. I asked "Why are patritotic songs always screamed and not sung? Do they want to to make sure every country in the world hears them?" This was after he said "If they wanted American music, just play Elvis! He was fat, rich, crazy, and on barbituates!"
But I was thinking about her not because I have neurons I want dead, but because it was right after the NFL declared that taking a knee during the National Anthem wasn't free speech, so into the back of the bus locker room with you. I thought how Roseanne had become a right wing darling for loving Trump and Alex Jones, but her version of the Anthem at a MLB baseball game was singing it as horribly as she could, which is something since her default voice is fingernails on a chalboard being stuck up a really nasal toilet, and finishing by grabbing her crotch and spitting on the ground. Now THAT'S respecting the Flag! And of course, the next day she's being defended for using her freedom of hate speech by bigots, including the Most Powerful Moron in the World. Who thinks the CEO of Disney owes him a big apology for saying mean things about him. GOD BLESS MODERN AMERICA for the few years it has left to exist.
In unrelated links, Fuck off, Adolf: 15 creative ways to kill Hitler. Ever think of spiking a Big Mac with hand-shrinking drugs?
I finally got to see Avengers, and for $5.75. All these weeks avoiding spoilers, and...there really weren't any. I read and reread the Infinity Gauntlet comic limited series, and the trailer had "kills half the life in the universe" pretty prominently featured. Well, spoiler for the next movie: Everybody's going to come back to life! That's how the comic ended. Howver, that was at the end, and this movie ended about 10 pages before that, so the question is how. SPOILERS inbetween the promised second Scrappy cartoon, and a third one. SPOILER: Scrappy looks at Elon Muskrat's love for flying cars, and adorable imp Scrappy spits at a blind man like he was singing the Anthem.
Dr Strange saw every possible future of the attack on Thanos, but only one where it was successful. So, giving up the Time Gem was part of his plan.
During the first Captain America movie, I thought at the end "In the comics, the Red Skull picks up the Cosmic Cube/Tesseract and is disintegrated by it. But it turns out that he wasn't. He was teleported." Movie: "A lifetime ago, I too sought the stones. I even held one in my hand. But it cast me out, banished me here, guiding others to a treasure I can not possess." Which leads to some interesting ideas about the MCU's afterlife: He's in Hell. Is another character, briefly seen, in Purgatory? In the comics, the Infinity Stones/Gems have sentience; are they Gods?
Twitch is showing all the classic Dr Who episodes, in order, for like 2 or 3 weeks. I can't find a schedule, so luck of the draw as far as it comes to seeing any one ep. There is this vague schedule that at least narrows them down--Genesis of the Daleks will air "sometime" on June 20th.
Now there's a more accurate schedule for the Who marathon
6/7
I think I may have finally figured out why I'm both constantly exhausted after work, but also nearly incapable of falling asleep before 4AM: The job has no mental downtime. It requires 100% concentration on What I'm Doing This Second, Every Second. In a grocery store, I don't have the time to even mentally compile a grocery list. This week, I've been on the register, which is even more mentally intense.
Last Saturday it was extremely humid. Enough to cause the entire dairy cooler to decide it couldn't keep up. I was working in it, and suddenly it was turning itself on and off over the course of minutes or even seconds. This happened at the Last Job, except in one of the beer cooler's condensers. It was days before the Memorial Day weekend, and all the beer was now 65 degrees warm, and rising. Baby Owner didn't do anything. I pointed out that both condensers were bought at the same time (and bought used), so if the only one had to work twice as hard, it would fail as well. Since every penny the store made in profit went right back into the store the owner's pockets to fund his "3 long weekends and a week's vacation in another country every fucking month," he said "I tried to find a used compressor, but it was $3000, and I'm not spending that," while he thought "You know how much it costs to fly from CT to Vancouver every month?" His solution: turn the AC up. But...the cooler doors are designed to keep the outside temperature, umm, out...
6 weeks later, the other compressor failed. The beer was now getting as warm as the outdoors, and it was 95 outside. Oh, and it was the Fourth of July weekend, and I mean that in the sense that the 4th fell on Monday...THEN he decided to fix it. I'll bet that, on a weekend, on a holiday, with 2 compressors ordered immediately, probably cost more than $3,000. Like, maybe even $3,015! We were all sworn to secrecy to never tell his father how much he spent. Which implied that Daddy was too fucking stupid to ever check his son's bills. Maybe he was! When your kid's first job is arranged by Daddy, and his second is buying him a store at age 25...That's downright Trumpian.
At the grocery store, management recognized it as a crisis, dug some huge old styrofoam signs from somewhere, and blocked the open shelves. The cooler hadn't died, it was just getting warmer. Behind the signs, it was 40 degrees F. But it meant it was full service, and I was nominated to be the team leader or whatever. Customers understood once it was explained, and we helped them pick things out. Except for the people who didn't care, and just ripped the signs off, or jammed their hands in without looking. Did you know that if a single egg is broken in a carton, it's now trash? The chain has a food-trash-to-energy plant, so if you live in southern New England, your computer is currently running partly on broken eggs.
Back in the Old Store days--hey, for simplicity and me not having to hit Shift more than once, let's call it Shitstore--I was frequently stuck in traffic in my 35 mile round-trip commute. I decided to get some bumperstickers from Build-A-Sign. The idea was for some asshole in a BMW getting stuck behind me, and then seeing my inexplicable sticker, either get baffled, or baffled enough that he used his stupidphone to Google it, and then he got rear-ended, rather than him hitting me. I tried, and finally came up with one that, if you Googled it, would actually leave you with more questions than it answered. I came up with



That's pretty readable, right?
Okay, presented in bumper sticker form, aka all-caps with other lines bolded:
HAVE YOU HEARD THE GOOD NEWS ABOUT
NEBULA M SPACE HUNTER?
There's a layer, then another layer, then a third layer. Can you dig it, man? Whoa. Deep as an onion.

Ever wonder how your pet sees the world, literally? Details that look sharp to people may be blurry to their pets "Humans can resolve four to seven times more detail than dogs and cats, and more than a hundred times more than a mouse or a fruit fly. A person who sees less than 10 cycles per degree is considered legally blind. Most insects, it turns out, can't see more than one."

6/11

The First Incredibles Movie Is a Web of Massacred Disney Superheroes

The Very Worst Album Covers. I own about 6 of these, because of course I do.

25 Ridiculous Off Brands That Might Be Better than the Real Thing

Sept. 9, 2018: New MST3K Dark Horse Comics Series

Cartoon All-Stars To The Rescue, aka Maybe your anti-drug screed shouldn't make the anti-drug forces total nightmares. Especially the 2 cartoon characters at the start, who tell you it's about "drug and alcohol abuse", alcohol being represented by a fleeting remark about beer that Dad apparently drinks enough of that he forgets that he did, and Mom shrugs it off. Really awesome music though.

6/27

Maybe our species is the only intelligent one after all. Like all these articles, its base proposition is that Humans = Intelligence = Civilization = Technology. Based on what? It took 250 years for humans to invent the steam engine, then only 150 more to invent atomic weapons that we can voluntarily use to destroy our intelligent civilization. And another 50 to find out that, hey, the steam engine's descendants in technology gave us the ability to change the climate and wipe ourselves out without even trying!
Scientific knowledge is greater than it ever has been, and expanding so that we'll discover everything about everything eventually. You think the amount of exoplanets humans have found matters to the insects that will inherit our debris? You think birds go "Whoa, dude, my ancestors were T Rexes!"? Do you think dandelions are planning a way to shoot drone missiles at the lawnmowers that run over them every week? Do dolphins and whales worship us as gods because of the Giant Plastic Mountains we're giving them?
A feral cat's most precious knowledge is how to find food every day. They don't think "Maybe someday, there will be CATS walking on the MOON!" The Moon to them is when there's more or less light for hunting at night. 250 years is not enough time to tell whether Technology is a boon for "intelligent" life's survival, or its greatest enemy.

That having been said, here's cute old-timey newspaper articles on cute animals who don't give a shit about quantum theory and 4G smartphones and childnapping millionaire fascists! There's even one from Hartford CT, a place that our rival intelligent species, the whales and dolphins and other cetaceans, super don't care if it's the Insurance Capitol of the World!

7/2

Low posting mode. I really shouldn't be losing sleep over a part time minimum wage job, I think at 3AM when doing just that. I was expecting that minimum wage = maximum work, not maximum stress.

I overheard a woman with 2 little kids use the Stop That! voice, when the mom says "FIRST NAME, MIDDLE NAME!" His name was "RIVER WILD!" I smiled, thinking "He's named after a movie? At least it was a Meryl Streep film. But who names their kid after a movie? Ha ha, I'm gonna name my kid--" and stopped.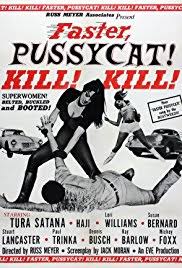 Well...there is that.
I have all the cats/kids I ever will, so I can rule out naming the next one "The Persecution and Assassination of Jean-Paul Marat as Performed by the Inmates of the Asylum of Charenton Under the Direction of the Marquis de Sade," or "King Ralph."
7/4
I'm officially poor! Medicare D sent me a free smart phone!
No, I don't know how it works. The phone's smarter than me. It's weird to have as many phone numbers as I have cats. Guess which I could live without.
I'm still learning how to operate my new corded landline answering machine. JOB likes to treat me like they don't want me to be there when I'm there, but JOB won't let me have a day off without them calling me to come to work, so that I can get treated like they don't want me to be there.
If I turn off the answering machine, it will ring 10 times, and then announce "PLEASE ENTER YOUR ACCESS CODE." This is great when I'm trying to sleep, as JOB lets it ring until10 rings. Even robocallers hang up after 5 rings. If it didn't, I wonder how long JOB would let it ring, never getting an answer? To Infinty, and Beyond!
There's no way to turn off the "access code" function. The access code is if I want to call on one of my other 2 unused phones to see if I have any messages. When I turn the answering machine off, it will not take any more messages, so I can call it to hear what messages I told it not to record. Pretty useful!
I figured out, with no help from the manual, that this can be circumvented via Quiet mode. Everything's on, it just makes no sound when it works. So...exactly like it would be if I could turn the machine off. But now, I can later hear the message when they want me to work, to cover all the other people who called out.
Introverts share their favorite things in life.
7/8
"Best Defense for Attacker Tragic girl's life could have been saved by this new safety device" Yeah, I'll trust my life to a cheap-looking panic button gadget made by someone who couldn't afford an editor.
Hoarders, Hauntings, and Two-Headed Cows: Dealing Dead People's Things
7/12
Working in a grocery store lasted 3 months to a day. That shit liquor storw job lasted 14 years, and it was less stressful. "Minimum Wage for Maximum Work" I expected. "Be perfect from day one with no training on how to do it," that I did not. I expect--well, I expected to work stocking shelves and coming in no earlier than noon, because that's what they told me I'd be doing. Nothing I was told to expect is what I received. I quit.
I did get proof of concept: 20-25 hours a week at minimum wage really did cover my bills. But I ran the numbers again, and I won't deplete my savings for about 6 years, even with no income.
Is Dan Aykroyd attracting UFOs to Marthaís Vineyard?
There are a couple of surprises in this video! By which I mean, no not really. They earned their places.
7/15
I knew I'd written a review of Godzilla: Final Wars, so I googled myself. No wonder I'd forgotten what I'd said. It was from 13 years ago! (For purposes of historical dating: 4 years before DJ was born) I clicked on the Comments. Back when a day without a Comment was considered a "lag"! And when we all, so young and naive, were heavily into the Daveykins. Anybody remember this, possibly the greatest thing he ever wroted?
"Out of the dark void came what looked like a giant rabbit followed by small rabbits which had looked as if they had undergone a mutation with three ears and 2 tails. They discovered they were on Rabbitania."
Tweets to brighten your day, and remember when the word "Twitter" didn't automatically mean "Narricisi-Fascist Orange Asshole?" Those were the days!
Remember "Starlee and the Moonbeams," the most 80s of 80s cartoons? A simpler time!
Remember 1991, when I was helping refit a Sam Goody in a mall in White Plains NY, and where I was cheerfully told that "We don't call the cops on shoplifters here. We drag them out the back of the building and beat them with pipes." They thought we CT people were hopelessly naive, waiting for the cops to come.
I saw them surround and harass a young black guy who was shopping. He protested. I kept my distance, and then noticed an extremely clean-cut white guy in a suit and about the same age. He didn't seem to be watching the altercation as much as furtively looking around.
After they threw the black guy out, I noticed that White Guy had already left. There was nothing missing from where Black Guy was, and about 50 CDs missing right from where White Guy was fidgeting...
I said to their "security team" "Maybe the black guy was just there to distract you from the white guy?" They looked angry, said nothing, and disappeared to the back room for 20 minutes. They never spoke to us for the rest of the day.
Nice scam, really.
Accusing random black people of crimes they haven't committed! Thank god we're better than that now!
7/21
Kind of long and sciencey, but here's 6 major problems with a flat earth, which can be reduced to "everything."
There's lots of amusing ones, like the Flatheads explanation as to why you can fly from Chile to Australia without flying over the North Pole. My favorite: They don't believe in gravity, because that would mean that the Earth would be round. So what happens when you drop something? There's MAGIC! an as yet unexplained force that pushes from the bottom of the flat Earth constantly. So, when you drop something, it doesn't fall, the Earth rises to it. Simple! The force is pushing towards them at a rate of about 22 miles an hour. They also think that the Sun and Moon are 32 miles wide and 2-3,000 miles away. So if you drove 22 MPH for 100 hours...wouldn't you cover 2,200 miles? And crash into the Sun and Moon? My math is bad--it's not 22 MPH, it's a constant rate of 22 MPH. "Having the universe accelerate at a constant rate of acceleration raises the obvious problem that the earth would soon be going faster than the speed of light, which is impossible."
How a big orange toddler sees himself:
7/22
Recent coincidences:
On my last day of work, a woman was in line with a service dog, wearing a Fidelco shirt. "I have a friend who used to work there! It was years ago, maybe you don't know her--Meg S."
"MEG?! Omigod, she was my best friend! I saw her and Kevin in Texas a couple of years ago!"
The next 3 are all from Cheezburger sites, which I should've but didn't bookmark.
On FAILblog, a post called "The Worst Public Meltdowns." "Here's a video I took! Here at UConn, we have mac 'n' cheese days in the cafeteria, and this one kid wanted bacon jalapeno mac 'n' cheese..." Yeah, THAT guy. The person who took the video? Jessica's husband's nephew, who quickly deleted it from Youtube--although, obviously not fast enough.
On I Can Haz Cheezburger?, a list of animal photos under the title "It was worth it." A brown bear caught in midplunge from the tree he'd been tranquilizer-darted from. In the background, the distinctively weird and ugly roof of my last job. Not clear enough to see it, but I was looking out the window as it happened.
And finally, on Cheezburger today, maybe a picture you recognize: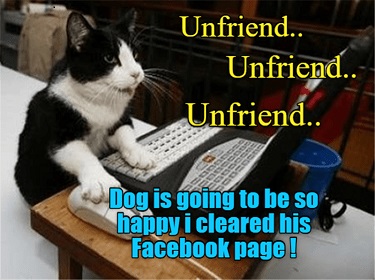 No personal connection, but also from Cheezburger today, 8 Cats In Super Slow Motion.
One of my favorite cartoons of all time was the 1990s Tick. A DVD collection came out years after it ended, except that it didn't. It started with 1 disc out of 3 seasons, and was missing an episode. Months later, the 2nd DVD came out, representing the next season with 1 episode missing. Why uncomplete sets were issued has never been adequately answered. Since the season 1 missing ep involved Molemen, and S2 a parody of Galactus, maybe because of the ever-litigious Marvel in its pre-MCU FOB phase? (Fighting Off Bankruptcy) The 3rd season never was released--except in Europe, with a region code unplayable in the USA.
As Bacon Mac Kid will tell you, the Internet is forever, and you can now see that long-lost season on Youtube, if you look hard enough. Nothing is more subjective than humor, and 20 year old humor even more, but I think this is the funniest of Season 3. Some are crap versions--the picture's cut off at all 4 borders. Look for any uploaded by "Mikee Doverty," those are the best.
7/26
Kraftwerk performs a live duet with an astronaut on the ISS
A few years ago, some coworkers called me outside. "There's a UFO out here!!" I went out and said 'Oh, that's the ISS; they said it was going to pass over us tonight." I had to explain what "ISS" meant, and they were almost pissed off that it wasn't ET, "just" reality. I watched it cut its circle through the sky. They continued their smoke break, no longer caring.
I remember as a kid during an Apollo mission when the Moon was visible during the day. "There are PEOPLE up there!" I realized in excitement. Thank you, Kraftwerk. I felt that same amazement watching this today.
Hey, remember when "UpChuck" was a feature here? I made fun of the goofy/evil Chuck Asay's political cartoons. Here's a pair from exactly 10 years ago.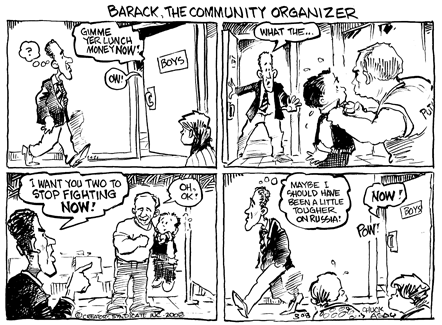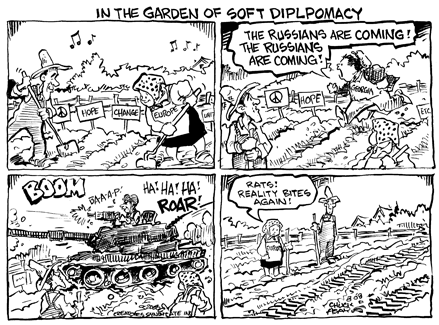 When I say "exactly 10 years ago," I mean "When Big-Ears was still just a Senator, not the fucking president." I wonder if Chuck today is like most Republican conservatives, happy that their leader is a Russian stooge.
The 50 greatest special effects movies of all time, with clips.
Late bloomers: 10 classic books with terrible initial reviews.
Since I linked to my favorite Season 3 Tick episode, here are my favorites from earlier seasons: The Tick vs The Uncommon Cold ("It's THRAKKORZOG! With a K!"), and from Season 2, The Tick vs. The Big Nothing ("WHAT?!" "Hey!")
8/2
There was this TV show I'd never seen (and to this date, never have) called "Family Guy." Kevin loved it! He once quoted a line from it: the main character turning to the audience and saying "Have you ever noticed that these aren't so much jokes, just references?" A year later, I said that to Kev and he frowned. "I stopped watching it. It really WAS no jokes, just references."
Any fan of MST3K knows what I mean. They pretty much invented the "reference as a joke" thing. When I was rewatching them after a dozen years, I'd pause the playback and be confused. "Oh, right," I'd think, "that was from a 90s TV ad for a product they don't make anymore." I wonder how many people who never saw them back in the day just shrug and give up after the third reference to Mentos.
Not that a ref can't be a joke. Kev and I saw a truly bizarre 1960s Toho movie about ninjas and giant cats--oh, wait, it was this one:
--which gives you far, far less of an idea of how bonkers it was. Early on, I said of the villain "Oh, David Bowie's going through one of his phases again! Thin White Ninja." Now that's a ref AND a joke. And we made other Bowie-centric comments throughout it. I said "Screwed down hairdo, like some cat from Japan." Now that's just a ref. Because the actor was Japanese. It's not really a joke. At the climax, Kev said of Watari the Ninja Boy "Ziggy played the axe!" That's a joke AND a ref! Because of that song, and guitars are sometimes called an axe.
So your movie has a big CGI car chase. One car is the Batmobile from the 60s TV show, and when it brakes to a halt, the tires go na-na-na-na-naa! like the show's famous theme song. That's a ref and a joke! If later someone yells "It's MECHAGODZILLA!" and the soundtrack plays the Godzilla March, that's just a ref, hoping some kaiju nerd like me gets it, and feels superior to everyone who didn't.
And it's called "Ready Player One."
Kev and Scott were rhapsodizing about the book years ago. "Did you get this bit?" "YES! Did you get that bit?!" "YES!" I said "Is the book just a bunch of 80s pop references?" They said "Yes! That's why it's so awesome!' I asked if they'd like it if it were 70s trivia--"No, we wouldn't catch those references."
Then Spielberg decided to make it a movie. Hey, what decade was he last relevant in? The 80s? Huh! Coincidence!
And yeah, it's not very good. The first 45 minutes is a solid block of exposition, without any explanation of how this world works. Who built the Stacks? Are there toilets? How does this economy work, when no one works except for virtual coins in a VR game that are used to buy more in-game crap? Can you cash them in for groceries? Okay, that's nitpicking. How about...what the fuck is going ON?! Why does everyone care about this damn game? Especially the bad guys? Why is it not odd that people care more about their avatar losing his hat than they do when the only people they know in RL get murdered? One could make a dark satiric point about that, but nah. We must fight the Evil Corporation that wants to...put ads in a pay-for-play game? In a movie that's nothing but copyrighted trademarks and ads? (Note the ad for St0k caffeine drinks, which truly immerses us in this world of 2045. People will watch this in 5 years and have no idea what St0k was)
I'll spare you any spoilers, although there really aren't any because the movie is that predictable, so if you want them just watch this.
Hey, wasn't the Iron Giant a pacifist? Way to fuck over that too, "Ready Mary Sue: the Movie."
8/9
iTunes played a bit from "Malamondo," a 1960s Italian junk movie, scored by a pre-fame Ennio Morricone. It's goofy music. The import CD I got if from had no information as to what the movie was about. It was paired with the soundtrack from a contemporary film, something about a giant tarantula. I assumed the title meant "Sick World," but I should've guessed that it's of the brief genre created by "Mondo Cane." Basically, they were "shocking" documentaries with lots of staged footage and zero attempt at coherence. Here's the trailer. Word on the street is that it's frantic!
I found an article on the movie. And it's from Night Flight. Yes, the 80s USA Network show! There's a subscription service that I'm not going to invest in, but it apparently shows the old episodes in full.
The Untold Story of Napoleon Hill, the Greatest Self-Help Scammer of All Time. It's lo-o-o-ng, but worth it. Like those old WFMU Kliph Nesteroff articles on creepy comedians. Napoleon basically created self-help books, especially those like "The Secret" or "The Power of Positive Thinking," or the "Prosperity Gospel." You can go far telling people that Wishing Makes It So. Too bad Nappy didn't wish himself into being someone who wasn't a slimy, rageaholic con man.
8/12
In our last episode, Boris and Natasha were holding America hostage with a president hopped up on Goof Gas--wait a minute. (shuffles papers) Sorry.
In our last episode, I mentioned the movie "Malamondo." Lilly approved, and recommended an awesome video, a number one hit in Italy. It was what American English sounded like to Europeans, and done by Hobo Fourth Doctor and his S&M Disco Nazis. It became my new favorite music! The next day, Weird universe had the same song, except in color and horribly boring. It was mentioned on NPR! So I heard on a song on my iTunes, that led me to search for the movie, which led Lilly to send me a link to a guy who was briefly featured in Malamondo's trailer, that was then featured elsewhere! Coincidences can be exciting!! Look at my exclamation marks. I used so much I ran out;;
And now, a story of coincidences so amazing, that the Hero is YOU!!
Well...in a sense. Okay, tangentially and also not really. I was trying to get you to read via clickbait headlines. Don't read any farther--Number FOUR will Amaze you! Number SIX will give you EXPLOSIVE DIARRHEA!
I need to work on my clickbait headlines.
"Here's to a celebration that should've happened 3 months ago!" is a line from the movie. No, a celebration over 17 years ago. If you're such a LTR that you were here in 2001, YOU are the HERO! And you may remember a regular Commenter, Lunamoth. She was a NYC kid who went to Japan as an exchange student. She also had a connection to Hollywood, through I think her uncle, who was working on a big budget movie called "Monkeybone." I imagine the Elevator Pitch was "It's BEETLEJUICE--meets ROGER RABBIT--but Roger's an ASSHOLE!" It had been sitting unwatched in my Netflix queue for as long as I've had Netflix.
One of those Onion subsites, AV CLub, Gizmodo, whatever, had some brief complaint about Netflix, with it structured around a joke about "Netflix doesn't have Monkeybone!" I shook my fist mightily! "Maybe they don't have it streaming, but it's RIGHT HERE!" and I moved it up to 2, right under another blockbuster comedy for weirdos, "Death of Stalin."
You might ask why it took me 17 years to finally watch it. You may also ask, "Hey, wasn't I supposed to be the hero?!" as you sit on the toilet because you read Number Six. I waited because every one of its reviews mentioned the final scene. This involved a dead gymnast organ donor being reanimated and who then spilled his organs everywhere. This seemed unfunny to me, and so I put it off just as I did for years before watching "Maniac." Its most famous scene involves the titular Maniac ripping out a cat's eyeball and eating it. The movie was from 1931, 4 or 5 years before CGI was invented by Edison's Brain in a Jar. I assumed that they just took a cat and...umm, yeah, no thanks. But it turned out that the writer/director/star couldn't even take the time to find a cat that wanted to be held for a 15 second shot, so he was lucky that they eyeball lost wasn't his. The young, wiry, angry black cat's eye was "ripped" out of a much older, fatter, and substantially oranger cat, who had clearly lost the eye years earlier, and was clearly baffled as to why some guy was slowly moving an olive from his long-empty eye socket. The broken-necked gymast's organs look like nothing from a human body, or anything's, and at one point in a fight he begins flinging them at his opponent screaming "HAVE THEM ALL! I DON'T NEED THEM, I'M DEAD!" The dead guy is the hero, throwing them at his own body, which has been hijacked by the evil cartoon monkey.
We will now have a pause while you try to imagine this movie.
You see, there's this cartoonist, played by the always likeable Brendan Fraser in a role that killed his career, and there's a cartoon called "Monkeybone," and the cartoon is truly awful, so awful that you'll think "This really is the type of thing that Adult Swim or MTV would've greenlit, just because it's offensive and unfunny, oh wait, what other cable network would've run this, damn, I know this..." and then Dave Foley from Kids in the Hall comes on and says "It's been picked up by the Comedy Channel" OH THAT'S THE OTHER ONE! It's such a hit that people are falling all over themselves to sell merchandise based on Monkeybone. This is...evil, I guess? (LATER SCENE: Characters eat HAAGEN DAAZ from giant half-gallon sized buckets labeled HAAGEN DAAZ) At any rate, Brendan gets in a car crash and a coma and goes to "Down Town," your "Home away from Home-a while you're in a Coma!" It's a city of various weird creations, and all of them aren't CGI, but practical effects. Yes, that nightmarish/semi-cute Cyclops is a little guy in a foam costume!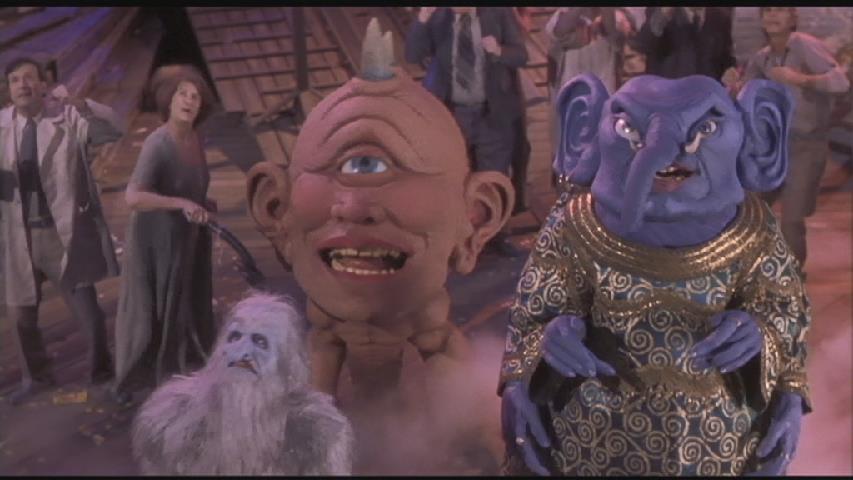 I have to stress: Lunamoth's uncle and his crew did a damn fine job on this. Everything is super weird but just as real as in a dream. Let me say this now--you ain't gonna like this movie if you're looking for coherence besides Dream Logic. I love this kind of movie when it's done right, as it is here. The "car crash, coma, welcome to insanity world" is just the first 12 minutes of the film. That's the point I where I just decided "Well, let's see what happens!" rather than try to understand it. I dare anyone to define what a "Reaper" is. The first one's a Grim Reaper, except he doesn't kill people. The rest are...I don't know, other people in Down Town? I guess it's Coma Purgatory, except ruled by Death (Whoopi Goldberg), and it needs nightmares or something, and goat-legged demon man and sexy cat-lady and Stephen Fucking King are there. Also, the license plate 4TRIO19, which is so shoved in your face that I thought it might mean something, but googling just led me to people obsessed with that plate appearing in Lost and some TV show called Psych that I think it's just some Hollywood guy's real plate, hey did you know that if a movie uses your license plate, you can sue them? That's why all movie phone numbers begin with "555"! Also, 4TRIO19 adds up to 24 or something, Christ, Lost fans, you were just trying jam any meaning at all into that "making it up as we go along" show, weren't you? (Note: all the Lost refs I found dated from 2005, so apparently they didn't know that it was first used in Monkeybone)
Is it a good movie? NO. Is Plan 9 a good movie? NO--I mean, sure. If "Beetlejuice meets Asshole Roger Rabbit with amazing practical effects" sounds good to you, and you don't mind 90 minutes of incoherence, sure! I have to give it that one last test ("Will it make more sense crazy stoned?") before final judgement. That might be the best way to watch it the first time.
"But--I thought I was the Hero!" Well, you are! If you weren't here before the movie was made and Lunamoth told us about it, you were surely here in 2011. There was an antique store in Putnam, CT that you've heard mentioned here lo, many the time. It had a collection of taxidermy and a giant prop head from what we assumed was some very expensive stage production. It looked like this. Now I know that it was very expensive. Like "movie with a $75M budget" expensive.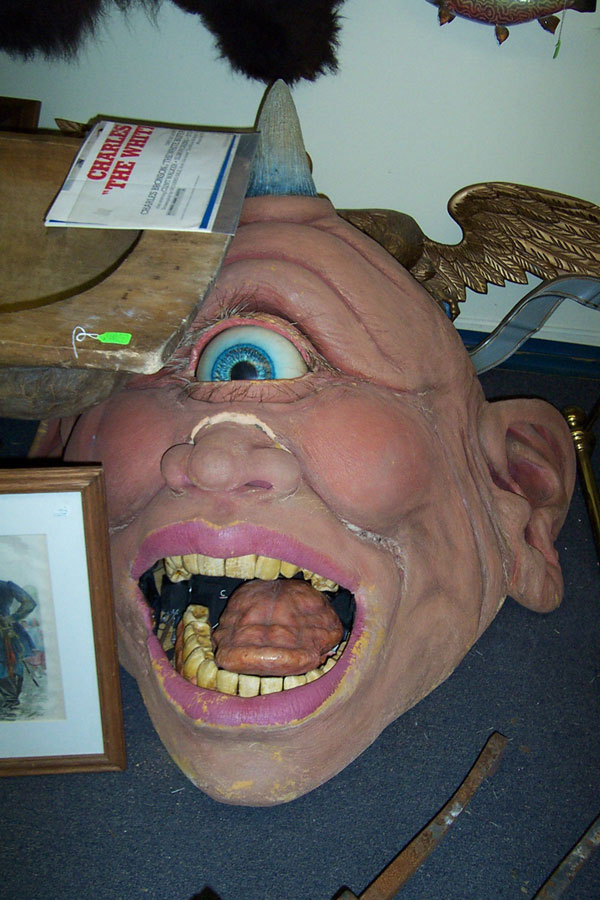 I TOLD YOU COINCIDENCE NUMBER FOUR WOULD AMAZE YOU
First, a kitty!! Then, all politics.
Room 8, The Cat That Adopted A School.
All You Fascists Are Bound to Lose If You Don't Show Up In the First Place.
How three conspiracy theorists took 'Q' and sparked Qanon.
One of those knocks-it-outta-the-park Seanbaby articles, 5 Awful (But Revealing) Examples Of Conservative Comedy. I thought "I hope it has the Fox 1/2 Hour News Hour!" and it does. This lastest 4 whole months, and only because Fox really hoped it would take off. Watch the clip, smell the flop sweat!
There's a link in there: Dennis Millerís new podcast is an incoherent marvel. I think 15 years ago I was channel surfing and came across him doing commentary on Monday Night Football. He said, I dunno, something like "If the Romans played like this during the Third Punic War, on the Fourth of July we'd be launching Carthaginian candles!" There was laughter. From Miller. His 2 fellow commentators didn't say anything, because the only person who gets a Dennis Miller joke is nobody else. That linked article mentions him recently Tweeting, "Hmm...does anyone else think the NFL resembles a Stradivarius these days?" They...are like the world's most valuable instrument? They're..."fiddling" around while someone "pulls their strings" while "stringing them along"? Is it because Trump hates brown things?
Okay, I lied. Neither cats nor politics, here's...wait, there are pets and some politics, so I lied twice? Not ready for prime time: 18 animated series that didnít make it a full season. I was at least aware of 11 of these, and saw most of them. Not for long. They all got cancelled, and some of them there was no reason to watch more than 15 minutes of. They all came from when the Simpsons burst on the scene, and, as always, Hollywood took exactly the wrong ideas from that. Jaws was big, so audiences want to see people get eated by fishies! Star Wars was bigger, people want people in SPAAAACE FOOORCE! (I think they actually combined the 2 with that thing you never thought was the stupidest thing you ever saw, Empire Strikes Back's giant asteroid eel that has things that eat power cables in its mouth. Explain THAT ecological niche) Simpsons: people want cartoons about dysfunctional families! Speilberg and Burton combined to make Family Dog, and even the fucking dog was unlikable.
Also, I am probably the only person in the world who owns a Fish Police toy.

Comments forever