INEXPLICABLE OBJECT OF THE WEEK
Week of 10/22/00:
WEEK 132
AGAIN with the Corporate Mascots?!

Yeah, I know...I'm beating this subject to death. And all I do is complain, complain, complain. Don't I ever have anything POSITIVE to say?
Well, I'm gonna turn my frown upside down and give some constructive criticism to the fine, fine folks that churn out advertising!
I think that there are a few ad icons that need to be updated to the 21st Century, which technically we're really not in yet, but that just gives us a couple more months to prepare, right?
These ad icons need to have ATTITUDE!
They need to be EDGY!
They need to be INTENSE!
They need to be EXTREME!
They need to be
YET OTHER UNDISCOVERED WORDS ADVERTISERS WILL USE THAT WILL ALSO MEAN NOTHING!!

THE TRIX RABBIT
I don't get this guy. He must be at least 60 years old, but all his energy is spent chasing down one lousy bowl of cereal. Shouldn't he have starved to death by now?
What I really don't get is why he's a rabbit. If you asked me to describe the major qualities of a rabbit, I'd list things like fast reflexes, excellent hearing, and the ability to shit little pellets. The Trix Rabbit's only defining feature is Persistence, which means that the character would make more sense as The Trix Badger.
If I was told that the Trix animal had to be someone that would also lie, cheat and steal to get his cereal...Well, I think that I'd come up with the "Trix Crackhead." And I'll bet that he'd work cheap.
I 'd give The Trix Rabbit a makeover that includes actual rabbit-like traits.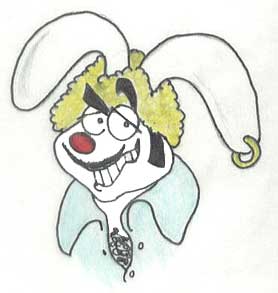 THE SEX RABBIT
[SCENE: A suburban household's kitchen.
Little ROBERT has a bowl of Trix. His MOM is wearing a bathrobe.]
[SEX RABBIT enters. 70s porn music plays: Wakka-ka-chow, wakka-ka-chow]
RABBIT: Heyyy, little dude...That bowl of Trix looks as tasty as your momma! Mind if I...eat that creamy goodness? Lap it up with my tongue?
ROBERT: Silly Rabbit! Trix are f--
RABBIT: Ohhh, YEAH! Like I'm talkin' cereal here! Sayyyy, hot momma...Mind if I stick my big, hard spoon into your sweet bowl?
ROBERT: Silly Rab--
MOM: (grabbing bowl of Trix away from her son) Robert, go to your room and play with your Atari 2600! Mother will...get a GRIP...and HANDLE...this...HARD PROBLEM!
RABBIT: Silly Robert! TRICKS are for STUDS!
Wakka-ka-chow!!

THE JOLLY GREEN GIANT
If the guy at Burger King handed you your Whopper, and he and the guys that cooked it all went, "HO! HO! HO!"
--Would you eat it before making sure that the "Special Sauce" didn't include any of their personal secretions?
So why is the Giant so danged jolly about his Niblets? Is he personally irrigating and fertilizing the fields after a long night of drinking beer and eating Mexican?
And the guy's HUGE! What does he eat? He wouldn't eat Mexican, he'd eat Mexico. Is this why we never saw any other life in the Valley except Little Sprout and the occasional kindly old farmer?
I think that the Giant is too jolly. He needs to be--EDGY! EXTREME! He needs to be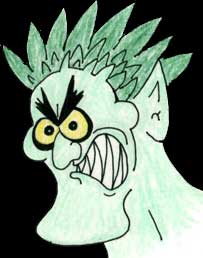 THE ANGRY GREEN GIANT
[SCENE: The Valley of The Angry Green Giant. A kindly old farmer drives his tractor]
FARMER: Here, in the Valley of the Shadow of Death, we live in constant fear of--
AAAAAUUUUUGGGHHH!!!
[A giant green fist smashes the tractor into the ground]
GIANT:
INSECT! NONE SHALL ESCAPE MY WRATH!
[SCHOOL BUS full of CUB SCOUTS going to the Boy Scout Jamboree passes by; GIANT grabs it. GIANT takes a bite from it, chews, and then picks a Webelo from his teeth]
GIANT:
PUNY HUMANS!
IF YOU VALUE YOUR TINY LIVES--
EAT MY PEAS!

[GIANT throws school bus against a mountainside; it explodes in a fireball]
GIANT:
HO! HO! HO!
MERRY
FUCKING
CHRISTMAS!

SEE?! There's our INTENSELY EDGY slogan!
Once America hears it, it'll be bigger than the Budweiser "WHAAAASSSUPPP?" ever was!
If some guy says "WHAAAASSSUPPP?" to you, be like the Angry Green Giant and grab the nearest object that has a tensile strength greater than the bones of the guy's face, and pound him good and hard right in his ugly mug, while screaming:"HO! HO! HO!
MERRY FUCKING CHRISTMAS!"Then you'll both have a good-natured laugh, assuming that the guy has enough of a jaw left that he can laugh. If not, he'll playfully spit his bloody teeth at you. Good feelings all around!

LUCKY THE LEPRECHAUN
I really pity this guy.
What type of sucker deal did he get, anyway?
Did he rub the Monkey's Paw and ask for "Powers no mortal man has e'er had"? He'd hoped he'd get to shoot lasers from his eyes, but instead his only power is the ability to make MARSHMALLOWS.
And they're marshmallows so magically delicious that youth gangs constantly chase him down to steal his only gift.
His other power is the ability to magically conjure methods to escape the brats. This always fails within the first few seconds, and WORSE, leads to his humiliation as the escape vehicle is usually transformed into some NEW magically addictive marshmallow, like Pink Hot-Air Balloons or Burnt Sienna Dirt Bikes. It's an endless cycle of suffering!
At the end of the day, he stumbles to the Hollow Tree Bar to drown his sorrows in a dozen pints of Guinness. "Lucky!" he sobs. "Aye, if that ain't the irony! Why di'n't me parents just name me Loser O'Dumbass an' get it over with!" Then he bursts into tears on Ernie Keebler's shoulders.
I think it's time for some EDGY INTENSE EXTREME ATTITUDE!
For Revenge--is a dish best served COLD!
Just like cereal!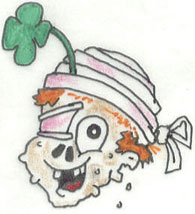 LUCKY THE LEPER
[SCENE: A remote Hawaiian Island]
YOUTH GANG: Hey, there's Lucky! Let's kick his necrotic ass and steal his cereal!
LUCKY: Always after me Leprous Charms!
[LUCKY runs away]
LUCKY: BEGORRAH! Me foot's fallen off! I'll make a MAGICAL SENIOR WALKER! Then I'll get away--Shit. Who'd'a thought that a buncha kids could outrun a leper in a walker!
GANG: Give us your cereal, you rotting bastard, or we'll tear you limb from limb! Not that you're having any trouble doing that on your own...
LUCKY: Here! Have a bowl o' me Leprous Charms!
[KIDS begin greedily stuffing their faces]
LUCKY: Green Clovers! Yellow Moons! Pink Stars! Mauve Mopeds!
Gangrenous Fingers!
[KIDS, their mouths full of cereal, suddenly stop chewing & look at LUCKY all goggle-eyed]
LUCKY: [holding up his 2-fingered hand] Anyone seen the one with me wedding ring?
[KIDS fall on the ground, vomiting & crying. LUCKY laughs his ass off]
LUCKY: AHH-HAHAHAHAH--DAMMIT!
My ass fell off!!
INEXPLICABLE LINKS OF THE WEEK
Have I been beaten to the punch??
Chadtx has an edgy, extreme & etc. display of the Looney Tunes gang with their faces torn off and their stiffened corpses turned into kitchen utensils.
Just the thing for that mutual fan of Taz & Ed Gein on your gift list.

And Miss Gunn has found a Japanese ad that apparently is about giving woodland animals breast implants. Except for what they gave the raccoon...

©2000 Bill Young