NEW 4.5
"hissssss"
--Kill Kill


8/1/03
Well...Things could be worse.
Kill Kill reacted to Byron in much the way I thought that she would. She hisses, hisses, very quietly hisses, then runs away. She won't get very near him, and he won't even go into the living room, which she's apparently decreed as the Sovereign State of Killsylvania and seceeded from the rest of the condo. I keep trying to act as a peace broker, assuring her that the tiny grey guy is no competition, that she's still number one and the boss, and even "Good girl!"ing her over her lack of violence to the shrimp. It hasn't worked yet.
As I type, he's asleep by my shoulder on the kitty condo, and she's carefully prowling the kitchen, trying to find Byron so she can hiss at him. These things take time, and they're not being left alone and unsupervised until they figure each other out. Tomorrow he goes to work with me, and if worse comes to worse, I'll be locking him in the bedroom when I go to work next week.
I'll move these pictures to their own page some other day. It's late, and I'm tired not only from the cat tension but from an ill-timed day of Mystery Disease and vomiting of YooHoo.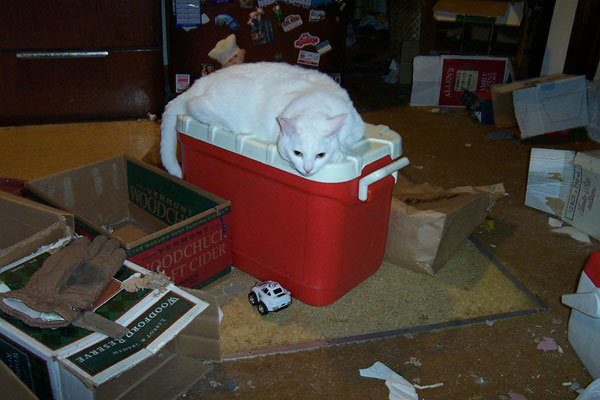 Killsy yesterday, on our fourth anniversary. That cooler is a favorite resting spot; she's there again now. She must be exhausted; she's been awake since I got home 4 hours ago, stressing over the new member of the family.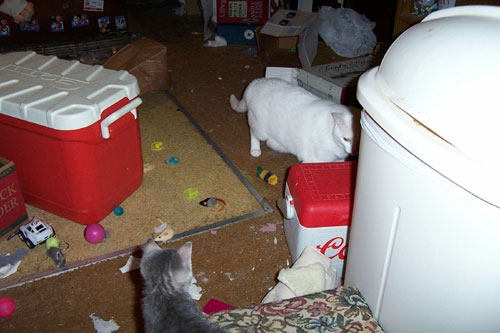 Kill Kill and Byron today. I just missed the horrible hissing monster face she made at him, but I think the look in her eye says it all. Poor Byron is utterly bemused by all this, but he's wise enough not to go looking for trouble.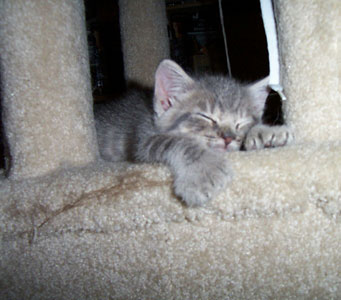 Byron asleep on the--I mean, his--kitty condo.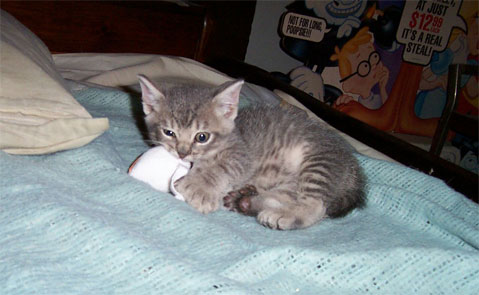 Byron fights a catnip mouse in the bedroom! Kill Kill sulks in the living room.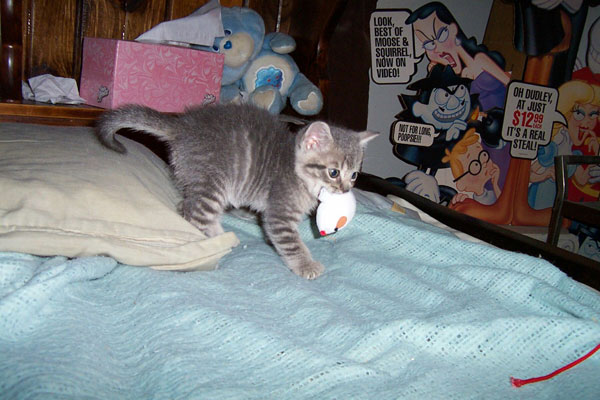 Byron kicks that mouse's heinie!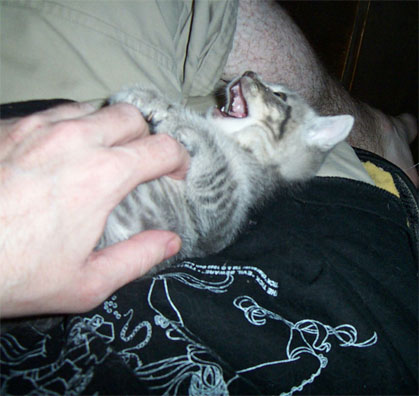 When Byron plays, he emits the strangest noise, like a demented baby doll whine/scream/growl. It sounds the most like the noise Killsy makes when her tail gets stepped on. But he wasn't in pain or anything, so I guess that it's just his battle cry. His version of "SPOON!" Apropos, as the t-shirt I'm wearing here is my Tick one.
Byron is still asleep. Kays is playing with the mice I throw her. It won't happen overnight, but I think that we're on our way. To a family of three.
8/2
We had an incident last night. Kill Kill snuck into the computer room to hiss at Byron. She didn't know that he was behind her, sneaking up on her. "Please don't pounce her," I thought. And he didn't. He gently sniffed her tail. She spun, hissed and raised her paw for a smackdown--And then ran away. She may not like him here, but she's not directing any violence against him. She even left his food and stuff in the bedroom alone when I took him to work today. She could've wrecked it or pissed all over it. She didn't.
I went to sleep with Byron next to me, then awoke to use the bathroom. And he was GONE. He couldn't have left the bedroom, but he wasn't in it! At the 20 minute mark, I was starting to panic. There's a bookshelf next to the bed that has a pair of oversized pillows on it--with pillowcases that are grey with white stripes. He was completely asleep. And camouflaged.
I figured out what that weird noise he makes when gets really playful is. I knew it sounded like something I'd heard before, but it wasn't a cat. I finally figured it out: Since he only just got his shots, he wasn't allowed to play with Amanda's cats. She did let Byron play with her boyfriend's ferrets, though--And that's the sound! Byron makes a ferret noise when he fights! Where did I learn this noise? From watching Beastmaster, of course!
Byron is a chick magnet. That Saturday I was at the Big Store, every female employee came to coo over him and pet him. At the New, almost every female customer does the same. Co-worker Shelley made her second hour-long trip to see him today. And I was pleasantly shocked when Jessica walked in the door from 50 miles away!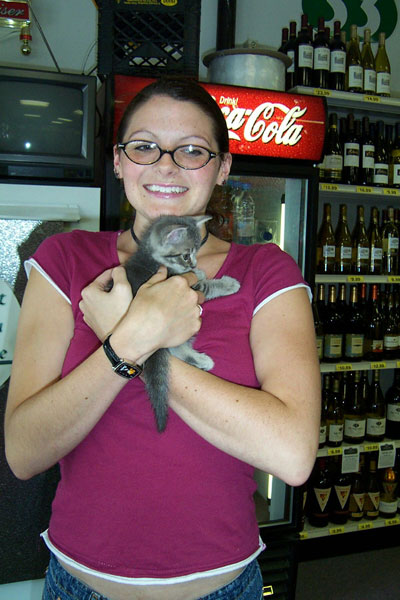 Her adorable daughter Jacqueline is so enamoured of the baby boy that we're all doing lunch together, just so that she can see him. Him and Kill Kill, who (hopefully) will be a little more tolerant of her brother by then.
Compare and contrast! Two photos taken 4 years apart (to the day):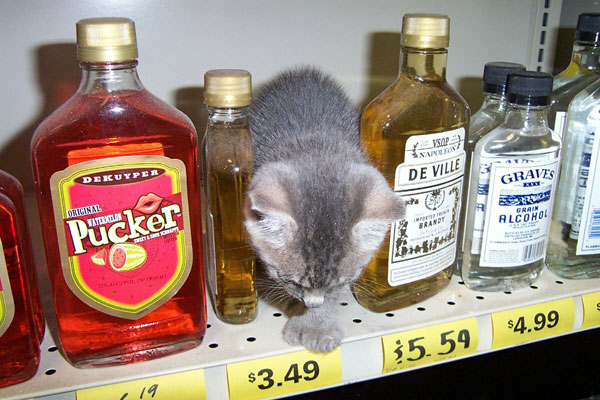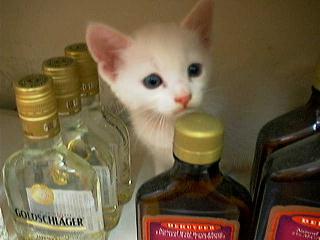 He's looking at the pint he just knocked off the shelf; she's looking at the pint she's about to knock off the shelf.
When I finally had backup on the register (45 minutes before closing), I took Byron into the beer cooler while I did an order. He didn't care for it, never wandering far from me. When I went outside for a few minutes to restock the 40s, I heard a squeaking cry for help inside the cooler. I scooped him up and he was trembling. And not from the cold, I think. I think that he may've been flashing back to when he was abandoned as a tiny baby.
Not really wanting to deal with both dinner and cat warfare, I decided to just place Byron in the bedroom, close the door and let Killsy relax a tiny bit, and to get dinner from Taco Bell. An offer of "Would you like a fat steaming bowl of enchilada donkey piss?" or whatever the latest special was came burbling happily out of the drive-thru speaker. Wow, I thought, this teenaged girl is the happiest fast food employee in the WORLD. Never one to be rude without cause, I said, "No thank you; could I have 2 crunchy tacos please?" "HOW MANY?!" barked an extremely angry, middle-aged male voice. "Two," I said, realizing that Miss Perky was just a recording to fake a happy employee.
The guy running the drive-thru had "Assistant Manager" on his name tag, and I recognized him. When he wore D'Angelo's colors, he was their AM and a daily customer at the DumpStore. He recognized me, and I told him from where. "I quit [drinking]," he growled, "but I'm about to start again!" He got irritated when he asked what kind of sauce I wanted, and I said "The hottest" instead of "Fire." I've done that ever since the drive-thru person thought that "Fire" rhymed with "Mild." McDonalds is already testing robotic burger flippers...One wonders when Taco Bell will make the drive-thru headset function as a voice synthesizer, making every unhappy employee talk with the voice of the happy and nonexistant teen girl on the speaker.
The door to the bedroom swung open of its own accord, and Killsy crept in. Before running away, she hissed in horror at this threatening sight--Viewers with young children, please cover their eyes!!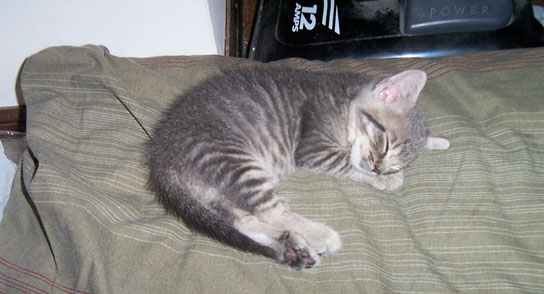 Makes your blood run cold, huh?
8/3
A quiet, hiss-free (so far) day in the Splut household. Shutting Byron in the bedroom seems to have calmed things down. The Small White is hardly back to normal, but she's much more at ease. And Ferret Boy doesn't seem to mind at all. I even left the door open for most of the day, as it was getting stuffy in there, and it took him hours to notice and wander out. He was mainly interested in sleeping on the pillow on the bookcase, or under the pillow, or under the bookcase.
I spoke too soon. Kill Kill just noticed that he was wandering around the kitchen and she came out to hiss at him repeatedly. He responded by pretending not to notice her and walking back into the bedroom. Then KK ran away. But really, it's been such an improvement that it's clearly a matter of time before they're on speaking terms. Terms that don't include hissing, even if they do involve one of them speaking in Ferret.
Observation from months of using the self-serv checkout stations at the supermarket: If the person ahead of you has the slightest problem scanning an item, you must roll your eyes at the idiot, sigh, and shift your weight impatiently from foot to foot. When you have a problem scanning anything, you must swear semi-audibly and blame "This damn machine!" While the people behind you roll their eyes at the idiot, before it's their turn on the stage.
On the way to the self-check, a woman complained at the regular checkout, "We spent 45 minutes in the deli line, NOW we have to stand in this line?!"
One of Retail's Absolute Laws: Any number involving time quoted by a customer will be multiplied by at least 5. I walked past the deli, and there was no line 30 people deep there. At Lechmere we once had a guy screaming--literally screaming--about how "No one's waited on me in the stereo department, and I've been standing here for 30 MINUTES!" This was at 10:05AM, or 5 minutes after we opened.

Lady, maybe you should try shopping not at 3PM on a Sunday? Try 5 or 6PM. There's never anyone there. That's because, like you, they're at home making dinner and complaining about how long the line was. Wait--You also complain about how far away from the Mall you had to park on December 23rd, right?

And your other options are...? You can stand in line and pay, or leave your carriage abandoned in the store, thus rendering the 3 days you spent living out of a pup tent and sleeping bags in the deli line moot, or you can run the cart out of the store with pantyhose on your head and hope the rent-a-cops are too donut-laden to chase you down, then pursue your SUV until you roll it at 100MPH and die. Or stand in the line! Ya know, there's a difference between complaining about the weather and getting mad at the weather. That pounding sound in your temples?--That's the sound of your blood pressure rising. Congrats, you just shortened one of your waits. You knocked a few minutes off of the time you have left until you die. Keep going! After a few decades, it really adds up! You'll get through that final checkout line way before me!
A comic book, Trucker Fags in Denial. Just what it sounds like. Pisserable navigation; there's a "previous comic" link on each page, but no "next." So you have to hit back and click on numbered pages that are really tiny and have links that don't really change color when visited and it's missing Page 17, but that's because there is no Page 17. It's worth the effort, it's just that there's no reason for the effort. The blog it's on seems worth reading. And it's Canadian! Bonus points!

This may get into too much detail for casual reading (and some of the pictures are too dark to see), but here's info on polydactyl cats like Byron.

8/4

Progress continues.
Byron has been out of the bedroom for--let's see--3 hours now. Kill Kill has watched his every move, and even very gently swatted him on the head a couple of times. Byron kept trying to make friends, Kill Kill kept watching from atop the cooler, watching him scamper and play and try to pounce. Every day her hostility lessens. We're on the way. When he fell asleep after play, she briefly slept in the same room. That's a big step to detente right there. She even tolerated him drinking from her water bowl.

"It's the liquor store guy!" said a New Store customer as I killed time in K-Mart, waiting for CVS to refill my antibarf drug scrip. Sort of the reverse of me recognizing that customer at Taco Bell. Hopefully, I came across as less of a stress-monkey than the TB guy did. I'm possibly one of K-Mart's only customers that impulse-bought a Galileo thermometer. No, really, I'd been thinking about buying one via American Science & Surplus' annual sale catalog. And here it was on clearance! Liquor Store Guy got him some thermometer! Unfortunately, it was exactly warm enough in here--82 degrees--that all the bulbs sank straight to the bottom.
I know K-Mart is all about branding itself, and I guess now that Martha Stewart's breaking rocks and nobody remembers Kathy Ireland for anything but her star-making turn in the title role of Alien From LA, they needed some new Brands. Umm, explain why I would buy a "Joe Boxer" microwave? Or ironing board? (Shaped like a surfboard, ho ho!) Okay, maybe the ironing board. But would you buy a Fruit of the Loom gas range? A BVD garbage disposal?

Huh! Our Baby Boy just woke up, and when I placed him on the floor, he immediately ran straight to Kill Kill! She responded with hisses and a waved paw, but there's no way that his relentless charm isn't going to wear Killsy down. Byron's had no Mommy Cat for most of his life, and I think that he's found someone who he thinks can fill that gap.

Negaduck just discovered the amazing, amusing world of BIG!Lots. I gave her some shopping hints, and you other veterans of Van Dyke can add yours.

AHH--hahaha! Makes me wanna go out and buy this t-shirt!

8/4

The winner of the biggest Powerball jackpot ever had some of his money stolen from his SUV. If you remember the guy, he was already a millionaire right-wing Fundie. He was going to tithe to GAWD some of his winnings, and start a charity for church groups.
He "liked to gamble." His "gambling money" from stolen in front a strip club. How much of his "gambling money" was stolen? $585,000. The Right-Wing Religious Rich--thank Gourd they've cornered the market on morality!

I bought 2 CDs today. There are some song samples and even videos, but they're RealAudio so of course they don't work.

Oh, the kids? Kill Kill gets a little better every day. I hope that I'll be posting a picture of her licking Too Many Toes Boy's ears in a week.

8/5

Byron learned this morning how to climb back onto the bed. I found this out when he attacked my nose. Well, it is a big target.

Apparently, somewhere near the DumpStore today they were having the White Trash with Bad Tattoos Pride parade. Seen, all on different people:
The Van Halen logo.
A wizard on one arm, and a King Arthury guy on the other; both drawn with the same talent as something from a 14-year-old girl's school notebook.
A broken bottle. This was in the "sewing needle and Bic pen" style of tat.
And the winner IS: An arm-covering tattoo featuring a battle to the death between an octupus and a crab. It was either a very large crab or a very small octupus. As to what it "meant," I have no idea, and I didn't ask.
I was talking to a co-worker about Byron and his ferret noises, and he asked a good question: "Does he meow?" Huh, good question! Not that I've heard. He purrs in very brief bursts, but no other actual "cat" sound has been heard from him. He'll have to learn that from Kill Kill.
When I got home and let Byron out of the bedroom, Killsy jumped on the cooler. Her body language was totally different--much more relaxed. She didn't--didn't!--hiss at him. He crawled into a grocery bag on the floor (that's why it's there, as a traditional cat toy) which was right in front of the refrigerator door. I needed to go in there (the fridge! Not the bag!), so I gave him a little ride inside the bag as I opened the door. He batted at the bag from inside, and KK immediately jumped down from her perch, stuck her head in and tried to play! And she tried to play again and again (and I took pictures again and again, none of which came out all that good). Eventually, he fell asleep, and she watched him with a look that seemed...maternal. She's never watched him do "nothing" before. Then she laid down on the floor and on her back (the ultimate sign of cat unworry) and slept, only 5 feet away from him.
We're still not there yet. She hissed and growled a little bit later on, and her play is rough even when she isn't trying to be, like batting at him or running past him like a tractor trailer sideswiping a Yugo. But today was a quantum leap in cat relations.

Via an email exchange with Mike in the UK, about a certain comic strip:
>Tasty Chick now has their classic Zippy appearance tacked to their wall.
>Ha ha! Vernon CT has TWO Zippy mentions! How many does YOUR town have?!
> NONE! And it probably has some crazy go nuts English town name like
>"Trollop on Top" or "Herpeshire" or "Festerton" or "Berwick Upon Tweed"!

I actually live near "Newton Unthank", "Bunny", and "Frisby on the Wreak" and used to live near "Fladdabister". Great, eh? And that's without even mentioning "Wet Wang"....
Jeez. And I deleted one of my joke town names, "Chancre on the Tongue," as too unbelievable.

A short movie that crosses The Matrix with Japanese ping pong. It'd be funnier if they waited until the end to show how the special effects were created on their giant and expensive computers over a period of months, but it's still fun.

Via ...oh, YOU know. Don't tell me you don't check him daily. Word on the street says that he's "worth the click." At any rate, here's the best 2600 game they never made: Arcadia. Four very simple games, that you have to play simultaneously.

All Iced Out Blingin' Hot Classy Bracelets and more can be found on this ad window that my hit counter just told me about. You can get your own personalized belt buckle for $39.95 and up! (More for "Austrian Crystal Covered") They suggest "PIMPIN." I'd go with "SPLUT," of course. Word. Peace out.

We've had our fun links, now here's the depressing one: Why Bush will win the 2004 Elections. It's all in the new "voting" machines, bought and paid for by the Religious Right. All America will be Florida next year if they have their way.

8/10

The irony is that I have things I could write about, but I just don't feel like it. Here's a thrown bone or two:

Veruca Bush. (And click the "More?" button when it's over)

Ahnold and Gary Coleman, so why not him, too?

"The store says it is reconsidering its clothing line and marketing campaign." Ya think?

Kittenage: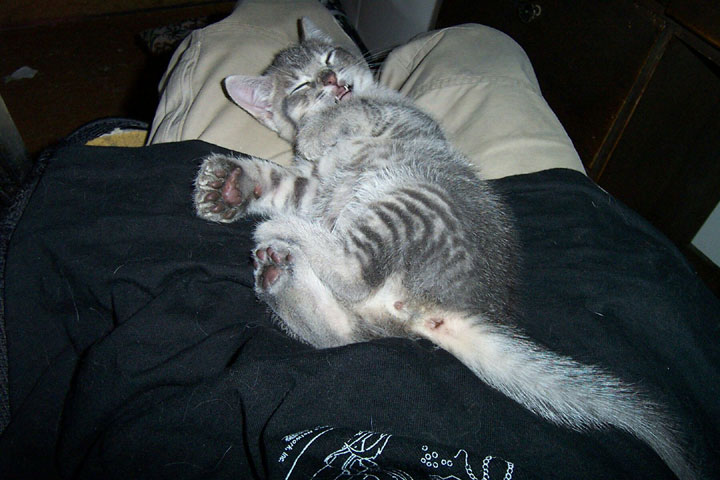 Byron konked out in my lap while we were still engaged in ferret-level combat. Maybe he's doing his Brak impression.
8/11
The problem with "not updating the page today" is that it can lead to not updating for days more. Of course, typing for half an hour like I just did and having the computer crash doesn't help either.
The Massachusetts Chapter of the Byron and Kill Kill Fan Club, Jessica and her daughter Jacqueline, came to visit today. There are pictures, but they're on Jessie's camera, so it'll be a bit before you and me both see them. For my birthday (which was last APRIL) she gave me