NEW 93
"For money you can have everything, it is said.
No, that is not true.
You can buy food, but not appetite; medicine, but not health; soft beds, but not sleep; knowledge, but not intelligence; glitter, but not comfort; fun, but not pleasure; acquaintances, but not friendship;
servants, but not faithfulness; grey hair, but not honor; quiet days, but not peace.
The shell of all things you can get for money. But not the kernel. That cannot be had for money."
- -Arne Garborg
3/17/08
DEFENDANTS WHO SHOULD REMAIN INAUDIBLE

Judge: Had you been drinking that day? Alcohol, I mean?
Defendant: Uh-huh.
Lawyer: Answer it audibly.
Judge: Had you been drinking alcohol that day?
Defendant: Audibly.

--actual courtroom testimony
I sent back the free wireless mouse I got last month, and while a mouse with a scroll wheel was something I Needed, I decided to use my HomeScan points to get something I Maybe Needed, a shredder. Not just from the fear of identity theft, but because I was throwing away paper that could be otherwise recycled. (I was originally planning on just shredding sensitive documents, such as payroll stubs and bank and charge statements, but I've decided to shred random junkmail, too, just to reduce the signal-to-noise ratio, especially when the first thing to be shredded was something with my Social Security number on it and it was still potentially able to be pieced together)
Byron was fascinated by the two boxes it came in, but Kays was, oddly, more interested in the actual machine.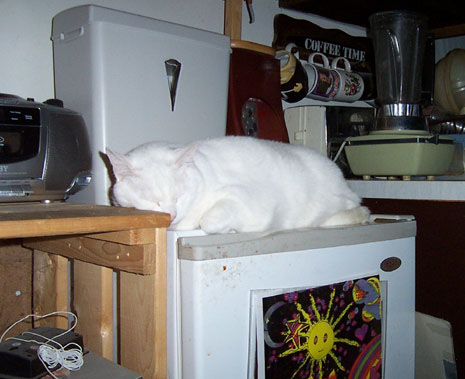 She slept in front of it for 2 hours. KK+Royal StripCut Shredder model#js800=BFF! Yeah, I thought, and when I turn it on, you'll love it just as much as you do the vacuum. And when she left and I tried it out--she actually watched it gobble paper with great interest, not scared a bit. Unusual for a cat who'll run away when I come back in the house because I forgot something a few seconds after leaving.
In the spirit of fairness, here's Toemaster B sunning himself in the courtyard window this morn: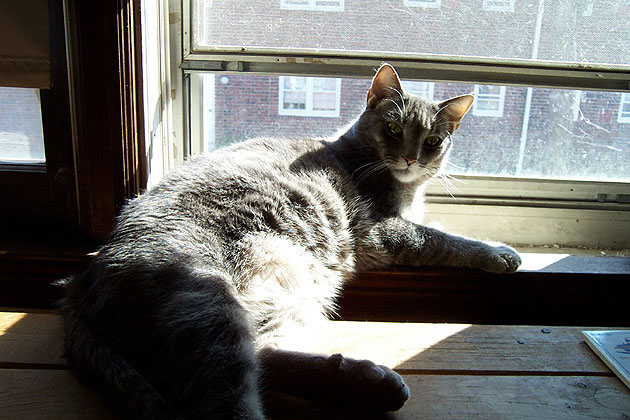 And if you squint really hard above his shoulder...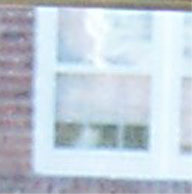 ...there's the Kill Kill Klone Kitten across the way.
A ways back I linked to a story about the worst walk to school ever. I don't have the link anymore, but you'll recognize it from the second picture on this story about its happy ending.
One big page of thumbnails of pre-web sci-fi fanzine covers. Most are of the roll-your-eyes variety, although you might think "Before there was a net--I might've bought that!" Just be glad that you live in a time when your only sci-fi geekdom choice wasn't limited to Logan's Run. There's only one that I really like for itself: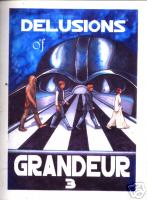 "You never give me your money; you only strangle me with your Force powers..."
I've been reading Mallard Fillmore, a terribly dumb and unfunny comic strip that's all kneejerk right-wing talking points, combined with the drunk-driving trogolydyte cartoonist's bizarre tangents and art that frequently veers into the "that's a drawing of what, now?" territory. Every million or so strips, he says something rational, such as making fun of the Zero Tolerance policies of public schools. And he'll illustrate it not with a true incident like the 8 year old who was suspended for pointing a fucking french fry at another kid and saying "Bang!", but the girl who was suspended for bringing a 6-inch steak knife to school. That's like complaining that they confiscated her bayonet.
Really, the only reason I started reading this was because of Duck and Cover, a site that makes fun of Mallard with pithy snark. I've toyed with the idea of doing the same with Chuck Asay, a competent cartoonist who's a kneejerk right-wing talking-points-spewing trogolydyte that specializes in Straw Man Attacks, and bathes in the rich, soupy lager of hypocrisy. My blog, of course, would be called "UpChuck."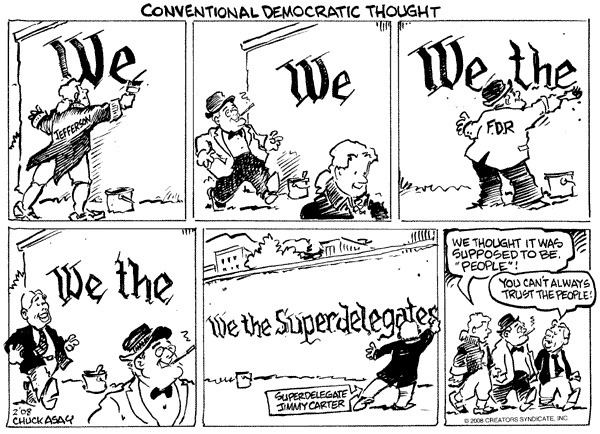 Whoa! The Axis of Evil, Franklin Roosevelt (Socialist!!), Jimmy Carter ("He's history's greatest monster!") and Thomas Jefferson (wrote the Declaration of Independence, much of the Constitution, lives on in the phrase "Jeffersonian Democracy," and slept with a Negress!!!) conspire! Who knew that beyond their many other crimes (such as Carter's vile creation of "Habitrail for Humanity," which forces poor humans to live in hamster houses and squeeze through plastic tubes to get their food) that they were also graffiti taggers? And apparently, Liberal Fascist FDR had his Nazi mad scientists abort innocent stem cells to give him the ability to leave his wheelchair! No doubt, when they did this he shrieked like Dr Strangelove, "MEIN FUHRER! I CAN WALK!" Yeah, Mengele did it. Because I don't think Jesus would do that "You may walk again" shit.
Hypocrisy: Yeah, damn Demon-rats won't let the PEOPLE choose their candidate! I've been subjecting myself to this guy for a year, and believe me, his big dilemma after the choice is made is how he can call Clinton "power-mad" without using the word "bitch" and giving away that he hates women, and how he can call him "HUSSEIN!" Obama to make people think he's a secret Muslim without letting on that he really thinks that Barack can't be president because he's an uppity nigger. But that's really the whole Republican party's challenge this year, isn't it? Getting Joe Six-Pack/50-IQ-Points to get the subliminal message?
Oh, the hypocrisy part: Because the PEOPLE elected Bush president. Twice. Five People on the Supreme Court in 2000, and in 2004, the People who programmed the Diebold machines.
But I don't know if I could do a blog on him. There are too many times like today, when I look upon his mighty works and despair, jaw agape: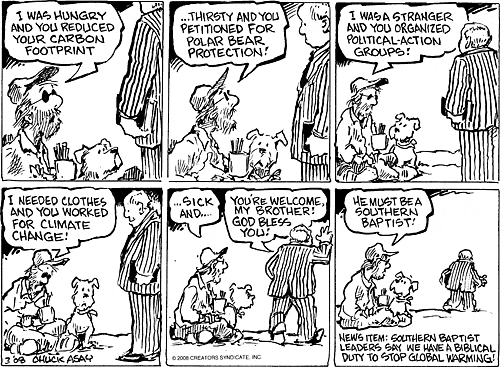 Hypocrisy? You're soaking in it!
WWJnotD? Anything about climate change! He was all about protecting oil company profits! Sure, it will doom the whole world, but unless there's a Tribulation, he ain't gonnna come back!
Hypocrisy, panel by panel: Feeding the hungry. Sharing resources. Reaching out to those less fortunate. Clothing the naked. SOCIALIZED MEDICINE! As a total: Helping the poor and homeless--=WELFARE STATE! You think Chuck Asswipe is in favor of those things? Of course not! Every other cartoon by him hates that evil stuff that might alleviate the suffering of the least of my brothers--in fact, ALL of the world's brothers and sisters--by raising taxes on the rich and corporate. Render unto Caesar? Are you nuts?! Blessed are the profit makers, for they will inherit the stock dividends! Blessed are the meek, for they will work in our sweatshops!
But damn those fucking Southern Baptists!! They're the most bleeding-heart liberal moonbats in the world! WWJD? He'd fuck the world! Christ hates polar bears, it's in the bible!
I don't know if I could blog Chuckie. I am on blood pressure meds, you know.
And if I did, then I'd just be a part of the Atheist Apocalypse.
3/18
YOU SAID IT, NOT US

I am not going to give you a number for it because it's not my business to do intelligent work.

--Defense Secretary Donald Rumsfeld, testifying before Congress, when asked to estimate the number of Iraqi insurgents
I watched No Country For Old Men last night. WOW. Really good. It's one of those movies that grabs you with the first shot, and doesn't let go. Of your throat. While it's killing you.
Which is pretty much what it was about. Some cowpoke stumbles across a massacre of a drug deal gone bad, and two million dollars. He decides to keep the money, but then decides to bring some water to the only guy in the massacre who's still (barely) alive. And that is a very big mistake.
He draws the attention of a fixer armed with the most bizarre weapon seen outside of an 80s 007 movie, and he's an implacable and cold-blooded killing machine--how cold-blooded? Bose-Einstein condensate-blooded! He's that cold!
(I apologize to any readers who hate Kelvin jokes)
Some were confused or disappointed by the ending. And it doesn't so much have an ending, but just ends. I didn't find it confusing at all, and if you want a "satisfying" Hollywood ending, shit, don't you watch you no Coen Brothers movies from here on in. My take is that (not a spoiler here, I think) one character is ineffectual, another soon to die, and the other....Well, that could be a spoiler. It's definitely worth the rental.
Somebody left a batch of FREE TICKETS at work! Oh, wait, "Admit one child under 12 yrs." I'd need a lot of Nair and also learn to pitch my resonant radio announcer voice in a Michael Jackson octave for that to ever work. Let's see, it's for the "KID'S FUN FAIR & AWESOME TRAVELING ZOO." It's billed as "A Comfortable Fun Indoor Event." One can "RIDE THE ELEPHANTS & CAMELS," although the clip-art shows a girl riding a Galapagos turtle. It also shows animals from 4 other completely different bits of clip-art.
There's a zebu and an emu! I don't know what a zebu is (a zebra crossed with a gnu? I don't think that's biologically possible), but Emu! I loved his stand-up work in the 90s! Whatever happened to Emu Phillips?
"See the UniCow It's real, it's live, it's here!" It's a poor mutant cow with one fused horn. It'd better shit rainbows! "Teenie Weenie Horse--Giant Rat" I hope that's a steel cage match! Where "Only one will trot or scamper away!" and, best of all--"REAL MONKEY FARM"
Holy shit no way! Not some sham Monkey Farm! Not some lame-o Monkey Co-Op! A REAL MONKEY FARM!! Is it like a puppy mill, and they breed them? When they finish their hot monkey sex, do they smoke a cigarette, or gaze into each other's eyes and ask "Honey--do you want to go fling poo at the neighbors?" "Oh, sweetie, you're so romantic!"
Or is it an actual MONKEY FARM? Are they dressed in overalls and carrying little pitchforks and plow the sorghum? Do they saddle the Teenie Weenie Horse and lasso the Giant Rat? Milk the UniCow? Do they chew banana tobacco and talk about ethanol subsidies?
HOLY MONKEY POO! I almost missed the best part! They promise a "GIANT PYTHON" John Cleese will obviously be there!!
There was an url on the ticket, so I checked it out: Commerford Zoo. And you think that my page hasn't changed in 11 years? Besides the embedded video, their webpage looks like it hasn't changed since 1953. While there is not ONE TINY SCRAP about the REAL MONKEY FARM, there is a very brief shot of UniCow. Mainly it's exciting stuff like a beer-bellied senior in a red polo shirt leading a camel around. And "rides" that apparently involve stuffed animals getting reamed up the ass by rotating poles, just like your child's most favoritest hentai anime.
You need to watch the video. Sure, it took 8 minutes to load all 94 seconds of it, and I have ADSL. They can't upload quickly, they're stuck in 1953! And the fat guy in the red polo shirt has camels to lead! And REAL MONKEY FARMS to cheat us out of! First Tod Holton ripped me off with the magic monkeys, now this! WHERE MY MONKEYS, stupid internet!
WHERE MY MONKEYS?!?!
3/19
YEAH, THAT'S EXACTLY WHAT WE WERE THINKING!

There are bands who use noise as a means of disguising a lack of talent or, indeed, ambition. Then there are those who play the noise card as an ambient vacuum, using discordant embolisms as an expressive dysfunctional alternative to convention.

--review of an album by the heavy metal band Earth
That weird drawing of Cap'n Crunch counting his Benjamins that's the current Comments link? I just grab the first Google image search for "comment" that makes me laugh. I never checked the actual context.
Today someone came into the store wearing a shirt clearly by the same artist. It was a psychotic Sylvester the Cat, strapped to a suicide bomber's vest, but with all the TNT replaced by rolls of hundred dollar bills.
No, I have no idea either.

UpChuck: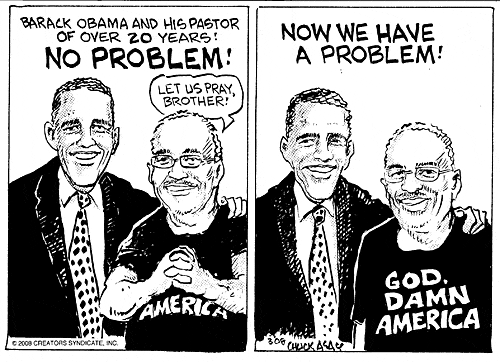 ...A PROBLEM BECAUSE NOW WE'RE AFRAID HE COULD WIN!
No matter if you "denounce and repudiate" someone, you are personally held responsible for everything everyone who isn't you ever said, even if you disagree completely with it. Think of it as "Six Degrees of Joe McCarthy."
No, I have no idea why the out-of-context quote "God damn America" is spelled "God. Damn America." When I stub my toe, I don't yell "God. DAMMIT!!!" There is the possibility that Chuck was wanking as he finished drawing this, and didn't wipe off all the splooge.
Inevitable Hypocrisy: But it's okay if you're John McCain. He sought out the endorsement of John Hagee, who considers Catholicism "The Great Whore," the direct cause of Hitler and the Holocaust, and thinks that the Pope is the Antichrist. It's okay because Hagee's an angry, hate-filled, bigoted religious whacko who's white.
Think I'm exaggerating? Here's his cartoon from yesterday: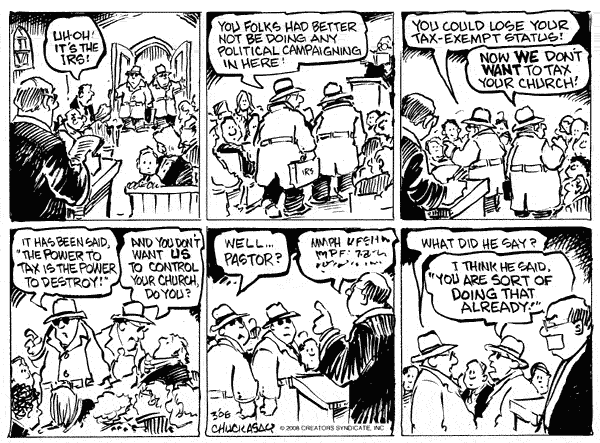 Umm, church-given political endorsements are illegal, unless they want to lose their tax-exempt status. And you may be UTTERLY AMAZED to discover that churches violating this by telling their congregations to vote Republican aren't being prosecuted by Bush's IRS. When you say "God bless America--and DAMN TO HELL EVERYONE IN IT WHO ISN'T EXACTLY LIKE CHUCK ASAY!" that's okay. Especially if the politically-active minister is--wait, it's a color, but I can't remember which...
Sorry. That should've read "God. Bless America."
3/20
CUSTOMER SERVICE, TYPICAL

I can't help you. I'm in Customer Service.

overheard at a discount department store in Illinois (thanks to C. Michael Becker)
...to which I might add, having worked in department stores, it was probably asked to somebody from Customer Service passing through the computer or TV department, where, no, they have not been trained to help you in a way you will find sufficient.
New dept. store workers always try to help customers when they've started their jobs. And no matter how many times you preface that with "I'll try, but I don't work in the stereo/major appliances/blender department, so I don't know much about them," eventually you'll find yourself saying "I don't know; it's not my department." And then the asshole will snarl "I guess you don't know much about ANYTHING!" And you'll say "No, I work in the music and video department, do you have a question about that?" And they still blame you for not knowing what you have no reason to know, and stomp away cursing.
Hey, that construction worker building an addition to the hospital? Why don't you ask him to do your fucking appendectomy? It's not like they don't work in the same building!

Apropos of that, there's a comic strip called Retail. I always decry these narrowcasted strips, but this is obviously written by someone who worked in retail, and possibly still does, so I approve narrowcasting to me. Possibly only funny if you work retail.

Well...UpChuck is updating more than I thought. Will this be a daily job? Is it worth my time and yours? Take the poll at the end!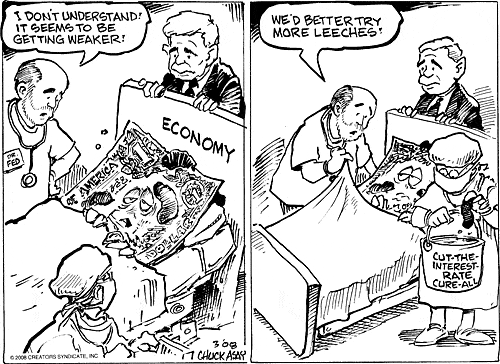 Whoa! Ya threw me there, Chuck! You're actually admitting that there is a recession, and that the problem is Bush's policies? You really don't think it's because of Obama's pastor, or Hillary's husband? What, you some kinda fucking commie now?!
And--I kinda agree. If the solution to everything is just "lower interest half a point," there will be a point where there's no interest to lower. And Greenspan's constant lowering of interest led directly to the subprime crisis that could destroy the whole world's economy.
One has to wonder what Chuckie's solution would be. The Republican Tax Cuts For The Rich Panacea? The Cut Funding For Social Programs, Fuck the Poor Fix-It? It's a pretty safe bet his choice isn't the real drain on the economy, the Stop Spending $10B a MONTH in Iraq Solution.
My solution? Tonight my dinner was about 60 cents worth of Flat Earth chips, and 12.5 cents worth of ramen.
Do you like this, or am I annoying you? Take the poll! It's called Your Title, because I didn't know that field was mandatory!
GAAH I JUST LOOKED TO SEE IF ITZ WORKING AND ITZ 900 ADS AND A BIG PICTURE OF WRINKLY MCCAIN HE LOOKZ LIKE LEATHERFACE AAAAAAHHH
3/21
CHURCHES, GOING A LITTLE TOO FAR

HERE: GOOD FRIDAY: 7 P.M: LIVE CRUCIFIXION

--sign outside a church in Grand Rapids, Michigan (thanks to Marc DeRuiter)
My store has several restaurants behind it, and next to the trash-only and cardboard-only dumpsters, there are 2 grease-only dumpsters. Little squat things. In all the years I've worked there, there was never a problem with them. But recently there's been cooking oil all over that part of the parking lot. I wondered if one had been spilled when it was being emptied.
It's a huge oil spill. Viewed from our second-story stockroom when it rains, it's amazing to see. It can be a downpour and all of the parking lot is pooling in water, but it just beads off of the slick.
I was in the stockroom today, and saw a guy using a short length of cut garden hose to siphon the used grease into a jug. Which means he had to suck on the grease hose to get it going, eww. Then he noticed that it wasn't locked down, and he used his other tools, the top halves of some bleach bottles, to scoop it out and funnel it in. And he was dripping the shit everywhere. Here was our Exxon Valdez. And he had a whole routine down: a roll of paper towels to repeatedly wipe the rancid grease off, and he walked all the way over to the sidewalk to scrape it off the soles of his shoes.
I guess that he was taking it for biofuel. Which is weird; I read an article on cars that run on that 2 years ago, and one of the advantages the bio enthusiasts listed was that restaurants are happy to give the grease away, because it means that they don't have to get rid of it. Why was this guy going through the trouble of stealing it, when he could just have it for the asking? It's like purse-snatching someone's plastic bag of dog shit.
And if he's doing it for the environment--all that spilled oil's going somewhere. When it rains, most goes right into the storm sewers. I'm sure that's appreciated.

Speaking of dog shit, I got my first FREE thing from my visits to free internet sites! "Pet Butler"--they had me at "free fridge magnet"! And--well, that's as far as I went. I got my magnet today, as well as a bumper sticker I can't imagine any human being using, unless it was the only way to keep the bumper from falling off: "GOT POOP? We Scoop!" I thought that it was for some doggie doody grabbing device, but no, it is for a service that picks up your dogshit so you don't have to. Don't believe me? Check it out (and get a free magnet, and a lot of dogshit-related puns). Sadly, I can't tell you what this service--which could be just as easily handled (ahem) with a few plastic bags--costs, as they don't offer it in my zipcode. The franchise for handling other people's dogshit is open! DREAM JOB!
While I have your attention, I feel I must take this moment to say the words "cats are the superior pet" and "litter box."

Jeez, 5 votes on the poll?! I guess that I can assume that most people have no problem with it. For those who voted--and maybe you lazy asses who didn't--let me rephrase the question, and don't choose answer 2 unless you mean "I'd bookmark it and read it":

Of course, it is a holiday weekend, so maybe people have better things to do. Maybe do the dishes; that's probably a better use of your time. I'm going to run the poll at the bottom of each new post for a while (since you can only vote once anyway), while I figure out what I'll do.

3/22
SYNAGOGUES, NEW HOLIDAYS FOR

Many Easter services will be canceled tomorrow morning. Before heading out to worship services, I recommend that you contact your church or synagogue.

--weather forecaster, covering a major blizzard on a Denver nightly news show (thanks to John Camper)
UpChuck: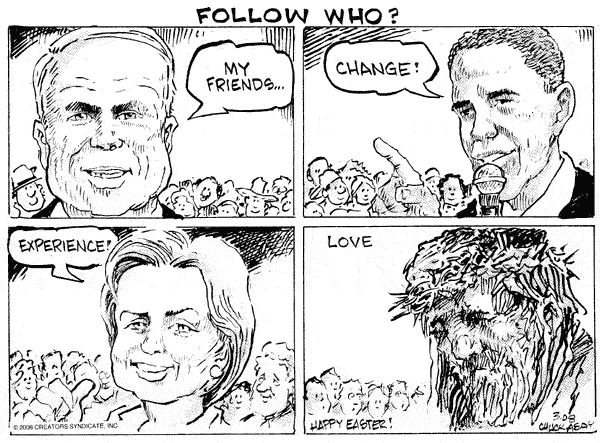 I didn't even know Mr. J. H. Christ was on the ballot!
Okay, this is the first one to make me wanna upchuck. Apparently the image of Jesus that Chuck carries in his mind is the horrifically tortured and painfully dying Jesus of The Passion of the Anti-Semite Mel Gibson. Unless that's a dirty homeless wounded veteran suffering from PTSD and who can no longer afford any pain meds, and I doubt that a right-wing loonie like Chuckie looks on them with any "love." His idea of "love' would be seeing them desperately begging on the street and screaming "GET A JOB!!"
It's so weird. There's no ironic comparison of the candidate's viewpoints with Love. In fact, unless you think "progress" and "experience" are bad things, the one who comes off the worst is McOld. He's going to help his friends when he's prez? Thanks, but we've had that "heckuva job" kind of cronyism for 7 years. Note the background crowds--they're all happy (a nice touch on Chuck's part--no, seriously, I mean it; Chuck's a gifted cartoonist with a great eye for detail--is Bill in the Clinton one). Happy except in the last, where everyone is horrified. Shit, I'd be horrified too, seeing someone that horribly tortured. Why Chuck didn't just draw a Happy Smiley Jesus is beyond me. The "Happy Easter!" at the bottom makes it sound like it's being spoken ironically. (movie trailer voice) "COMING this spring! Happy Easter!--ZOMBIE JESUS has RISEN FROM THE DEAD! And this time, your BRAINS are the loaves and fishes!" That's what really makes this kinda inexplicable. I feel like I'm looking at one of those weird only-the-artist-understands-this Jesus comics Jonny Hart would periodically whip out in B.C. (Did Hart even know what the letters "B.C." meant? To cavemen? They didn't stand for "Before Cable")
HypocrAsay: (Did you see what I did there?! Hypocrisy crossed with Chuck Asay! Me genius!) Showing a tortured Jesus from a guy who's pro-torture; calling "LOVE" the greatest virtue from a man full of hate; and what would Jesus think of the endless Iraq war Chuck so loves? WWJCB? Who Would Jesus Cluster Bomb?
Same poll from yesterday. If you voted already, you can't again (although you can comment on it). Current results overwhelmingly favor keeping it here. Fine with me; while it'd be cool to have a "modern" blog with a blogroll n stuff, I'd have to learn how to do that. Voting will remain open for the next few days.
3/23
MANUAL LAYING

Every director bites the hand that lays the golden egg.

--producer Sam Goldwyn
3/24
10.6877654?

Think of a number between 10 and 11.

--sportscaster Ron Atkinson
Easter with the family was good (read: brief). I was ordered by my mother to bring a bottle of good wine, and I did: Sharpe Hill's Ballet of Angels, a delicious, crisp white grown right here in Connecticut. I won't make that mistake again. Everyone muttered about it, acting like I'd brought a bottle of Shit Heap's Barrel of Monkey Piss. One glass was drunk, and it was by me. I assume that the next orifice that tasted it was the garbage disposal. Because why would you trust a wine recommended by some guy who's worked in a fucking liquor store for over a decade?

SEE?
Good thing I'm not a doctor. They'd get a bladder infection, I'd recommend antibiotics, and they would apply leeches to their carotid arteries.

I bought some Purina One cat food today, as I had a coupon about to expire, and the One bag had a coupon of its own: Two free cans of Fancy Feast "Elegant Medleys." I like me the free! Each can was double the price of a can of Friskies, while only being half the size. Gotta give this to Fancy Feast: it looks good enough for a human to eat. Both kids came a-runnin' when I opened the One dry food and gave them some. Both regarded the Fancy Feast with utter disdain. Neither had even a single bite, and 90 minutes later, it doesn't look like they ever will. Is that Fancy Feast's market? People who are so poor they have to eat cat food? Throw a can into some ramen, you might have a meal!
No, I am not testing my theory. With the way the economy's going--maybe next year I will. Hope there's a coupon!

If I sounded unduly thrilled to get a fridge magnet from a dogshit removal service, it's because I was beginning to think that I wasn't going to get any of the freebies I ordered. I thought that they'd start coming at a steady stream around mid-March and--hey, here they are!
Today I got a Pledge Multi Surface Wipe, and a $1 off coupon. Recommended for wood, glass, metal and "DO NOT USE AS A BABY WIPE." What makes them so sure that my baby isn't made of aluminum? I also got 2 packets of Sun Crystals Natural Sweetener (they assure you that Erythritol is natural, and not the name of an alien planet in Doctor Who, or an Elven city in Tolkein), with a $1.50 coupon, although it looks like I'd have drive 30 miles one way to redeem it. And a DVD! "The FINAL EVENTS of Bible Prophecy"! The cover has some explodey planet (Erythritol under Dalek attack, maybe), some hilarious random binary ("0011 1010 1111," etc) because that makes it TOTALLY more believable, a guy in a business suit and a gas mask either shaking his fist or rolling dice ("C'mon, 666! Baby needs a new apocalypse!"), an M1 tank, the Twin Towers exploding, and the whitest First Century Jew you ever did see, Aryan Jesus wearing a Burger King crown and conversing with the winner of the Littlest Aryan Nation Girl Ever contest (that award is called the "Goosesteppy"). The obverse assures us of "Stunning visuals and special effects" (that look like they came from a 15-year-old computer game) that lead "to when the earth will be restored to its Edenic wonder!" Depicted as Aryan Jesus Burger King of Kings rubbing himself against 9 children, exactly one of which is not lily white, and all wearing white robes and not, as you might think, brownshirts. I don't have the time to watch this now, but I'm sure you'll get a report at some point. So far, it stinks. Literally. I opened it up, and impossible as this sounds, it smells like plastic that's rotting. It doesn't smell as bad as The Apartment, but it still smells all gross and Antichristy.
I held my nose long enough to see that the DVD has a website. Watching the trailer seems like work, so I won't bother. Note that its only review is a thumbs-up from the entire state of California.

What I did watch tonight was the anime Vexille with Kev and Meg (and their puppy Stella, who loves me far more physically than someone used to the more gentle snugglings of cats). Here's pair of trailers, although it really doesn't tell you anything but its most basic premise. They also give no clue as to how absolutely gorgeous the animation is; in the trailers, it all looks like cutscenes from a Final Fantasy game. While it was entertaining, it's like many American action movies--looks great, never bores, and is really loud, confusing and dumb. Particularly the utterly unexplained Dune-style metal sandworms. (SPOILER--highlight to read) It also ends with what's supposed to be a happy ending, but involves every single person in Japan dying. Apparently it will eventually be available from Netflix.

John McCain writes a computing machine pamphlet report. It's amusing; you should read it. I said READ IT, you motherfucking shithead asshole!

Last day for the poll. It looks like it's all over bar the shouting.

3/25
SO NOW HE TELLS US

Last year, the vice president launched a new effort to help make communities more liberal.

--President Bill Clinton, during his 2000 State of the Union speech (meaning to say "more livable")
More free stuff today! It's like Christmas! A really cheap, crappy Christmas!
A packet of "2X Ultra Tide with Dawn." No, not Dawn Wells, drat it. I'm also not sure what two times Ultra equals. Infinity? Or what putting dishwashing liquid in my detergent is supposed to do. "Helps remove tough food stains" it says, although there is no indication on how well it remove tough clothing from food.
One thing about the freebie sites is that sometimes they take you directly to offers that don't explain what the product is. I think that may be why I ordered a sample of Nutrilite Rhodiola 110. I must've thought that it was a vitamin supplement, which it is, but for runners. It's vitamin C, caffeine, rhodiola and acerola and acerola cherries, whatever those things are (they're asterisked as "Daily nutritional value not established," so I would assume that they do nothing), and spinach. Well, blow me down! This should come in handy if I ever need to run after Bluto.
Poll is done; 6 to 1 say keep UpChuck here. By a vote of 7; why the other 25 or so readers didn't vote, I don't know. I'll take silence as a "yes." And that one naysayer from the first poll who decided that they could "tolerate" it--maybe Chuckie's just a tad more insane than you've seen so far. You know that fake conservative cartoonist the Onion has? I thought that his satire was way over the top. Now I read Chuck. That Onion guy's a fucking lib.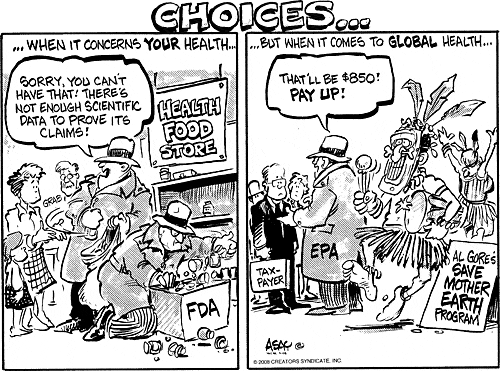 MY GOD GUMMINT THUGS GONNER TAKE AWAY MY RHODIOLA!!
Crimeny, Chuck, half the stuff in a "health food" store is worthless. All you have to do is call it a "supplement" and not "medicine" and be sufficiently vague about what it's supposed to do, and it's legal to sell it. The reason you have to go to Mexico to get a coffee enema is because they're claiming that it's a cure for cancer, when it really doesn't do anything more than make your anus really awake.
Ever notice how whenever rightwingers start barking about Big Gummint's powers, they always hit on the FDA, the EPA, OSHA, Medicare, Social Security...things that actually help the average person? But signing statements, habeus corpus, extraordinary rendition, wiretapping, torture--those are okay, as Bush needs those powers to save us from the Scary Brown People. But the one part of Big Gummint they're never against is anything the Gummint does to help giant corporations. Here, Chuck warns us about the goon squads taking away untested medications that don't work, and that's an Orwellian nightmare. Do you know how many CEOs whose Lambourghinis were repo'ed when the Gummint took away the healing powers of Thalidomide? Will no one think of the children?! (The CEOs children's trust funds I mean, not the Thalidomide children)
Oh, but when it comes to some "science" that every researcher not getting a paycheck from Exxon says is correct, why, it's just like the ooga-booga mumbo-jumbo that the savage darkies (with bones in their noses) in Africa believe! It's not reasonable, like a fundamentalist Southern Baptist snake-handler writhing on the floor speaking in tongues would be in a civilized country! (I think Chuck's letting a bit more of his inner racist out here than he realizes--I'm surprised he didn't draw a big cannibal pot with Cheney and some watermelons in it)
HypocrAsay: None. Hypocrisy is when you condemn somebody you oppose for something you approve of when it's done by someone on your side. It's not when you ignore reality. Bush helmed all the regulatory departments in the government with hacks and cronies, frequently hired directly from the industries they were supposed to oversee. Why do you think it took so long for Vioxx to be taken off the market? The FDA approved it without adequate testing, then dragged its feet over banning it even after it was killing people. The EPA doesn't give a shit about climate change. Is Chuck so fucking stupid he doesn't know this, or is he lying? Since I seem to have no memory of the time the EPA roughed me up for $850 in Gore blood money, I'll say "probably both."
New rule for me: No Chuck before bedtime! I saw the above image just before logging off, and it pissed me off so that I couldn't fall asleep until 4AM. And yet, when I awoke, my brain had dutifully deleted it completely from my mind. I Googled him at work, as I didn't memorize the 2 sites I see his cartoons on. Yes, two. They show them in different orders, sometimes days apart. And I found a 3rd one, that also ran ones I haven't seen! It's as confusing as how Chuck dresses himself in the morning! Because seriously--the man is batshit bugfuck.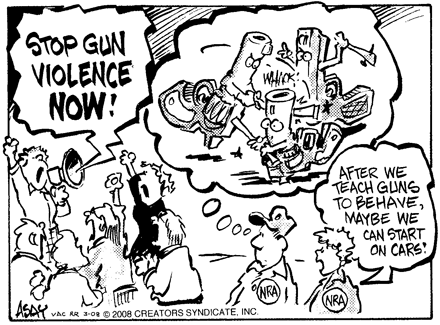 The "kid hears an unfamiliar phrase and interprets it literally" is apropos when the protagonist is Jeffy in the Family Circle. When an adult thinks "gun violence" means "anthropomorphic handguns laying a beatdown on each other" in a literal pistol whipping, Chuck's saying that the average NRA member has the mental capacities of a 4 year old. If only there was room enough left for Forrest Chump to react to the "Cars" comment with a mental image of the hippie van from the Pixar cartoon getting savagely beaten by those rednecks Sarge and Mater.
It's illegal to blow someone up with dynamite, yes? And exactly how many times in the last 65 years has Bugs Bunny tossed TNT at responsible gun owner and general retard Elmer Fudd? Too many! We must stop Anthropomorphic Rabbit Violence! And what about Anthropomorphic Robot Violence? Every day that Megatron walks free brings us a day closer to the Decepticon Caliphate! Cockfighting's illegal, sure, so why are Rock'em Sock'em Robots okay?
Ignore that last paragraph. That's not what he's saying here. Again no HypocrAsay, so how about insanity+Asay=InsanitAsay as a tag? Chuckles isn't arguing here in favor of the 2nd Amendment, he's arguing in favor of gun violence. And vehicular homicide. Hey, murderers have rights, too!
BTW, did you know that to drive a car, you have to take weeks of lessons, pass a safety test, get a photo ID, register every car you own with the government and get not one, but counting the plate, 2 licenses for it? Just like guns! Wait. No, in most states you don't have to do any of that to get a gun, just a car. But it's okay--you people who say that cars are rarely used to kill, when that's the only reason guns are for? I'll have you know that every day I ride to work on a sniper rifle.
And when does Chuck start on the cars?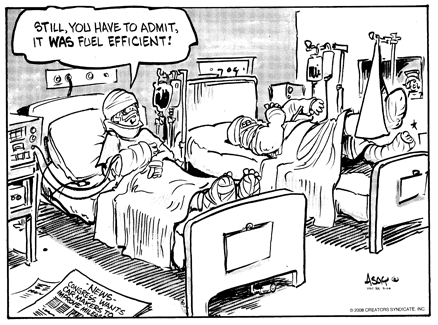 Cars don't kill people, fuel efficient cars kill people! Who killed the electric car? It was either him or us!
Seriously--WTF? Someone needs to explain to this motherChucker that a Prius doesn't get good mileage because it's made out of pretzels and Marshmallow Fluff and disintegrates when it hits a pothole. It also doesn't run better with a tank of freshly-killed human blood. And Christine was a 50s gas guzzler.
America's automakers have so far used hybrid technology not to make sedans that get 80MPG, but SUVs that get 30. Due to their propensity for rollovers, SUVs are actually less safe than cars, trucks, vans and possibly anything besides a Roman chariot. Don't see Chuck making no toons against SUVs. Although I will grant him this: not one single person in history was ever injured or killed in a car before gas mileages got above 28MPG.
Reality: Automakers and half of Congress have fought to keep CAFE standards no higher than they were 30 years ago. And if they ever improve them, the method won't be to "build the cars out of rabid baboons with baseball bats that feast on human spleens." But at least he can't get anymore droolbucket screamybrainthoughts than this! Remember back in the 90s, when Hillary claimed that there was "a vast right-wing conspiracy" to destroy the Clintons? Now THAT was totally crazy tinfoil hat paranoia!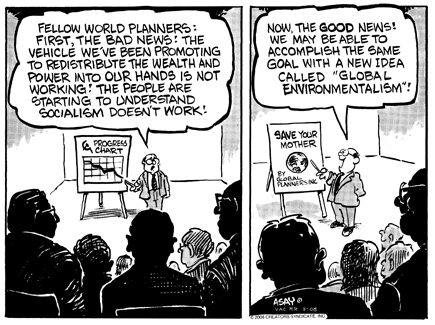 The Secret Society of Socialist Supervillains trying to control the world by reducing its carbon footprint? TOTALLY FUCKING-A THAT BE SO SANE! They may have failed to sap our manly essence with flouridation, but reducing the arsenic emissions from coal-burning plants? NO WONDER THE CLINTONS MURDERED VINCE FOSTER.
Yes. Chuckie. He's totally sane. Expect his next cartoon to feature the SECRET DEMON-RAT GUMMINT PLOT to replace our atmosphere with the farts of hippie leprechauns, so that they may turn the Earth over to the rule of the patchouli-breathing Irish Communist Space Dinosaurs. The first step in their evil plan: better gas mileage!!
Remember: Keep watching the pumps!
3/26
ANSWERS, TECHNICALLY CORRECT

Family Feud host Richard Dawson: Name a time that most people get up.
Contestant: Morning.
Dawson: Name a time that most people go to bed.
Contestant: Night.
Today's freebie came in a Wal-Mart box with a purposeless rubber band on it. My rules when I started getting free stuff were: don't order anything you don't need, and don't take anything from charities (unless they're religious nuts who are the opposite of charities). I would never shop at Wal-Mart, as they are the embodiment of corporate evil in this country. I get mad when people complain about jobs going overseas saying that "foreigners are taking American jobs away!" No, some giant American corporation gave your job away. Those are the people you should be mad at. And yourself--you're the one buying Asian sweatshop garbage at Wal-Mart because it's a few bucks cheaper. And Wal-Mart is the corporate version of the American Dream: everyone working 3 jobs because they can't live on the full-time one. Full timers get no bennies and $14K a year? I make good money, but only in the retail sense; I couldn't work there and live on less than half of what I make now. So my first thought when I pulled the box out of the mailbox was "Probably the only way Wal-Mart workers can survive is by getting free samples."
But it wasn't for me. It was Meow Mix Wholesome Goodness cat food! A big bag, too, about twice the size I expected. About 2 bowls worth. Byron particularly loved it. And the ingredients were good and the nutrition high; another entrant in the foods trying to be as healthy as Iams or Science Diet, while being cheaper.
Since it's been 6 to 8 weeks since I started getting freebies, and the original list of sites is on the last News, here's an update, listed in order of usefullness:
Downside: every offer wants your email. Either do what I do and have a Hotmail account just for spam, or try SpamGourmet. I haven't, but it gives you free temporary email addresses that you can use to never see any spam.

3/27
WE WEREN'T PLANNING TO

Label on a key ring clip from Family Christian Store:
DO NOT CLIMB

--thanks to Shaye Marie Sauers
3/28
TAXI RULES, GRAPHIC

Passengers are not allowed to carry with them contraband goods, smoke, spit, or to dump inside taxis. Psychos or drunkards without guardians are prohibited to take taxis.

--rules posted in a taxi, Shanghai, China
3/29
TAKE MY BRAIN, PLEASE!

I don't think about anything too much. . . . If I think too much, it kind of freaks me out!

--actress Pamela Anderson
I thought of linking to this Hobotopia sketch with "CON-DI-MENT! CON-DI-MENT!!" but I think everybody will get it anyway. With a little squinting.
3/30
EINSTEINIAN PHYSICS OVERTURNED

I can play a little faster than full speed.

--San Antonio Spurs forward Edgar Jones, on his active playing style
3/31
WE CERTAINLY HOPE NOT

The Denver Daily News would like to offer a sincere apology for a typo in Wednesday's Town Talk, regarding New Jersey's proposal to ban smoking in automobiles. It was not the author's intention to call New Jersey "Jew Jersey."

--the Correction of the Year for 2005, as published in the Denver Daily News
To which I would like to add, this is how the Stupidest Things Ever Said calendar presented that quote:
"The Denver Daily News would like to offer a sincere apology for a typo in Wednesday?s Town Talk, regarding New Jersey?s proposal to ban smoking in automobiles. It was not the author?s intention to call New Jersey ?Jew Jersey.?"
Actually, that's what it looks like after I cut&paste it into here. The original has not one ' or " in it, and they never do. They're not really people who should make fun of typos. (Having said that, now virtually guaranteed: that this post will have many typo?s)

I filed my tax return electronically almost 2 months ago. My state refund came after 5 days. After 6 weeks, I wondered what was up with my federal refund. Turns out that my 1040 had been rejected; I'd entered my 2006 AGI wrong. Since they sent me an automated email telling me I'd filed successfully, one would think that they'd send one telling me when it was rejected a goddamn day later. I called the IRS, and was immediately given the correct AGI. I was told to edit the 1040, but of course I was sent into a loop where the website kept telling me that I'd successfully corrected my form, when it didn't actually let me change anything. So I started option 2, and refiled using a different service yesterday.
And today I found out that I'd entered the wrong SSN. Bill E. Coyote, SUPERgenius!
So I called the IRS again, and they told me to wait for it to be rejected a second time, and then lather rinse repeat. Hopefully doyourtaxes.net will let me correct it, which 1040now.net didn't. Otherwise, I get to spend a third Sunday filing the same damn form.
And dealing with the IRS! It was like something...pleasant. Both times, the hold time was reasonable (15 minutes the first time, only 5 the second, amazing given how close we are to April 15th), and the operators were very helpful and friendly, when I'll bet that 90% of their phone calls start with someone screaming at them. I think on April 16th, I'll call them up and just shoot the breeze. "So, how 'bout them Mets?"

I was quite disappointed Saturday. It was the first day in a week that the mail didn't bring me a freebie!
Freebies I've received lately: Another sample of Tide, this one called "2X" and thus totally different than the one with the dishwashing liquid in it. Difference: this is twice as strong, so I only have to use half as much! It contains one load's worth, and is exactly the same size as the other Tide sample. Tide has a problem with math.
I got some Unisom sleep aid pills. I had a terrible time with insomnia for most of my life. It was worst between the ages of 10 and 20, when I was guaranteed every year to have one hellish day when I was unwillingly awake for 36 hours straight. I started taking diphenhydramine (Benadryl) for this, and while it worked, there are few things more unpleasant than having your brain be REALLY WIDE AWAKE while some drug forces your body to go into cold shutdown. And the next day I'd need to drink coffee. Three cups of the cheapest instant coffee mixed into one cup of water, and if you that that sounds like it would taste bad, imagine what it would taste like if, like me, you think even coffee ice cream tastes bitter and disgusting. It got a little better when I started working for a living, but only in the sense of I got rid of that "awake for 36 hours" bullshit. Then finally a got a job where I worked 12 to 8PM every day, and discovered that my problem was that I was working retail. A regular retail workweek is 3 days, 2 nights, 2 days off. I was going to bed and getting up at different times every day, throwing my circadian rhythym off. Sleeping became easy after I established a regular pattern. Before getting the Unisom, I started using melatonin, mainly because second shift means you get no sunlight, and found that stuff really konks me out. So...got me some Unisom. Got it, unlikely to use it. But it was free!
And finally, I got some Dove Intense Damage shampoo and conditioner. Oh no, girl shampoo! My hair is gay now!!
Unlike those people whose hair grows forever, like Rapunzel or Kitsplut, mine is like a shorthaired cat's, and after reaching a certain length (2 feet, in my case) it just falls out. It's not really a problem; it's just a few strands a day, and I don't have to cut it. I wondered what Dove Intense Damage shampoo would do to my hair. Actually, I wondered what "Intense Damage" even means to hair. Lathering with lye? Driving your hair the wrong way over tire spikes? Having used it, and judging by the fistfull of hair I pulled out, I think the name means that it causes intense damage.

There was a friend of a friend I used to see at parties Kevin gave. He was good-looking and smart and funny, as are most of my friends (I'm only the last 2--I think that I only got invited because of tokenism). He had a smokin'-hot blonde girlfriend. She was always a bit odd, but mainly because she seemed far shyer than someone with her looks. I remember one party where she clung to the wall, a frightened fake smile glued to her face, eyes darting around the room like a goldfish in a wine glass. Finally her boyfriend came arrived, but she seemed only a little less tense. He spoke to her briefly, and she completely relaxed. I asked someone about it afterwards. I don't know the clinical term for her mental disorder, but she could only vaguely remember who people were. What he told her was that he was the boyfriend that she lived with. She forgot that every day, in a real-life and less intense version of the fake syndrome the guy in Memento had.
I met them only rarely, but I'd occasionally hear about some bizarre thing she'd done. Sorry that I can't give you any juicy examples. This was 15 years ago, and remembering that far back is my Memento problem. There was something she did that made me groan "Why does he put up with her?!" and then I paused and sarcastically corrected myself. "Oh, right. She's hot." After a few years, he broke up with her because of her mental illness. I heard that he never got her any treatment for it. I guess that she wasn't hot enough that he wanted to pay to help her.
As you probably guessed, that's my lead-in to my review of the latest Disney kids' movie, Enchanted.
It's about a Disney Princess who an Evil Queen hates (why are princesses always good, and queens always bad? Don't queens start out as princesses? The princess is obviously the representative of the children watching the movie, so does that make the queen the representative of their mothers? Do Disney princesses all hate their moms?). The queen throws the princess out of their literal cartoon world and into the real one. Times Square, actually. Now, if you were a Manhattanite, and you saw someone in a tattered prom dress screaming and banging on a billboard in the middle of the night, would you stop your car? Shit, it's New York, where you don't even make eye contact with the screaming people you see in broad daylight. (If you're ever in NYC, this is good advice. I glanced at one guy because I was amused, and he became an eye-contact-seeking missile. Fortunately, he was in a group of religious nuts. Making eye contact with a lone religious nut would've been much worse) If you did stop your car, would you call the police so that they could rescue her from her psychoactive drug overdose and/or return her to her room at Bellevue? Or would you get out of your car and talk to her, discovering that she thinks she's a cartoon princess and there's an evil queen and a wedding to a prince--and then invite her into your car? Which has your 8-year-old daughter inside? And, as she continues to babble insanely, not drop her off at the emergency room, but let her stay the night at your apartment? With your daughter? Are you that sure she won't decide that your kid is a dalmation and you're Cruella de Ville in drag, and she'll be found with your traumatized child 3 weeks later 6 states away in your Beemer, and only because your neighbors complained about the smell and the NYPD found your corpse with every bit of pointy cutlery you owned jabbed into your body?
Sure you would! She's hot!
In the real world, that'd be the only way that would happen. And assuming you were that fucking stupid. But not in this movie. Because the princess doesn't go from the cartoon world to the real world, but to Fakey Sitcom World. I liked this movie, but only the fish-out-of-water cartoon princess bits. The "real world" stuff is faker than the cartoon parts. "Real" people act less believably than the "cartoon" ones. But the parts I like are pretty entertaining, such as the princess using her Cinderelly-ish power to summon animals to clean up the guy's condo. Since it's Manhattan, all she gets are pigeons, houseflies and sewer rats. The movie really isn't more believable than a 50s Disney cartoon, but you may enjoy it if the concept sounds amusing, and you don't think about it too much. Like I obviously did.

4/1
HOUSTON, WE HAVE A PROBLEM

I believe the town where I used to come from, Houston, Texas, to enjoy myself, occasionally too much, will be that very same town, that it will be a better place to come to.

--President Bush, on the tarmac at the New Orleans airport after Hurricane Katrina
Man, a whole week goes by with no new Chuck cartoons, and then today there's 4, another whole week's worth. I need to choose just one site to check on him, not three. I'm not doing them all at once; I'll do them in the order that I read them. First up for UpChuck: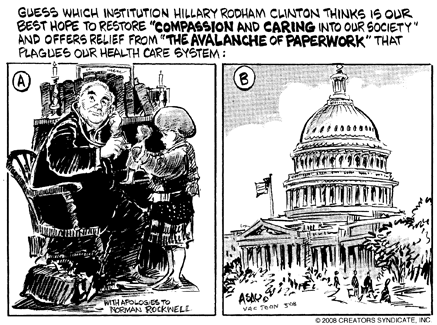 So, I should either trust my health to a copy of a painting of a fictional idealization of a country doctor from 70 years ago, or to something that actually exists? Wow, Chuck, that's sure a stumper! If I get cancer, maybe all the children in the audience who believe in fairie cures can clap to heal me!
This is like saying, "Do you want to drive all the way to the grocery store for dairy products, or have the milkman deliver it to your door in his horse-drawn wagon?" I'd rather go to the 1939 New York World's Fair than Disney World, but it really doesn't matter when one of my options doesn't exist, does it?
But even if Dr Fictional Creation was real, why would I want Depression-Era medical care?
"Why, Darla, your dolly has the same heartbeat that your mother had, after she died giving birth to her seventh child! Just like your siblings Shirley, Stanley, Gladys, Hank, and Mildred had, before they respectively died of whooping cough, chicken pox, measles, German measles, and typhus! Your little sister Ethel will be fine, once she understands that she'll never leave that wheelchair that polio left her in. It's sad that medical science will never advance so far that it could find cures or vaccines for these diseases.
"Oh, and Darla--Happy 16th Birthday! Those years of childhood malnutrition mean that this is as big as you'll get. Well, I'm off to see your father about that dratted cough of his! I don't understand where it came from. He's been the picture of health all the thirty years he's been working in the asbestos factory! It's surely a stumper!"
Okay, I know that Chuck's really talking about the horrors of SOCIALIZED COMMU-MEDICINE, because no one should be denied medical care unless they can't afford it, in which case, fuck'em. And if we got rid of that paperwork and left the caring and compassionate AMA in charge of all medicine, there'd be none of those bothersome malpractice suits! Huzzah for the free market! More kidneys and livers from the poor to harvest for the rich!
Hey, if an old picture can solve the health crisis, me and Chuck will now solve world hunger!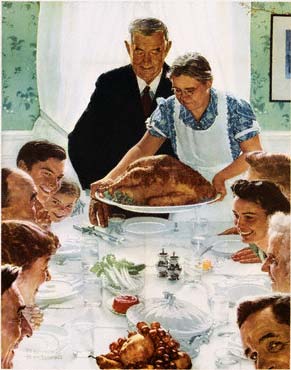 Because starving people need an inspiring picture of food more than they need food!
4/2
YOU KNOW, I'M NOT HUNGRY AFTER ALL

Sweet Macapuno Balls (gelatinous mutant coconut)

--menu item in South Korea
It's funny, given today's Stupidest Thing opener, that last night I had a dream about food. I was the only person hired for the busy grand opening of a self-serve gas station/gourmet food shop named "Squobo!" While I ran register, the owner gave out free samples of Squobo! Soup. Everyone grimaced in disgust at the taste, but since they were told that it was gourmet, they all pretended that they liked it and bought it by the gallon.
After closing, I took the day's profits to the owner, and discovered that the soup was fishtank water, cloudy with live mosquito larvae. The owner explained what "Squobo" meant. "I bought the tank from a squalid hobo!" he laughed as he counted his cash.
I was glad that it had been too busy for me to try the soup.

Given that dream, it's funny that today my job (the real one) got a mailing from Three Brothers Restaurant. I opened the menu, and the first thing I saw was their signature "ROAST BEE" sandwich. It's all in how crispy they get the antenna!

Speaking of things that leave a bad taste in your mouth...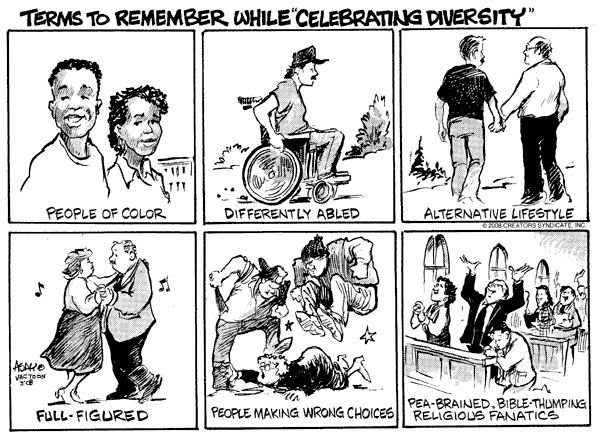 Words that Chuck is angry that his editor won't let him use in his cartoons anymore:
*Nigger.
*Gimp.
*Faggot.
*Fatty-fatty two-by-four, Can't fit through the kitchen door!
*Violent criminal.
*White Southern Baptists (does not apply to crazy fringe cults like micks and spics, kikes, dot-heads and towel-heads)
It's weird how the Fundies want to set up a theocracy, where they can discriminate against any behaviour or even thinking that they don't like, and yet still want to whine that they're most persecuted, oppressed group in Ameri--
Hey, wait! One of these things doesn't belong here, one of these slurs just isn't the same!
"People making wrong choices" instead of violent criminals? There's a movement that feels that strongly about hurting the widdle feelings of granny-stomping madmen? A Vicious Thug and Homicidal Maniac Anti-Defamation League? Really? Man, I must've not read the news that day. I need some diversity training!
The best part is Chuck's moral equivalency: Parapalegic = Violent Criminal. Black, gay, overweight = Violent Criminal. Chuck's brain = pea.
Note how every one of the churchgoers is bouncing off the walls, except for that one guy hunched over and holding his hands to his mouth. I think that in Chuck's church, they don't pass around the collection plate, they pass around the meth pipe.
A day late, but Lies To Get You Out of the House is less about April Fools than the eternalness of human gullibility.
4/3
#4 LOOKS LIKE IT WAS THE HARD ONE

1. A quiz answer. 2. a quiz answer. 3. a quiz answer. 4. a quiz answer a quiz answer a quiz answer. 5. a quiz answer a quiz answer.

--news quiz answer key in the London Times
If you're a fan of obscure 80s synthpop, here's ODW's Lawnchairs. They're everywhere!

Let's get those last 2 UpChucks of the week done with, as they're not up to his usual insanitAsay.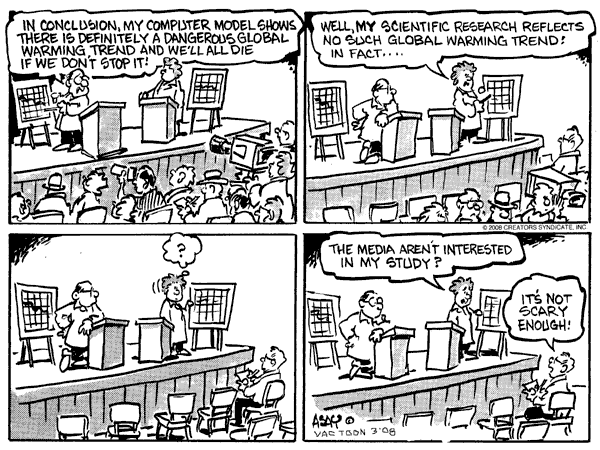 "Don't feel bad; they also walked out on the guy who said the earth was flat because he saw it from space in Bigfoot's UFO.
"As for your 'research,' it might go over better if every one of your Power Point slides didn't have at the top 'ANOTHER FINE PRODUCT BROUGHT TO YOU BY EXXON-MOBIL'."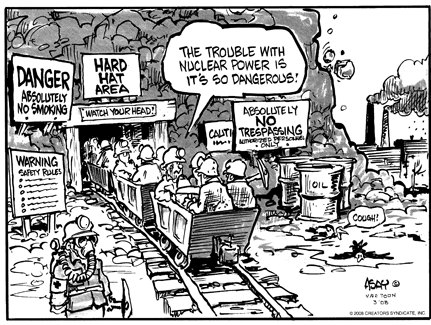 Weird! This would be a socialist enviro-Nazi cartoon if it had different words in the speech balloon. You know, "Maybe solar and wind power and hybrids aren't such a bad idea!" or such.
But it's about how safe nukler power is, as no one has ever died in an accident (Chernobyl), and because its waste is so easily disposed of, as it degrades into an inert powder so quickly (Yucca Flats), and that waste could never be used for an evil purpose (dirty bombs).
I'm very confused by this cartoon. Is the message "Nuke plants are safe!" or is it "They're no less safe than coal mines!" or "Cheap energy is worth more than the cost in human lives to make it"? He's not against coal mines here. And using that as your "less safe" example is a pretty odd choice for a Bushie. Yes, coal mining is an incredibly dangerous job, but it became a lot more dangerous over the last 7 years, and the simplest Google will give you hundreds of articles telling you why. And that's not even counting the time that they got trapped in a mine that had caved in, and they had to eat Timothy, Timothy! (Joel Robinson: "I'll have you know that Timothy was a duck." And I think that we can see Timothy the Duck in the front of Chuck's mine)
4/4
APOLOGIES, NECESSARY

Sent: Monday, April 07, 2003, 10:59 a.m.
Subject: 900 17th Street Restroom Emergency
Please pass on to your employees.
The engineering staff has discovered a blockage in the pipes to drain the building restrooms. This is causing the pipes in the 2nd floor restroom to back up and drain into SunTrust Bank. If possible please refrain from using the restrooms unless it is an emergency. A plumbing contractor has been called to fix the problem and will be here in a few minutes. I will send another e-mail when the problem has been corrected. I apologize for the incontinence.

--actual e-mail sent within a company (thanks to Rob Blackwell)
Most of my Squobo! dream was edited out. What I wrote was basically only the beginning and very end. The vast majority of it was me desperately trying to keep the long line of customers down, while making sure that no one stole the increasingly bloated bag of money I was filling, and wondering what the hell this "Squobo!" logo that was plastered on everything we sold meant. Boring! So I cut it out.
On a whim, today I decided to Google "squobo." The first hit was someone's Deviant Art account. The next was kisrael.com; Kirk had posted my dream to his site, and I guess he gets enough traffic to move it to second place (out of 58). The third was amusing--souptoys.com. Because there was soup in the dream! Then I discovered that it's an actual word in Japanese, and almost all the rest were based on that.
Then I noticed that that first hit, the DA one, was one that I'd apparently already seen. There was no art on the account, so it must've been someone who commented on some artwork by a DevArtist (people who frequent the Comments all go "Gee, I wonder who that could be!").
That's what dreaming is for, as far as current science thinking goes. It's your brain searching through your memories, deciding which of the new ones are worth keeping, and which should be deleted. You were consciously aware of the type and color of every car you passed on the way to work, but your brain doesn't have infinite space to store information that has no future use. This is why your dreams may involve something that happened yesterday, but mix it in with family members you haven't seen in years while staging it in your third grade homeroom. People with a specific type of brain damage that prevents them from dreaming can't remember shit.
And so my brain, filtering out the stuff it didn't need, fired up that forgotten synapse that had the name of a Deviant Art member I'd looked at once, plugged it into the dream, and another part of my brain wondered where it came from, and created a scenario that explained it at the end.
Of course, now Squobo! has an actual concrete memory attached to it. I wonder if I'll have another dream of squobo.

4/5
HEY, PEDRO, STOP PLAYING WITH YOURSELF

I'll find it eventually. I do things differently. I play with myself up there and eventually I'll find it. The last two innings I had it.

--pitcher Pedro Martinez, on how he found his groove after his last start against the Nationals
4/6
PROBLEMS, DEFINITIONAL

My car was legally parked as it backed into the other vehicle.

--actual statement on an insurance form, in which the driver was trying to explain an accident in as few words as possible
I saw this on the Onion "astrology" site today:
Your Birthday Today
The ravages of age continue to wreak havoc on your body. Either that or all the Indian food.
I found this amusing because I've become a big fan of Indian food (bought some super-spicy murgh tikke just last week, in fact), and also because it's my birthday. Couldn't they have said "You will win the lottery and live happily ever after in a mansion full of cats" instead?

4/7
GREAT DIALOGUE FROM MELODRAMAS

Just remember, men can see much better than they can think. A low-cut neckline does more for a girl's future than the entire Britannica encyclopedia!

--advice in the movie Peyton Place (1957)
Thanks for all the well-wishing in the Comments, but my birthday was yesterday. It's not my birthday, it's not today! It's not my birthday, so why do you lunge out at me?
Oh, right. I posted at 11PM last night. You didn't read it until today. Hell, you're reading this in my tomorrow! Now my birthday's 2 days ago! And it's further proof I'll use any excuse to quote an old TMBG lyric. Really, I wouldn't have even mentioned it, if not for that odd Onion synchronicity.
And don't feel bad that you didn't get me anything. Got all I need already.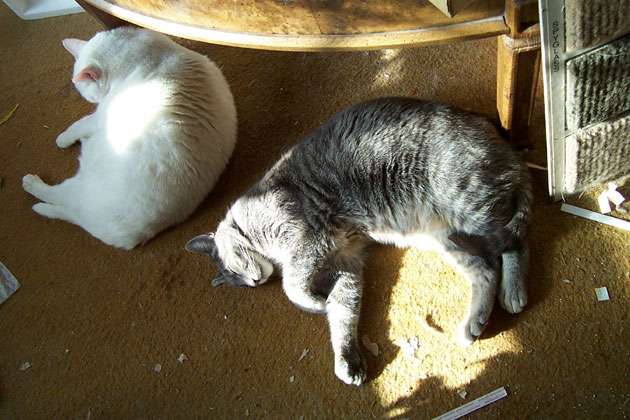 Things I don't need: today I took my first hike in the woods in, what, 7 months now? Long winter this year. I came upon a woman poking a stick in some wet leaves while saying "Shit! Shit! Shit!" I thought, Please don't notice me. But she did, and asked to "borrow my eyes." "Only if I can get them back!" I said. She'd dropped her iPod into the muck, and couldn't find it. Neither could I. Now, if she'd dropped an 80s Walkman (which I still own although never use), it would've been right there on top. Note to self: Never buy anything that weighs less than wet leaves unless it costs less than wet leaves.
Watched: American Gangster, a fascinating fact-based crime story, and very, very good. Although you kinda end up rooting for the cold-blooded motherfucker main character. Also, Sweeney Todd, which was good, but not very, very good. It certainly didn't rate with Tim Burton's masterpieces, such as Mars Attacks. KIDDING, that's one of my personal metrics for terrible films. I was an hour into it before I realized "Wait--this is supposed to be a comedy?" That is possibly the worst review anyone can give any movie. It'd be like watching E.T. and wondering when the alien begins trying to eat Sigourney Weaver. Schindler's List and waiting for Indiana Jones to kill the Nazis. Road House, and waiting for the part where it isn't hilariously retarded--oh, wait, that'd be all of it. Or Mary Poppins and shouting "When do we get to see her tits?!"--um. What was I talking about again?
Ah, yes, Sweeney Todd. I guess that I was expecting a black comedy, and found myself watching not a musical comedy but a musical tragedy. It wasn't boring. I don't know if I'd use the word "entertaining." Or "enjoyable," as it was a tragedy. One thing I noticed was that all the reviews spoke of the HORRIBLE BLOODY VIOLENCE in the movie. There is one sequence with a lot of throat-slitting, but there's so much that it doesn't become gross, just tedious. He kills them, dumps them through the floor via a foot pedal, their heads smash, we GET IT ALREADY. And the geysering blood in the violent scenes really isn't any different than Sam (sniff) Peckinpaugh's "Salad Days."
Exobiogenesis: Life on Earth seeded by ALIENS. Alien rocks. That still counts as aliens, right?
4/8
OH, NEVER MIND

Customer: I can't get my diskette out.
Tech support: Have you tried pushing the button?
Customer: Yes, sure, it's really stuck.
Tech support: That doesn't sound good. I'll make a note.
Customer: No . . . wait a minute . . . I hadn't inserted it yet . . . it's still on my desk . . . sorry.

actual call to a computer tech-support line (thanks to Shaye Marie Sauers)
With all the protests over China's Olympic torch passing through Europe, spoiling the ancient tradition with liberal politics, it was interesting to find out that the torch-bearing ceremony didn't spawn from ancient Greece, but from a much more modern nation. It was the created by--well, I'll let you guess. Hint: It didn't start until the 1936 Olympics, and all of the original torch-runners were Aryans.

4/9
TRAINS, VANISHING

THREE FREIGHT TRAINS CRASH; TWO MISSING

--headline in the Marietta (Georgia) Daily Journal
I'm glad that I didn't spin UpChuck into its own blog. Duck and Cover is lucky--I guess--in that Mallard Fillmore updates daily. Chuck, jeez, what a random schedule. Five cartoons in a day, a week with none at 9:45EDT 4/8, and yet two at 8:45EDT 4/9. One dated 4/8. Um, no, it was not there. People would've given up on a seperate blog because it would've looked like I was the one who wasn't updating. Maybe Chuck has to wait to collect enough Sudafed to fire his meth-binged cartoon tweakings?
Today's: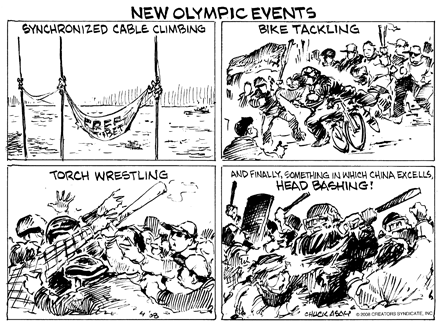 Whoa! Chuck's on the side of the anti-Olympics protesters?! I can't picture him not cheering on anti-war protesters getting their skulls caved in by an oppressive government. Or having their Constitutional rights shredded in the name of "Security." Oh, right, this a government of yellow rat Commies! Not white Republicans! Hypocr-Asay at it's finest!
And yesterday's?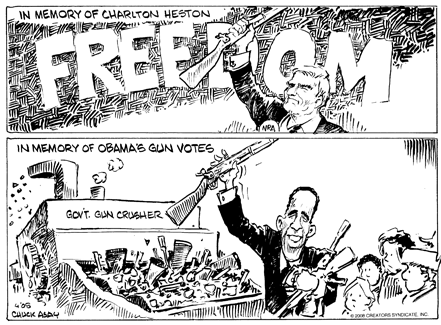 You damn dirty apes! The ONLY Constitutional Amendment that matters is the Second! We all remember when Obama HUSSEIN said that he would ban all guns, and created his giant GOV'T. GUN CRUSHER droid, which is so much worse than W's GOV'T. CONSTITUTIONAL RIGHTS CRUSHER. If we don't have guns, how will we stop the Gummint from afflicting Americans with warrantless wiretaps, rendition to foreign prisons, the end of habeus corpus, and even TORTURE? Wait, don't answer that. FREEDOM! means guns. It says so right there.
This would've been so much better a cartoon if it showed Obama RHYMES WITH OSAMA prying Heston's guns from his hands. His hands must be pretty cold and dead by now.
(Note that both guns appear to be Colonial-era flintlocks, not the AKs, MAC-10s and Glocks that the Founding Fathers most surely had in mind when they wrote the Constitution 225 years ago)
4/10
SLIPS, FREUDIAN

Part of growing up is learning how to control one's impulses.

--Sen. Hillary Clinton (D-New York), introducing her husband, Bill Clinton, at a gun control speech
UpChuck: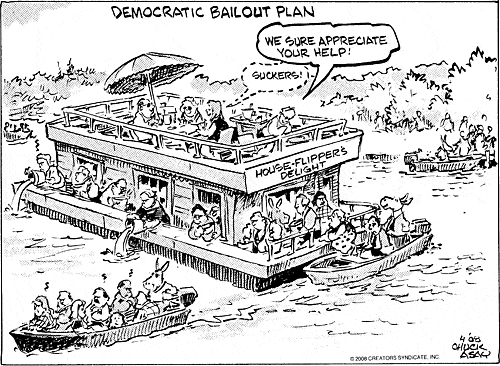 (long pause)
Um...
(another, longer pause)
Ummmm.....
Crimeny. What the hell is he talking about here? The ship is sinking (note the people bailing it out, with hate-fumes boiling over their heads), so why are the people on top so smug? They'll still drown. Are the people leaving the sinking ship (with hate-fumes boiling over their heads) like rats escaping a sinking ship? Escaping a sinking ship is the smartest thing to do. Who are these evil "House-Flippers"? People who made money before the housing bubble burst? How does the Democratic plan help them, but hurt the little people? And exactly when did Chuck start hating rich assholes?
I looked up the Demon-rat bailout plan, and here's an excerpt:
The measure passed by an impressive 84-12 vote, but even its supporters acknowledge it's tilted too much in favor of businesses such as home builders and does little to help borrowers at risk of losing their homes.
...
Democrats failed to win approval of ideas such as giving people threatened with losing their homes the right to seek more favorable loan terms from their lenders in bankruptcy courts. At the same time, a proposal to have the government back up refinanced loans for people facing foreclosure has yet to win GOP support.
The White House opposes the plan but has not issued an explicit veto threat.
...And Bush's plan for a bailout was giving $30 billion to Bear-Stearns. The Invisible Hand of the Free Market says that when middle-to-lower class people lose, that's their problem! But America is not a Free Market economy. When billionaires might become mere millionaires, that Gummint they so claim to hate rushes right in, and dumps billions of taxpayer dollars in to save them from their own stupidity. No wonder the sub-prime mortgage crisis happened--the people with the money knew that they had nothing to lose. You gambled and lost your house; they gambled and got to keep that house--plus a nice bailout from Uncle Sam to cover their time and effort.
But the upper deck of Chuck's Titanic isn't marked Bear-Stearns. And those damned liberulz helping the poor people, they're dirty members of his imaginary Secret Society of Socialist Supervillians. Because the Government bailing out giant corporations is laissez-faire, and not an Invisible Hand-Out for the "Free" Market. Why is it "Socialism" when the government helps out poor people who need the help, but not socialism when they do it to help rich people who don't?

4/11
YOU AINT KIDDIN

Gay men have changed their sexual behavior, but it's extremely difficult to keep it up year after year.

--British safe-sex advocacy group official Jamie Taylor
4/12
CAMPBELL'S CHICKEN NOODLE PILLS

The business man in 1999 [will eat] a soup-pill or a concentrated meat-pill for his noonday lunch. . . . Ice cream pills [will be] very popular.

--prediction made by writer Arthur Bird, in his book Looking Forward (1899)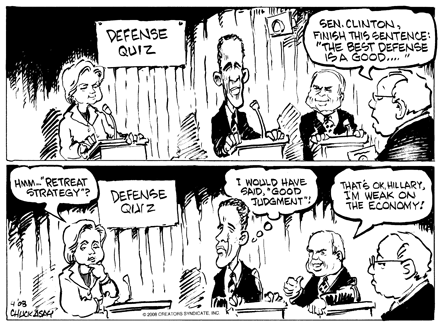 Clinton is a Defeatocrat!
Obama is a...a...an Inexplicocrat! Because "The best defense is a good judgment" makes no sense. Odd coming from a man so noted for his oratory skills. And not, despite what the drawing here makes you think, the fact that he has an Easter Island statue for a head.
McCain is a Jowlocrat! Damn, Nixon would've pointed and laughed at those walrus cheeks. Before the primaries left him in the lead, Chuck considered McCain a Democrat. Yes, he did. Now that he has no choice but to like him, he's really shitty on the economy. Good selling point there, Chuck! Since his defense "strength" rests on his belief that the war in Iraq should last 100 years and his inability to tell Shia from Sunni (and if you're so dumb that you have to get crib notes from Lieberman...), his economic strategy probably involves trading cows for magic beans. "We can fix the deficit by stealing the giant's goose!"
"Retreat strategy": Yes, it's a super-awesome idea to iniate an action that has no plan for if or when it goes wrong. Just assume that your plan will work! Late for work? Drive on the sidewalk! No need to find a way back onto the road, as it's impossible to run someone down!
"The best defense is a good offense," I believe, started as a quote about football games. It 's not usually quoted as "The best defense is invading a country that's a threat to no one, with absolutely no plan as to what you do afterwards." To be fair, Bush had a postwar plan for Iraq:
PLAN A: They will greet us as liberators, and shower us with sweets and flowers!
PLAN B:
They had no Plan B. They still have no plan beyond "Keep doing the same shit that hasn't worked for the last five years over and over again." Oh, the Mighty Surge, you say? Violence declines where the troops are, and increases where they aren't. The main reason it seems to have "worked" is because of the Sadr Army truce--because they're saving themselves up to kill their Sunni opponents--and because we're arming and bribing the Sunni militias to lay low. Yeah, giving them guns and money, no way THAT could ever bite us on the ass. Just like when we funded and armed the Taliban, and the CIA trained some towel-head in terrorism. Osama bin Something was his name.
Right wingers like to pretend that the Soviet Union fell because Reagan said "Tear down this wall!" No, it fell because it spent too much of its money on their military, and insisted on fighting an unwinnable war in Afghanistan. Their infrastructure collapsed, and it took their country with it. Twenty years on, there's still plenty of time for Bush's America to lose the Cold War, too.
Other than that--right on the money again, Chuckles!

4/13
BULLETINS, UNFORTUNATE

Ladies Bible Study will be held Thursday morning at 10:00. All are invited to lunch in the Fellowship after the B.S. is done.

--church bulletin listing
4/14
SCALES, CONFUSING

On a scale of one to 10, I would say 60 to 65 percent.

--NBA union rep Billy Hunter, talking about how far apart the union and the owners were in the NBA collective-bargaining negotiations
The dry-erase board said "130: WILLIAM YOUNG CPE." Had I just been hired as a Certified Public Exfoliator for the Department of Flaying? Why, no! and if you thought that, what the hell's wrong with you. I was at the doctor's, and it meant Complete Physical Exam. Just above being flayed in the enjoyment department. Let the ball-cupping, anus-probing and blood-letting commence!
While there are times when the first two can be pleasurable, they're not when done by a dude to another hetero dude. The third--damn, there's never a time when I find that any less than max stress. I don't really mind getting shots, but having stuff taken out of me just freaks me out. While I have no conscious memories of it, when I was two I spent 6 weeks in the hospital (10% of my life to that point) with juvenile rheumatoid arthritis. Every day they strapped me down to the bed and sucked fluids out of my knees. I still have some massive scars there. I had nightmares about it for years. I could never, ever give blood, which is self-defeating: my blood type is B negative, the second rarest. Any blood I gave would increase the chances that there'd be some for me. Fluids put into me? No problem. Fluids taken out of me?! I'm starting to get upset just typing about the damn idea, so let's move on nothing to see here.
They took 2 EKGs, and the nurse left the first one. "Irregular heartbeat! Unknown blockage! Will BURST FROM CHEST and RUN DOWN STREET MUGGING OLD LADIES" it said. I may be paraphrasing. The doctor looked at it and said "Um, that's interesting" then grabbed my folder and pulled out the second. "Ah, a better one!" The EKG machine hadn't quite warmed up the first time. I had a slightly elevated heartbeat, but fuck, they hadn't taken my blood yet, so of course it would.
There was a trace of protein in my urine. Was I pissing Ensure? Something to do with my blood pressure, he said. When it was over, he offered to continue to torture me. "Rip out some nails, strap some electrodes on you, that sort of thing." he joked. I said "What, do you work for the Bush administration now?" and he laughed. "I could waterboard you, sure."

When I got home, there were freebies in the mailbox! My first in a week! There was a 3-bite-sized Quaker Oats granola bar, and a Hamburger Helper Microwave Singles packet. Because what 4 words scream BACHELOR more than Hamburger Helper Microwave Singles? I left it on the counter, as Byron wanted to sniff it. Then he knocked it to the floor and began violently batting, scratching and biting it. His second-favorite toy is empty Combos bags, so I removed it from his claws before there was orange cheese food product powder all over the floor. He meowed in protest, so I gave him some treats. This only settled him for a while. I went to the Winter Stash of wild bird feathers, his first-favorite toys, and drew out 3 little ones. One he lost, 2 he attacked with great abandon, stabbing me in the finger and ate, and then he konked out.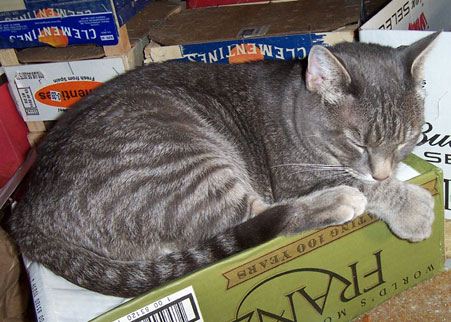 Note that he sleeps on boxes, unlike Killsy who sleeps in them. Also, he has big honkin' feets.
Seen: There Will Be Blood. Excellent, despite having not a single likeable character. From the previews, I thought that the Preacher would be the guy you rooted for, but he's as much of a manipulative, greedy liar as the Oil Man protagonist. The Little Kid gets some sympathy, but unless your idea of "boys will be boys!" impish pranks includes "trying to murder someone by setting them on fire," ahh, not so much. I usually hate movies without someone to root for, but this one was great. Stunning cinematography--every shot is amazing--and stunning acting, and an engrossing narrative, even the first near-wordless first quarter-hour. It's too bad that I saw this alone; if I'd seen it with someone else, "I drink your milkshake! SLURRRP! I drink it up!" would be a part of our shared dialogue iconography for years.
Hey, check it out! Long-dead site Fresh Spam once again blogs amongst the living!
I really, really hate when blogs dump a bunch of YouTube links on their pages, and then expect you to click on them with no goddamn explanation as to what they're about. Then it takes 3 minutes to load, and 2 minutes in you have to decide if it is the bullshit it appears to be, or wait another 3-5 minutes to find out if it isn't.
Not me! Here, a somewhat befuddled cat plays the Theremin. It's a cat playing a GOURDDAMN THEREMIN, what the fuck, CLICK ON IT! (especially as it's only about 40 seconds long)
Too long for you? Here's the greatest 20 seconds of music ever recorded, the end titles for the syndicated Underdog cartoon. Love that clarinet! (unless that's an oboe) This is the syndicated Underdog, when it was mixed with a seperate cartoon, Tennessee Tuxedo. Originally, the cop wasn't inexplicably pointing at the TT voice credits, but a big "POST NO BILLS" sign. I once had my dad explain what that meant, because even in the late 60s, no one ever saw a "post no bills" sign. Posting a sign that says "Don't post signs" kinda defeats the purpose.
Not YouTube, and THANK GOURD: Tub Cat is real! TUB CAT IS REAL AHHHHHHH DONT EAT ME FOR-REAL TUB CAT
Looks like this is the end! But don't miss our next (kaboom!)...Thoughtviper post!
4/15
IT ALL DEPENDS ON WHAT THE MEANING OF "TAXES" IS

wage-based premium ..............................taxes

--definition used by President Bill Clinton
Long, but Just Say No(t really) is a very entertaining read about a poorly thought-out naked drive to Austin, Texas that just keeps getting worse.

4/16
EWE LOSE

Weakest Link host Anne Robinson: Andy, which letter of the alphabet sounds exactly the same as a term for a female sheep?
Contestant: Baaah?
Sign on the faux-Mexican restaraunt I drive by every day: "CINCO DE MAYO PARTY MAY 5." I wonder what day they have their New Year's Eve party?

My boss told every employee and salesman who was willing to listen--and since he's the source of the paychecks of the employees and salesmen, it didn't matter if they weren't willing--the story of his ride home yesterday. It was rush hour bumper-to-bumper, and (according to him) the woman in front of him slammed on her brakes and he gently tapped her bumper. He got out and saw no damage, but she immediately began hysterically screaming "YOU REAR-ENDED ME! YOU REAR-ENDED ME!" over and over. She was so crazy that he "couldn't get a word in sideways," and he began to fear for his safety. Fearing for his life, he gave her his name and address, (I would've locked my doors and called the cops myself if there was an insane person threatening me, especially as I'm no veteran and victor of many a bar brawl, as is my boss. The last thing I would tell a psycho was where I lived) and then he left. Five minutes after he was home, the state police showed up. He was given a summons and charged with leaving the scene of an accident. All because of this crazy lady!
And certainly not because of the half-empty Heineken bottle in his cup holder! Or the 8 to 10 beers he'd had at work before leaving! I'm sure he didn't leave because he was afraid of a field sobriety test!

I hope that I'm not stepping on anyone's hopes and crushing their dreams by saying that Hamburger Helper Microwave Singles are actually rather gross. Dehydrated beef pellets taste like BBs of gristle.* Byron liked the leftover processed cheese food product sauce. Byron, as you may remember, will also eat until he pukes.
*And such small portions!

Hobotopia's DVD rental matches mine. SLURRP!

And now that we've got the good cartoon out of the way...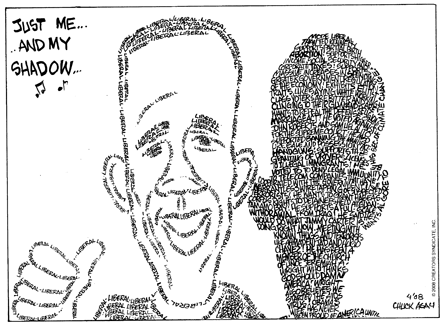 Wow, Obama is a liberal. SHOCK HORROR! And his shadow says...AAAHHHH MY EYES IVE GONE BLIND
Fuck, Chuck! Where do you think they print your stupid cartoons anyway, on billboards? The sides of dirigibles or ocean liners or near-earth asteroids? I tried smushing my face up to the screen and reading it (First line: "More liberal than Ted Kennedy!" Wow, that's...umm, practically Vegan Hippie Pagan Communism! Or something) Most of the rest is barely readable, stuff like Partial Birth Abortions! and Repeal The HATE THE FAGS Defense of Marriage Act! and Leave Iraq! and I gave up halfway through. Every line ended with a ! I can only picture Chuck all tweaked out in the throes of a week-long meth binge, frothingly scribbling every tiny thing he hates about everybody to the left of Attilla the Hun, while feverishly trying to stop himself from just scrawling what his brain really thinks, the word NIGGER! 500 times.
The Official Village Voice Election-Season Guide to the Right-Wing Blogosphere. Chuck-free, but full of other motherchucking idiots.
4/17
LET'S PLAY CARDS INSTEAD

The goal of the game is:
1) With the own pieces area to encircle and with it possession to take. Each intersection within the wall which is made by own piece counts score of the settlement.
2) Through encirclement the pieces of adversary caught to take. A piece is encircled, when it or the concatenation pf pieces of the same color has no rectilineal combination for an unoccupied intersection. Each one which is caught counts acore of the settlement.

instructions for a game of Go
Hey, Betty Crocker! Do you need a slogan for Hamburger Helper Microwave Singles? Here's mine!
"Do you wanna rock and roll all nite and party every day? Then join the band KISS! Do you wanna FART all nite and sit on the POTTY all day? Then eat one fucking serving of Hamburger Helper Microwave Singles! You're in the KRAP Army now!"
Betty, you gave me a free sample of Hamburger Helper Microwave Singles, so you can have my slogan for free, too!

I've said on this page before that, given my musical dislikes, the worst music ever would be a country rap opera about the history of the accordion. And somebody's recorded it: The Most Unwanted Song, based on every genre or instrument people say they hate. A diva raps "Yo Yo, I'm a Cowboy Now!" over bagpipes and tuba. And it's hilarious! Too funny to be annoying, despite being almost half an hour long. Do all your shopping--at Wal-Mart!

"That cloud looks like a rabbit!"
"That one looks like a horse!"
"That one looks like hundreds of Nike swooshes and McDonald's logos floating 300 feet above my head--oh, wait, that's exactly what they fucking are." Soon, you won't even be able to go outside and look at the sky without seeing ads.

"It's not surprising then that they get bitter, they cling to guns or religion or antipathy to people who aren't like them or anti-immigrant sentiment or anti-trade sentiment as a way to explain their frustrations."
These are the words that Obama ran into a room and screamed without any context, then ran away, laughing like the Joker. Speaking of jokers...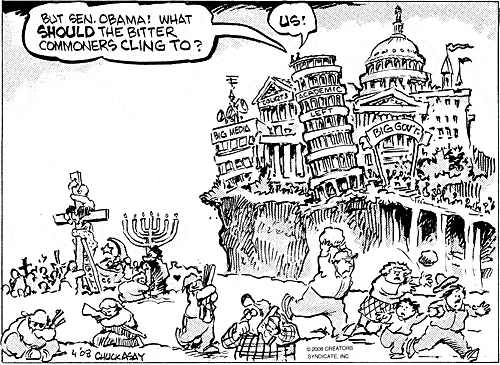 Remember the 2006 campaign, when John Kerry flubbed a joke by leaving the words "like George Bush" out of it? Everyone knew what he meant, but Big Media pretended that they didn't. They flogged that dead horse into a pile of rotted flesh, trying to make it the biggest issue of the campaign. Are they really that stupid? No, they just selectively pretend to misunderstand obvious minor gaffes. They blow it out of all proportion, and beat on it almost like...they have nothing else to go on! Like there's no failed and endless war going on, or an economy that's collapsing, and all because of the Republican policies they so love to support. Almost like they're trying to distract America not with bright, shiny objects, but stupid, dull ones.
As to the actual cartoon: You get that many people humping their religious icons together with that many guns, and the ensuing firefight is what will be bitter. And the inevitable straw man, because if you can't say something good about someone, just make something up and put it in their mouths. "Big Media"? Yeah, the liberals like Murdoch and Scaife who control almost everything. "Big Government"? Note that it's our weak-kneed and pathetic Congress, and not the biggest, most powerful and Constitution-destroying administration in American history, the Bush White House. The "Courts," Bush's five lapdogs. And, most a-scariest, the Leaning Tower of Academic Left, the MOST POWEREDFULL GROUP IN AMERICA. Cover your children's ears whilst I tell you a tale most terrifying--A tale about--Ward Churchill!!
I do like the big goofy rocks being thrown at immigrants, especially since Chuck SOOO loves Mexicans.
Of course, Chuck wouldn't try the same thing two days in a row!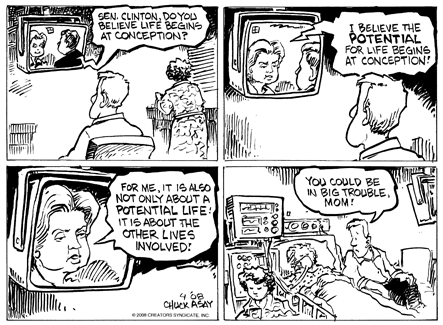 HITLERY GONNER KILLS YER MOMMA!
"In a world where some treat life as something to be debased and discarded, we need your message that all human life is sacred and that each of us is willed."
Who said that today? Hint: started a war based on 935 lies that killed 250,000 minimum Iraqi civilians and over 4,000 Americans; signed the most death sentences in Texan history; future wife ran over a man in Reno, just to watch him die--
Oh, wait, you got it on the first one! Yeah, it's Bush talking to the ex-Hilter Youth Pope Brainiac XVI. Each of us in the USA shouldn't be willed, we should all start filling out our wills.
Ever meet a "pro-life" American who was against the death penalty, or in favor of gun control? One who's against the Iraq war? Once a child is born, do you hear them talking favorably about any government assistance programs that might actually let that baby live a fufilling life? No. No, you don't. "Screw them! Cut my taxes!"
"Life" is defined by them as "pre-born not-yet kids" and the "Terri Schiavo-esque brain-dead," as in the above cartoon. Funny how their protection of "life" only covers those incapable of thinking for themselves.
4/18
PROFESSIONALS, CHEAP--sign (advertising potato chips) at a gas station in Cottage Grove, Minnesota (thanks to Carrie Gorder)
Some search strings from today's hits:
8 bit stream +monkey poop
ELMER FUDD LAUGHING WITH WHOOPING COUGH
dont scrap meth pipe better to leave it
Despite what you might think from that third one, they didn't all come from the same person.

4/19
PREST-O-WINE

Instant wine beverage: add sugar and water to the powder, wait a month, and Presto! Wine!

--advertisement for a failed product
Remember that The Most Unwanted Song from a coupla days ago? The same people did the opposite, and chose the things that people most liked in a pop song and made The Most Wanted Song. Pretty much what you'd hear on the local Lite Favorites radio station; i.e., DULL. But accurate. Your brain may shut down before it registers. I think that's the point.

Do I think there's life in outer space? Since life has established itself in even the most implacably hostile enviroments on Earth, sure, why not. Do I believe in intelligent life in outer space? Statiscally, sure, why not. Do I believe that aliens are visiting Earth? Fuck no.
The Earth has had life for nearly 4 billion years. There have been billions of species in that time. How many of those species evolved "intelligence"? One. How long did it take? Over 4 million years. How long ago did that one species develop technology? 4,000 years. How long ago did it invent a reasonably complex technology? 200 years. How long ago did it find ways to destroy itself through its technology? 60 years. How long did it take to find ways to destroy itself through the incidental byproducts of that technology, e.g., pollution and global warming? Pretty much the same time. What evidence is there that intelligence leads to a species' survival, rather than its self-inflicted suicide? None, yet. We became intelligent--if that is the correct word--only through a random series of genetic flukes.
I'm no math guy, so I can't run the actual numbers. Somebody else did, and the odds in favor of extraterrestial intelligence are vanishingly small. Which makes sense--the Earth ran just fine for the billions of years until we started fucking everything up 200 years ago.
Did you know that 99.9% of every species that has ever lived has become extinct? What makes humans so sure that they're in that 0.01%?
Intelligent life in space? I'm not convinced that there's intelligent life on Earth.

4/20
OY GEVALT!

Jimmy Kimmel, co-host of Win Ben Stein's Money: What notorious actress held us spellbound in her last role as Golda Meir?
Contestant: Tori Spelling.
(the correct answer is Ingrid Bergman)
An unaltered shot from the later years of the opening credits of the 60s Batman TV series:

Well, it is 4/20.
4/21
SAMENESS, DIFFERENTNESS OF

We now have exactly the same situation as we had at the start of the race, only exactly the opposite.

--sportscaster Murray Walker
I was second out of 4 hits for a Google search this page received for "Is Obama the antichristy". If you remove the gratuitous Y at the end, I'm in the top 10 of about 49,400 hits. America: You Are Insane.

The little all-white cat across the courtyard was poking her head out the window, and I smiled. So much like Killsy when she was young. I looked again, and AHH! CAT IS OUTSIDE! I saw that her owner was watching her, so I went out myself. "What a beautiful cat! I have one who looks just like her!" I enthused. "Him," corrected the proud owner. I then proceeded to warn her about the Crazy Lady who tried to deliberately run over Byron. "Deliberately?!" she asked. "WHY?" "Because she's crazy!" I said. Which in retrospect wasn't the most compelling explanation (I should've added "who hates cats"--As the saying goes, you'll meet dog owners who say "I hate cats!" but you'll never meet a cat owner who says they hate dogs. Cat haters have their own little pathology going on)
They didn't take him in, but they opened both ground-floor windows and propped their door open, and kept a watchful eye on him. He tried to approach the orange tabby who frequents the courtyard (and avoids the front, where HellBitch tried to kill my beloved Byron--whether that's through coincidence or direct experience, I don't know). Orange kept growling at White, who seemed persistent in making friends, until his humans took him home.
It's not other cats White needs to worry about.

Looking to save on gas? Here's a tip that everyone gives, but I can vouch for. I dropped my maximum highway speed from 75 to 65, and went from an average of 26MPG to 28 Not bad, given that half my commute is on roads with stoplights every hundred feet. I've always done the "anticipate stops" things by coasting up to red lights (what's with these idiots who accelerate to red lights, then hit their brakes? They waste gas 2 ways, and decrease their travel time by exactly nothing). But I've started driving using my tachometer. When I accelerated, I'd try to keep the engine from revving above 3000 RPM. I got 29.5MPG! Last week I started trying for a maximum of 2500. 31.5MPG!!
Granted, I drive a compact 4-door sedan, hardly a gas guzzler to begin with. But over a year, my 200-mile-commute-a-week filling-up has gone from 8.5 gallons to 6.5. And gas here is already hitting $3.75. If your car has a tachometer, use it.

Seen: Black Adder: Back and Forth. I love that series, and was surprised to discover that there was a 1999 special. An hour with all the original castmembers from the first 4 seasons! Would it be as good as that Christmas special they did?
NO*.
Slightly amusing, that's it. Oh--it's only 33 minutes long. (*And such small portions!) I suppose that it was over an hour if you counted the bonus material. By that measure, I suppose that my Citizen Kane DVD is about 5 hours long. If, like me, you're a hardcore fan, maybe worth the rental just to see what is. If not--I have a cunning plan!
Don't rent it!

4/22
PLANET/SOLAR SYSTEM MISTAKES, STARS AND

My boyfriend gave it [a necklace with a tiny circle on it] to me. . . . He bought it because it was our first-year anniversary and it takes like a year for the sun to rotate around the earth.

--actress Kirsten Dunst
Got a freebie today: DentaBurst! Since it takes weeks or months to get these things, I'd long since forgotten what I'd ordered.
There was a gum called CinnaBurst. "A burst of cinnamon in every bite" I believe was their slogan. "DentaBurst"? What's theirs? "A burst of your teeth blowing out of your fucking head!" maybe? "Every time you use DentaBurst, it's like a billy club to your bicuspids! It's a RIOT in your mouth!"
Actually, it's just one of those finger-cot things you use in lieue of a toothbrush. "It's like brass knuckles at your fingertips!" Seriously, what a bad name. Was it really that hard to come up with "DentaClean" or something?

This is as bad as it gets, quality-wise, just some guy at a con camcording some screening. But it's for--Venture Brothers, Season 3!

4/23
HIGH ANTELOPE ALERT

People focus too much on colors. It could be numbers, it could be animals.

--Homeland Security director Tom Ridge, on proposed changes to the color-coded terrorist warning system
UpChuck:
Well, the nut doesn't fall far from the tree. It stands to reason that if your parents are morons, you will be one, too. One might think that "kids" (ie, legal adults) may not so much be voting for Obama as against John "Four More Years of Bush" McCain and his "100 more years in Iraq" plan, which would involve them dying. But, no, they're just dumb like mom and dad, who voted twice for the candidate they most wanted to have a beer with.
Nice "Six Degrees of Hating America" here, the game where you're in al Qaeda if you can somehow be linked to someone right wingers disagree with, except if you're the President and (literally) hold hands with the Saudi princes who funded al Qaeda. But what's with that "history" postscript? There's never been a black man this close to being president; there is no history. I can only assume that Chuckles means back when men in white robes and pointy hoods got away with lynching uppity niggers like Obama. Ahh, the good ole days! Before kids dressed like they do today, which in Chuck's mind is like Ward and June's kid the Beaver. WHY can't these kids today dress sensibly, in knickers?
It's kinda ironic that this anti-African-American cartoon features elephants, an animal indigenous to Africa! Wait, African elephants have the big ears, Indian elephants have the smaller ones, so these must be American elephants, the ones that have trunks like withered, severely deformed penises.
4/24
WHAT'S WRONG WITH THIS PICTURE?

Dear Mr. Cook:
We have attempted on several occasions to reach you by telephone to discuss payment of your telephone account, which was recently disconnected.

--letter sent from the phone company
UpChuck: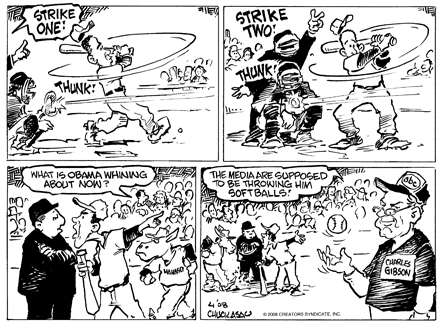 Whoa, remember this when it topped the news? Obama was totally humiliated by That Guy, and instead of taking it like the 2/3s of man black men count as, went crying to...that...Where You Complain About Interview Questions Organization. That's either run by the UN, or Obama's Mama.
And those questions were hardballs INDEED! "Senator Obama, why won't you denounce your pastor, the one who calls Catholics 'whores'? Why do you claim to hate lobbyists, when you've literally slept with one? Why do you insist that we attack Iran, when you don't even know the difference between Sunnis and Shiites, or al-Qaeda and a milkshake?"
Oh, wait, my bad--Those are the questions that the Hardball Media isn't asking Saint McCain.
"John Gibson"? Did he invent that electric guitar, or that cocktail with the onion in it? Got me! I Googled, and I think that Chuckles is talking about that last Democratic debate (of course, Chuck couldn't mention the other host, George Stephacoccus, as he was once a Democrat before he became a shill). Even conservative commentators criticized that debate for asking nothing but "Gotcha!" questions for half its length. Gibson's main contribution? He was the "Why don't you wear you no FLAG PIN?!" guy. Republicans use these arguments because this trivial bullshit is all they have to go with now. Collapsing economy? Exploding gas prices because OPEC wants us dead? Broken army, so we can't do anything about that? Three trillion dollar war, and counting? Giving China an "OFF" switch for our country's wealth when they switch to Euros and they FOTFLMao Zedong about it? Nah, too important to actually talk about, since they're the reason this country is so fucked up, and going to get SO MUCH VERY WORSE in the very near future.
But John Gibson totally nailed him on him not wearing a "Made in China" flag pin! SCORE! HI FIVE!*
*Due to the decrease of the worth of the dollar, a "HI FIVE!" is now worth a "LOW THREE."
4/25
GOING, GOING, GONE!

Lawyer: Do you recall telling the police that you passed out at the time?
Defendant: I passed out, yes. I passed out. I think I blacked out. I passed out, but I don't know if I was really out. I just remember blacking out and I assume I passed out. If I didn't pass out, maybe just my mind blacked out.

--actual courtroom testimony
On the way to work the traffic suddenly slowed, right by the exits for I-91. The onramp to 91North was blocked by a state trooper. Must be a terrible accident, I thought. I drove up a bit, and saw that they'd blocked off the entirety of the northbound lanes. Wow, must be an unbelievable accident! I saw a large helicopter hovering overhead--well, this is the road to the airport. It looked oddly military, though.
Then I discovered that they'd blocked off my exit! I was forced onto 91South, and I had no idea how to get to my job! By utter fluke, I had once had a job at the town at the exit---30 years ago. I kinda knew how to get to work. Drive in this direction, turn here, and--shit, they've got every road into town blocked! The fuck?! As was said in the 007 movie Goldfinger, "Once is an accident., twice is a coincidence, three times is enemy action."
I remembered a really long way to work, and headed that way. Amazingly, a co-worker passed by me, shaking her head in disbelief--and heading down the same road I'd just been on. "NO, GO THAT WAY!" I yelled and pointed, but she went the wrong way. I drove across 2 towns and got to work 20 minutes late, doubling my drive time.
When I got to work, I found out that it wasn't because of a severe accident, but because of an unmitigated disaster: "Bush is in town." My immediate response: "One more reason to hate that bastard!"
And, boy, is he hated! All day people complained not just about having to be stuck in traffic so His Royal Assness didn't have to potentially witness one of us peons sticking a tongue out at him, once started, they raged. Nobody said, "Well, we must protect our president." Everyone who voiced an opinion despised him; the half-wits who suppport him probably used that wit-half to keep their mouths shut. Notable exchanges:
"Why didn't they bring him in a helicopter?"
"Yeah!...but where in Hartford could they land?"
"Just throw him out the doors at 5000 feet! If he lands on his head, he'll be fine!"
"Maybe it would knock some sense into him."

"He was born in Connecticut, you know!"
"No, he's a Texan, Y'ALL! That ain't no fake accent, Y'ALL!"
"Really, his grandparents are buried in Putnam!"
"Too bad he isn't too!"
Hmm. Putnam. I going there next weekend. I should find that grave. After drinking about 10 bottles of Mountain Dew...
Why was he polluting our fair state? To give a speech for a Republican running for Congress. Given Bush's toxic poll ratings, that guy must have a death wish (and he sure lost the vote of everyone on the roads today). Oh, wait, no! That was secondary, because Bush can only write off his political speeches if he gives some bullshit address that makes it appear that it's all Presidentiatin'. He gave a speech about that terrible plague of Connecticut, not the War, not the collapsing economy, but malaria. While malaria's a thing that should be fought, killing thousands of poor people who are dark-skinned, did King George the Dumber frame it that way? What the fuck do you think?
Bush tied anti-malaria efforts to the war on terrorism, saying it enhances the United States' reputation in the Third World.
"And so the best way to defeat their ideology of hate is with acts of compassion and love," Bush said, speaking at the Boys & Girls Club in the North End of Hartford today. "The best way to defeat an ideology of darkness is to spread the light of the flames of innocent Iraqui civilians on fire from white phosphorus hope."
MOSQUITO TERRORISTS! Tiny, tiny little explosive vests.
Yeah, it really would "enhance the United States' reputation in the Third World." If the entire fucking world didn't hate us now. Step on a bug, they'll forget that you've been exploding the world for 7 years. Even a bug isn't so stupid as to think that.

4/26
WE HEAR THEY'RE ALSO RESPONSIBLE FOR THE DEPLETION OF THE OZONE LAYER

The Great Plains used to be a giant forest. The Indians burnt it to the ground to hunt buffalo.

--political pundit Jonah Goldberg, in a speech at the University of Wisconsin-Madison
Kudos to you, Stupidest Things Ever Said calendar, for featuring the Doughy Pantload! As long as we're on the subject of anti-environment right-wing dipshits...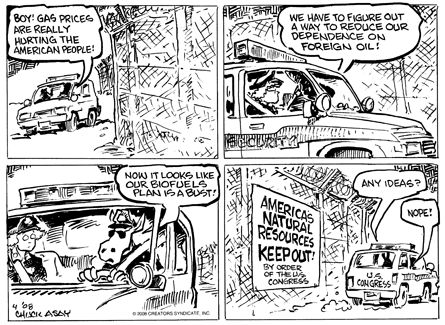 "Biofuels" is a retarded idea. So retarded that BUSH LIKES IT, CHUCK. Yeah, let's cut down on foreign oil, so that we can cause world starvation. An idea only a Republican would love.
The truly bad thing that Congress has done is to not pass a law requiring an increase in car gas mileage. If the average MPG of American cars was increased 10%, how much would gas use go down? 10%! An increase to 36MPG--far less than a 50MPG Prius, and a 50% increase on the average American car's MPG--would lead to...Oh, you get the idea. Gas prices aren't going to go down, not as long as we wage war in Iraq and continue our threats of war against every country that has oil. The technology to reduce our gas use is easily attainable; it's in American industry's hands, but their hands are too busy picking your pockets to do anything else.
Chuck's super-duper brainstorm is no different than that of those retards 5 years ago who put "NUKE THEIR ASS AND TAKE THEIR GAS" bumperstickers on the Ford F250s that they drive to the mall. Wreck the environment! We will live like KINGS on the gas in ANWR!
From Wikipedia:
If the Arctic National Wildlife Refuge was used to meet 100% of U.S. demand, it would last for 215 days under the low estimate, and 525 days or just 1.4 years if it contained 10.4 billion barrels.
Of course, we can't raise MPGs, because fuel-efficient cars kill people. "Any ideas? NOPE!" pretty much sums Chuck up.

A slightly more intelligent and perceptive look at politics than that, YouTube's 2007 Political Video winner Stop the Clash of Civilizations. Bit more nuance than one gets from Chuck's one-dimensional mind.

And now, a bit of fun! Classic Atari 2600 games. Including such favorites as "Parachute Pete" and "Wild And Groovy Moon Combat."

4/27
MOTHER NATURE, OH SO BOUNTIFUL TO GOLFERS

Hail-sized golf balls fell today out in the Midwest.

--weathercaster on a Burlington, Vermont, nightly news show (thanks to Vanda Stanley)
I wasn't planning on going to the Vernon Historical Society's annual book sale this year. I haven't bought anything the last 2 times, due to the fact I can only go on the 4th day, when everything's been pretty much picked over. My job won't let me take the day off to go to a book sale--hard to believe, I know, I know. But this year they added 2 more days, so that could only mean that they had more donations than they expected. Maybe I'd luck out.
And I did. This is the first used book sale I've been to where I found something I'd hoped to get. A Canticle for Leibowitz, a post-nuclear holocaust tale that can't be too bad, as it hasn't been out of print in the 50 years since it was first published. It came with a bookmark, a ticket stub from a Mets/Dodgers game at Shea, 8/18/95. Hopefully the book's previous owner was a Mets fan, as I looked it up and they won.
I also got The Mammoth Book of Comic Fantasy, which, at 529 pages, may or may not be mammoth, but it's definitely at least mastodon. Pratchett, Gaiman, Jones, those kind of guys. (Terry Jones, of a certain British comedy troupe) The stories date from 1998, when the book was published, all the way back to 1871. Also, Legends, Lies & Cherished Myths of World History, as I love debunker books like this.
I bought 2 video tapes: Tremors, which I've seen maybe 6 times and would rent again anyway, and Waterworld. Yes, I paid a dollar to see Kevin Costner drink his own urine. I don't expect to watch that more than once, unless it turns out to be as badly hilarious as The Swarm or King Kong Lives.
You may be surprised to learn that I passed on all the cat books. I also didn't get 300 Great Things for Kids to do Online. Copyright 1998. I imagine that there are probably about 20 urls in that book that still work. I was annoyed that somebody filed Carl Sagan's excellent The Demon-Haunted World under Fantasy, but amused that The Late Great Planet Earth and Dianetics were also there.

Despite every possible Googling, the length of the traffic jam Bush caused Friday is apparently some sort of DefCon-1 State Secret. Meaning: it must have been that long, tens of miles and multiple hours. I did come across some info along the way: It cost the American taxpayer $200,000 so that Bush could raise money for his little Republican friend, and yes, the malaria bullshit was just a smokescreen to make you pay for it. He met with some basketball players and an ex-American Idol contestant--wow. That's some star power! Oh, and this is interesting: Check out the CT GOP Flickr stream for the event. Scroll down. Notice anything funny about the numbering?
Notice that they deleted all the photos of the candidate on stage with Bush! He's happy to take the money Bush raised, but damned if he's going to be seen with him. Apparently they've learned their lesson from The Kiss.

Stupid Comics is almost always funny, but particularly so with this Brady Bunch coloring book that my littlest sister owned.

4/28

PURPOSE: Fist-Aid Box (For Medical)
• Box for Storage of Boys
• Box for Storage of Home-Use Ware--two of the uses listed on a plastic toolbox label sent in for engineering evaluation from China (thanks to Ray Horvath)

4/29
AND THE WORLD THANKS YOU, PARIS

By channeling my inner heiress, I created a new opportunity for young heiresses.

--socialite Paris Hilton (thanks to Richard Oberholtzer)
Well, this is depressing: "(In) the United States, even the people with the lowest usage of energy are still producing, on average, more than double the global per-capita average...The "floor" below which nobody in the U.S. can reach, no matter a person's energy choices, turned out to be 8.5 tons, the [MIT] class found. That was the emissions calculated for a homeless person who ate in soup kitchens and slept in homeless shelters."
Umm...
Umm...
Well, I was going to brag about getting my car's average MPG up to to 32.3 last week, but I think I'll just reduce my carbon emissions by taking my car and running myself over with it now.

4/30
WE'D RATHER NOT WATCH

Torre could have four play.

--broadcaster Ken Singleton, talking about possible moves Yankees manager Joe Torre could make with two out and Bernie Williams at bat (thanks to Steve Salinas)
Oh, this is retarded! The Doctor Who TARDIS USB Micro Fridge. How "mini"? It holds ONE 12 OUNCE CAN. And what shape is a TARDIS? Rectangular. What shape is a can? Cylindrical. What else is cylindrical?
Daleks. DUH. Pretty obvious what shape it should've been now, right? Pass me a nicely-cooled Kaled Cola, would you?
On the other hand, the Dalek Talking Alarm Clock will certainly wake you up. We're not told what it says when it goes off, but "E-VAC-U-ATE!" is probably what you'll do into your shorts. This is probably the first alarm clock that hates you more than you hate it.

5/1
COSSACK PREDICTIONS

The time is soon coming where a cossack will have something better to do than carry horses around the house.

--a farsighted cossack, having a discussion with his buddies in the movie Taras Bulba (1962)
Happy Five Years of Triumphal Peace Day!
GW BUSH, on an aircraft carrier on 5/1/03: "The battle of Iraq is one victory in a war on terror that began on September the 11, 2001 and still goes on. That terrible morning, 19 evil men---the shock troops of a hateful ideology---gave America and the civilized world a glimpse of their ambitions. They imagined, in the words of one terrorist, that September the 11th would be the 'beginning of the end of America.'"
Ha ha, those fools! They thought that 9/11 would be the "beginning of the end of America"! Only 7 years ago we were the most powerful and stable, open and free superpower ever known! Today we have a secretive and totally corrupt government made up of torture-loving war criminals that started a war for oil and corporate profit based on 935 lies; a media run by billionaires that covers up all their transgressions; a collapsing, fatally wounded military; a bankrupt economy imploding because of foreign war and domestic greed that the Chinese could destroy by simply switching the billions they loaned us from dollars to Euros; out-of-control global warming; an entire planet turned against us--We sure showed them!!
And somewhere in Pakistan, a tall, bearded man rubs his hands with glee and laughs "Mission Accomplished!"
Meanwhile, in America, everyone worries--is Hannah Montana becoming some kind of slut? Dude, seen that picture? It's hot! You can totally almost see her spine!
The terrorists really have "already won."

I quoted the lyrics to this Arrogant Worms song when the Iraq Invasion began. I think I ran them again, on the anniversary. Well, here it is again, in You Tube! Or, more accurately, Dr WhoTube. (Ignore the video and listen to the lyrics)

I find it kind of amazing that no one on YT has ever done the song using footage of the Bush administration. It really sums their accomplishments up.

"Captain--this is most illogical!"
"Spock--shut up and keep shining my boots. You keep missing that spot where I kicked you in the face. And could you please get that shoe polish stain off your chin?"
"No, Spock I am not! Yoda I am!"
"SULU! Who is this--small--wrinkly--green man?! Try and get him away from my shiny go-go boots!"
"There is no try--there is only do, or there is FUCKING FAFBLOG IS BACK."
One can only assume that Giblets commands you to read it.

5/2
HELP! FROG!

Dispatcher: 911.
Caller: I am trapped in my house.
Dispatcher: Trapped? Is someone holding you there?
Caller: Someone? No. But there is a frog on the front porch.
Dispatcher: A frog?
Caller: Yes. A frog.
Dispatcher: Okay, but what is preventing you from leaving the house.
Caller: I told you, there's a frog on the porch and I'm afraid of frogs.
Dispatcher: And you don't have another door to the house?
Caller: No. There's only one door and I can't get out of the house with the frog sitting there.
Dispatcher: Why don't you take a broom and sweep the frog off the porch?
Caller: I can't do that. I told you. I'm afraid of frogs. He might get me.
Dispatcher: Um . . . I'm not sure I can help you with this . . .

--actual call to 911
From the most frustratingly semi-informative science article ever:
The sun's movement through the Milky Way regularly sends comets hurtling into the inner solar system -- coinciding with mass life extinctions on earth...
The periods of comet bombardment also coincide with mass extinctions, such as that of the dinosaurs 65 million years ago. Our present position in the galaxy suggests we are now very close to another such period.
..And it then doesn't say when that will be. (rubs temples) Now, is that in the timeframe of "It's very close to dinner, so I should think of what I want to eat" or the timeframe of "I wonder what I'll have for dinner in 5 million years?"

UpChuck hasn't updated in over a week. What, is he Gary Trudeau now? (Seriously, Doonesbury's been in repeats for five weeks! I appreciate that joke-a-day comic strips are brutal work, but taking a week off every 2 months for the last 10 years wasn't restful enough for him?)