INEXPLICABLE OBJECT OF THE WEEK
Week of 11/28/99:
WEEK 85
Who Named The Business? Part 6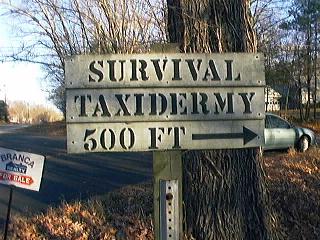 Riiiight. Robby the Racoon gets his eyeballs replaced with marbles and his guts with cotton wadding, but he survives. Yeah, but I'll bet he ain't too happy about it.
This place is located in the Euphemism Industrial Park, right next door to the Therapeutic Facial Massage Slaughterhouse.
Inexplicable Link of the Week
Welcome on site of new Slovenian BIOtechnology G ALFA!
Enter to site of revolutionary part of biophisic, science G alfa
and
measuerements of Bill Clinton, Monica Lewinsky, Paula Jones and
many other famoust citizens measured in 33rd dimension.
Are they long-lost relatives of Zelko Karlovic?

©1999 Bill Young