NEW 89
"Imagine a world in which generations of human beings come to believe that certain films were made by God or that specific software was coded by him. Imagine a future in which millions of our descendants murder each other over rival interpretations of Star Wars or Windows 98. Could anything -- anything -- be more ridiculous?
And yet, this would be no more ridiculous than the world we are living in."
--Sam Harris
3/20/07
INTERNATIONAL BRAND NAMES FROM HELL

Smeg--refrigerator brand, Japan
CRUDE--Fancy and Convenient Kitchen Accessories kitchen-appliance brand, Japan
Assman--audio-equipment brand, Germany

Saw Casino Royale last night, and it featured neither Peter Lorre nor a cameo by Frankenstein. That's because it was the third filmed version; maybe you've heard of it.
It was good. I'm really not equipped to say more, as my Netflixed and brand-new copy froze halfway through Chapter Five, and after a half-hour of trying to find a way to watch it, I just went with what the DVD wanted me to do: skip Chapter Five and watch Chapter Six.
Chapter Five would be the one where Bond and M have their first conversation, and I assume that it laid out Bond's backstory, the interpersonal dynamics of their professional relationship, and the start of the plot. So I think I missed an important bit. I certainly missed the part where it was explained why the terrorist from al-Qite-Incomptenta wanted to blow up the big empty plane (hint to terrorists: don't put a blinky light that goes BOOP! every 2 seconds on your bomb).
It was far better than any recent Bond, given how few of those I've seen. I'll read a positive review of one of those, and it'll be just like every other one from the last 20 years, an overlong and disinteresting mess with exactly enough plot to link the stunts and explosions, but exactly no more than that. (Interesting fact: Every critic and almost every 007 fan lists Goldfinger as the best Bond movie. How strange that it's also the one with the most coherent plot, and the only one ever made that's less than 2 hours long.)
Surprisingly, it actually followed a lot of the book. The book is awful. IIRC, it's 120 pages long, and 40 pages of it are anticlimax--just Bond moping. But it followed it, especially the 2 abrupt and unexpected deaths. And also the torture scene. Now, THAT is where they lost me. They present torture as something only evil people do. Are they calling torture EVIL? How anti-American! They make Baby Jack Bauer cry.
I wonder where they'll go with this. Are they planning to redo the books, in order? Will the next movie pick up the plot of the next book, and involve Bond versus "the organization" that was financing Le Chiffre? In the books, it was the early Soviet counterintelligence agency SMERSH (the name was short for "Death to Spies"), but if the movie was made 40 years ago, of course it would be SPECTRE. While cool and iconic for its time, it was the father of a thousand lame-ass bastard children of evil organizations with increasingly dumb acronyms for names (one of the offspring called itself E.V.I.L., which would pretty much be a giveaway when they were filing for status as an LLC). So, while it would be cool for about a minute, I really hope that if "the organization" reappears, it sure ain't SPECTRE. At least not as much that I hope it isn't THRUSH or KAOS or BIG"O" or F.E.A.R. or whoever it was that Inspector Gadget fought.
I look forward to the next installment, assuming that they continue in this vein. This is the third time they've tried to "reinvent" the franchise as "realisitic"--one time, they decided to remake it in the image of "Die Hard," another series that's lasted for half a century. (Remember last year's Die Hard with an Awesome Combover?)

3/21
FUNNY, WE PREFER BURGERS AND APPLE PI E

Reporter: What are your favorite American foods?
Actor Antonio Banderas (newly arrived to America): Francis Ford Coppola and Martin Scorsese.

Kirk found something on YouTube relating to the director of El Topo and posted it to the Comments, complete with transcript. Unfortunately, it fell during the change of the seasons and thus the change of the Newest. It got a bit lost.
I hoped that he'd post it to his page, and he did. It follows the first part of his post, but that's interesting, too.

3/22
TRAFFIC REPORTING, VITAL

The southbound lanes go one way, and the northbound lanes go the other.

--reporter Lyra Manning, during a road-repair update on WTVF-TV, Nashville, Tennessee (thanks to Jim Rinehart)

Any time there's a link to something cool on bOING bOING--assuming that I should still spell it that way, as they stopped doing it a few years ago--Any time there's a link, it's gone when you get to it. A million other people cooler than you have already been there. If it's some limited-time thing, forget it.
So I expected nothing when I clicked on a link about getting a drawing of your "hobo name" on a postcard. Not for free, but for $10. I've seen the guy's art before, and thought that this would definitely be worth ten bucks even to a poor guy like me, and who knows? Maybe someday it'll be the envy of the art world, framed on the wall with my original Mebbersons.
But it's Boing Boing. Everyone will want one, and in 20 seconds, so why even try--hey wait, check out number eight! (Wait--I'm suddenly #9. "CrapHouse Craigie" was added in the last hour at #6. IT'S RIGGED! Of course, now I can say that I'm "Number Nine. Number Nine. Number Nine..." Maybe I'll be drawn like John Lennon)
DAMMIT! I should've said, "BtS and his 2 cats!"
Oh well. He's only doing 200, and the list is filling. And what a cool idea for struggling artists--200 postcards, and he gets $2,000. That's a lot of ramen.
One can only wonder what he'll do with the non-information "Splut." It's usually seen in comic strips as a sound effect for a snowball hitting someone. I wouldn't want that.

3/23
SIGNS, A BIT TOO DESCRIPTIVE--sign on a men's room door, West Virginia
3/24
POLITICAL INSIGHTS, IMPOLITIC

Politics has no place in government.

--Chicago alderman Dorothy J. Tillman, on a local Sunday morning talk show (thanks to David Burnham)
3/25
GRAVY SIMILES, THE PROBLEM WITH

Billy Bob Thornton: Getting the Oscar nomination is like gravy.
Interviewer: What about winning?
Thornton: Winning would be like whatever is better than gravy.

--actor Billy Bob Thornton, on being nominated for the Best Actor Oscar for his role in Sling Blade

Amazon calls it "Super Saver Shipping" because "Constipated Snail Shipping" test-grouped poorly. They didn't mail me my stuff until a week after the release dates, and I didn't get Divalicious! until Thursday. I saved it for my lunch hour the next day, so that I didn't burn through it in one sitting. But Friday before work Kill Kill was being quite weird--normally when I get up, she's flopped on her back on the bathroom floor and waiting for a belly rub, or she's looking for her morning Fancy Feast. But she was nowhere to be found. When I got to work, it hit me that hiding and not eating means that a cat is sick. With the news about poisoned cat food in the air, I drove home to double check on her at lunch. She was curled up on my bedclothes with a wet nose and alert eyes, and while she seemed baffled by breakfast in bed, she ate the treats I gave her. Later, she was back to her normal demanding self, and all was right in my world.
I read half of Divalicious! Saturday, and finished it today. While I'm not the ideal target audience for a comic about pop teen singers, I really loved it. The story had the right mix of comedy ("I MADE COOKIES!"), satire (the song lyrics are awful--"Email This Female," ugh--but no more ridiculous than anything Britney or Jessica have sung), corporate machinations and murderous side characters. And of course--the art! From realistic to wildly over-the-top (sometimes in the same panel), but always in service of the story. There's little bits of humorous detail in the corners, but when the point is the emotion, it's uncluttered and on target. I was always impressed by Mimi's 80s-themed comic As If! but it's astonishing how much better she's become.
Best of all, it warrants more than one read. There's an overall plot that isn't apparent until it's nearing the final third. Downside: Ends on a cliffhanger. There had better be a second volume, or I will be sad.

Via SteveM from the Comments, The Top 15 Unintentionally Funny Comic Book Panels.

In a similar vein, The Lamest Superheroes. Hey, it's "Arm Fall Off Boy"!
It's DC-centric--the only Marvel character is Cypher, and I always thought that he was a sly commentary on the ridiculousness of the X-mutants. Every mutant has a power that only relates to hand-to-hand combat, except his: the ability to translate or decode anything. If that power actually existed, it'd be the only one ever that'd be useful in real life. Seriously, where's the mutant with superior hand-eye coordination and increda-vision who becomes a millionaire pro golfer? My vote for a stupid mutant would be the one-time appearance of "Fang Face," a woman (as it was a comic book, that means "young, skinny, boobs, hawt") who could turn into a dragon. Yeah. What gene causes that? Is there another hottie whose scrambled DNA turns her into Giant Three-Toed Sloth Face?
They also list a character who's obviously meant to be a joke, and "Matter Eater Lad," but fail to point out that the lamest part of his story is that he came from a whole planet of people who ate rocks and fenceposts. It'd be like having a hero from Rome named "Italian Speaker Boy." Wait--that's Cypher, isn't it? Except lamer.

I found the article from a hit to a particularly lame superhero on my site (hint: "magic monkeys"), and was amused enough to click on the TV section. Divalicious! mentioned a Disney-style show called "Hammy the Hamster," and there was a link to a real "Hammy the Hamster" show and OMGWTF I used to WATCH that! "Tales of the Riverbank" was a feature on whatever locally-made show preceded Captain Kangaroo on Hartford's channel 3 in the 60s! I LOVED IT. At the same time I was watching Space Ghost power-band the snot out of space villains, I was entranced by this live action little series about the gentle, sweet adventures of a rat, a hamster and a guinea pig. I said "And I thought that I was the only person in the world who remembered this!" only to discover that versions of it were made for 40 years. And that you can't find any DVDs of it, and that 90% of the sites mentioning it are by Gen-X slackers trying to make fun of it by using Richard Gere jokes. Making "sweet and gentle" entertaining is harder than falling back on a default of cynical nihilism, and the fact that the only thing cool thing in the world is you.

Uh oh, that must mean it's time for me to make fun of something myself! It's that unbeloved new feature, "Reviewing the Guest Reviewer on Some-Guy & Roeper"! This week it's Wesley Morris of the Boston Globe. He wasn't bad, but, dude, if you're going to wear a tie, either knot it properly or take it off. Unfortunately, he couldn't defeat Roeper's annoying habit of talking over people. The only effective tactic is to let him blow hard and then smack him down. Wesley tried to talk over Roeper talking over him, so all the viewer heard was blahdiddyblah.
Review of Thumb: When it was down, it bent out at an angle. This makes 2 out of 3 thumb-mutants on the show recently. But can he speak Italian?

Of course, I forgot the New Rule of the Internet: If you can't find it, it's on YouTube. The Brit version of "Tales of the Riverbank" I assume, as I don't remember the one I saw having those accents. And, hmm, I think that Double-O Hamster might not be series canon.
If guinea pigs in jeeps don't excite you, here's the Arrogant Worm's "History is Made by Stupid People" set to Dr Who visuals. Visuals that are so lame, your arm might fall off. But at least you'll get to hear the song that'll be the theme music to "How they'll judge the Bush Administration for decades to come."

3/26
GREAT MOMENTS IN GAME SHOWS

Family Feud host Richard Dawson: Name something people walk into accidentally.
Contestant: A movie.
Bill the Splut, Hobo
3/27
POINTS, FASCINATING

Had we not got that second goal, the score might well have been different.

--soccer manager David Pleat

Sometime in the recent past, I heard a song. I should note that, once one passes 40 years of age, there's this sudden shift and everything becomes the recent past. Today I thought of something that happened 15 years ago, and realized that when I was 30, I never would've thought of age 15 as being "recent."
At any rate, sometime in the recent past--probably 8 or so years ago, when the Internet was but a dewy flower--I heard Bay-hay Bee-Doll. It was a promo song for a JC Penney doll from the 60s. One can hear it here on WFMU's blog. As I want that to be on your computer screen when the police find your bloated corpse, so they don't blame me for your killing spree with a discotheque threshing machine/suicide by jamming Pop-Tarts up your anus until you suffocate by pooping out of your nose with a strawberry-sprinkle frosting.

There's a really long Daily Kos post you can read here, but I'd like to clip this one paragraph:
"Oh, and a note, here: there is a special place in hell for anyone who, at any point, figured that America should elect their President according to who they'd like to "have a beer" with, or opined in the national media that such reasoning was anything but a godforsaken sophistry. By God, if there is any justice in the afterworld, each of you can spend eternity in a warm, comfortable bar with George W. Bush, alone with nothing but you, a bowl of peanuts, two mugs, and that barren moonscape of a mind."
...312 Millenia Later:
"Shut up."
"EH-heh-heh-heh ! Ever tell you bout the time, there was Barney--"
"YES. You told me. SHUT UP!"
"--and I wanted to see how fast a beagle would go, so I kicked him in the nuts! EHHH-eh-eh-eh! Shoulda seed him go!"
"Barney's not a fucking beagle, and SHUT THE FUCK UP! It's been 312,000 years, and these are the only stories you've got!"
"Barney's--not a beagle?"
"No, he's--I forget what he is! Just shut up! You keep telling the same stories!"
"No, he IS a beagle. I'm the decider! Hey, did I tell you about the time I shot down Saddam Osama's jet in a fighter jet dogfight with our planes, when he tried to blow up my daddy in the Two Towers? I killed me a lot of Sauron Hussein's orcs and cave trolls then."
"AUUGHH! WHAT DID I EVER DO TO DESERVE ETERNITY HAVING BEERS WITH THIS GUY?!"
GOD: YOU VOTED FOR HIM.
"Oh. Right. Shit."
"So--then what was Barney? A camel?"
"AUUUGHH!!"
(Of course, this is but a single cell in Hell. A demon in Bush's guise rules this barstool. In another corner of damnation, Bush himself is trapped in a bar with every soldier killed in Iraq, and all the unavenged souls of 9/11)

3/28

CUSTOMERS, HOPELESS
Tech support: Thank you for calling. May I have your area code and phone number, please?
[silence]
Tech support: May I have your area code and phone number, please?
Customer: I just have a question.
Tech support: OK, how can I help you?
Customer: How do I find out my area code?

--actual call to a computer tech-support line

It wasn't an 18-month hiatus at Gone and Forgotten, it was a build-up to The Five Other Identities of Superman! See, Jor-El builds a magical supa-scientific computer TV that shows him what the life of the baby he rockets into interstellar space would be like if he landed on planets other than Earth. And he's a superhero on every one! He even gets to be Batman! He's super even on planets where he has no powers, because "baby Kal-El gets adopted by a scientist who shoots him in the head with a magic ray gun and now Kal-El can run super-fast. PS – He runs so fast, he manages escape velocity and dies in space. I hope we've all learned something from this story."
Y'know, if I made a supercomputer that decided that my rocket-baby's arrival on any planet had a 100% certainity of being adopted by a nutcase with ray guns and running into airless space...I'd think that my program had some serious bugs. I would've at least tested my grocery shopping list on it. "Okay, the TV says that I buy butter and cheese and then a dinosaur eats me by the Hungry Man dinners, but I'm okay because a kung-fu robot gives the T. Rex the Heimleich and he pukes me up, and I ride his vomit on a surfboard made of diamonds--what?! That's nuts! I don't buy Hungry Man!"
The story doesn't say if Jor-El used it to check what happened to his kid on Earth, which is just as well, as the scenario probably played out as "Was shrunk into a Sea Monkey that wore red and blue underwear and fought plankton crime."
While it's great to see GAF back in all its snarky glory, the page is odd--there are obvious links to images that don't work. (How obvious? Check the source code) But it's funnier than I ever will be.

3/29
THREATS, DISTRACTING

The other threats [come from] brutal and repressive states who, because of their brutality, because they don't actually have the support or consent of their people, are developing weapons that could cause distraction...

--British prime minister Tony Blair
3/30
T-SHIRT SLOGANS, ODD

I TRUSTED THE GOVERNMENT, NOW MY DICK GLOWS IN THE DARK

--slogan on a T-shirt seen on a young woman in Bangkok, Thailand

If you don't like the surreally brilliant comic strip (or the B-52s or, I guess, the Manhattan Transfer), you won't like th' Zippy th' Pinhead Theme Song. And then you won't be having fun yet. (With 2 extra songs from 2 decades ago, with lyrics made up entirely of Zippyisms--Life is a blur of Republicans and meat!)

3/31
WE'RE NOT SURE EITHER

This taught me a lesson, but I'm not sure what it is.

--tennis star John McEnroe
4/1
SPEECHES, FRIGHTENING

Our enemies are innovative and resourceful, and so are we. They never stop thinking about new ways to harm our country and our people, and neither do we.

--President George W. Bush
4/2
NO WONDER THE SHEETS WERE SINGED

Warning on a propane blowtorch:
NEVER USE WHILE SLEEPING.

My career as a lab rat ended before it began. I was filling out the paperwork for the metabolic high lipids study, and it said that I could have no more than one drink a day. I could either lie, jeopardizing the study and potentially my health on their drugs, or just admit that I'd rather be boozin'. I suppose that makes me sound like an alcoholic, but if the study required me to sleep less than 8 hours a day, I would've turned it down then, too. I've been told not to leave the cat food bowl full all day, as the cats will graze on the chow. But it's one of their simple pleasures in life--if it's diet food and they aren't overweight, why should they stop? And me, I like beer.
Plus, I know me, and my willpower is expended by the act of going to work and slaving my ass off while I'm there. I could cut my 4 beers a day down to 1, but it'd take mere days before I'd think "Hey, what harm could 2 do?" Which would be followed by 3, followed by 4, followed by a bottle of Bukoff in each fist and waking up in rehab next to a celebrity.
While I was filling out the paperwork, I discovered that the bloodlettings were every 2 weeks, not every month as I thought. And I really don't enjoy that. I can't even watch the cats get shots. And is there anything more fun than when an incompetent tech finds your vein the same way that I try to bullseye a dart board? (If you want to play darts with me, wear protective headgear and move downwind. Into the next county)
I had some blood taken today, which they haven't done since this whole rigamarole of shenanagins began. The doctor's new med student took it. But don't worry, the doc told him "Bill has great veins!" which is the weirdest compliment I've received since the dentist told my mom that I was his best patient at rinsing and spitting. Those aren't exactly the stuff of great bar pickup lines.
In related news, my blood pressure is back to Perfect. For this I thank my work medical plan. Otherwise, I couldn't afford the meds, and would die of a heart attack or an aneuryism some day. Good thing we don't have that evil Socialized Medicine in this country or even poor people could afford it, getting their health off of the hard-working backs of America's undertaxed millionaires!

I forgot to mention that I got my hobo postcard of the mud-wallowin' fat pig Bill the Splut on Saturday. The art is a bit dinged from being in the mail, but that's because it was in the mail. And it's not something he ran off of a printer; it's the real hand-drawn McCoy, pasted onto the postcard. If I turn it in the light, I can see exactly how he filled in the black of Bill's mouth.
And keep checking his page for new hobos--they're funny and cool, and it's amazing how quickly he makes them, given the quality of the drawings and the concepts.

Review the Guest Reviewer on Somebody & Roeper! Who was it? "My name is LeMire. James LeMire." And played by Daniel Craig.
Actually, I don't know what her first name was--the VCR started a coupla minutes too late. But she knew her films. Oddly, Roeper did not talk over her. Was this because her opinions held as much weight as his, or because he plls his punchy lines when it's a female girl of the opposite sex, and thus not a worthy target of his manly jabs? Actually, it seemed as if they already knew each other, but I think that that would give greater reason to pounce on each other--it is only a movie, after all.
Thumb: In the opposite of recent observation, it was normal in the Down position, but strangely tiny and pudgy when it was Up. ("Like my weiner! No wonder I don't date anymore! Thank you, folks, you've been great!")

The Worst Rapper Names Ever. People would buy a CD by Toemaster B and Ghostface Kill-Killah before any of these guys, and those are the rapper names of my cats.

4/3
YOU'RE A DOG PERSON, AREN'T YOU?

Great Danes are just, like, so great, aren't they? They're just, like, big dogs! I know! Yeah, yeah, Great Danes are great. Oh, my God, they just so are.

--actress Kate Bosworth

Briefly, this weekend's DVDs:
I rented for the second time and saw for the first time 1970's Catch-22. The first time Netflix sent it to me, I only received the sheet of paper you remove to mail it back; somewhere, the post office had the rest, and they naturally mailed the DVD back. And I had seen it more than once, back on broadcast TV like 25 or 30 years ago. I remembered only scraps of it, but somehow my memory recalled everything about it as I watched it. Except, weirdly, the ending.
It's a dark comedy, and while I lost a bit from remembering it, it's worth renting now that we're again in a war that's unpopular with everyone in the country except the people running it.
One of the first movies ever shown was a brief clip of a train heading towards the screen. The audience screamed and jumped away, thinking that they were about to be hit by this black&white, two-dimensional and silent train. Now we're so used to sights amazing that we just yawn and say, "Yeah, they can do anything with computers these days." For this movie about a WWII bomber squadron, they found a dozen actual working B25 bombers. And it's amazing to see something you know is real, and yet so impossible as a bunch of relics flying in perfect formation. There's a scene with the characters in the front of a bomber as seen from outside, with the squadron behind them, and after the movie I asked myself, "How did they do that?" (I guess the copilot was flying the thing, as I don't think that Art Garfunkel was)

I got my Cool McCool set a coupla weeks ago (just in time for Catch-22 to get lost in transit), and as expected, I really like it. I knew that, as I have a pair old budget VHS tapes of it that I've watched annually for a dozen years now. And again, I don't recommend them to anyone but me. I have a big grin while I watch them, but this was my favorite cartoon series as a kitten, and your mileage definitately will vary.
The same day McCool came out, the DVD set of Milton the Monster debuted. McCool's release was greeted with disdain on the few blogs that acknowledged its existence, but Milton was praised as a long-lost Holy Grail. I had only the vaguest of memories of it--I saw it and didn't like it. But I was only six! Maybe it is a lost grail of TV animation.
Hey, your Grail sucks.
It's not the worst mid-60s TV cartoon--the animation is better than, say, Hanna-Barbera, and there are mild chuckles to be found. But "not the worst mid-60s TV cartoon" is like this suppurating pustule on my foot--this one's only gangrenous enough that I'll lose my toe!
60s TV cartoons, whether they were comedies or superhero action shows, had 3 episodes every 30 minutes. I assume that this was because it mimicked the 7-minute length of the old theatrical cartoons, and left handy spots for cramming in the ads. There would be a cartoon from the title character to begin and end the show, with one from a lesser light to fill in the middle. If you've ever seen the old Space Ghost cartoons, he had Dinoboy. I've always wondered if the filler was just filler, or something that could never hold a show of its own. Like Dinoboy. But Milton's show was odd. The title character turned up last in the rotation, and the losers controlled 2/3s of the show. Since Milton was copyrighted 1965, and everything else1964, they sure look like failed pilots crammed into the show that sold. These included Fearless Fly, who was basically Atom Ant with a secret identity and a villain who was a racist Chinese guy, although according to what were we constantly told, he was actually from Tibet. This, I think, is the only Tibetan supervillain. If I made one, I'd call him "the Dalai Hitler." Or the "DALI Hitler," because then he could have TWO weird mustaches and also melt clocks. To give you an idea of the show's level of sophistication, the bad guy's name was "Goo Fee." We're not watching Bullwinkle here, kids.
Another filler was "Muggy-Doo, Boy Fox," an utterly generic character except for his retardo name. A name that the creator of the show had used as a comic book character a decade earlier, when he was "Muggy-Doo, Boy Cat." So the creator didn't think it was retardo, but his masterpiece. There was also "Flukey Luke," a cowboy I remember nothing about besides his racist Indian sidekick, and something I haven't seen yet, called "Stuffy Durma." Which sounds like a skin infection.
I think I'll watch a bit more, just to find out what the fuck a "Stuffy Durma" is, but then it goes back to Netflix, and the rest of the Milton DVDs get deleted from my queue. I give it my highest recommendation, assuming that I'm that high, and that the rest of your evenings' plans were jabbing porcupines up your nose. Then, it might feel soothing.

4/4
WOW, WHAT AN INNOVATION!

MADE WITH REAL INGREDIENTS.

--ad for grocery-store-bakery scones, in the Wenatchee (Washington) World (thanks to Katherine Corbin)

If you've been wondering since yesterday what the fuck a "Stuffy Durma" is, he's a happy hobo who inherits 10 million dollars, moves into a mansion where Some Guy (I missed his name) tries to make him a Gentleman, and misses his former life so much that when he sees a passing hobo, he sheds a single tear. And that's just in the credits!
His cartoon consisted of an old hobo friend visiting his mansion, and Some Guy trying to shoo the bum away before the Bank President arrives. When the Bank President finally shows, why, in a totally not unpredictable plot twist, he's a former hobo himself! And he quits his job instantly and joins the other bum on the road. Watching from his mansion, Stuffy sheds a single tear.
Well, that's certainly a novel concept for a cartoon, especially in 1965: end each episode with the main character longing for the sweet release that only death will bring. It's also the type of scenario that even a marginally bright six-year-old would question: Why can't Stuffy just leave and be a hobo? Couldn't he just give his millions away? How hard could that be? MC Hammer had no problem doing it. Or is Some Guy holding him prisoner? Then why not give him the millions, and hit the road?
I wonder if the series continued in this depressing vein. Maybe later episodes were "Stuffy Durma Takes to Drink," "Stuffy Durma Found in Mansion with Dead Prostitute," and the final episode, "Stuffy Durma Hangs Himself in his Jail Cell While Awaiting Trial; Corpse Found Shedding Single Tear."
The most interesting thing about the cartoon was that Stuffy, and almost every other person, looked like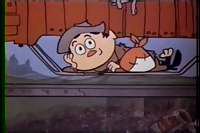 ..a 1965 version of every human John K would later draw in Ren and Stimpy.

4/5
GOVERNMENT AUCTIONS, ODD

Sales of lost and unclaimed property—umbrellas by the thousand, handbags, briefcases, overcoats, Filofaxes, books, abandoned children, etc.

--from the Government Auctions Guide

Traditions are for idiots, so tradition means that every state in the union submits its own Easter egg designs to the White House's annual search for WMDs in Iraq its egg hunt. I hoped that this year, every state would've submitted blinking LED displays of Aqua Teen Hunger Force's RAB-BOT giving Bush the finger. Instead, Connecticut submitted this: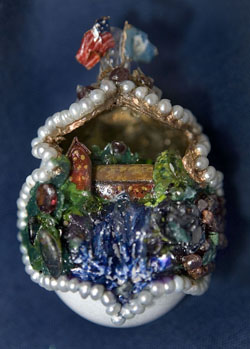 WHAT THE HELL IS THAT?
It looks like a Georgia O'Keeffe painting of half a pomegranate hit by a truck. I see pearls, lettuce, some blue stuff, and waaay in the misty background, a building...Looks like an old barn next to the Leaning Tower of Pizza Crusts. While I haven't visited every part of my state, I'm sure that there are no BULDINGS MADE OF CRUSTS. Not even pie crusts. The winters here are long and the summers hot; thus squirrels would've eaten them.
Hmmm...the windows of the barn seem to have a red LED counting down to zero while going boop! --so, yeah, give it to him.
Traditions are for idiots, but are we idiots when we give up traditions? How we learned to stop having fun, and getting the plague of depression in its place.
One approaches the subject of "deeper, underlying psychological change" with some trepidation, but fortunately, in this case, many respected scholars have already visited this difficult terrain. "Historians of European culture are in substantial agreement," Lionel Trilling wrote in 1972, "that in the late 16th and early 17th centuries, something like a mutation in human nature took place." This change has been called the rise of subjectivity or the discovery of the inner self and since it can be assumed that all people, in all historical periods, have some sense of selfhood and capacity for subjective reflection, we are really talking about an intensification, and a fairly drastic one, of the universal human capacity to face the world as an autonomous "I", separate from, and largely distrustful of, "them".
Via The Null Device, who has his own thoughts on the idea.

4/6
72-HOUR DAYS

FILENE'S ONE DAY SALE!
THIS FRIDAY, SATURDAY AND SUNDAY

--Filene's department store ad, Connecticut (thanks to Judi Ieronimo)
4/7
UMM...IS SOMETHING MISSING HERE?

5 STAR SPECIAL APRICOT JAM
HOME-MADE
Ingredients: Sugar, Lemon and Plum

--label on a jar of apricot jam, Kathmandu, Nepal
If you've ever seen a "SuperMarionation" TV show in your adult life, such as "Thunderbirds," or as I recently rented, to my eternal sorrow, "Supercar"--Peter Cook and Dudley Moore's Superthunderstingcar is hilarious!

4/8
WHAT ABOUT BOB?

EASTER SUNDAY CALL TO WORSHIP:
Pastor: Christ has risen!
People: Christ has risen indeed.
Pastor: Joe is alive!
People: Redemption is here.

--from a church bulletin in Denver, Colorado (thanks to Mrs. B. Williams, who adds that the church reprinted the bulletin)
4/9
LITERALNESS, EXCESSIVE

Game show host Wink Martindale (asking questions of people on the street): The coast of California faces what ocean?
Woman: The one on that side.
Last night's movie: Children of Men. Very good. I'd say that it was set in a dystopian future, but when was the last time you saw a movie that was set in a future that wasn't dystopian? A Star Trek movie? It's a movie, it's set in the future, thus it's a dystopia. QED.
No child has been born in 18 years, for reasons that are never given, nor, really, even needed. You could question the film's belief that this leads to terrorism, wars and police states--one could argue that once humanity becomes a non-renewable resource, people might be less likely to massacre one another, but then, there'd be no movie.
It's an action thriller, but it's a smart one. The premise is cleverly told in only a few minutes in a newscast, but the backgrounds of the main characters are doled out slowly. The acting is understated, and the direction is stunning: incredibly long unbroken takes of complicated scenes. There's one scene where blood splatters onto the camera lens, and that's either going to strike you as cinema verite or, if you're like me, pull you out of the story briefly. Hey, why's this guy following the hero around with a camera?
It did poorly in American theaters, maybe because of starkly imagined world, and--well, is that a happy ending or not? Not in strict Hollywood terms, but yes: note the last word you see written, and the first sounds you hear as the credits roll.

Hey, it must be Monday, because here's the weekly Cracked link: The 5 Most Annoying Banner Ads On The Internet. "The first way to win your magical elf-made free prizes is 'skill' with 'click on the monkey/smiley/fucking thing' banners. I hate to break it to you, seat-warmer, but your ability to move a mouse and click it is NOT the unique skill, honed by years of hard work, that is about to start paying off for you. There are no olympic games in mouse mastery, no bling or ho's for cursor movers, and no fabulous cash prizes for outwitting a looping two second animation. Hitting the moving monkey is like successfully placing a CD in a toaster - quite easy to do and you're going to look stupid for expecting a reward."

4/10
SPORTS SIGNALS WE'D RATHER NOT SEE

He signals to the bench with his groin.

--sports analyst Mark Bright
SHAWT: The customer who left his wallet in his coat, and then hung the coat up in a restaraunt, and then left the coat there.
...But not as stupid as the SHnotAWT: When he called his credit card company the next day to report it stolen, they found out that it his credit card had already been used. The guy who stole it used it to...pay his Verizon bill. At the store, with security cameras galore, and under his own name.
Possibly he also used it to develop several rolls of film from his camera, pay for a professional portrait painting, get a new driver's license, and have a DNA test to see if he was Anna Nicole's baby daddy.

Are you a reincarnated Atlantean prince, or do you just have a memory disorder? Hmm, I can't imagine which outcome is more likely! Obviously, you must be Cleopatra or Napoleon! Funny how no one who's reincarnated turns out to be "anonymous slob who died of smallpox 400 years ago."

"Every day I get in the queue/To take the Magic Bus to you." Well, the bus to the fish'n'chips shop, anyway.
The story doesn't mention the most interesting part of the story: that the Mystery Cat who takes the bus is all white with one eye blue and the other green, and thus has been deaf since birth. And he still knows the bus stops. I have all my 5 senses, but anyone who has had the misfortune to take the Boston T with me knows that I have the the same directional capability as a GPS made from twigs and bird dung.

4/11
REASONS FOR APPEARING IN A TELEVISION COMMERCIAL FOR A MILITARY CONTRACTOR, NOT GOOD

I'm the former chairman of the Ethics Committee. I know what's ethical and what isn't, and there is nothing unethical about this.

--Senator Ted Stevens (R-Alaska)
Since there's nothing going wrong with the Iraq-Afghanistan-War on Terror Wars, Bush now wants to appoint a "War Czar." Funny, I thought after all those times he screamed that he was the Commander in Chief and the Decider, that that was kinda his job. But now, "Help us, Obi-Czar! You're our only hope!"
The "Drug Czar" Reagan appointed totally won us the Drug War, just as Carter's "Energy Czar" led to the 80 mile-per-thimbleful-of-Mazola cars we all drive today, free from the attacks of the legions of the Undead that Clinton's "Zombie Czar" George Romero saved us from.
Exactly how did they hit on "Czar" as a title for "guy who will actually accomplish something"? Czar, Tzar, Csar, Tsar--As any crossword player will tell you, those are all names for the same job. And who was the last guy to hold the literal title? Tsar Nicholas. He and his family ended up in a mass grave, and the Commies took over his country for 70 years. Not exactly an exemplary record of accomplishment to recreate. So why not appoint a "War President of the Confederate States of America"? You'll still end up a big loser, but at least it's better than "War Fuehrer," where your retirement plan is a Luger in your mouth.
The "Decided to Pass the Buck"er has asked several 4-star generals to take the post, and surprisingly, none of them want it. Maybe because they realize that the job title really is "War Czcapegoat"?

4/12
RATS, LEARNED

From a report on stem-cell research on paralyzed rats:

For the last two years, he has shown dramatic video footage of the rats walking to scientific gatherings and during campaign events.
--in the San Bernadino Sun

4/13
IS IT JUST US, OR DOES THIS NAME NOT QUITE WORK?

BEAUTY BRAIN'S
FANTASTIC FANNIE

--beauty salon near Chuo Rinkan station, Japan
People have quoted Kurt Vonnegut a lot since he went to Heaven, but here's my favorite: "Those who believe in telekinetics, raise my hand."

4/14
SUBTITLES, A LITTLE TOO SUBTLE FOR US

You're a bad guy.
Where's your library card?

--English subtitle in a Hong Kong kung-fu movie
4/15
HOW NOT TO WIN VOTES IN THE NEXT ELECTION

We're not able to tax people as much as we would like to.

--Macon, Georgia, mayor C. Jack Ellis, talking about how low-incomehousing projects depend on both public and private funding
I'm going to break with tradition and review a movie before I've finished watching it: Minority Report.
WHO SAID THIS WAS GOOD? This sucks!
Holy Pope with a Band Saw, this is awful! It's like they threw out every even-numbered scene in the script in order to make it make less sense. Ooh, yeah, huge special effects budget, but the guys with jetpacks still look like they're on wires and the last movie I saw was The Iron Monkey, which had BETTER looking guys on wires. And they fly through people's ceilings/floors, shit, what do they make floors out of in 2054, crepe papiere? And it's supposed to be funny! There are all these "comic" scenes that just sit there on the screen and grin at you like the village idiot. Hey, Spielberg, slapstick isn't funny unless you're someone who has to have his chin wiped off while the attendant feeds you.
Scene that just made me lose it in this ridiculous, overblown and boringly monochrome-gunmetal-cinematography festival for the slow-witted: Tom "Aliens Is Up My Ass!" Cruise "No, I Mean In REAL LIFE I think Aliens Is Up My Ass!!" Cruise lives in a total-surveillance society and is its most wanted criminal, and yet he breaks into the most heavily-guarded place in the country by waving his disemsocketed eyeball at an retina-scanning eyeball reader and it lets him in. WHAT? They don't change their security eyeball codes in the most heavily-guarded place in the country when the only guy with the code is Osama bin Cruise? Doesn't a company that fires employees change their passwords afterwords? We do that in retail! We can't even keep the same keys! No, he gets to waltz right in, and then, when surrounded by the police, how does he escape? No, I don't want to spoil it for you if you haven't seen it, so don't read the next sentence if you still want to kill two and a half hours of your life:
He FLUSHES HIMSELF DOWN A TOILET.
He flushes himself. Down a toilet.
Okay, it's a very big toilet, but nonetheless. A toilet.
Did I say "kill two and a half hours of your life"? I meant that in the "and bury it in a shallow roadside grave" kinda way. Go whittle a toothpick from a fallen redwood, it'd be a better waste of your time.
Oh Jesus Fuck. Know what 2 minutes I saw after that? Tom is being chased through a mall by police, he stops in plain view in an open area, and then a guy selling balloons blocks the cops' field of vision, and he's INVISABOBBLE. It's--Jesus, ever see little kids thinking they're INVISABOBBLE just by closing their eyes? Here, IT WORKS. Man, if I ever commit MUR-DER, I so will make sure there's a Balloon Guy around when I escape.
I just spent the next 20 minutes of this awful sack of pestulence wondering "Are my nose hairs too long? They feel too long. I should trim them?" because the movie's THAT FASCINATING and then Oh Gourd! The villain gives Tom's wife what they cleaned out of his desk. Some family photos and a paperweight from Niagra Falls? No. His gun. His LOADED GUN. And, yes, his SPARE EYEBALL! AHHH-HAHAHAHHAHA!!!! He kept his SPARE EYEBALL lying around, and they just GAVE IT AWAY! Just like how police today hand out the crack an addict got arrested with! And HIS GUN! And EYEBALL! AHHH-HAHAHAHAAA! Finally, Spielberg, a joke that's funny! Except that you meant it seriously!
So don't rent it. Although, I have to admit--I still keep laughing about them giving his wife an eyeball in a Ziploc bag. What, couldn't they also have put his spleen in a box of Twinkies?

"This Song Is In English! That's Important!"

4/16
PERHAPS YOU'D LIKE TO REPHRASE THAT

The rather beautiful-looking mulberry bush behind me is approximately 400 years old and it's said that it's one of the finest examples around. One other that you can see, if you're lucky enough, is in the grounds of Buckingham Palace. But apparently, this is much bigger, much grander, than the Queen's bush.

--feature reporter on British television
Maybe I was a little too into examinng my nose hairs, but after watching Minority Report, I have no idea why anyone did anything. Was there a reason Tom's kid disappeared? Why was he framed? Why was the preocog's mommy killed? Why did the Bad Guy do all or anything about all that? Since we're told it would mean the end of the PCU, and he didn't want the end of the PCU, why'd he set in motion this idiotic scheme in the first place, especially in an all-pervasive surveillance society that should've figured it out immediately? And where's Tom's eyeball now? With Xenu?

And did I mention Get Rich Slowly before? I think I have. It's a good site for money-saving tips and financial security, no matter where you are on the financial spectrum. I'm on the "Never had any debt besides a mortgage, and that's gonna be gone in about 3 years" end of the spectrum. It's full of useful advice, whether you're trying to escape economic pressure through eating mac'n'cheese every night, or being eaten alive by that sub-prime mortgage that isn't the good idea it seemed.
The same writer has another blog on another subject that's always fascinated me, Animal Intelligence. I remember growing up and hearing that "MAN is special, as he is the only animal that uses tools!" Then Jane Goodall came along and proved that chimps use tools. And so the goalposts shifted. "MAN is the only animal that can predict the future from the present! Animals live in a constant 'now'!" Well...then how does Fido now where the house is? Why does Kitty not think you're a stranger everytime she sees you? Every year, science finds out that we're not "the only animal" that does something. And the human chauvinists just keep pretending that "we're special," entirely because--well, MAN has to be! There's no possibility that we're just a different kind of animal! But it seems to me that we're not a better one, just a different one.
I don't know if the site's author shares these beliefs of mine. The site's about how animals are smarter than we give them credit for. And that belief we share.

4/17
SHEEP, BOVINE

Game show host Richard Madeley: It stands in a field and it shouts moo.
Contestant: A sheep.

--on the game show You Say, We Pay
4/18
COUNTING PROBLEMS

That's the fourth extra base hit for the Padres—two doubles and a triple.

---San Diego Padres sportscaster Jerry Coleman
Well, I had an interesting 24 hours. It started with chicken wings and ended with Spam. Well, maybe not interesting, but very time-consuming, and thus I'm not writing about it now.

Wow, that "Stupidest Things Ever Said" quote for today was really weak. Here's one I've been seeing for months on a corporate site:
Please Do Not Reply To 'Do Not Reply' E-mail
Here's why ...
Also, please do not eat gasoline. Here's why!

4/19
TECHNOLOGICAL FORESIGHT, ABYSMAL

I predict the Internet will soon go spectacularly supernova and in 1996 catastrophically collapse.

--Ethernet inventor and 3Com founder Bob Metcalfe, in his InfoWorld column, 1995
So anyway. Yesterday was the day I'd waited for for 6 months--I had tickets to see the Hartford engagement of the Monty Python musical Spamalot! After seeing it 2 years ago on Broadway, I wanted to see it again.
Something I didn't want to see was the mandatory replacement of the fusebox in my condo. Something about these chicken-wired 30-year-old paint-peeling relics not "being up to code." It would save the condo association 10K in insurance! And cost us owners $669 each. I think that they added $3 just to make the number seem less satanic. They would send us a schedule of when the work would be done, and we didn't show when it was, that was another $330 in fines. They never sent me a schedule, even after I asked them to with my first payment (the bill, THAT they made sure we got). When I saw the electricians' van near my unit, I thought "I'd better call them tomorrow."
That same day I got a call at work, and it was from Unpronounceabley-Named Electricians. Oh crap! They're at my condo and I'm 20 miles away! I just spent $330 on something lost in the mail! No, this was the scheduling call. My next day off was the same day as Spamalot, and it was scheduled for that morning. Morning for me, anyway, I work second shift and get up at 11AM, so it was for noon.
Well, this kinda sucks, I thought. I was to spend all day waiting for them to show up and do the work, and then probably only have enough time to eat dinner and drive to pick up my date for the musical (who would be my mother, the only person who wanted to go. My friends can be lame at times). It doesn't seem like a day off if your actions are totally proscribed by outside events.
I decided Tuesday night that dinner would be hot wings from People's Choice, the most Communistically-named pizza joint in town. 20 wings as take-out for only 6.99, comrade! Is best deals in all the collective! Available in 4 flavors of glory to the Motherland: Pathetic Bourgeoisie, Great Patriotic Wings, Hot to Trotsky, or Chernobyl! Served with Russian dressing and celery as easy to snap as the backbone of the capitalist oppressors! I am ordering over the phone to crush imperialism before leaving my collective farm and will pick up when I arrive in my soviet in my tractor! My tractor has a burned-out tail light, as my meager proletarian salary cannot afford even the merest of bulbs. Well, not really, it's the fact that lackeys of the running dogs at Ford gave me a manual that apparently went to Tractor Model B: "Open the back panel in the trunk and pull out the brake light." I puzzled over that, as the only way to remove said panel was to pop the plastic rivets holding it in place with a fucking tire iron. And there was no way to pull the light out. There were screws on the...there's probably a word for it, but "the entire outside back panel over the light" is accurate. But that didn't want to come off, and I'd already done some irreperable damage to the plastic rivet with the tire iron. I should ask that customer of ours who works for a garage and does work for my coworkers about it. Too bad I never see him, as he comes in when I'm never on the register.
With a nice dinner of hot wings waiting to be picked up, I leave work. In glorious tractor! I wait at a crossing for the police car across the street to leave; he sits there, so I go first, and he follows me.
...and turns his lights on. Damn burnt-out tail light! But his first words are "Your car is listed as unregistered." What?! That's like my car insurance bill--I never delay sending the registration in, since if I wait, I'll forget and have a legally undrivable car! Did the bill from the DMV get lost in the mail? But it's been expired since 2/2005! That'd be TWO registrations that got lost in the mail! How does THAT happen? I hand him the usual paperwork, realizing that if this is true--having a job 20 miles from home is going to be difficult with no car. What if they impound the car? Let's see, I could walk home in...7 hours.
He calls up a second car, one with a cop who does nothing but stand there and laugh. The first cop says that there's "No record of this car ever having been registered." With that, he hands me back my old registration. Oh awesome, my life is being written by Kafka now. Better not fall asleep, will wake up a cockroach. Fortunately, my car insurance has free towing. When it's made clear that my car is going nowhere, I lock it up and start to walk back to the store. There's a phone there. (No, I don't have one of those new-fangled cellular-telegraphers the kids today use to play their Edison wax cylinders and make Daugerrotypes.) "GET BACK IN YOUR VEHICLE, SIR!" barks suddenly-not-Laughing Cop, in a way that made me glad I'm not Walking While Black. I hear those tasers hurt after the first 27 times in a row. They've called a tow truck of their own, and it's going to take my 4-Wheeled Sole Source of Income there. And they're not leaving until it does. Fucking Cossacks!! And how am I going to get it towed? I have no cash on me beyond $12. I'm not going to get towed anywhere. I sit in the cold of my car, thinking that it appears no one's going to cut me a break tonight.
The tow truck finally arrives, and--Holy shit, it bears the logo of the company that employs that regular customer I was going to ask about my tail light! I get out of my car and the driver says, "Hey, I know you!" I explain the situation--starting with "I have no money!"--and he tells me to get in his truck, "The heat's on." The first welcome news all day.
Before we can leave, the first officer (who looks like a Ken doll) hands him another tow, for the same lame reason: a burned-out headlight and an expired reg. When we leave The Man, he lets me use his phone to call my insurance company, and I get connected to Bombay. "Don't tell them it's because of your registration; they'll charge you to tow your car." So I have to lie to this poor girl with the beautiful accent, wow, I feel so good about myself. I finally decide that I can't do it. Not because of my morals as much as the "My car just died!" lie isn't going anywhere once their tow driver turns the key in my ignition. The driver says, "I can tow you to Vernon, but it's $80 to load your car and $4.75 a mile. But...I could just drop you and the car somewhere, drive away, and how you get home is your business. You can pay me...$40 and a bottle of tequila."
"Okay. What kind of tequila?"
"1800."
"1800?! You're letting me off easy! How about Cabo Wabo?"
"I've always wanted to try that, but it was too expensive!"
The barter system, comrades. The proletariat will defy the imperialists! And cost me not $200, but $75.
He wanted to ditch in a commuter parking lot, but I was wary of that--it's just over the border with another town, and is used by cops as either a speed trap or a place to turn around. Was there a garage nearby where it would look like he was legitimately dropping me, so that I'd be the only member of the cell captured? Yes, near the Buckland Mall and, while on the way, sure enough there was a cop in the commuter lot. I waited in a McDonald's for a few minutes for him to escape, then I drove home. Very carefully.
But not so carefully as to not tempt fate and get my GOD DAMN WINGS. "Hi, I ordered the wings an HOUR AND A HALF ago! I've been waiting for a tow truck since then."
"Dude, they were old. I threw them out. They were..bad product. They're weren't good. You wouldn't'a wanted 'em. They, y'know, were old. Bad product. I can make you some fresh ones! You would'nt'a wanted them. I just threw them out. Like...5 minutes ago."
Hmm. Comrade Dude, I thinks thou protests "bad product" too much. I think you ate the collective's chicken wings yourself. At People's Choice, they share all the work, and all the production! But I said, "Believe me--getting my wings tossed is the least bad thing that's happened to me tonight!"
He made me a fresh box of 20. But there were 20, not the 22 I've come to expect. Comrade Dude, I shall report to the Party your laxness! Soon, you shall labor in the Siberian pizza mines!
And so ended Tuesday, with a perfectly functional (except for a tail light) car that I couldn't drive. And here my tale pauses, for I have typed much and the hour is late. Perhaps tomorrow we shall bore you with Wednesday. I promise you, dear reader, that there will be electricians, fearful cats, trumpets in the streets, and that dreaded entity, the DMV!
And Shrimpies.

4/20
WE DISAGREE, PRESIDENT BUSH

BUSH ARGUES THAT ECONOMY IS "FUNDAMENTALLY STRING"

--headline in the Boston Globe Online
I heard some college kids in the store today saying "Happy Holiday!" What? They celebrate Hitler's birthday and the Columbine Massacre? What lunatics! Because I sure can't think of any other connotation a college student might find for the number "4 20."

So anyway. Wednesday I set the alarm for the usual time, as the electricians are to arrive between noon and one, and so I can get a nice night's sleep. Then, at 830, my downstairs neighbors decide to build some furniture in their bedroom. And I guess build it from scratch, as along with the hammering, there's sawing. Who saws in their bedroom? Eventually some power tool was used, and poor Killsy ran and hid. Byron sawed, too--sawed wood, asleep and oblivious to the ruckus.
I took a brief shower, in case they came early, and--wait, did someone just knock on the door? I toweled off quickly, looked out the window and saw--the van from Unpronounceabley-Named Electricians pulling away! I could run out and get their attention and avoid that $330 fine, but since I was nekkid, it might get me more attention than I wanted. The cops were already after me for my tail light, what would they do about my actual tail?
At least I now had the name of Unpronounceabley-Named Electricians, so I looked up the number and called them. "Hello?" was the business-like answer. "Is this..." I tried to pronounce their name, "...Mo...Dung-O Electric?" Yeah, Bill, REAL close. That would be the name of a fertilizer company. "Want Mo' Dung? OH, you've come to the right plotz!" No, they weren't knocking on my door, they'd just noisily finished up in the unit below me. Which would explain the sawing. I guess. What, is the new electrical panel made of mahoganny? So I dressed, fed the kids, sat down for some Internet.
And sat.
The electrician arrived over an hour later, and started on the panel in the closet. "How long will this take?" I asked. "Three hours." That would be 4PM, and the DMV closes at 430--and is 25 minutes away. Like you can get anything done at the DMV in 5 minutes.
Killsy was, of course, quite agitated by non-me humans in the house. When the second Mo-Dungan arrived, she gave me her "Should I be scared?!" look, and I responded with my look of "Yes, go hide under the waterbed," and so she did. Byron was interested when the first guy showed up. The last time a plumber was here, he so interested that he climbed in the guy's toolbag. (The plumber was a cat owner, and found that amusing) But a second guy! Even the Cat Without Fear was unsure of what to make of that development. He stayed by my chair, watching carefully over the giant mound of crap I'd had to pull out of the closet so that they could get in and work.
And there we were. Sittin' in a chair, Kills hiding from the bangin' and a-sawin', Byron warily watching these invaders. The sawing was because they had to move the panel from inside the closet to inside the bedroom. They also had to do something with the plugs for the oven and the AC, but it was all a one person job. Except there were 2 people, as somebody made an appointment to get their unit done, and then blew it off. Man, if you can blow $330 for no reason, why can't you afford to live somewhere better? So the second guy did the plugs and helped out while waiting to see if the other appointment showed. Byron never got too close to them. Late in the project, he stood behind the computer, meaning he couldn't see them. He also couldn't hear them. Maybe he was trying to wish them away, in the same way a toddler thinks that he's invisible if he closes his eyes.
But 2 Dungos meant that they'd be done in 3 hours! Possibly enough time to make it to the DMV! I called work to explain the car/Dung-O situation. My mom could bring me to the DMV if they finished early, and, if they didn't, take me after 2 the next day. My boss, drunk as usual, barked "Don't you have any friends that could take you before work?!" NO, outside of my retired, 74-year-old mother who works part-time at the library, all my friends have NORMAL JOBS, the kind where you're at work at 9AM. This was an enormous mental stumbling block to El Capo Drunko, who couldn't comprehend that maybe there was another business in the world that expected employees in on time. He also told me to just keep driving my expired car. Like a suspended license would get me to work that much faster.
But--! They finished early, and my mother arrived exactly as they finished. I quickly turned some things back on, and dodged Killsy, who came out for about a second when she thought the Dung-Os had left, then ran under the bed when they returned to remove their trash. And things got a bit hectic: Where was Byron?! He vanished for 15 minutes, and I couldn't find him. He really had made himself invisible by closing his eyes! And you can't call a deaf cat. He turned up just as I was about to leave. The one thing I forgot to turn on before hurrying out the door: the radio. I've left the radio on for Killsy since she was a tiny peanut, so she had some soothing sounds. For the first time in 8 years, she didn't have that "Everything's normal" background sound.
And so we raced to the DMV, with its legendary hour-long lines. I didn't even know if I could renew my registration there; in typical gummint fashion, the website told me to Call This Number, and the number told me to look at the website. My mother was unhappy that she'd forgotten to bring a book for the wait.
The window said "registrations," so I went there. The clerk told me to "go wait between the 2 ropes" (vague directional shrug). There were a lot of ropes, some which led to a counter that DMVers were standing behind, and another that was unmanned. I came back 30 seconds later and politely said, "I'm not sure where I'm supposed to go. Under the white sign (points) or the red sign (points)?"
You or I would've ended this with "The white sign," but "GO OVER THERE! DO YOU SEE ROPES? HOW MANY?!" I wanted to say "About EIGHT, you teenaged goateed little prick! Daddy got you this job, didn't he?"
And a woman quickly came up and things went smoothly, she being neither a teenaged nepotist nor goateed. It cost me $90, but it would've cost me $75 to register normally, and since I missed 2 registrations, I guess I turned a profit. "By the way, your emissions test is expired." So that explains it: I'm not getting any mailings from the DMV. Why? Who knows, and who wants to spend the next 2 years trying to fix it? The new registration stickers go on the front window, not the back license plate, so I'll have that reminder for next time.
Elapsed time at the DMV: about 10 minutes. A new world's record!
So I went to mom's and we had dinner, shrimp with pasta and Shrimpies (it's like shrimp-covered garlic bread, and most delicious). Then we went to see Spamalot!
There was a street performer outside, playing the trumpet. I hope that he did this as a side source of income, as he was quite good for the brief time we heard him. The block rang with his sound. It started to drizzle, and he segued into "Singin' In The Rain."
Two years ago, I talked about the differences between Monty Python and the Holy Grail and the Broadway musical Spamalot. This time, I'll talk about the differences in the productions of the play. There were even differences between the Broadway version I saw and the Original Cast CD I bought afterwards--it doesn't make sense to have a character sing about how she'd never get a Tony award when she just had, so they adjusted that lyric. There weren't a lot of differences between the Broadway and off-Broadway, but here they are (as far as I noticed; it's been 2 years):
It was totally great, but it wasn't as good. The sets were the same, but the actors weren't Tony award winners. It was by no means not good, just not as good.
Every time the French Taunter said "Very Nice!" it was in a Borat accent.
The "Run Away!" scene when the kinghts are attacked by the French stereotypes didn't include the funny bit where the French girl with the French bread enticed a knight, then flashed a ridiculously hairy armpit at him, and he fainted from her unwashed BO.
The Knights who NO LONGER say "NI!" are now the Knights who say "Ecky ecky f'TANG...(etc)...I don't know what loove is, I want you to shooow meee!"
The magic seat with the Grail under it is no longer A101, it's D101. Do they change it every show? Have they always done this? What happens is that the patron in the seat gets dragged onstage and embarassed. On Broadway, the guy clearly had no idea that it would happen. In Hartford, he obviously did. Was it the same guy, who bought the same seat every night, or was he a plant? I noticed that the cast said his name (which was "Peter Paul"--what was his middle name, "And Mary"? Maybe "Almond Joy"?) while making sarcastic air-quotes with their fingers.
A101 jokes on Broadway: "Maybe he was dictating!" was a cry of pain like in the movie, but here it was changed to "Maybe it was a Jewish cry of death! DIIIE! Oy!" Lancelot decided that A101 possibly was "Aioli--it's a delicious garlic mayonaisse!" which makes no sense without the context, but was really funny to the Manhattan audience, became "Maybe it's the sound someone makes when they've done something stupid--DOY!" Galahad: "No, dude, that's du-uh!"
The winner of seat D101, whoever he was, was declared a "legend in Hartford history! Like Harriet Beecher Stowe! (pause for laughter, then in a graver register:) Or--Joe Lieberman."
I was surprised to see that Hartford was in the middle of the tour dates, given our proximity to Broadway (maybe they thought that most interested parties saw it already). But if you're in the West, away from the East Coast Elitists, there's a marginal chance it may pass near you. Or within several hundred or thousand miles. Those states out there are all bloated looking, and I can't quite grasp that in a state where people bitch about New York and Boston being a whole 2-hour drive away.
When we left the theater, the trumpeter was still playing. I thought that if were him, I'd find a song from whatever musical was playing, and add that to my repetoire for its run. "Always Look On The Bright SIde of Life" would be a good choice for Spamalot. We switched to the other side of the street, where the car was parked, and he picked that moment to start playing "A Taste of Honey" by Herb Alpert. Damn, I loves me the Herb. If I'd been on that side of street, I woulda given him a dollar.
I arrived home with a belated birthday gift from mom, a big freezer bag of her home cooking. Killsy was hiding under the coffee table, and stayed there when she got her Fancy Feast. I picked up the freezer bag, and she ran away from it. Maybe there were midget electricians with power tools inside! After 10 minutes, she came out and plopped down on the thermal blanket under my chair. I don't know how long she went without sleep since the Dungos arrived, but she didn't move more than an eyelid for 3 hours.
She's been fine since. I wonder what she'll think tomorrow, when somebody comes to replace the sawed-out sheetrock in the bedroom by the new electric panel...

4/21
FORTUNE COOKIES, EXTREMELY INSCRUTABLE

Consolidate your interest while the lights are active

--fortune cookie saying (thanks to Tanya Maes)
A Saturday morning cartoon for Democrats, The Challenge of the Super-Duper Friends!

A liberal political junkie and failed English major's dream come true, Colbert vs Penn in the Meta-Free-Phor-All.

4/22
ECOLOGICAL INSIGHTS, PRETTY DISMAL

I applaud the people that are trying to save species that are endangered, but it might be good that we don't have dinosaurs now. We've gotten oil from dinosaurs. If we had preserved the dinosaur, we wouldn't have that oil.

--Gretchen Borck, a lobbyist with the Washington Association of Wheat Growers (thanks to Emily Lauderdale)
I didn't forget to do "Review the Guest Reviewer on Somebody & Roeper!" last week. It was AO Scott of the NY Times again. He's a good, knowledgable critic. He just needs to learn to outshout that big mouth Roeper.
This week, the guest was Ted Nugent. He gave a trigger-finger down to every movie that didn't have enough guns or slaughtered animals. He liked Vacancy, but was disappointed that none of the victims were properly mounted by a taxidermist. When Roeper disagreed with him on In the Land of Women, the Nuge jumped him with a Buck knife and gutted him like a large mouth bass. He used Roeper's intestines to string his guitar, and played "Wango Tango" until he left the way he would've wanted--taken down by a SWAT team's sniper bullet to the head. Looked like a .50 caliber from the way it opened up his skull. Which was as hollow as a cheap chocolate Easter bunny's.
I'm kidding! Like they'd have some puddin'-witted aging rock star as a movie critic! That'd be like having Ebert review a rock concert, or an oil change. Who wants to hear the opinion of someone with no expertise in the subject he was discussing? It was AO Scott again.
No, wait, it was John Cougar Mellencamp. I guess that Boz Scaggs was unavailable.
While John Large Feline Predator might be your go-to guy for insights into small towns and pink houses, none of his reviews mattered, and what if they did? I don't want some mush-mouthed inarticulate millionaire giving me movie reviews! I want to have a beer with him and have Diebold elect him President!
John Discontinued Mercury Sedan Model gave a thumbs-up to every movie on the show, in the same way that teenagers never tire of Bruckheimer/Bey explosionfests. He compared Vacancy to Rear Window because "nothing happened" (?) also because, dunno, they both involved cameras maybe. He invoked Tennessee Williams twice, which came across as one too many attempts to seem intuhlechall. Maybe he should've broken it up by mentioning Tennessee Ernie John Ford, and his work on The Searchers.
The most interestng thing that happened in this S.U.C.K. in the USA was Roeper, who jumped down John Creamy Nougat Center's throat like Ted Nugent after a raccoon, verbally rending him limb from limb until it hurt so bad! He grunted "Uh-huh" and then fell all over himself agreeing with Mr Rock Star in the exact way he doesn't with every movie critic who's smarter and more knowlegdable than he is, like AO Scott or, hmm, EBERT? Does Roeper give more deference to people dumber but more famous than he? Was he hoping to get invited to an aftershow party with a big bowl of cocaine and M&Ms with all the brown ones picked out, then bang some blue-eyed teenage groupie after claiming he's that guy in Franz Ferdinand, hoping she's too drugged up to notice he doesn't look like any of them? And then finding out that John Monthly Cramps fans are all as old as he is?
I hope it doesn't sound like I have some enduring hatred for John Cooties Melonhead, because I don't. I just never had reason to notice before that he's a terrible movie reviewer, in much the same way that I'm a terrible singer and guitarist, and also that he has a name that's really easy to make dumb jokes about. Mr Mellencamp, stick to the rockin' and not the reviewin'. When Roeper gets desperate enough to cohost with a liquor store manager, I'll eat crow. Hopefully Sheryl Crow.
REVIEW OF THUMB: Totally normal. You'd think that a rockstar's thumb would be as long as Gene Simmon's tongue, or at least shoot lasers and pyrotechnics.

4/23
AND IT'S A PRETTY BIG CITY, TOO

Australia is a beautiful city.

--singer Taylor Hanson
From the comments on yesterday's post, here's Lily:
Jeez, talk about someone Unclear On the Concept--I guess no-one bothered to tell the Inbred Shitkicker Formerly Known As Johnny Cougar that a 'review' entails some basic level of critical thought, not just an automatic thumbs-up to every movie ("Daaahh...me like da pretty colors!"), followed by attempts to justify this rating that only reveal how fundamentally ignorant said 'reviewer' actually is.

(For example, all the other guest reviewers were familiar enough with the film industry--or at least cared enough about their credibility--to have *known*the*names* of the lead actors in the films they reviewed!)

Still, teeny-weeny props for the recommendation of Grey Gardens, which I've always wanted to see, and his over-reliance on the term "fantastic" woulda made for a great--if brief--drinking game.
And from Rabbit:
I'm required by state law to give John Cougar Melanoma a pass, since he's from Indiana. Heck, we're just proud to have produced someone who can read and write!
4/24
BETTER THAN LOOKING WITH YOUR FEET

And now I'm looking with my eyes...

--Yankees radio sportscaster, during Game 7 of the Red Sox-Yankees ALCS playoffs (thanks to Beth Scorzato)
"If you look at history, you can see that there is essentially a blueprint for turning an open society into a dictatorship. That blueprint has been used again and again in more and less bloody, more and less terrifying ways. But it is always effective. It is very difficult and arduous to create and sustain a democracy - but history shows that closing one down is much simpler. You simply have to be willing to take the 10 steps.
"As difficult as this is to contemplate, it is clear, if you are willing to look, that each of these 10 steps has already been initiated today in the United States by the Bush administration."
Ever since the 2004 "election," which was "won" in the swing states with Diebold machines, I've wondered about people who look forward to January 2009 and Bush's departure. What makes you think he's going to leave? Why are you so sure that there will even be a presidential election next year?
After all these years, you actually think that there's a depth that BushCo won't stoop to, or any power that they won't try to grab?
You aren't paranoid when they really are out to get you. "You," in this case, meaning American Democracy.

4/25
WHY DO WE THINK ASHLEY & NEPHEWS MIGHT NOT BE BUYING AS MUCH ADVERTISING SPACE?

Due to a typographical error in last week's issue, the words "Con-Men" appeared on the border of an Ashley & Nephews advertisement. "Con-Men" was the headline of a story that was not used because of lack of space and has absolutely nothing to do with and is in no way connected with Ashley & Nephews.

--from the Enfield (England) Independent
4/26
ISN'T THAT KIND OF HARD?

When cosmetic surgery turns fatal, here's what to ask your doctor first.

--news tease on KABC-7, Los Angeles (thanks to Lin Malki)
LTRoTD (Longtime Reader of This Drivel) Atomic Mystery Monster sends a YouTube video. If you aren't laughing in utter disbelief within 2 minutes, you've missed the reason why he told me about it.

Sadly, it looks lke it'll be Some Guy and Roeper for a long time, if not forever. Roger Ebert writes:
What happened was, cancer of the salivary gland spread to my right lower jaw. A segment of the mandible was removed. Two operations to replace the missing segment were unsuccessful, both leading to unanticipated bleeding.
A tracheostomy was necessary so, for the time being, I cannot speak. I make do with written notes and a lot of hand waving and eye-rolling. The doctors now plan an approach that does not involve the risk of unplanned bleeding. If all goes well, my speech will be restored.
So when I turn up in Urbana, I will be wearing a gauze bandage around my neck, and my mouth will be seen to droop. So it goes.
4/27
MALES WHO PROBABLY WON'T BE INVITED TO ADDRESS A NOW CONVENTION

One area of liberal phenomenon I support is female bisexuality—this apparent increased willingness of girls to bring along a friend. That's a pretty good thing....[Women] want to be listened to, protected and amused. And they want to be spanked vigorously every once in a while....

--political pundit Tucker Carlson
I used to read Customers Suck! for a while, until it became apparent that I could spend all day on the site, reading posts that tended to describe the same tales of woe. I should know--I retired my SHAWT feature when I found out that there is a finite number of ways you can describe the same customer stupidities. It eventually becomes like that same traffic light that you get stuck at on the drive home--annoying, but there's really nothing you can do about it but get annoyed. Today I brought a cranky customer who complained about how the wines were arranged to the Beringer white zinfandel, and thought "I'll bet she's one of those people who complains that the wines aren't in alphabetical order, rather than organized by country and subdivided by vinyard." No, she demanded to know why the wines weren't arranged by type, like white zinfandel. I said, "Because the people who want to find them by vinyard couldn't find them." I once had some idiot complain that the wines weren't arranged by vintage, as if everyone in the Whole World wanted them by year, even if they were the SAME WINES. If we had the space to "organize" the wines by every possible permutation, it'd be like the warehouse at the end of Raiders of the Lost Ark. "Don't worry--it's only a half-mile walk to the wines arranged by the colors of their labels in Pantone order! To get across this yawning chasm full of snakes, just give me the whip...and watch out for Nazis."
Do I have a point? YES, if I take my hat off! And also, Lavender Gray sends the shorter version, Customers Suck! The Comic Strip.

4/28
NO, IT'S MORON TIME

Tech support: Just call us back if there's a problem. We're open 24 hours.
Customer: Is that Eastern time?

--from a call to a computer tech-support line
Another one of those Cat Macro collections, here called Cat Memes so it sounds so totally different from all the others. It didn't get too far into "Seen that one already" territory for me until Page 7.

You can get a FREE bag of Purina Naturals cat fude here, a generous fuckin' 6 whole ounces. I'll have to put 3 ounces each in seperate bowls, then get out of the way before I'm eaten with it. It's obviously marketed to people with more money than brains--if you cat over the links (well--one wouldn't mouse over them, would one?), you'll see that you can buy a book titled "Feng Shui For Your Cat." Where is the exactly most propitious spot on the carpet for the cat to puke?
Their feng shit also recommends that you "Turn on your television while watching a program." So that explains why every show I watch is so boring! I should be turning it on first! Your first stop for TV use tips really should be ancient China.
I wonder if this is why it takes me so long to get to work every day. Maybe pushing the car all the way is somehow wrong?

4/29
THERE'S A REASON IT'S CALLED A CHRISTENING

We want to have Brooklyn christened, but we are not sure into which religion!

--soccer star David Beckham, referring to his son, Brooklyn
Is there a reason celebrities give their kids retarded names like "Brooklyn," "Suri" or "Pax"? Are they so egocentric that giving them the surname "Cruise" or "Jolie" isn't enough to immediately identify them to their peers for the rest of their lives?
Brooklyn Beckham? Was "Kick Me" Beckham too obvious?

4/30
WE'D PREFER THE SASHIMI PLATTER, THANK YOU

WE SERVE PEOPLE LIKE YOU AS GOOD FOOD

--sign at a restaurant in Japan
I ordered some wings from People's Choice. When I went to pick them up, I opened the screen door that was lying unattached inside the place 2 weeks ago, and heard an employee yelling "I'm the PRESIDENT, the VICE-PRESIDENT, and the SECRETARY OF--" and he stopped when I came in.
No, this is the People's Choice of Glorious Socialist Pizza! You are the Head of the Party, the Commissar of the Soviet, and Comrade Leader of the Tractor Factory! Must I take my business to Pizza Maoist Hut for my leftist wings? They're just up the road, so it's not a long march, it's a great leap forward! Millions of them marched by my house recently, carrying placards that declared their wings to be "A Cultural Revolution--In Your Mouth!" It's lucky for you that I couldn't get into their parking lot, as it was blocked by a guy standing in front of a line of tanks.
The guy screaming his titles heard me walk in, as the screen door is actually larger than the door frame, and it drags across the floor. Fine state-run Soviet architectural design, my comrades! It reminds me of my boyhood gulag.

From N00B to Nerd: The 4 Stages of Life on the Internet.

A week or so ago Cartoon Brew highlighted 3 classic stop-motion shorts, and I immediately recognized 2 of them without watching, despite not having seen them since I was a kid. I didn't post them here, as the first was more clever than funny. But today I saw the next 2, and they're as good as I remember. If it was just the stop-motion gimmick of guys driving invisible cars or riding nonexistant horses, that'd be the end of the joke. But they're really inventive in their parodies. I'll admit that "Sargeant Swell of the Mounties" is a bit too much of its time; it makes fun of the earlier stereotypes of Indians in Westerns, but does it with a pure 60s flamboyantly gay stereotype of its own. But even that is so absurd that I can cut it a bit of slack (yes, he puts his warpaint on with lipstick, but the cleverer joke is that he's using paint-by-numbers. Remember paint-by-numbers? Okay, so I'm older than you). And how did they do that stop-motion shit with guys flying through the air all Matrix-like? Just film some poor bastard doing jumps and flips hundreds of times, or somehow seamlessly edit it with the cameras of 40 years ago and a budget that was likely in the upper tens of dollars?

Golly Gee Whiz! The classic and funny old documentary Gizmo is online!

5/1
OH, REALLY?

I may have said something about the NAACP being un-American or communist, but I meant no harm by it.

--Jefferson B. Sessions III (R-Alabama), prior to his serving in the Senate
Happy MISSION ACCOMPLISHED Day! PEACE--It's Wonderful!

This weekend's rentals were the remake of The Italian Job, which was okay, and Happy Feet, which I wanted to see because it was directed by the same guy who did the "Babe" movies (and the Mad Max films--there's a wide-ranging oeuvre). It was better than I thought, and, thankfully, free of the "lame pop culture ref" that stinks up so many CGI kids films. They go over the kids' heads today, but the refs will go over the adults' heads in a few years. Or make them cringe--"Yeah, Whassup!?!? That was so funny for about a week in 2000. I hope that they do a Lambada joke next!"
I went to leave my rating on Netflix for Happy Feet, and was surprised to see that the rating was very low for such a recent and popular movie. I looked at some of the customer reviews, and hmm, there sure were a lot of one-star ratings from apparent conservatives decrying the movie's "political agenda" about "global warming" and how "man was the bad guy." Yeah, I remember some right-wing commentators going off on just that subject when the movie came out. That's a tad ironic--remember the last big flightless aquatic avian movie, March of the Penguins? That was the one that coincidentally came out during the anti-gay marriage amendment hysteria, and conservatives loved it because they said it "embraced traditional family values." Well, traditional penguin faily values, sure. Odd that a group of people who think that civilization reached its highest apex in the white suburban America of 1955 would think it so laudably "traditional" that as soon as a mother gives birth, she goes back to work, and the husband is left to stay at home and care for the child.
"Global warming" is about as political an issue as, say, being against salmonella in your McNuggets--unless you believe what the Unsanitary Chicken Handling Corporation says. And it's odd that there were all those outraged reviews of the movie about cartoon penguins on that subject, as global warming is never mentioned in the movie. It's not even implied. There is a plot point about overfishing, but even then, man is not the bad guy. It's clearly presented as something the human race wasn't aware that it was doing, and when we are made aware, we immediately realize our mistake, make things right and deliver the happy ending.
Is that irony? To hate on a movie because of its "political agenda" when you haven't even seen it? When you're doing it because Limbaugh or O'Reilly told you to hate it, based on disinformation and their own political agenda? No, that's not irony. That's why, since January 2001, "Republican" and "hypocrite" have become synonymous.
So I gave it 5 stars. Netflix has a flaw in its rating system, as you don't have to actually rent a movie to pass judgement on it. It should; if you feel that strongly for or against a movie, then you should have to at least waste a rental on it before rating it. Not that I'm encouraging any Netflix members who read this to all give it 5 stars or anything. That would be just sinking to their level. Or would it be, "What's sauce for the goose is sauce for the penguin"?
(Actually, if there is any "bad guy" in the movie, it'd be the hidebound patriarchal penguin elders and their worship of a useless, calcified religion. That might have been seen that as an indictment of conservative Christianity, or any other fundamentalist religion. You'd expect that to be the rallying cry of the outraged conservatives. But then, they would've actually had to have watched the movie)
Oh, and that whole "penguins have Leave it to Beaver-era family values" thing? That didn't pan out so great, either.

5/2
COUTURE ADS, A TAD STRANGE

MOSCHINO COUTURE
NEW AT MACY'S! THE ENERGY, THE ELECTRICITY OF AN UNINHABITED WOMAN!

--ad (thanks to Barbara R. Levings)
Sure to be everywhere by the time you read this, Star Trek done like a CatMacro. WHUT?

It's a good thing that the DEMONcrats couldn't override Bush's veto of the Iraq war funding bill with its timetable for withdrawal! Because if we left, the terrorists in the Iraq civil war would just follow us home to fight us here! Just like how that Defeatocrat Nixon surrendered in the Vietnamese civil war, and that Retreatipublican Lincoln ended the American Civil War, and then the Viet Cong and Confederates came and blew up Connecticut! Just think how safe we'd all be if we were still fighting those wars today, 35 to 140 years later! Support Our Troops, let them fight for all eternity!

5/3
SPLITTING UP, SPLITTING HAIRS ABOUT

The band never actually split up—we just stopped speaking to each other and went our own separate ways.

--singer Boy George
5/4 I KNOW HOW I'D INTERPRET IT
Plaintiff: A Mr. Smith and I had had a disagreement, the exact nature of which I don't remember, but it was over some aspect of my work that he wanted me to perform in a manner different than, I guess, I was performing it. And Mr. Smith's—excuse my language coming up—Mr. Smith said, "If you f*** with me, I'll kill you."
Lawyer: When he said, "If you f*** with me, I'll kill you," how did you interpret that?
--actual court testimony

5/5
WE COULD NOT FAIL TO MISUNDERSTAND THIS MORE

I could not fail to disagree with you less.

--British Member of Parliament Boris Johnson
5/6
SURPRISES, NOT SURPRISING

It will come as no surprise to anyone if they spring a complete surprise on us!

--sportscaster covering the World Cycling Championships
Latest interesting search used to find this page: "Photo Fuhrer hitler and ridiculous dung"

5/7
NAVIES, NUDE

NAVY CHANGES SKIRT POLICY, MAKING APPAREL OPTIONAL

--headline in the San Diego Union-Tribune
Coolest thing I saw today: While hiking in the woods, a hawk swooped down about 15 feet from me and scrabbled its talons at something by a fallen tree, most likely a chipmunk. And missed. And then just sat there on the log, eyeing me like a...um, hawk. If by "like a hawk" you mean looking at everything but me, until he fixed me with an...um, eagle eye as if to say "WHAT? I didn't miss, I just didn't want that chipmunk! He was rabid or something!" It's the hawk version of a cat falling down and then licking its paws, which is the cat version of Pee Wee Herman crashing his bike and saying "I meant to do that!" which is the Pee Wee version of Oedipus Rex sleeping with your mom and saying "I thought she was my mom!" which is the Oedipus Rex version of a Russian nesting doll. Which is...

On the weekend rental list: Mythbusters, which is a good example of not renting a TV show based on a cool sounding name. I was hoping for "Bullshit!" without the libertarian bullshit (why do Penn&Teller hate big government, but love giant corporations?). But Mythbusters busted that myth about...car ejector seats. With the same 15 second clip from an Austin Powers movie run literally dozens of times in 45 minutes. 45 minutes being the point when I turned it off. Without the endless padding, it would've ended after 15 minutes. There was more repetition than a Sesame Street episode. Maybe I didn't see a true representative sample, but it's the only one on DVD, so I'll never know.
Having given up without ever finding out the answer to the burning question of our day, the fucking Autistic Powers ejection seat (apparently they couldn't show any clips from Goldfinger, but they did have a toy car from that movie), I watched The Phantom, a movie that I had no idea existed until the Onion AV Club mentioned it. I started off not excited about it--way to jump on the Indiana Jones bandwagon 15 years late, dudes--but as it went on, the more I liked it. A large part of that was Treat Williams as the villain. Many is the review I've read that said "The actor had great fun playing the bad guy," but this was the first time the character seemed to be having fun being the bad guy. He was evil, but not so much a sociopath as a trust-fund frat boy with a sick sense of humor.
Speaking of reviews, this week the guest on Somebody & Roeper was the Valley Girl again, who was on just last week. Well, she's better than John Mellencamp, I thought, and as if to prove it, the "movies currently in theaters" segment ran. Usually these are only seconds-long rehashes of previously reviewed movies, but this time they reran a Mellencamp review in its entirety, followed by one by AO Scott. Obviously, they had no guest reviewer this week; Valley Girl changed her clothes after last week's filming and they reviewed the only movies they had screeners of last week. It bodes ill for the show when they're doing reruns 2 or 3 weeks after the first airing.

Here's a video of a cat giving birth, followed by the capering of her kittens 2 weeks later. And that's pretty much it, and it's 20 minutes long, so don't click if that doesn't sound interesting and cute. It's from 60 years ago and silent, and I think part of my enjoyment of it came from the serendipity of the music the classical station played as I watched: Khachaturian's Adagio Of Spartacus And Phrygia for the birth scenes, followed by Respighi's The Birds for the playful kittens. Yes, that last is for the wrong class of subphylum, but the music turned out to be perfect for the antics of bebeh kittehs being silly. You, you're on your own for a soundtrack.

5/8
JUST WHAT KIND OF SCHOOL IS THIS, ANYWAY?

Are you a lively and stimulating teacher?
Do you enjoy working within a supportive and caring environment?
Are you happy working alongside dedicated and committed staff?
Are you challenged by articulate, perceptive and thoughtful children?
If the answers are YES, then this is the wrong school for you.

--ad for a teacher in the Saffron Walden Reporter
I went over to Kevin's yesterday. I brought the Glorious Hot-to-Trotsky Wings of the People's Choice Soviet and Pizza; he supplied the hammer and sickle. (Did you know that in a game of Paper Sickle Hammer paper always loses? Especially when the playing field is the other comrade's skull?) And then it was movie time!
We have divergent tastes in cinema. His HD was filled with horror movies. And he had an entire binder of unwatched samurai movies. Since I was recently put to sleep, literally, by Yojimbo, that didn't thrill me either. "Here's one that looked really weird," he said, "and--wait, that's why I downloaded it! It looked goofy enough that you'd like it!"
It was made by Toei in 1966. That means it was made by the same people and at the same time as the TV series "Johnny Sokko and his Giant Robot," later hacked into something resembling a not-movie under the title Voyage Into Space. If that doesn't ring any bells, at the same time they were making Gamera. And it was a kids' movie titled Watari the Ninja Boy.
Add that together and what does it spell? TOTAL FREAKIN' NIPPONESE INSANITY.
Watari is about 8 years old and has poorly-defined superpowers, and plenty of them: He can run supa-fast (on a treadmill behind back projection--this movie has a lot of blue screen), run up the sides of trees almost as if the camera was on its side, fling a giant ax on a rope at people, teleport, become physically immaterial so that weapons pass through him, use his "Transfiguration Art" to become a tree stump or a rose or some shit (this one was particularly vague), and oh-but-of-course, grow to giant size, puke a rainbow that others could use as a parallel bar and then crunch the rainbow in his massive gigantic little boy hands and create fistfulls of Skittles.
No, I am not making that up.
He fights an evil ninja who looked like David Bowie in his "Thin White Ninja" phase, and a bunch of weirdo level boss ninjas made of primary colors that also took the form of floating blue Krispy Kremes. One of his allies had the power to throw confetti, blow up a tree and then suicidally become a massive gopher-bomb.
I'm kinda reaching the point where I wish I was making it up.
There's one clip from it online, but the first half is so dark, you won't be able to tell what's going on (and the second half wasn't even in our version of the movie). Allow me to narrate: Watari does that ancient "It's only a cat!" bit, but for the first time in cinema history, he's right and wrong. It's a cat that becomes a giant and tries to eat him ("Whoa, this is the first time a pussy's ever tried to eat a man!"--Cheech Marin, It Came From Hollywood), and so Watari takes out a mirror and throws his axe at the cat's reflection (reason given? none) and he decapitates it. The giant cat then recapitates himself, but then dies and becomes a dead toy cat with a dart in him. Sure. Why the fuck not?
As it's a children's movie from Toei, there are geysers of blood, in the best "Monty Python's Sam Peckinpaugh's 'Salad Days'" tradition, and a ninja preschool that has half its toddler killers-in-training killed in a landslide, and buried in a mass grave. This is followed by a Bollywood dance number.
Well...Sorry you won't be able to see this. Because it's a gem of hysterical funny ninja boy goofiness, and rates up there with the best ot Toei's unintentional comedies.

For some reason, this video was paied on YouTube with the Watari clip: Shoarma PAPA. Three tacos sing the praises of a giant turd on a rotisserie. You could easily find out what it's about with a Google, but I think it's better as another inscrutable bit of cultural diversity. Funny how that last line of dialogue so instantly translates into any Latinate tongue.
A good thing that I checked before posting this, as the link I thought went to Watari turned out to be to yet another bunch of grainy old home videos of cute cats, none of which involve decapitation, recapitation, or any other as yet undiscovered form of capitation. Horribly, it does involve 80s hair rock.

In a not-insane link, we sleep differently than we did before electric lights: Back then we had First Sleep and Second Sleep.

5/9
MOTTOS , NON-CUSTOMER-ATTRACTING

OUR MOTTO IS TO GIVE OUR CUSTOMERS THE LOWEST POSSIBLE PRICES AND WORKMANSHIP

--sign at a shop in Maine
I remember hearing repeatedly on NPR's news headlines that deaths in Iraq were down because of The Surge, at least according to the Bush-appointed General in charge of the Iraq war. It seemed odd, as the next report always seemed to be about 2 dozen Iraqis being killed by a truck bomb at a market, mosque, or funeral. Today, the General admitted that the number went down because they decided not to count the people killed by bombs. Which is like saying that traffic fatalities have been reduced to near zero, ever since we stopped counting the people killed by cars.
On the plus side, he said that the adjusted numbers only went up "slightly," which I'm sure is a great comfort to the people only slightly killed.

5/10
FUNNY, OUR CANDY IS MEATLESS

I shouldn't say I'm a vegetarian because I love sweets.

--singer LaToya Jackson
Latest odd search request: "movie related to car impounded with bum in trunk"

Occupational hazard: Our new store (well, 2&1/2 years new at this point) was made with used shelves. Some random price stickers and a "Matchbox Cars" shelf insert indicate that they were from my longest and worst of jobs, Kay Bee Toys. In fact, I believe that they're actually from the store I used to manage, which moved and did a remod only a couple of months before we did the same to our store. And I don't like that. It's as if I'm being stalked by inanimate objects.
Some were used enough that they have forward-leaning dents in the front, which isn't a problem when it causes a Matchbox car falls a few inches to the carpet, but it is when a bottle falls to the tile. Even when you haven't touched the bottle, just jostled the shelf enough to make it fall. With my catlike reflexes, I grabbed the bottle at the exact point when it shattered. Broken glass opened my finger up while it got bathed in stinging alcohol. Fortunately, the emergency room's Amputation Squad was ready with a bandsaw, and now I can play Frodo Nine-Fingers in the community theater's production of "Lord of the RIngs, The Musical."
It was a pretty big bleedy gash, but a bandaid seems to have worked. I'm not planning on taking it off any time soon to find out, though. And the alcohol it was soaked in was 190 proof grain, so it was sterilized at the same time it was cut.
Spilled grain alcohol smells exactly like rubbing alcohol, and evaporates almost immediately on the floor. If, y'know, you were wondering about that. It also cleaned the floor really good, just like bleach! So make sure you pour some down your throat; it'll get them tonsils all shiny and possibly dissolved.

5/11
REGRETS, REGRETS

Some of our greatest historical figures have been adulterers. Regrettably, the days have vanished when an ability to do the job in hand came first.

--from the London Times
5/12
MAKING THINGS PERFECTLY CLEAR

The Yankees played the Mets today, and that game was won by the New Yorkers.

--Orioles broadcaster Fred Manfra, while giving scores from the out-of-town scoreboard
5/13
SENTIMENTAL THOUGHTS, GORY

REACH OUT AND HOLD YOUR MOTHER'S HEART

--slogan for the Seoul Children's Symphony, South Korea
Latest search term: "three toed john lennon." I think they were looking for the cover of "Abbey Road" with a sloth in the lead.

5/14
YES, DO RESTATE THAT

After standing on the stage, after the debates, I made it very plain, we will not have an all-volunteer army. And yet, this week—we will have an all-volunteer army. Let me restate that.

--President George W. Bush
Memo to self: Maybe there's a reason I never installed that addictive decade-old program Civilization II on this computer until today. Giving myself access to this again would be like me handing out free samples of heroin at the doors of the methadone clinic.
Although I am only 3 weeks from vacation. It's an effective time-eater when there actually is time to be eaten.

I've successfully switched from light bulbs to compact flourescents. The grocery store had them on sale for 10 for $10! and I downloaded 4 $1-off coupons! And when I went to buy mine, they had exactly one stinkin' bulb.
I got a rain check, and went to the store 6 times in 3 weeks, and they never restocked. Once I saw a woman glaring at the empty bulb displays, and she no doubt was sitting on a rain check herself. I bet myself that they'd be back in stock as soon as the coupons expired. And they were! I grabbed 5 of them, as they were all 60 watters and not 75s. Okay POP MATH QUIZ!, if they were 10 for $1, how much should 5 cost? That's right, $20! At least that's what the clerk redeeming the rain check claimed. I spent 10 minutes calmly explaining that they were a dollar a bulb, not a dollar off a bulb. She just did not understand the math. I finally got her down to $2 a bulb and called it quits, before I started with "What's 5 times 1? Is it 20?" That's the best price I'll get, and since they last 5 years (longer in this darkness-loving household), so I can continue the argument in 2012.

I rented disc 1 of the Roger Ramjet box set. An easy sell for me, as I've loved that show since childhood. If you like Bullwinkle, you'd probably like this, too: it's very limited animation with very funny voice work and clever writing. And even the animation's not that bad; the team of 5 guys put in lots of funny throwaway bits. Sadly, it's missing 36 episodes. They're only 5 minutes long, they couldn't fit another dozen each onto the 3 discs? I wasn't expecting any DVD extras, but they leave out the bumpers before and after the commercials (to Bullwinkle fans, that would be like leaving out the "Nothin' up my sleeve!" bits), and they really left out the only DVD feature it needed: A way to watch the eps without hearing that cheese grater of a theme song (meaning, it's cheezy and its grating) every time. It runs before and after every episode, and takes up almost 90 seconds of the 5 minutes. If that doesn't sound like a lot, you haven't heard the song. As we rephrased it on the playground lo those many years ago, "Roger Ramjet, hero of our nation! The only thing that's wrong with him is mental retardation!"
Me, I bought the DVD after an hour of watching. For you, here are the inevitable YouTube samples. Well, I think it's a funny show.

The United States is a very young country, but the lower Connecticut Valley is the oldest part. In the sense of "settled by European colonists," of course; I suppose the literally oldest settled part is in western Alaska, where the Bering Strait land bridge existed millenia ago.
There are only a few old houses that have survived here and there in this oldest part of the country, most of them having been destroyed for newer construction over the last two centuries, but there are other reminders of the region's age. Every day I drive past a tiny cemetary filled with the dead of 200 years ago (right between Auto Zone and the CVS) . There's another just 2 miles from my condo. Today I came across a third.
The oldest grave was from 1796, and the newest was an addition to a family plot from 1899, but almost all were dated from 1810 to 1825. It's ironic that gravestones are meant to immortalize the deceased, when many are so weathered that the names of the interred have been erased by sun and rain. What always amazes me is that these people died so old. 200 years ago, people lived into their 80s? I guess that it's just the nature of the gravestones. You lived that long, you got a big one engraved with your age and death year, and possibly an inscription. If you croaked at 35, your family could only afford a tiny one with your name and nothing else.
There was also the other end of life's equation. Your stone said you died at 86, or it said you died as a child. I can only wonder about the heartbreak surrounding the teenager dead "of the smallpox," or the triplets, the three girls who died at the ages of 11 to 23 days old. What of all the other children? Were these the graves only of people whose families could afford to bury them in the cemetary, when everyone else ended up in the backyard, or the unmarked graves of the potter's field?
They had a different view of death then. A family would have a dozen children, simply because most of them would be dead before puberty, and the mother would eventually die in childbirth. The people in this graveyard were the lucky ones, the ones whose families could afford a plot and a stone. But even then, the inscriptions didn't read like today's obituaries. They never said anything about the deceased. They generally read, as one did, "Man, Hear thy Doom/Thou Shalt Surely Die." Patty Olcott died on April 5th, 1790, and the inscription on her stone read:
Tho' greedy worms devour my skin
And gnaw my wasting flesh
When God shall build my bones again
He clothes 'em all afresh.
It's kind of hard to picture a preacher today giving a eulogy mentioning "greedy worms."
One of our long-time customers recently and unexpectedly died. He was one of those "I hate going to the doctor!" types. Yeah, well, I hate going to work, but I'd hate homelessness even more. I don't like going to the doctor or paying for my stupid blood pressure meds, but I'm pretty sure I'd hate suddenly realizing "OH SHIT IM DEAD" as the aneurysm explodes in my brain. He didn't go to the doctor, and when he finally did, he found out he had hepatitis-C. He was given 24 hours to live when his liver shut down. He was gone in twelve. He was 50 years old.
On the same page of his obituary was the one of a teenaged girl. It listed the major highlights of a life ended tragically young, and it was that she "loved shopping at the mall and the character Sponge Bob."
Today it's considered notable that you loved a cartoon character. 200 years ago, your stone said "YOU'RE NEXT, worm chow!" I'd like to derive some meaning from that, but I can't think of any. Dude, I'm an athiest. When I'm dead, it's not going to matter to me whether greedy worms win or I'm remembered for loving Space Ghost. I'll be dead. What matters to me is right now. I want to die believing that if I didn't make the world a better place for being born in it, at least I didn't make it any worse.

5/15
BIRTH ANNOUNCEMENTS, LIBERAL

A son was born to Mr. and Mrs. Charles Mulkahey, Garrison St., during the past week. Congratulations, Pete!

--notice in a church bulletin
Latest search: "lemon fuck strips." Is that like those Dentine breath strips, or is that 2nd word a verb?

Today I dropped my pants to go to the bathroom at work, and immediately wondered "Where did that scab on my leg come from?"
(pause)
"And why does it have legs?"
I touched it, and the legs moved. It was a tick. I shuffled, pants around my ankles, to the medicine cabinet and took out the needle-nosed tweezers. I intended to remove the entire lil' bloodsucker, but he didn't want to leave the all-Bill-you-can-eat buffet, and was torn to pieces. Odd survival instinct, that you'd rather die than just find lunch somewhere else.
And my next thought was that I just don't live in the worst part of the continent for Lyme Disease, I live in the state where the town the disease was named after is located. The CDC website confirmed that, yeah, it probably was a deer tick, the only species that carries the disease. I read up on the symptoms, which surprisingly did not include "a sudden desire to drink the blood of the living" or "becoming a nigh-invulnerable superhero wearing a blue costume and racing across city rooftops yelling 'SPOON!'" I called my doctor's office and verified what the CDC said: You want to get treatment as soon as you're sure you have Lyme's, but until you're sure you have it, there's no point in getting treatment. Deer ticks don't necessarily have the disease, as it depends on their previous hosts. If I was its first meal, I'm safe. So I get to wait and see what symptoms I get, if any.
So far, old chum, I have none. I am a Food Pyramid of Justice! I fight crime with 8-12 servings of vegetable justice, and 1 to 2 daily servings of meaty vengeance and dairy! Also, can I stab this cocktail straw into your jugular? I'm sooo thirsty right now, I could drain a horse!

5/16
WEATHER REPORTING, REDUNDANT

We have very hazardous conditions due to a five-year drought, and lack of rain hasn't helped any, either.

--KABC-7 reporter, Los Angeles (thanks to Lin Malki)

Latest search, from the Philippines: "i want to see a female taking a shower without underwear." Wow. You guys in Manila don't get many pron sites, do you?

5/17
SCIENTIFIC DIALOGUE, SYNTHETIC

At the risk of being simplistic, what you're looking at is a quasi-neutral matrix of synthetic RNA molecules.

--Dr. Alex Harris (Fritz Weaver), in Demon Seed (1977)
Speaking of bad movies, 3 minutes worth of scenes from the worst ever. Well, not really. They seem pretty 80scentric, and include Troll 2, which I took to be a deliberately bad parody of 80s Gremlins-inspired "horror." Though the shark is REALLY SCARY, and could win every hot dog eating contest ever.

Similarly, the Best Visual Illusion of the Year Contest was underwhelming. The top 3 are worth a look, the rest, not so much.

5/18
ISN'T THIS TAKING POLITICAL CORRECTNESS A LITTLE TOO FAR?

ATOMIC BOMBERS UPSET OVER ENOLA HOMOSEXUAL EXHIBIT

--headline in the Northwest Herald (Crystal Lake, Illinois), referring to the Smithsonian Institution's planned exhibit on the dropping of the atomic bomb on Hiroshima by the plane the Enola Gay
I went to the doctor to have my tick bite looked at. And I have 24 hours to live!
Plus 30 to 50 years, give or take. A false alarm. A tick needs at least 48 hours of bloodsucking to infect you, and My Little Friend was picked up a maximum of 24 hours earlier. That was when I was walking in the long grass of the cemetary, more interested in epitaphs involving "greedy worms eating my skin" than any invertebrates that might be looking to do the same to me. I was wearing long pants, hightops and athletic socks, so it had a ways to crawl for dinner. It's possible that it only made it to the table 2 hours before I spotted it, given that it wasn't the slightest bit engorged and didn't exhibit any of my hemoglobin when I tore it to shreds with the tweezers. My "bullseye rash" was the result of me ripping a live tick from my leg (I wondered why it didn't expand like a Lyme Disease rash would). Keep an eye on the bite, he said, but I'm almost certainly safe. So, while early treatment is good, killing the fucker responsible early is even better.
Since I was there anyway, we did the routine followup for my blood problems that was scheduled for 2 weeks from now. Everything's good, including my last blood test. "The Triglide's really working!" he said. Well, yes and no. I had a card for Triglide that was worth $20 off of each scrip for 6 months. The first time I used it, I had to wait a WEEK while the pharmacy figured out how to use it. The next time, I had to wait 30 minutes while they tried to figure out how to use it again. The next time, I waited 20 minutes for them to not figure out how to use it, and then was told that their new software wouldn't let them. That was the last time I used the pharmacy at Stop'N'Shop. And the last time I used Triglide. My doc gave me a bunch of free samples of Triglide and also Antara, which was the same thing under a different name. That last came with a card of its own, to be used when the samples ran out.
I activated the card the Sunday I gave CVS the prescription. On Monday, I waited a real long time, and they said that the card wasn't activated--come back in a day. I waited 2 days, came back, and waited over 20 minutes to be told that I needed to activate the card. "Again?" I groaned. When I got home I called the card's number again. And was told that it was activated.
I'm not all that much into conspircay theories, except when they involve Huge Evil Greedy Corporations, and I think that Big Pharma is the greediest and evilest. My personal experience so far is that they give you these cards to make you think that you're saving money on their nongeneric scrips, but have set them up so that you get so frustrated, you don't use them. And then pay them full price.
I asked him for a generic that at least worked sorta kinda like the brand names. And he gave me one. It doesn't play nice with other meds, but I'm only on blood pressure meds, and not the chemical stew most people with my problems have to take. My problems are metabolic rather than from diabetes and obesity. And...wow, this is boring even me. KIDS: Get generic meds and don't play with ticks, and WOOF! take a bite out of crime! Now you know, and "knowing is half the battle!" GO JOE!
(And when you're reduced to name-checking the 80s to end an entry, it just tells everyone that you have no punchline. Thanks, Synergy!)
I don't have any links tonight, but I'll bet you could find some awesome ones by Googling "Snorks."

5/19
SPORTS MANAGERS, CONTORTIONIST

He had gone behind my back right in front of my face.

--soccer player Craig Bellamy, complaining about his manager, Graeme Souness
Weeks ago I told myself "Remember to mention the 18th when it comes!" and then completely forgot about it when the actual day arrived. And what was significant to me about Friday? It was the tenth anniversary of my web page. That's not just 70 in dog years, that's the Cambrian Period in Net Years. My page was like a trilobite, right at the start of the Explosion. And foraging at the bottom, where it's stayed till this day.
But still--older than your page, 90% of the Web. And, in celebration, it will continue to look EXACTLY THE SAME AS IT HAS FOR A DECADE.

And why not flash back to an earlier epoch 10 years before, with the cartoon that actually Made Cartoons Cool Again, Mighty Mouse: The New Adventures. Still crazy funny, although the shock value of actually seeing something like these on SatAM TV has been blunted by the followers in its wake. Produced by Bakshi, and featuring some guy named John Krickafasomething. Best when it makes fun of other cartoons, such as the Chipmunks or Batman, and "Don't Touch That Dial" which covers most of the rest. So where's the DVD box set?!

Since I'm back to name-checking 80s cartoons--forget the Snorks, yesterday I shoulda just linked to this.

5/20
AND IF GOD HAD WANTED GOVERNORS TO MAKE GOOD POINTS...

If God had wanted boys to wear earrings, he would have made them girls.

--Alabama governor Don Siegelman
In Which Colin McEnroe Is Killed By Massed Monkeys.

5/21
QUESTIONS, PRESSING

The Queen's speech today is unprecedented, but just how unprecedented is it?

--broadcaster Howard Hughes, Capital FM (UK)
Recent rentals, both rented because of the universally good reviews, rather than any desire to see the movie otherwise: The Queen, which was very good, despite being about the monarchy's botched response to Princess Di becoming Princess Dead. It'd be hard for me to think of anything celeb-death as interesting, but this was fascinating from the very first scene, and that involved Liz having her portrait painted. Yes, it was interesting even when it literally was about watching paint dry.
Stranger Than Fiction also sounded awful: Will Ferrell as a guy whose life becomes taken over by an author writing a book with him as the main character who dies in the end. SNL alumni and movies go together like popcorn and 30-weight motor oil: Looks okay with a cursory glance, but you'll spit out the first mouthful of sheer nasty-bad. I only know him from Elf, which is the closest thing to a seasonal favorite as this Xmas-hater will ever find, and "More Cowbell." Why are comedians cast in noncomedies? I wonder how many people left the theater in disgust at the end of Beautiful Sunshine of the Spotless Mind, complaining that Jim Carrey "didn't do 'Let me ASS you a question' even ONCE!" This movie was a low-key comedy for the first hour, with Ferrell playing it not just straight but repressed. But the second half was a bittersweet meditation on mortality and destiny, and finally finding joy only to risk losing it. And it was as perfectly directed as it was acted. One of the first shots is of a guy brushing his teeth, from the POV of inside his mouth. And it was a style that went away before it became just a gimmick. A really good and very smart movie, and I'll have to see it again.

Since I'm reviewing movies in my own half-assed way, let's segue into Review the Guest Reviewer on Some Guy & Roeper time! It was Whatsisname, the guy who took over Siskel's job at the Tribune. The first time he was on, he didn't have any screen presence. He's no Siskel, and no Ebert, but at least he's no Roeper. He was much better this time, even giving a nicely obscure joke: "It's like [Kelsey Grammer] went to the Nose Store and said, 'I'd like the Lee J. Cobb!'"

...And then let's use that as a segue to news you may find disinteresting, although I don't: Mr Ebert is finally posting reviews again. I'm sure that his televised days are over, but his columns were always better anyway.

Great Moments in Gratuitous Sci-Fi Nudity isn't that great, but I post it because it has the weirdest typo I've ever seen. No, not the fact that the closing paragraph is also the opening one, but that apparently someone did a Search&Replace and removed the letters "RN." But only those letters, and in only that order. And replaced "rn" with " ". And it turns up--sorry, "tus" up--more than you'd think. Twice people wanting sexy time are referred to as being "hoy."

Who'll be President when Bush's term expires? As I've said before, what makes you think he's planning on leaving? "This could mean another 9/11, or another Katrina, or a major earthquake in California, I imagine, since it says it would include 'localized acts of nature, accidents, and technological or attack-related emergencies.'" Jeez, ya think that there may be some convenient "big emergency" between September 2008 and January '09?

5/22
BASKETBALL TEAMS, SATANIC

Our youth basketball team is back in action Wednesday at 8 p.m. in the recreation hall. Come out and watch us kill Christ the King.

--church bulletin listing
Holy Pope with a Bandsaw! Once again, I must rend my garments and wear a hair shirt, because I work Saturdays, and I'll miss when Jesusfest CT comes to town! Seriously--would it kill these people to have it just ONCE on a Sunday?!
Oh. Right. They do that other thing then.

From the site:
Mark your calendar for 7-7-7!
777?! But that's the Mark of the guy who lives across the street and a few houses up from the BEAST!
* Dress casually but modestly.
Why do I have the feeling that this is directed at young female Jezebels-in-training, and not middle-aged bald guys 50 pounds overweight wearing 20-year-old Stryper shirts that are 3 sizes too small?
* Bring hats, suntan lotion, bug spray, and umbrella just in case.
In case of plagues. Rains of frogs or blood, locusts, sun standing still at midday, you never know. Also: Best to leave the first-born at home, unless you bring a door with a mark on it with you. God's not really that big a fan of children.
* Stay as long as you wish. You may also come, leave, and return anytime.
Not valid in case of Rapture.
* No smoking or drinking of alcoholic beverages allowed.
WHA-A-AT? Okay, now I'm glad I'm missing it. I was totally stoked for smoking some beverages!
* Please be patient and gracious with us. We're an all-volunteer group with a passion to serve the Lord. We're not perfect, that's for certain! Please withhold your frustration and refrain from criticizing our volunteers during JesusFest. They've been working tirelessly for weeks and months, and they would appreciate a word of encouragement, not discouragement!
Well, that sounds quite sensible. In fact, it sounds like I'd be treating others the way I'd want them to treat m--
WHAT? There's a problem with fundie Christians treating other fundie Christians as if they were their inferiors? "Christian charity" stops when it means anybody else? Even your fellow nutjobs--er, believers? Well, I guess that the lemmings in the back of the line start to complain when the ones at the front aren't jumping fast enough.
Participants in JesusFest 2007 do so at their own risk. Please watch your children
I WARNED YOU ABOUT GOD AND KIDS! God hates kids. Tell your Veggie Tales-loving fruit of your Looms loins not to make fun of any bald guys they see. Tolland County's rural enough that there's probably a she-bear or two out there.
And here's the actual picture that they use to put the "FUN" in "JESUSFEST"! (Wait--there's no "fun" in "Jesusfest"--oh, wait, yeah, got it)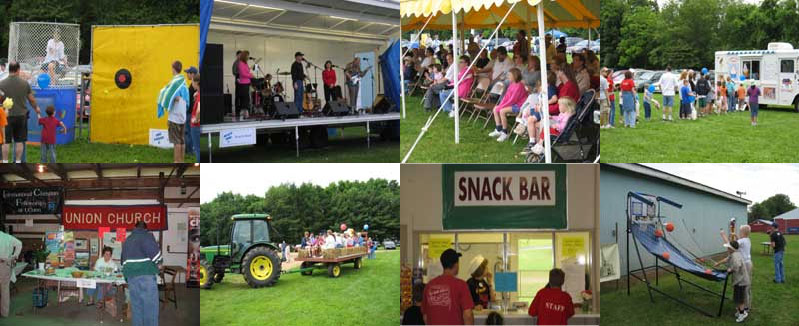 Pic 1: Try your hand at the Dunk the Gay Athiest Babykiller Liberal Tank, which is right next to the Glory Hole! It'll keep your pitching arm in practice for next year's replacement for the Dunk Tank, "Stone the Adulterer"!
Pic 2: Listen to the Christian "rock" stylings of The 12 Apostles Minus 7, as they perform "Buy U A Drank of Non-Alcoholic Communion Wine (Jeezy Snappin')"! Unless, of course, that sounds too "Catholic." We only like real Christians, who would be Baptists. If you're Baptist, then as the kids say, "ROCK the ON!"
Pic 3: And here is their audience, Rockin' the On. They Rock casually, yet modestly. HINT: If you want to get into the front row, wear a lot of pink. Unless you're male. Then Jesusfest Security will sow your fields with salt. Actually, that would be "with assault."
And with acts like this, is it any wonder that the most popular destination at Jesusfest is an ice cream truck at the side of the parking lot? Get in line early for this favorite attraction!
Don't want to stand in line? There's never a wait at the Union Church table! Let's find out what's so special here by asking the big hulking man who--AUUGGHH! His HEAD FELL OFF! It's right there, under the table! Umm...why don't YOU find out what's so special there.
Is there anything that says "outdoor fun" like "directly inhaling massive amounts of diesel fumes"? You can spare the rod when Carbo-Monoxo the Particulate Polluter Tractor makes your disrespectful offspring fall into a deep and restfull sleep! (NOTE: Participants in JesusFest 2007 do so at their own risk. Please watch your children, and pick them up where they fall.)
There's never a line at Snack Bar! This is because Jareth and Job from Jesusfest Security beat up anyone who might cut in on them hitting on that wanton Fried Dough Girl.
And nothing will fill your spawn with love of the LORD like playing fake basketball on the Fisher-Price hoops behind the storage shed! Don't worry, this year we've cleaned up any used syringes we found back there. You'll hear your children cry "JESUS CHRIST!" in praise! They'll shout "JESUS! This was supposed to be better than Six Flags?!" repeatedly! And if they say it in a way disrespectful to THE LORD, well, they're behind the storage shed. We don't know what's going on back there, wink wink! (Rods sold seperately)
On second thought--I can't go to Jesusfest, but somehow I don't think that I'll actually miss it.
Remember how the newly-arrived humans in North America killed off all the megafauna? Well, maybe they had help from the giant comet that exploded at the same time, killing the mammoths and the humans and also melting the ice caps, leading to a thousand-year ice age.
Phew! Glad we don't have to worry about extreme climate change happening in our lifetimes! Then, we might be the next mammoths!
Or humans.
5/23
POLICE BLOTTER REPORTS, NOT SO THRILLING

Personnel at the Farmer's First Bank on N. Cedar Street reported at 10:15 a.m. on May 13th the discovery of a mound of hair on May 10th.

--from the Lancaster (Pennsylvania) Intelligencer-Journal
5/24
THE NEED FOR MORE COMPUTER BOOKS FOR DUMMIES

Tech support: OK, sir, we'll do a file search to find it. Can you please click on Start, then Find, then—
Customer: Don't talk down to me like that! I'm not an idiot—I know what I'm doing!
Tech Support: OK, sir, please Start, then Find to do a file search.
Customer: How do I do that?



You scored as Spiritual Atheist, Ah! Some of the coolest people in the world are Spiritual Atheists. Most of them weren't brought up in an organized religion and have very little baggage. They concentrate on making the world a better place and know that death is just another part of life. What comes after, comes after.



| | | |
| --- | --- | --- |
| Spiritual Atheist | | 83% |
| Scientific Atheist | | 75% |
| Apathetic Atheist | | 75% |
| Angry Atheist | | 33% |
| Agnostic | | 33% |
| Theist | | 25% |
| Militant Atheist | | 8% |


What kind of atheist are you?
created with QuizFarm.com Latest search: "the droop of the atomic bomb in japan was the good choice". Are you saying that Truman bombed Hiroshima because he didn't have any Viagra?

Which is a good enough segue into I IZ ALL OVAR TEH NETS, BUT I IZ HERES ANYWAY: LOLPresidents.

5/25

GEOGRAPHY PROBLEMS, CONTINENTAL SIZE

Family Feud host Richard Dawson: Name a country in Africa.
Contestant: South America.

I notice from other blogs that apparently, some big movie came out 30 years ago today.
I remember seeing the one-sheet poster for it, months earlier at Showcase Cinemas in East Hartford: "Oh, that sounds good," I sneered.
Back then, there really weren't too many good science fiction films. I saw lots of sci-fi movies from their heyday, the 50s and 60s, but they were generally really awful drive-in movie fodder. There were a few gems, like 5 Million Years to Earth and 2001. The last good one I'd seen was Silent Running. The serious ones were the good ones, and the rest were just drivel. Since Star Wars was clearly going to be a drive-in movie, it was equally as clearly going to suck. Maybe it's significant that I remember that poster, but not the movie I went to see.
I didn't see it the day it came out, a Friday, but several of my friends did and raved about it. So I saw it on the following Tuesday afternoon at a matinee at the UA Theater East.