INEXPLICABLE OBJECT OF THE WEEK
Week of 2/21/99:
Valentines Day
What does one give one's beloved Groovygirl for Valentines Day?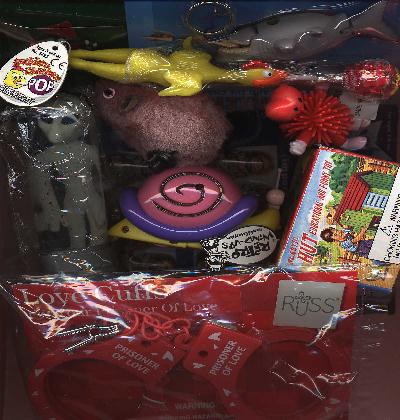 Why, a big ole bag of Inexplicable Objets d'Amour, of course!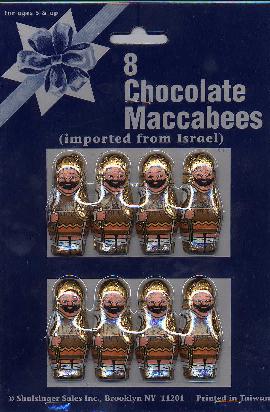 This would be even cooler if I had the slightest idea what a "Maccabee" is.
He looks like Raffi in a hairnet.
Trust Groovygirl to point out the most absurd part...
"Printed in Taiwan."
DISCLAIMER
I thought that last bit would've cued people in to the fact that, YES, I know what a Maccabee is. Gourd knows it's been pointed out to me enough since I did this. Amazingly, not one person has objected to stuff like this, which was done the week before. Or Weeks 5, 24, 38, 41, 55, or 56, for that matter. Maybe my own Roman Catholicism is just inherently funnier (hey, I sure think it is! And I haven't even done the "Pope Extra Virgin Olive Oil" bottle yet!)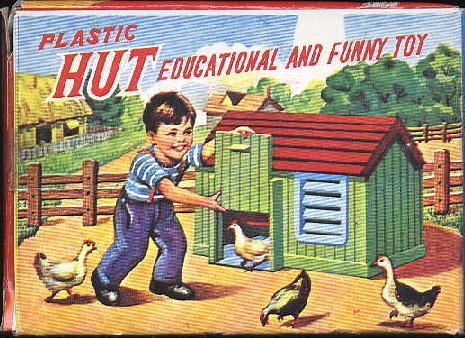 He's holding the door open--
FOR A CHICKEN!!
AHH-HAHAHAHAHAHAHAHAHAHA!!!!
That is SO FUNNY!
And educational, too!
Note that the kid failed to learn the educational part--
Don't live in a house that's in worse shape than a plastic chicken hut.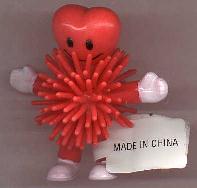 Look, it's one of...those.
He's got a heart for a head & a body that's a bunch of veins or something.
And he's made by the most romantic people on Earth--
Chinese Prison Labor!
And what did I get for Valentines Day?
An upper respiratory infection & a fever of 103.
If I'd only kept the receipt, I coulda got my money back!
Holding the door for a chicken--
AHHH-HAHAHAHAHAHAHAAHAHA, I CAN'T STAND IT!!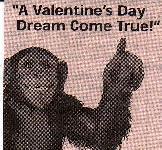 ©1999 Bill Young