NEW 78

"Memo to myself: do the dumb things I gotta do--
Touch the puppet head."
--They Might Be Giants

12/2/04
Dubya, The Movie. Starring the only man born to play the part.
Puzzled over what to get your daughters or nieces this Retchmas? How about a Trailer Trash Barbie!
A belated Thanksgiving in CatTown.
12/3
Scalzi looks at the 10 Worst Holiday Specials Ever.
"The first person to live to 1,000 might be 60 already." And the opposing viewpoint, "What do the ancient purveyors of physical immortality all have in common? They are all dead."
Note that the second guy focuses on the ancient prophets of immortality. Although the first guy doesn't use these 2 words, I've read enough science to say this: We have no idea where the nascent sciences of computers and nanotechnology will lead us. I don't think it'll happen anytime soon, but someday there will be a near-cure for death in some form. And we have no idea how that will fuck the whole world up either. And if there's one thing humans are good at, it's creating technologies with unforeseen consequences. Those people sputtering around in their "horseless carriages" a century ago never imagined global warming.
Show your Blue state pride. Cool! Just not $18-a-tshirt cool.
12/5
Three inches of snow tomorrow, so that meant that it was 55 degrees today, which in turn meant that I hiked in the woods. Yep, Have a Holly Jolly Global Warming Christmas, for the next ten thousand years. I wonder if I'll break last year's record for the latest hike, on 12/29.
Yesterday I had an interesting lunch. First, there was no lunch. The Wendy's drive-thru line moved 2 cars in 10 minutes. It wasn't backed up at the pick-up window, but at the speaker where you leave your order. That usually means "trainee with headphones." I could see a line inside, where they always have exactly 1 person running it. So I bailed.
I went to the cul-de-sac where I usually go. Every time that I'm there, at least 1 car rounds it and leaves. Since I doubt that there are that many people randomly exploring the far end of dead-end industrial parks, and many are the beer cans off the road, I assume that it's some place to party hearty. That would also explain the squad car that pulled up, and the cop who came over to see what I was doing. "Just on my lunch, reading a book," I said, holding up the book. It was John Scalzi's Book of the Dumb 2, opened to the chapter about drug users who draw attention to themselves (like calling the police to report someone ripped you off on your purchase of crack). It was the chapter after the one about idiot police.
Assured that I wasn't sniffing glue, he drove away. 10 feet away. To the hydrant where I leave food for the stray cat that lives near there. Then, he was joined by another cop. Maybe it was the book, but my break was ending, and I didn't want to draw attention to myself by leaving the food I always give the cat.
I came back 45 minutes later. The cops were gone. And the cat's food wasn't.
That's weird--he always eats even the bits that fall out of the bowl. Weirder still, all of the bits were out of the bowl. Pretty obviously, something with opposable thumbs had picked up the bowl, dumped its contents out 2 feet from where it was, then replaced the bowl. Why? Got me. I know at least 1 other person knows he's there, as there was an old Friskies can there the first time I noticed the cat. The food was dumped nearer the road. Did they try the "feed him to grab him" thing again? That wouldn't be easy; he kept a good 15 feet away from me at all times when I saw him, and bolted at mach speed the second he saw me bringing him food. Did they catch him? Did he get away, and now associated the food I leave with an ambush?
And it'll be Tuesday before I'm over there again. A mystery.
Guess what Lilly sent me!
NO! No no no, that's a TERRIBLE guess!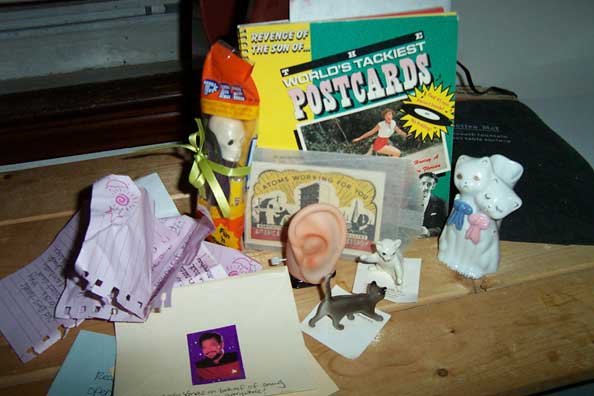 Okay, you in the back who guessed, "Something with cats?" you get a point.
The purple pile is a series of voluminous perfumed notes on each and every one of the items included. Far too many notes to transcribe, so I won't. One of the items is a wind-up walking ear "Just what every Van Gogh fan needs, right?" Lilly thinks, "It'll be interesting to see what Byron makes of it, since the noise obviously won't bother him...As the elder stateswoman of the clan, I surmise Kill Kill will figure it out in two seconds and no longer care." Well, I tested that, and here's the results: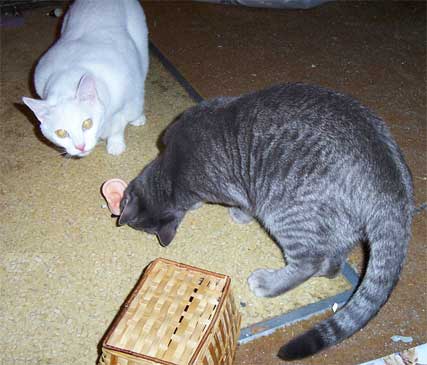 They both gave it a close inspection, then they both ignored it. Note how the flash has instantly caused Killsy's pupils to close.
Lilly notes, "From the back, [the ear] looks like something else..."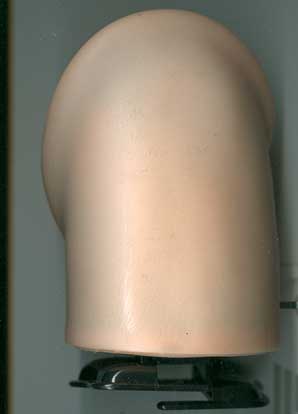 I wonder what she means.
Finally, "Old DEVO-heads never die...they just collect weird stuff & eventually pass it on to friends w/similar sympathies."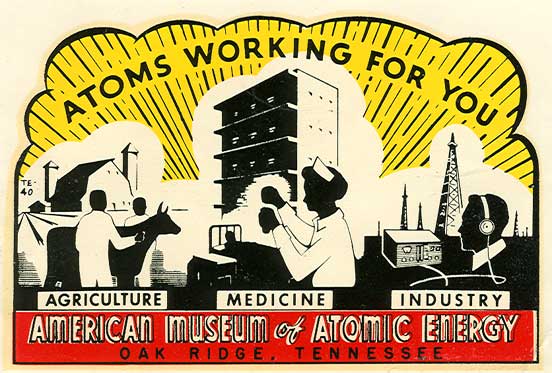 ATOMS! Working for you, they turn everyone obsidian black, including the cows with the big neck tumors!
ATOMS! Working for you, they make everyone sick, but also make the nurses as tall as a five-story building, so that they may better make shadow-puppets! I think that one means "unforeseen testicular growths"!
ATOMS! Working for you, they make the world's most humungous iPod!
ATOMS! Always working for YOU! And what have YOU done for ATOMS today? It's not like they do all this shit for fun!
She also sent me a Death-head Pez and a book of postcards, but I think that we'll get into that last item tomorrow.
Good ol' World O Crap reviews Gymkata! And makes 2 of the same jokes that I did. Maybe I should finish that review one of these years.
What happens when MIT makes Christmas music? First, they feed every Xmas album they can get their hands on into a computer, sample the resonant frequencies or some shit, average it out, and come up with a log of Yuletide joy that's as melodic as a smoke detector. And this is a review from the guy who owns all of the recordings that were made of the Voyager space probes being hit by the solar wind. And enjoys them.
On the other hand, MIT's songs sure beat the Xmas tunes of Michael Bolton and Celine Dion.
12/6
As mentioned yesterday, Lilly sent me the book "World's Tackiest Postcards Volume 2." It's a book I love! Love so much, that I bought it myself years and years ago (something she foresaw, interestingly). I also own volume one. It didn't play any part in the InExOb, as I'd been collecting Weird Shit all my life. And it was free from commentary; the cards spoke for themselves. Since I'm so sucky of late with my updating, I think that I'll highlight some cards from both volumes for a while. I'll show the card, then the blurb on the back.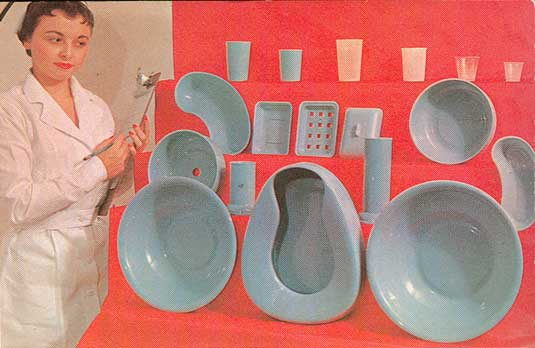 I don't know what's funniest here: The worst slogan ever ("It's AUTOCLAVABLE!" Yeah, I'll remember whatever that means), the cheery grey-colored sick room, the "NO-SKID-EM" tops (don't wanna know, don't wanna know), or the strange inclusion of "toast covers." Are those NO-SKID-EM, too? Or is "toast" hospital slang for something else that's brown?
No, wait, I know what's funniest! The idea that you might actually send someone this postcard!
There was once a postcard I sent several times to people. When the Ob started, I was crushed to discover that the one and only store on the planet (literally) that sold them had closed. It was a gift shop in my parent's home of Wilmington, Vermont. It was an aerial view of the town. The funny part was the blurb. The cards were printed in Quebec, and it sure sounded like the English text was translated into French and then back. It was probably the only postcard in history to describe its subject town as "slightly retarded."
We've all made fun of Asian countries that translate English stupidly. Finally, here's a site dedicated to doing the opposite, English speakers using incorrect Chinese characters, usually in tattoos. I remember a customer who got a Chinese character neck tattoo that was meant to mean something macho. It wasn't until he went to Chinatown and everyone was laughing at him before he found out what it meant. A local walked up and asked, "Hey, mister, why does it say 'MILK' on your neck?" Maybe because he was white and bland?
If a policeman walked into your restaurant and demanded that you strip search an employee, would you do it if he didn't show you his badge? If he insisted that you give the strippee a blow job or a butt fuck next, would you do it, or call the police station first to make sure this guy was legit?
Would you do all of that when the "cop" isn't even present, but just a voice on the phone?
Apparently, yes!
"Alderaan is gone! All that's left is that small gravy-coloured moon!"
"That's no moon--That's POUTINE!"
12/7
I went to check on the stray cat's feeding station today. I'd told a customer who had formally been active in cat rescue about him. She thought that she might go rescue him, as she had a Have-a-Heart trap. She at least said that she was going to feed him on my days off (sorry, but that's a 45-minute round trip for me, and he's lived on mice long enough that he could eat those for 2 days).
I couldn't tell if the food I'd left Friday had been eaten, as it snowed yesterday. But someone, I assume her, had left a bowl of water and a big plate of food. Which was untouched, and also under a layer of snow. That meant that it had been left no later than 24 hours previous.
And that means that either he was caught by someone Saturday, or that he escaped that capture and has decided that the food is just a trap. And I'll never know which it was.
I'm not going to post today's Tacky Postcard's blurb, as the only information it adds is that the bakery is in Ogden, Utah.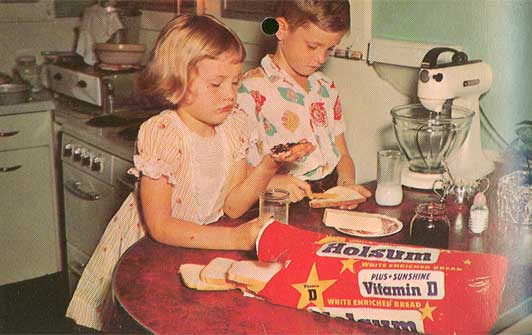 "Fuck. Bread."
Junior has enough reasons to be depressed, given that he and his splotchy shirt are about to be sucked into the Black Hole forming by his ear. But Sis has apparently been given a slice of Holsum bread with, what, a puree of dog doody and still-living spiders?
Maybe they're just really disappointed that the product didn't live up to the promise on the package. "Vitamin D, whatEVAH, but where my damn SUNSHINE?"
I puzzled over the box at the upper left corner--what was it? Some 2-dial microwave? It says something about the gadget-crazed nation of America that it took me a while to realize that it's not electronic. It's a damn breadbox.
12/8
...And the stray cat is back. Or, at least, something that eats the food left for him is. Even the dumped food from Friday is gone.
So I guess that the theory stands at: Someone tried to catch him, they failed, he was too scared by this to revisit the food, until he became too hungry not to.
He needs to get out of there, and into a no-kill shelter.
BYRON'S BLOG!
AAHHHHH MOMMY DONT TALK ABOUT FEEDING OTHER CATS!!! I'M STAAARVING!
SO ANYWAY. MOMMY BOUGHT GROCERIES AND PUT A ROUND THING ON THE COUNTER AND WHITE CAT GOT ALL EXCITED. "WE'RE GOING TO HAVE THIS TONIGHT!" THE MOMMY SAID. WHITE CAT WAS PACING BACK AND FORTH WHICH IS WEIRD! WHITE CAT ONLY LIKES THE CATS FOODS! MOMMY DOESNT EAT NO CATS FOODS (WHICH IS GOOD BECUZ I'M STAAARVING!!!!!) WHITE CAT SAID THAT MOMMY USSED TO BUY THEM ALL THE TIME BUT SOMETHING ABOUT TRAWLING NETS AND DEPLETION OF THGE OCEANS AND OVERFISHING AND DID I MENTION MOMMY IS A LIBERAL??
SO I SAID WHAT ARE WE EATING? AND WHITE CAT SAID "SHRIMP!" AND I SAID HEY, JUST CUZ I SMALLER THAN YOU, NO REASON TO CALL NAMES!! AND SHE SAID NO, IT IS A SHRIMPY-DIMP, IT IS A BUG THAT LIVES UNDERWATER THAT IS PEOPLE FOODS. I SAID NO WAY! YOU DO NOT EATS THE PEOPLE FOODS, YOU WONT EVEN STEAL PRINGLES!!! AND SHE SAID YES WAY (EXCEPT SHE USED 8 MILLION WORDS TO SAY IT TO SHOW SHE SO SMART LIKE ALWAYS) AND I SAID OH BOY, AWESOMENESS, I LOVE TO EAT BUGS! I SURE HOPE I DONT HAVE TO GO UNDER THE WATERS TO DO IT THO, THATS JUST ICKY!
AND WE WERE ALL READY TO EAT THE SWIMMING BUGS WHEN MOMMY GETS SAD ANSD SAYS "THEY'RE NOT DEFROSTED, WE WILL WAIT TILL TOMOROW!" NOOOOOO!!! TOMOROW IS A MILLION YEARS FROM NOW, NOOO! AND WHITE CAT SAID THAT THE PAKAGE SAID TO NO PUT IN THE MICROWAVE, IT COULD SPLODE THEN WE ALL BE DEAD WTH SPLODED SEA BUGS ON US, WOULD YOU WANT THAT? (ESCPET IT TOOK HER LIKE TILL NEXT WEK TO EXPLAIN THE..."FIZZICS" OR SUMTHING) AND I SAID WHOA, THATS NO GOOD! THEN I SAID, SO, IS IT TOMOROW YET?! AND I SNIFFED THE COUNTER WHERE THE BUGS WERE, AND THEY WERENT THERE, SO IGUESS IT WAS STILL THE TODAY.
THEN IT WAS TODAY! AND MOMMY CUT THEM UP FOR US AND IT WAS THE GRATEST FOOD EVERRRRRRRRRRRRRRRRRRRRRRRRRRRRRRRR!!
AND THEN MOMMY SAID "OKAY THATS ENUFF WE WILL EAT THE REST LATER" AND AUUUUGGHH! I HATE THE LATER, IT IS LIKE THE TOMOROW!! ITS LIKE ONE MILLIONTY HUNDRED YEARS FROM NOW!!! SO I WENT ON THE COUNTER AND THERE WERE THESE CRISPY THIJNGS! THEY SMELLED LIKE SEA BUGS, BUT THEY WERE NOT SOFT AND JUICY. MOMMY SAID "DONT EAT THEM THEY ARE THE TAILS, YOU WILL CHOKE ON THEM AND DIE AND THEN WHO BE SORRY??" MOTHERS! THEY ALL SAY THE SAME STUF! I SAID DON' WORRY MOMMY, HERE IS A TRICK I LEARNED FROM HAIRY HOUDINI THE MAGIC CAT, IF YOU KEEP HITTING THEM WITH YOUR PAW WHILE THINKING "TURN TO SHRIMP!" THEY WILL BECOME VERY TASTY. BUT MOMMY STOPPED ME BEFORE MY MAGIC SPELL WAS CAST, AND TOOKED THE CRUNCHY TAILS AWAY.
SO I ADDED THE EXTRA SPECIAL RITUAL, WHICH IS WHEN YOU NEED A SCARY BLOOD SACRIFISE. MOMMY LEFT THE COCKTAIL SAUCE ON THE COUNTER, AND THAT WAS PRETTY RED, SO I INVOKES "MAGIC, MAGIC, SHRIMP AND TROUBLE! SPILL TH E COCKTAIL SUACE EVERYWHERE AND SEA BUGS DOUBLE! BIBBITY BOBBITY BYRON!!"
AND MOMMY TRIED TO COUNTER MY SPELL, WHICH IS CHANTING "NAUGHTY BOY!" A LOT AND CLEANING IT UP WITH PAPER TOWLS, BUT GUESS WHATS! 5 MINUTES LATER, WE GOT MORE SEA BUGS! SO IT WORKED!!! I AM THE TOD HOLTON OFCATS!!! AND YOU KNOW WHAT ELSE?
I'M STAAAARVING!!!!!
Two postcards on the same page: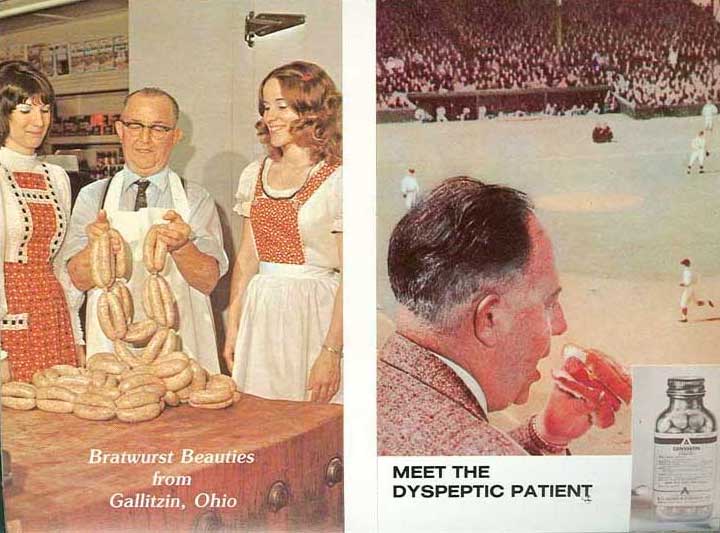 A Google turns up a Bonnie Arnold as voice talent for Disney (probably no relation), but no information on Linda Emeti. Although that may be a stage name taken for the Bratwurst Beauty Pageant, given the similarity of the spelling to Emetic.
If Gallitzin is the Bratwurst Capitol of the Midwest...Where's the Bratwurst Capitol of the Northeast? The Southwest? California? The Arctic Circle? The Andromeda Galaxy?
"Bloating, gas, faltulence, excessive belching"? As if any amount of belching can be excessive! I think that the picture is the side view of this InExOb guy. "AAARRGGHH!!!"
The victim "'has growth hormone deficiency and hypogonadotropic hypogonadism from repeated trauma,' the study reads." The subject of the study is Tintin.
12/9
A pair of finicky felines turned their noses up for no reason at their breakfast this morning, so I took the dismissed Friskies to give to the stray. I was several minutes early to work and worried what this very stanky food would stank like after being left in my car for a few hours, so I dropped it off early at the stray's eating area. Later, on my lunch, I saw that he'd eaten some of it, but not all. Maybe he heard a car coming and ran away mid-meal? Still scared of people, I guess. So I parked the car and read the paper.
I saw something out of the corner of my eye--The stray cat! He (or she, I still didn't get that clear a look) sauntered by my car at a distance of about a yard. He looked me in the eyes as he proudly displayed a very fat, very dead rodent in his mouth. Then he casually wandered into the underbrush.
Huh! The only other time I've seen him, he kept 10 feet between us at all times. Does he know I'm the one leaving the food? Was he showing off his catch to me because of that?
Later, the customer who's just started feeding him said that she's heard that the farm a half-mile up the road has several barn cats. If he's one, that'd explain a lot. He's wary of humans, not afraid of them. And it would explain the "Look what I caught!" display.
It also means that he's not a stray. He's just conning me into giving him extra food! And if that's his ruse, it'll keep working. At least until I'm positive that he's not a stray.
Two postcards on the same page again. And I hope that you've already eaten. Other than that, I have no commentary on them. Except that these are postcards you send to people you hate.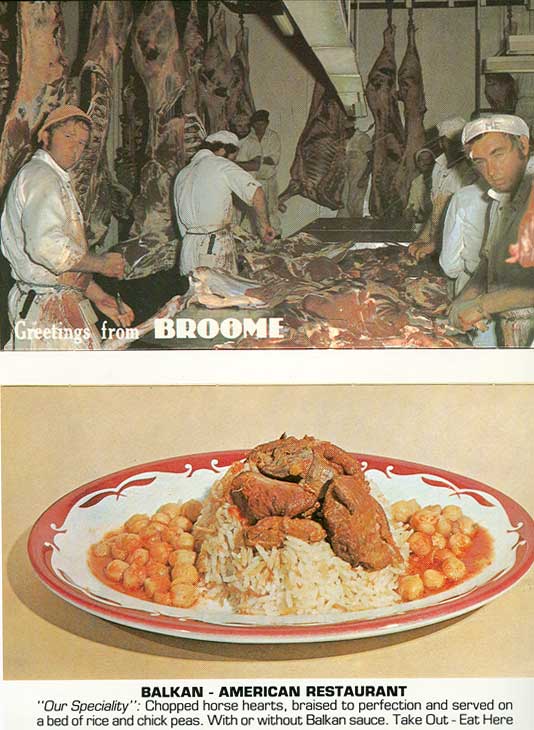 Is Bush the Antichrist? Well, that waits to be seen. If he miraculously recovers from an otherwise certainly fatal head wound and then issues national ID cards, then yes. (The article is more about whether he and the Fundies are antithetical to Christ, which they are)

A man who loves his work.
12/10
Since I'm reasonably sure that the "stray" is really a barn cat, I think I'll keep feeding him, but reduce the amount. Wouldn't want him to get overfed and less willing to smash the rodent menace, and then end up without a job.
Postcard of the Day is about...No, not going to tell. You figure it out, just like anyone who got the same one in the mail would be forced to: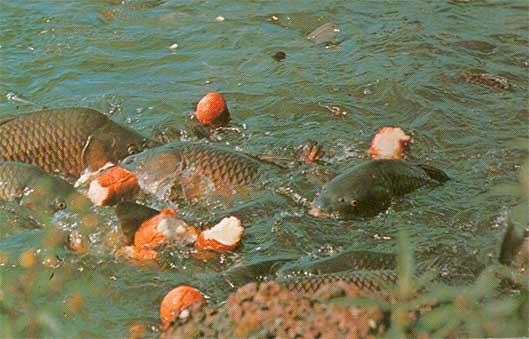 How popular is your name? I've always thought of "William" as an old fart name, but it's never left the top 20.
Speaking of the Top 20, the Guardian's Anglocentric look at The curse of the Christmas single. Although I really don't think you can consider The Singing Nun's "Dominique" a Christmas song. That's like saying every song Stryper did was an Xmas song.
12/12
Unbelievable! I heard a Christmas song on the radio yesterday!
That may not sound very unbelievable. But it was on WJMJ, the radio station of the Catholic Archdiocese of Hartford. They're a "beautiful music" station (ie, elevator music). I tune them in once a week for a giggle. They generally play Valiumesque versions of 60s and 70s pop tunes mixed with Big Band. I'm probably their only listener under the age of 70 (unless there are other people who like their irony hipness-free).
Being a religious station, they've never played Xmas music until the 25th. Then, they play nothing but until January 6th, when most people have overdosed on Xmas and don't want to hear it. And it's all religious Xmas music like "Adestes Fidelis." You'll never hear anything mentioning Santa. So it really astonished me to hear them playing an Xmas song 2 weeks before the holiday, especially since it was "Silver Bells," which explicitly uses the S-word.
Other oddities of the station:
They'll play the instrumental version of a vocal song, then play the vocal version, then play a different instrumental version.
It's the only station where you can still hear the hiss and pop of old vinyl LPs.
They can play some really weird old loungey stuff, including some with old Moog synths.
They never play the original version of a song, no matter how laid-back it is. Exception: They used to play Enya's "How Can I Keep From Singing." I like that song, so it took me awhile to notice that I was hearing it on the off-ramp to work every Saturday morning. They played it at the exact time every week. That's just...odd.
Also odd are the DJs. The all sound like they're (at least) in their 70s. One always announces the weather by saying that "It's currently (X) degreeeeeezzzzzssss..." Another pronounces "WJMJ" like...umm, well, like the Js were in Klingon or something. "wCHJHAUYYmCHJHAUYY" is as close to a phonetic spelling as I can get.
Every hour on the hour, they run a station ID that includes the Hail Mary.
And now they play Santa songs! Oh woe, the Antichrist is upon us!

Yes, as several Commenters guessed (although SteveM wins, as he was first), the last Tacky Postcard was of:

Since the theme park slogan "The Happiest Place on Earth!" was already taken, they had to settle for "Where the Ducks Walk on the Fish." Winning slogan submitted by a Mr S. Dali of Spain. And let's face it--wouldn't the card be so much better if there were ducks walking on the fish, battling them for the bread?
Despite the overcrowded lake conditions, with the ducks walking on fish eating hot dog buns and fouling the waters with doodie, it's still great for swimming. Don't mind that duck on your head, and PLEASE don't wear bread-scented sun tan oil. Trust us, you'll lose your loaf that way.
Speaking of badly-named theme parks: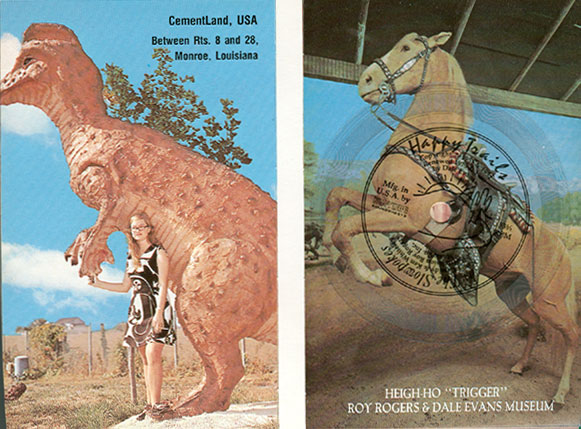 "I'M going to CEMENTLAND!! But only because they were overbooked at PaintFumesWorld. And next, we'll visit MummyLand!"
I like the composition here. Looks like Trigger wants to get it on with the cement dinosaur, and create a new race at ConcreteUndeadAnimalWorld.

"Lived in the Monroe swamps; unique in that its head inflated and could be used as a second bowel. Web toes and nostrils. Adults grew to 5.5 feet, and for camouflage at ink factory explosions wore plastic miniskirts and Emo glasses stolen from Buddy Holly's plane crash site. Evolved its wild, untamed enthusiasm from the Wholsum Bread Girl.
Try our famous Dinoburger! It tastes 65 million years old!"

"A permanent resident"--YEAH, one would think, what with the GUTS REMOVED and all. Until that nuclear accident, and ZOMBIE TRIGGER came to life! Happy Trails to You...OF BLOOD!
Yes, there's a little flexi record on the card. This version has Roy using a mallet to play Trigger as a percussion instrument. Now that's what I call beating a dead horse!
Let's all vote and screw up the People's Choice Awards! I suggest voting Fahrenheit 9/11 as Favorite Picture. I have no opinion on what your vote should be for "Favorite Hair," as the choices do not include "armpit."
Tis the season when TV shows do their "Christmas Carol and/or It's A Wonderful Life ripoffs." I hated those cliches, back in the days when I actually turned on the TV. Here's The Goon Show's Christmas Carol, which has a character named Scrooge. And that's as close as it gets to cliche. Sample dialogue:
"My father's influential! He got a finger in every pie!"
"What's his name?"
"Sweeney Todd!"
World O' Crap has 2 funny posts, one on "What Would Jesus Eat (as part of a balanced breakfast)?" and a review of the really bad movie Megaforce. I've seen that movie, hoo whee, open the windows and let the stank out. The review doesn't mention one bad choice in the movie, the climax. After being repeatedly told that Megaforce has superior technology, the final battle begins with the Farce not only outnumbering the Bad Guys, but attacking them from the rear in a surprise attack. Yes, the "climatic battle" has the Bad Guys as the underdogs. It has all the suspense of the finale of Super Green Beret. And then, after all this talk about their advanced weaponry, Megafarts just abandons it. This "climax" would be like Star Wars ending with Luke using his Death Star against an X-Wing, and then leaving the Death Star lying around for Darth Vader to find.

12/13

I tire of the Tacky. How about pictures of another kind for a change?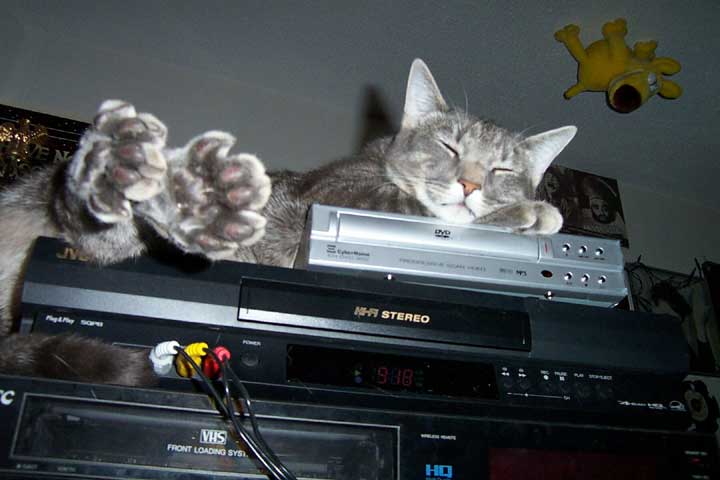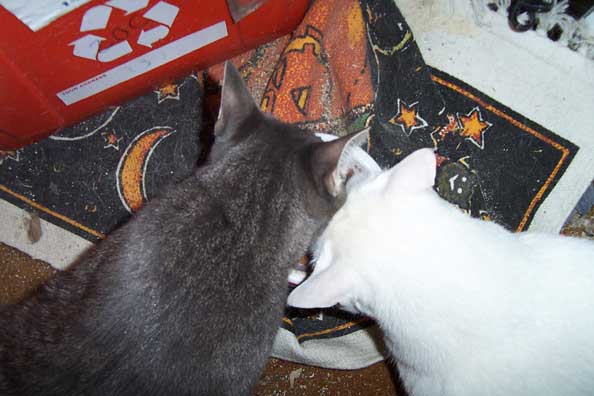 That last looks like a friendlier version of the carp buffet. The kids never fight over food.
Speaking of pets...Cat crosses Siberia to get home, written in charming Russlish. A stray cat's gravestone sells for a fortune. And never trust a supermodel. Additionally, Have a Meowy Christmas.
12/14
Byron sleeps with me all night long. He goes to bed with me, leaves at dawn for that cat ritual of watching the birds, then comes back. He remains there until my alarm goes off.
Killsy Midget spends her twilight hours on a pillow on the living room floor. After dawn and the birds (something that must be hardwired into kitty brains), she sleeps with me.
Or she did, until B-Toes came to live with us. He would jealously chase her from the bed. He'd bogart the Mommy. She hasn't slept with us more than twice all year.
I stumbled out of bed this morning for a drink of water. Kill Kill rubbed up against me and I gave her pets. "Why don't you come to the bed?" I asked. "He was a little kitten then. I don't think he'd chase you away now; he loves you! It's such a big bed, there's plenty of room for 2 little cats! Come sleepy sleep, come nappy nap!" I said, using the words I'd used before Byron moved in. She just stared.
I went back to sleep. I rolled over, and she was lying right next to me. She'd understood exactly what I'd said. And soon Byron awoke, and he saw her. He leapt off the bed, paying Killsy not no never mind. Me and my daughter went back to sleep.
Awesome.
I used to be a hug Onion fan, racing through every story the day it came out. But the quality sags; too many of the articles have a headline that's the entire joke, a joke that just gets repeated to obvious effect throughout the article. Such are the pressures of fame (and working for free). For me, the highlights lately have been the less-predictable AV Club. Two of its stalwart yearly features have been the Cheap Toy RoundUp and the Year in Swag. (I always got shitty swag, even in the most swaggiest of industries, Music and Video. All the SWANK swag went to NYC or Boston. CT was the dumping ground for the swag those cities threw away. Today, I got a CT Lottery pen and a Sam Adams glass. Most Booze Biz swag is liquor samples. ie, "drinking on the job." A slight buzz does make the workday spin by faster)
Homeless guy builds swingin' bachelor pad inside the girders of a drawbridge. All it needs is a weather-controlling machine and a death ray, and he's got a sweet swaggy supervillain hideout! Until his asshole "friend" rats him out for no apparent reason, excluding the fact that he's an asshole.
A long look behind the scenes at Spamalot, the Musical. Lots of interesting Python interviews and factoids. Maybe I can convince my Lloyd-Weber-loving mommy to go with me to see it on Broadway.
Oh, yess yes yes. The Tacky Postcards.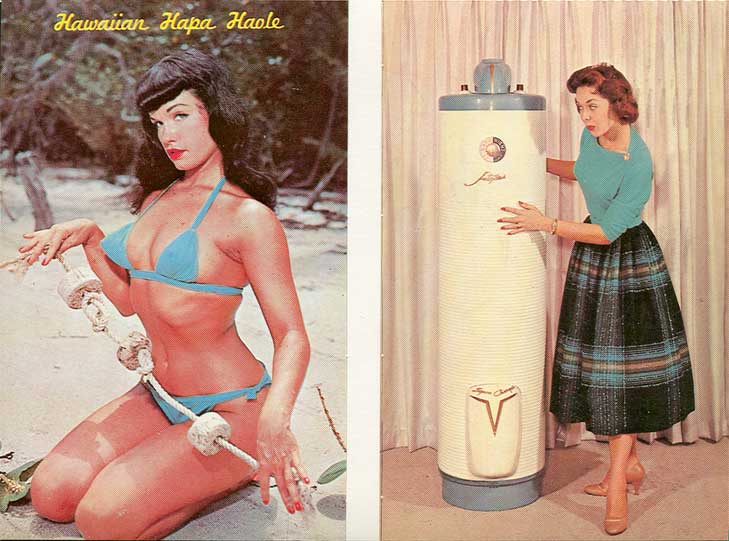 Careful, faux Betty Page! Stop arching your back, or it's all great fun until someone gets both their eyes poked out!
"Hawaiian Hapa Haole" is translated on the back as "A SAUCY CUTIE WAITS FOR YOU!" and not "20 bucks, no questions asked."
The "DAY 'N NIGHT by JETGLAS" water heater lady is presented simply because she's paying no attention to the heater. Her eyes seemed to be glued to Hapa Haole's hooties. Maybe she's worried that Hapa Ho will get too close, and puncture her water tank.
12/15
Ever feel like you have the weight of the world on your shoulders?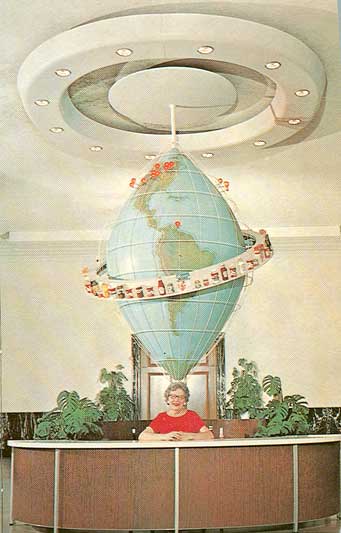 Be glad that's it's on your shoulders!
And thus ends our excursion into the world of Tacky Postcards 2. We'll next look at TP1, although the first volume wasn't as inexplicable (and the 2 best are missing, as I actually used them as postcards. What was I thinking in the late 80s! It's almost as if I never knew that there'd be a self-publishing electronic medium a mere 10 years later!)
Speaking about not predicting the future, " Time is running out.
"Over the next few days, Osama bin Laden will die of kidney disease. Saddam Hussein will be shot to death. Fidel Castro will die. A live dinosaur thousands of years old will be captured. The Hoover Dam will collapse. And Rosie O'Donnell will adopt Siamese twin girls."
12/17
From Tacky Postcards Number One, your thought for the weekend: Now matter how much you dislike your job, it could always be worse.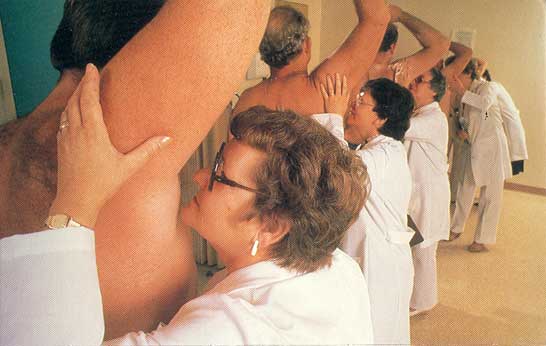 The FDA approves, because they hate Lautenberg Labs.
Note: Lautenberg Labs is hiring! The benefits package stinks, but the pay is nothing to sniff at!
12/18
This postcard has no blurb on the back, so one can only wonder what its purpose was.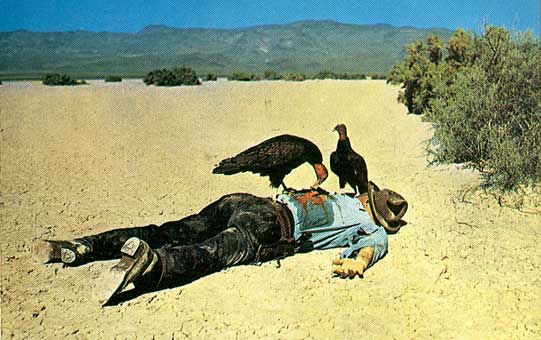 "Wish you were here" maybe?
I'm going to see House of Flying Daggers tomorrow. Can you see from the trailer why I'm psyched?
Top 10 Urban Legends of 2004. Strangely, it does not contain that infamous myth that the Bush Administration is competent and worthy of election.
I was looking for an old Spike Jones song, and found this version of it on good old WFMU, along with a bunch of other worthies. Such as Dear Leader singing U2 and some farmers in my most favoritest and kiwi-est country singing a holiday ballad about New Zealand's cow titties. I am SO spending next week singing this titty ditty every time a Christmas song comes on the store radio!
12/20
I saw House of Flying Daggers yesterday. It was awesome! Fight scenes like ballet, riotous use of colors, incredible sets. 90 perfect minutes!
Too bad the movie lasted 120 minutes. Then characters began rolling in the hay (literally), and the plot suddenly changed to something less than ballet and more like opera. And I don't mean that as a compliment. Overwrought and melodramatic and ridiculous. I hate to throw in a spoiler, but since when is a dagger rammed to its hilt into your heart something that you can get better from?
Too bad. That first 90 was great. The "Echo Game" and the battle in a bamboo forest were brilliant. This is the first film that I can say "You must see it in a theater to appreciate it! But wait to watch the last half hour on DVD."
On returning home, I was greeted by the surreal scene of my Slovakian neighbors talking to a uniformed Salvation Army band in the parking lot.
Hooray for Byron! After much batting and biting, he has saved the household from the dreaded threat of a piece of celery. ~His Kung Fu is strong~!
If you ever want a good time to do your Xmas shopping, try early nighttime on the day of a major snowstorm when it's 3 degrees out. I did my shopping in 30 seconds! At the grocery store ATM. The extended family gets an Xmas card with a 20 in it this year. I was going to go with my usual SuperCertificates, but they've raised the minimum price and added so many fees (95 cents--to email it?! If it cost 95c to email something, there'd be no spam!) that doing so would put me out a week's salary. I'm not poor, I'm lower middle, but I am the poorest person in my family. And like them thar brats need any more spoiling anyway.
My personal family reacted with utter dismay when I closed the inside window panes. They're used to looking out the storm windows. Byron stampeded to the window when the living room one was shut; Killsy uncharacteristically did the same when the computer room window was. And there was much meowing. Sorry, kids, but it's (checks WeatherUnderground) negative 1 out there.
As this is Connecticut, that means that it'll be 50 in a couple of days. Hoorah, Global Warming!
Speaking of which, "So this Christmas Santa may be able to ignore Rudolph's red-nose and rely on pollution from the world's chimneys to find his way down them." And, on the same theme, it's deja vu all over again.
More bad news: The Most Overhyped or Underreported Stories of 2004.
On a much lighter note, Car shopping with Obi-Wan Kenobi.
Lilly said in an email, "Every time I see the logo for Pinnacle Pet Care, 'Where the pets get pampered!' I always think how the first time I read it as, 'Where the pets get hammered!' and it always makes me laugh to think of a bar where cats and dogs go to get drunk and have fights." She also mentioned that to Photoshop Jedi Master Zefiel: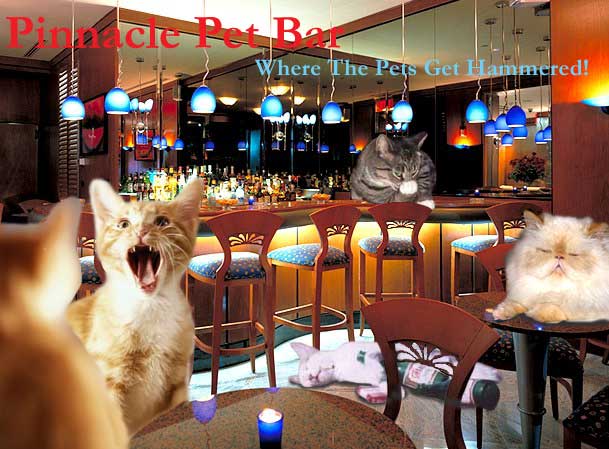 Finally, a note to whoever stole the store's donation bin for the Ronald McDonald House for dying children: Merry Fucking Christmas, douchebag! You know what I hope you get for Christmas? CANCER! Then you can spend that $30 without guilt!
Winter
I can't sleep! My TV broke!
After 2 decades of valiant service as a late-night white-noise generator to drown out the sounds of outside, my 28-year-old 9-inch Sony B&W TV finally turned itself off last night. Forever. Oh, parental high school graduation gift! I had such fond memories of using you--watching "Robot Monster" and "Fire Maidens From Outer Space" at 2AM on channel 5 out of New York; bribing college best bud Becky with buds to get that Beatles fan to watch The Rutles with me on you; my incredibly useless UConn roomies Bethel and...whatshisname running you nonstop like you were a radio, to the point where I'd lost enough sleep to that that I confiscated you (and then moved out); turning you on after my 3rd-shift job to hear about the Marine barracks in Lebanon being destroyed by Islamic terrorists (good thing we learned our lesson about occupying implacably hostile Middle Eastern nations THEN!); and the time...you...ahhh...became a thing that helped me sleep at night! And now, for all your years of faithful service--
TV, Dumpster. Dumpster, TV. sob! Parting is such sweet sorrow that will not be televised!
Recently I mentioned the time I asked Kill Kill to please start sleeping in the bed again, and, after a year away, she did. And she's slept there every night since.
Last night she finally did my favorite thing--she used me as the bed. She crawled into the nest formed by the back of my legs. I love that, as I always have dreams about her.
This particular dream went well until someone cut her right paw off. And she just batted it around like it was a toy mouse. I screamed, NO, honey, NO! We've got to get you to a doctor! And then I saw that she was also batting her nose around. I looked her in the face, and saw that her nostrils and eyes were just bloody sockets...
And I woke up quick. Lucid dreaming is great, since it comes with an off switch. I got up and walked around to make sure that there was no sequel to that bit of Grand Guignol. I went back to sleep; she came back to nestle; the next dream was of a happy white kitten. Happy, white, undismembered.
Who doesn't just LOOOVE Christmas music! ME! I hate it hate it hate it. But I've collected tons of it over the decades. Anti-Christmas music, that is, songs like "I Found the Brains of Santa Claus," "Christmas on Acid" or the one with the lyrics: "He put 3 slugs into the neighbor's dog, kicked apart a manger scene/The plastic Baby Jesus he blew to smithereens!/I can't speak of all the 9-year-olds who won't be seeing 10,/Or how he went a-caroling at the doors of now dead men!/I... Shouldn't've Given Him a Gun for Christmas!"
A few years ago I thought of compiling a 4-disc set of my faves and offering copies at cost here. Then I thought--Hey, that would be work! But here's a couple of new ones anyway. Which cost me neither time nor effort.
The next time you go caroling at Miskatonic U, sing the seasonal songs of HP Lovecraft. Only 3 complete ones (the CD costs a mere $22.50, and your immortal soul), but there's a short fragment of what seems like the goofiest, Freddy the Red-Brained Mi-Go.
bOING bOING calls the next selection "cheezy" and "from Hell." Hey, I OWN this album, and it's neither! It's hilarious, but it's the only funny Xmas LP that I'd never put on a mix tape. It's hilarious, if, like me, you're a big fan of Herb Alpert & the Tijuana Brass. Every track is a mix of an Xmas tune and a perfect parody of a TJB hit, using just enough of a riff to avoid getting sued. Track 3 mimics their hit, "A Taste of Honey." Check it out.
And they were hits--Can you guess which group only lost its best-selling album positions on the American charts when whats-their-names, oh yeah, those "Beatles" people came over?
Beef: It's What's For Causing Holes in Your Brain.
GAHH! My Gourd--that was quick! I'm on bOING bOING (sorta kinda in a way) for a comment I sent in about the faux-TJB LP! (Too bad I didn't link to my only masterpiece, Tod Holton, SGB instead of my home page, or I might be in there again!)
That's ONE, Kirk! At this rate, I'll catch up to you in bOING bOING links in...wait...(does the math)...very close to the ultimate heat death of the Universe!!!
12/22
Govynda has some cute pics of her kitten Mason battling the TV.
"The mobile phone industry maintains there is no scientific evidence of harmful effects from electromagnetic radiation." And the tobacco industry still claims that cigarettes are good for you.
Methane Burps! That's the new replacement for the Whoopie Cushion, right?
Yeah--the Whoopie Cushion of MASS EXTINCTION, and which could occur in our lifetimes: "The granddaddy of these catastrophes occurred 251 million years ago, at the end of the Permian period, when a series of methane burps came close to wiping out all life on Earth."
12/24
All I Want For Christmas Is My Dead Cat Cloned. It costs $50K for a procedure that leaves a third of the clones dead after 3 months, and leaves the rest fucked up or dead at a later time.
Okay, you know me. I'm Joe Science. I love technology, but I can smell bad tech when it starts to stink the joint up. Cloning organs for transplant? BRILLIANT! Cloning dead creatures...fucked up and stinky. Would I want another Kill Kill, knowing her clone might quickly die or be miserably sick her whole life? Or healthy, but just a paste'n'cut of her former self? I'd want her life to be about her happiness. I don't want her life to be about me. And that's what it's about--Not wanting a different cat in your life, just wanting your life to be no different. What could fulfill that desire more completely than cloning--and what could do it more selfishly?
Did I adopt Byron thinking he'd be Kill Kill? No, although I did hope that he'd have some of her characteristics. When he didn't...That was cool! He's his own person, with his own personality. When her or his time comes to shuffle off this mortal coil...well, I don't know. I don't know beyond "I'll be depressed for months." But if I do get another cat, it won't be to "replace" them. They will be always in my heart, and in my memories. A new cat would be a new cat, with its own personality, its own soul, its own natural zest for life. I couldn't bear looking at a cat that was a weak copy of them. I want to remember them, not watch some zombie that would always live in their shadows.
If it lived that long. I'm Joe Science, but I think that there are some things we just shouldn't do.
And here's another thing we should never do (except hi-larious): A Visit To Santa, The Movie. And the inevitable and amusing MySTing.
Totally different: Snow World. A theme park for the minds of burn victims. This is good tech.
12/25
As I know most people just can't get enough of hearing what total strangers got for Xmas...
$50, partially offsetting the over $200 I gave out

"Billions of Light-Years Away," my yearly space-themed calendar, this one using images from the Chnadra X-Ray satellite. I thought that it was awesome until I opened it--x-ray photos look a lot like Jackson Pollack's practice splatters. It does have 1 thing I've neve seen in any other calendar, a list stapled in the middle of international holidays. Such as Argentina's Malvinas Island Memorial Day, which I'm guessing is that battle in the Falkand Islands War that sent 1600 Argentinian sailors to a watery grave. India has 2 Half-Yearly Bank Closing days. Ireland has Summer Holiday and Autumn Holiday, which occur in late spring and midsummer respectively. Japan: Coming of Age day, which is probably the day you're old enough to see a bukkake video. Most of Europe has Whitmonday on May 16th, and America is the only country on Earth that doesn't celebrate Labor Day on May 1st. South Africa has Human Rights Day, Freedom Day and Reconciliation Day, all no doubt related to their tragedies of the apartheid years. Spain has Hispanity Day, which sounds like a day when Hispanics go insane. Australia and New Zealand celebrate Anzac Day, but America (the 2nd "A" in Anzac) doesn't.

From Mom the Librarian, a bunch of books: Hubble, the Mirror on the Universe (I like space stuff); America (The Book) by the Daily Show people (having read a chapter and skimmed many pages, it is very funny); The Museum of Bad Art, which I've already seen as a web site; and a pop-up book. An absolutely insane pop-up book! It's so intricate and delicate that I'm afraid to even open it.

A talking Holiday Charlie Brown doll. With removable hat! Y'see, I still have this first generation Charlie Brown doll that my parents gave me when I was 2. Why you'd give a kid that age a doll made out of the hardest plastic, I don't know. It's not exactly snuggable. So I guess this new one is here for the same reason my old one still is: I'll sell it on eBay when I need the money some decade hence.

Some gift certificates to Bob's, a clothing store. Oh no, a practical gift! I do need to replace most of my workshirts though.

And the thing I look forward to every Xmas and birthday, a box of Mom's Home Cooking!
And since everyone wants to know what total strangers' cats got for the holidays...
Killsy and Byron each got a gift certificate to PetSmart. They will likely be spent on Iams and litter. Oh no, practical gift!

A jar of Pounce treats. True to form, Kill Kill ate them with great gusto, and Byron sniffed and then ignored them.

Apparently the "no cat toys" memo didn't get fully distributed, as my neice Alexa picked out one. It's a scratch pad with a Deely Bopper on one end. Despite me trying, both of them were far more entertained by the shopping bag everything came home in.
And for our last Xmas-themed link of the year, the legendary Star Wars Holiday Special. I remember seeing this the one and only time it aired. I really couldn't believe how utterly horrible it was. The clips only hint at its stinkiness. I remember the complete cheapness of it (never more than 2 stormtroopers on camera at any time), the disgusting Wookiee children, and the truly dumb decision to do it as a variety show. I recall the Art Carney bit going on so long that I eventually just felt embarassed for him.

Okay, that was my second-to-last Xmas link. Merry Christmas and a Happy New Quagmire!

12/27

Sorry about the lack of updatage. Seems there was one last belated Xmas gift, the one of getting sick today. I finally got out of bed at 8PM.

Via M3 in the Comments, Tree Decorating 101 with a pair of helpful cats.

12/28

The cat's Xmas gifts have had more use. Both have played with the designed-as-an-actual-cat-toy toy. But not much. Killsy's whacked it a bit, and Byron seems to enjoy chewing on the spring for some Byronic reason. The main cat toy, the Big Bag, has seen continual play, day and night. I think that the end of its lifespan is already in sight, as Kill Kill decided that it needed a back exit yesterday, and made it with her fists of razors. Right now, Byron's using it as his bed.
Yesterday, after a full day's sleep with me, they were full of pep. (Read "pep" as "manic destructiveness"). Killsy decided to chase and dance around the laser pointer dot, something she does pretty much never. Byron decided to frolic repeatedly with one of her old toy mice (old enough to be basically just a skin), something he does...never. Has never done! In his whole Life! It was like Freaky Friday! But without the underage Jody Foster. Darn it! If I'd been born 10 years later, she would've been my Dawn Wells.

I haven't done a World's Tackiest Postcard in a while because the ones from Volume One just ain't that exciting. There's a jackalope in there fer Gourd's sake! But I guess we should finish up 2004 with the remainder(crimeny, the decade's half over!). This one's blurb is "Indian Sheepherders trekking across the brilliant sands as seen from the panoramic windows of a high-level, air-conditioned Continental Trailways Silver Eagle Strato-Cruiser." I'm not sure that I'd want to go on a train that enters the stratosphere (re-entry is a bitch; your luggage gets lost and you burn up). But something about this picture...I dunno...something looks a little fake about it...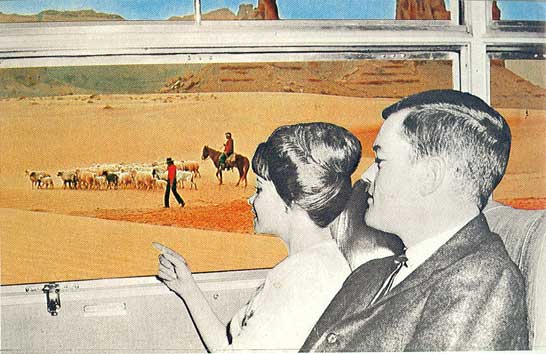 I guess that they didn't have Photoshop back then. Or common sense. Would you like to be trekking across the brilliant sands, or be greyscale? Since they could use this for just about anything, I wonder if there were others in this series:
"Italian Dinosaur-herders trekking across Disneyland as seen from the panoramic windows of a high-level, air-conditioned Continental Trailways Imperial Death Star!"
"Radioactive Living Twinkies trekking across the ruins of a Hostess Factory, eating all the humans with a creamy center as seen from the panoramic windows of a Chocolicious Continental Trailways Oscar Meyer Weiner Mobile!"
"A primitive tribe of Fox Newscasters leads a bleating flock of conservasheep to the slaughter across the ruins of Rush Limbaugh's last visit to the "All You Can Eat With Free Hillbilly Heroin Buffet" as seen from the panoramic windows of Ann Coulter's Continental Trailways Binge&Purge-A-Rama!"
Or the one I'd probably do, "Cats cats cats CATS Continental Trailways CATS!!"
Eh, sorry, I'm still sick, and those were lame. (Checks watch; wonders how long it'll be before Zef Photoshop-abuses this)
I'm Joe Science, and here's The Pioneer Anomaly: "Whether Anderson will be remembered as the man who changed history or the guy who spent decades chasing an illusion, all that's clear at this point is that he will be remembered."
12/29
"Why pay more? When you can have that rich look of wallpaper, without the cost! DecorWall goes on easy. It's fun and economical too!"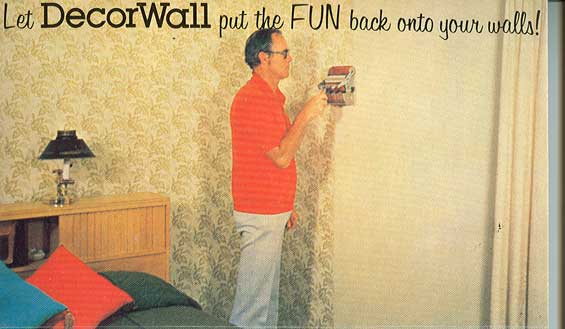 Yes, no longer is wallpaper only something the Rockefellers can afford--now "regular fellers" like YOU can permanently lower the value of your home! And look at the fun!!

"Fuck. Walls."
Dear Leader has stopped clearing brush outside his mansion in Texas (how much brush does that place have, anyway? Do they airlift it in?) to briefly acknowledge that some brown people have died somewhere that doesn't have any electoral college votes or oil. Huzzah for the empathy of Dear Leader! He pledges 15 million in gold sovereigns for their relief! And yet, the varlets of the UN whine in their whiny way that it's somehow stingy and Scroogelike to offer such a magnamonious sum! Dear Leader, cranky from being awakened by their cries from his afternoon nappy, waves his great hand and offers $35 million, this time in beautifully crafted doubloons from the Spanish Main! Then, with great pomp, Dear Leader scratches his imperial hinder and goes to eat pretzels anon.
Price of Bush's one-day coronation--sorry, inauguration--party: $60 million BEFORE the security costs. Cost of the Iraq disaster: almost a BILLION a DAY.
Apparently, empathy is cheap.
The Flood Next Time: "What will happen when the volcano on La Palma collapses? Scientists predict that it will generate a wave that will be almost inconceivably destructive, far bigger than anything ever witnessed in modern times. It will surge across the entire Atlantic in a matter of hours, engulfing the whole US east coast, sweeping away everything in its path up to 20km inland. Boston would be hit first, followed by New York, then all the way down the coast to Miami and the Caribbean."
Has the Mystery of Dear Leader's Bulge been solved? A long article, but it explains a lot, especially of his behaviour. And the "pretzels."
I'm Joe Science and...Wait, maybe I'm Joe Art. Or maybe art based on atomic microscope photos of transport electron flows is just...really cool. And here's the science.
12/30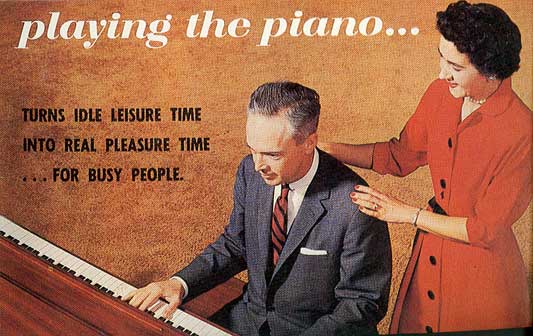 "Fuck. Piano."
Hahaha! That joke never gets old, now does i--Oh. It does? Sorry!
If you're busy, do you really have idle leisure time? Do you spend your leisure time in a suit, complete with hanky? And doesn't his "pleasure time" look like it's one second before it's going to be spent screaming "I'VE ALWAYS HATED YOU!" while playing "Kitten on the Keys" with his wife's forehead?
Further details on the inevitable Atlantic tsunami. Not pretty. And if that one volcano will be the cause, why can't we blow it up all Bruckheimery before everyone on the Eastern Seaboard dies?

General Comments for 12/04: