NEW 77
Our lives begin to end the day we become silent about things that matter.
--Martin Luther King


11/03/04
So how did it happen?
No incumbent has ever won with his disapproval numbers below 50%, and for months. He got a higher percent of the popular vote than his approval rating? He won the popular vote, despite being the least popular president since Nixon? He defied all of the polls of the last 2 weeks, including the Repub-biased Gallup? He gained votes from many of the demographics he's spent 4 years fucking over?
As far as I can tell...no one's checked to see if he polled better in places with Diebold "no-paper-trail" voting machines, as opposed to traditional ones. And Diebold's CEO said he'd "deliver Ohio to Bush" months ago.
You know it as well as I do--since 2000, it's only been a matter of how low Rove would sink to steal this one, too. Hey, they lied to send American kids to die for Cheney's business partners. Programming the Diebolds to count every, say, 20th vote for a Democrat as Rethuglican...who'd notice that in a close election? Anybody with a brain realizes that these people have always hated Freedom and Democracy. They're jealous of bin Laden and his cronies, as they already have their Fundie dictatorships.
Well, I hoped you enjoyed American participatory democracy, because it died 4 years ago. Welcome the Corporate Oligarchy, where the average citizen is as likely to elect his president as a worker is to elect his CEO. Welcome to the type of "democracy" they had in Mexico for 70 years, where the same corrupt party won every election. They'll leave enough Democrats to pretend that we have a democracy, but every president will be Republican, and probably surnamed "Bush." Our next Diebold-selected "president" may be Jeb Bush, followed 8 years later by the truest half-wit of that inbred clan, Neal. Congress will magically gain enough Ruling Party seats to make sure that their rivals can never muster the votes to override a presidential veto. Culturally, it's going to be 1950 all over again! Except that 50 years ago, you actually had a chance to elect a dissenting view.
Forget it. It's locked down. They own the media. If Fox "News" managed to convince 75% of its viewers that Bush found the WMDs...then they can convince those retards of ANYthing. Bush will lie, and all the TV networks will bend over and repeat the lie, until it becomes the operable truth.
Soon there will be no middle class, just 99% of America working 3 jobs with no health care. The war in Iraq will continue, leading to a draft--unless that's too unpopular, leading to a quick exit, a civil war followed by the entire Muslim world united against us and an endless source of terrorists out for our blood. For generations. Then, the economy will collapse under the weight of the deficit and foreign debt.
Give up. It's over. There's nothing that we can do.
If you're gonna roll over dead and SIT ON YOUR ASS!
FUCK YOU, you TWICE-unlected election stealer and perverter of our democratic institutions! Yeah, I'M laying over and dying so you fucks can rape this great nation! If you want to take away the Constitution, you're going to have to pry it from my cold, dead fingers!
Read the MLK quote at the top of the page. Think about the quote at the top of the page.
And of course, there's the irony, delicious and yet so bitter. My greatest fear about Kerry winning is that it was going to be Clinton's 2nd term to the power of nth: all of Bush's disasters, whether they were Iraq, the economy, gas prices, or a pimple on Cheney's fat corrupt ass, the wrong wing and the corporate-controlled media were going to act like they were problems that Kerry invented, just like they pretended they didn't exist in Dumbya's first term. Nixon won a second term in a rigged election with a compliant media, too, and all the problems he created came home to roost. And to peck his eyes out.
It all comes down to how bad it gets before it gets better. It may get so bad that it never gets better. But, try as they certainly will in the future, it's all Bush's fault. I'm going to remind people of that for the next 4 years.
On the other hand, we can always hope for this.
11/4
Via Kirk, how Bush stole Ohio--and the election. And they didn't need Diebold to do it.
I always turn the stereo on when I get up (it's said that a radio makes cats feel less alone when you leave the house). When I got out of the shower, rather than pleasant classical music, I heard a voice. That only means "breaking news" on WNPR, so I turned on the bathroom radio.
It was Bush's press conference. I later learned that Dumbya had made some joke about only taking 1 question from each reporter, and the press corps(e) laughed. Here's the exchange he had with reporter #2:
REPORTER: How will you go about bringing people together? Will you seek a consensus candidate for the Supreme Court if there's an opening? Will you bring some Democrats into your Cabinet?

PRESIDENT BUSH: Again, he violated the one-question rule! Right off the bat! Obviously you didn't listen to the will of the people!
No one laughed this time. Bush was extremely pissed. Obviously, the will of the people is that you can't ask God's Chosen Tool more than one question in a row (even if it really IS one question, carefully broken up into bite-sized pieces for easy comprehension for his bite-sized brain--so I guess it really refers to the amount of question marks).
I think that he let slip the Constant Answer to Every Question for this term. Last time, it was "You're either with us, or the terrists!" This time, it'll be "the will of the people!" That 51% of the people whose vote wasn't altered by Diebold or just plain thrown in the garbage. The Triumph of the Will!--umm, Of the People!
But it answered the question perfectly: He's not going to "bring the people together." He's going to act like his razor-thin victory is a mandate, and fuck the 49% of the country that wanted him voted out, out, OUT. Just like last time, when he lost both the electoral and popular votes. Except it'll be worse, as he has to pay back that 10% electorate of Fundie crypto-fascist fuckwits who voted for him because of "values." I got news for ya, Godfreaks--prayer ain't gonna win that war to shore up Halliburton's profits when they draft your kids, or prevent you from going homeless when the economy collapses from deficit spending. But who cares about that, so long as them FAGGOTS don't be gettin' married?!
That thought should help keep you warm in your refrigerator box, as you cradle your dead son's childhood teddy bear.

11/7

Remember to scream real loud when you hear it!
Today's Secret Word is--
PEE-WEE DVD SET!!!
AAAAUUUUGGGGHHH!!!!!!!!!!!!!!

11/8

I went to see Pixar's The Incredibles today. It was unwatchable. I left the theater after 20 minutes.
...And went to a different theater at the macroplex, one which didn't have 2 enormous gouges dead-center of the screen which were impossible to ignore. So I saw the first 20 minutes twice. Which is 2 times too many for that Jackalope short that precedes the movie proper (there's cutesy, and there's cutesy-wootsie. It was the latter)
I suppose the obvious thing to say would be "It was INCREDIBLE!" But it wasn't. I love Pixar's Toy Story 2 and Incredibles director/writer/transvestite performer Brad Bird's last movie, The Iron Giant beyond all reason. So there was an inflation of expectations. Those were 4 star movies, this was...3 and 1/4. I'm really big on stories that go where I don't expect them to go. I could've sketched out this plot. Yeah, okay, it's a superhero movie, so what did I expect. Well, I expected it to be funnier. There was plenty of comedy, but overall, it's an action-adventure flick. And that's not a negative review. Especially coming from a big fan of the 1960s Bond movies, which it's clearly modeled on. (Hey, think Pixar saw You Only Live Twice?) The action scenes were great, especially the set-piece of Dash vs the Flying Buzzsaw Thinggies (Hey, think Pixar saw the Speeder-Bike chase in Return of the Jedi?). But while the plot might have been a bit standard, the writing for the characters stood out more. Yep, it's a family of superheroes, and the family dynamic plays out perfectly ("NO FORCE FIELDS!!"). And the underlying defiance of conformity, of doing what's expected, rather than what's right.
Look out, it's Quibble Time! Or actually--What time is the movie set in? I guess an indefinable Now. There are cubicles and civilian-owned police scanners, but the cars and fashions are straight from any of the 60s "Batman" episodes. That's probably a directorial choice, but it seems to set the movie in the mid-60s. But there's also an answering machine. One turned up in a Batman episode, and there was actual exposition to explain to the audience what it was. If there were computers (outside of the villian's), I missed them. Though there is a highlighter, which wouldn't be around then. But the only (thank Gourd) product placement in the entire movie is a briefly-glimpsed bottle of "Hai Karate" aftershave. On the other hand, everyone knows what a "remote" is, yet the only actual dates given are 1956 and '57, and they aren't treated as if they happened half a century ago. I'm overthinking this, yes? Hey, overthinking is my job. If was a supervillian, I'd be named Overthinker! And I'd be forced to fight myself in my other identity, the Vomiteer.
So go see it, preferably while it's still in theaters, in order to soak up all that Pixarian juiciness. Where the screen doesn't have gouges.

Hey, I have this album! And you can too, at least digitally until the end of November.

11/9

"Ashcroft, in a five-page, handwritten letter to Bush, said, 'The objective of securing the safety of Americans from crime and terror has been achieved.'"
OMG thank you Ashcroft! There's NO MORE CRIME OR TERRORISM! You're Mr Incredible Attorney General Man! That was TOTALLY WICKED!!
'Scuse me, but I'm going run through the worst part of Detroit screaming and waving fistfulls of bills at the crackheads! They won't hurt me because Jesus Ashcroft cured crime!
"I believe that my energies and talents should be directed toward other challenging horizons," he said.
WOW! He defeated crime and terrorism forever, how could he possibly go any higher? I bet next he transforms into a 900-foot-tall Ashcroft and fights Satan AND Braniac AND Galactus!!!! And...maybe he'll finally get around to catching that Osama dude.

I've adopted another cat!
Spiritually. My lunch is a Wendy's caesar side salad eaten at the end of a cul-de-sac. It's off of an incredibly busy road and kind of industrial-parky, but there're no buildings at its end. Despite the traffic a quarter-mile away, it must connect to some large, wooded expanse. A few weeks ago, from the brush casually sauntered a half-dozen wild turkeys. They were 5 feet from the hood of my car, but observed me with calm disinterest. They ate some berries and wandered on.
Last week I saw a small black cat. He didn't run when he saw me pull up, or when I got out of my car. I wanted to look for any signs of fear or confusion, which would mean he (no actual idea of it's gender, of course) was a lost housecat in need of rescue. He had no collar, and watched me while keeping the same short distance between us. I noticed an empty Friskies can. A stray then. I went back into my car and put some cheese and bacon bits together for him to snack on. And he ran like hell! Obviously, someone had tried the "feed him to grab him " trick more than once.
The next day, the food was gone, but so was the container I'd put it in, due to the high winds that day, so I didn't know if he'd eaten it or not. I left a can of Friskies, and cleaned the dirty, leaf-filled old can that may have been functioning as his water dish, and filled it with Poland Spring.
And the next day that was gone. So now he gets Friskies from me 5 days a week (he'll have to catch a mouse or a bird the other days; I'm not driving a 40-mile round trip just to feed him).
Of course, if he's there, I'll never see him again. He'll eat my food, but he won't risk getting caught. Which is just as well. I don't want to get attached to a kitty living near a major road. Someday, I'll find that the food I've left has gone uneaten.
Should I make someone aware that this little guy's out there?

BYRON'S BLOG
OKAY I AM VERY MAD! AND I USUALLY IS VERY HAPPY, I LIKE TO PURR! BUT I HAVE A TERIBLE SUSPISION THAT THERES ANOTHER CAT HERE!!!
NO, NOT THE BIG WHITE SMARTYPANTS, DUUH! A DIFFERENT ONE! ARRGH, I WILL FIND YOU! I WILL SPEND ALL NIGHT LOOKING AND ALSO THE MORNING AND THEN NIGHT AGAIN, NO MATTER HOW MUCH MOMMY IS ASLEEP! SLEEPING IS NOT FINDING THIS CAT!!!
I WILL OPEN THE KITCHEN CUPBOARD! AARRGH, I BET YOU HIDE BEHINDS THIS CAN OF BEANS! (thud!) NO, OKAY THEN, PROBABLY THIS PAM SPRAY! (thud!) OR THE CAN OPENER OR THIS FORK!! (thud clang!)
OKAY, I BETS YOUR IN THE BEDROOM!! A-HA! YOU ARE IN THIS WINDOW HANGING ON THE WALL! DO NOT EXPECT MERCY JUST BECAUSE YOU LOOK EXACTLY LIKE ME!! (thump thump thump!) OH, HI MOMMY! I HAVE CAUGHT THE BAD CAT!! WHY YOU THROWING ME ON THE FLOOR?!? AND WHAT'S A "MIRROR"? DO NOT THINK THIS IS OVER, MIRROR CAT! WE SHALL FIGHT AGAIN AND AGAIN ALL NIGHT! MOMMY MAY BE ASLEEP ON THE JOB, BUT NOT BYRON!!!
ARRGHH! I HAVE FOUND YOU! HERE, IN THIS BAG ON THE STOVE! TIME TO LET THIS CAT OUT OF THE BAG!! (THAT IS MY ACTION HERO WITTISISM!!) NOW, ON TO THE FLOOR WITH YOU!
OH NO IT IS TO HORIBLE TO CONTMPLATES! THERE'S NOT ONE BUT MANY CATS! THEY ARE HIDIOUS MUTANTS! THEY ARE PURPLE! THEY ARE ONLY AS BIG AS MY FEETS! THEY ARE FREAKTASTICAL SIAMESE CATS--AS IN SIAMESE TWINS! BUT SIAMESE QUINTUPLETS!! AND THEY FUR MADE OF SUGAR!!! G-R-O-S-S!!
I AM NOT AFRAID! I THROW THEM TO THEM GROUND AND ENGAGE IN PAW-TO-PAW COMBAT! AARRGGHH! I THROW YOU AROUND AND EAT PIECES OF YOU, BAD PURPLE TINY FREAK CATS!
OH, SUPER-EINSTEIN WHITE CAT SAYS "You dunderhead! Those aren't real cats, they're cat-shaped Halloween Marshmallow Peeps!"
YES, THEY MAKE ME SO MAD THAT IWANT TO HOWL MY WEENIE OFF! AND THEY SURE HARSH MY MELLOW! BUT THEY ARE NOT MY PEEPS! ONLY YOU AND MOMMY ARE MY PEEPS! THESE ARE HATERS, NOT PLAYAS!
SO I FIGHT THEM AND BITE THEM AND THROW THEM AROUND. ALL DAY! ALL NIGHT! AND STILL MOMMY AND WHITE CAT DONT APRECIATE MY DEFENSE OF THE HOMELAND!!!
TIEM FOR SLEEP. HOPE TO GET RID OF FUNNY TASTE IN MY MOUTH.
AND DONT THINK I'VE FORGOTTEN ABOUT YOU, MIRROR CAT!!!!

This just in: The Universe won't end in 11 billion years as thought, but 24 billion! Whew! Guess I can put off the vacuuming again.

11/15

Yeah, so I didn't update for a week. It wasn't planned; I just had nothing to say, not even any good links (that weren't immediately plastered on everybody else in the world's page).
When it got the point where I almost posted about the weather, I knew it was going to be a bad week. (For the record: Thursday, 60 degrees; Friday, 4 inches of snow; Monday, 55 with a 100% chance of me hiking the state park. It's an odd feeling, walking in snow when it's that warm. No, wait, the odd feeling is when your Converses get filled with slush)
Let's see...anything exciting happen to me lately? Ahhh...No. Oh, wait, I did have a hair-breadth escape from certain doom! My stupid job has decided to stay open until 9PM through the holidays. Our stupid legislature decided last year to allow liquor stores to stay open an extra hour. We don't do it except for holidays, as it's stupid. Even on a holiday, we do pocket change for business. The only way that people will buy more alcohol because of an extra hour would be if they left the bars close later, and you can imagine the drunken roadside carnage that that would cause. They did it because our neighbor Massachusetts started letting boozeterias stay open later, and they thought that that was stealing tax dollars from Connecticut. If I lived closer than 30 miles from Mass, I would buy my beer there, too--not because they're open later, but because there's less built-in taxes so everything's cheaper. And even if it isn't, there's no sales tax on it up there. So people go there if the cost of the gas used is less than the savings on taxes. In typical fashion, now the legislature is talking about Sunday openings like Mass--and raising the built-in taxes. Duuuh, that be workin'!
But I digress. So far we've had only 1 customer between 830 and 9, meaning that we lost money by being open. So I've shuttered the place at (GASP!) 855. And even then, some dimwit tried to get in after 9PM. So being open 13 hours a day still isn't good enough for some dingbats.
But I digress! Saturday I decided that it was late enough as it was, and I wasn't making dinner. I stopped at a Roy Rogers. They immediately handed me one of the bacon cheeseburgers I buy 2 or 3 times a year. Strange; when I come after 8 there's never food prepped, and they had plenty already made. Is there some 10 o'clock rush?
No, but as I walked out the door, 2 Fung Wah busloads of Asians began stampeding in. (Fung Wah runs buses from Boston's Chinatown to New York's Chinatown--it's kind of a niche business) I escaped just in time!
Wait, did I say "certain doom"? I meant "standing in a 20-minute line or having to cook that night." Pretty similar, though.

In other, equally unexciting news, Byron found the rest of the Peeps. The battle rages, and the Peeps are losing.
I went to get the mail today, and forgot that I'd left my front door open. And Byron escaped into the wild! The front deck, really. I was curious to see if his response to a beautiful, sunny day was the same as kitten Kill Kill's (which was a look of amazement, followed by terrified screaming and her burying her head between my legs). He seemed quite baffled by it all, especially anytime a car went up the hill (although he always looks out the front window, which has the same view). If he has any memories of the outdoors, they would be of his scary time alone and afraid at the age of 2 weeks. He explored very cautiously, body bent close to the ground, and usually not leaving me. Most of the time, he circled around my legs, in constant touch of me. He wasn't scared (when has that boy been scared of anything?), but he seemed glad to get back in the condo. Maybe next spring, I'll buy a harness and let him walk around outside a bit.
A harness, and some pepper spray. No dogs going after any of my children.

And for an exciting link, here's...the Fung Wah FAQ! Okay, don't bother. I like this part of it: "Our Bus Driver may stop at ( Roy Rogers or McDonald, and others pit stop) for a 10 minutes break"

Oh, what the hell. Here are 2 links that will be everywhere within 12 hours:
The Science of Superheroes.
Y'know those Jones Thanksgiving-flavored sodas, like Green Bean Casserole? Here's the review. I think they came out with the sodas just so that people would buy them to review on their websites.

11/16

I've nothing earthshattering or even more than mildy interesting tonight, but not-posting leads to more not-posting, so here I am.
Deep Discount DVD doesn't really seem all that deep to me--their prices are slightly lower than Best Buy's. But there's no shipping charges, and through Friday, everything's 20% off if you type "supersale" in the promo code box at checkout. Now that, my friends, is a sweet deal, either for holiday giving or (like me) your own greedy self filling up on the purchases you've put off. Here's what I got:

WC FIELDS (DF) $ 6.24
"It ain't a fit night out for man nor beast!" (cue snow in face) Six shorts by my favorite cynical alcoholic misanthrope. I could've spent 3 times as much for the crystal-clear Criterion edition, but I have 3 of the shorts on a much-worn budget VHS from the 80s, so there isn't much way that this could look worse. I have no idea what "DF" means. Hopefully not "Digitally Fucked."

PRESIDENT'S ANALYST, THE $ 7.48
"TAKE THAT, YOU HOSTILE SONS OF B--"bang bang bang!! Totally subversive 1968 satire that advanced the then-incredible notion that the government may do bad things to its own people. The villain is the FBI, with every of its repressed but deadly agents less than 5 feet tall, and they go after the title character when he cracks under the strain of psychoanalyzing the, uhh, President, maybe you got that already from the title. He becomes paranoid, thinking that everyone around him is a spy. And he's right. I own 2 copies of this, an old one taped from Cinemax in the 80s, and a newer vVHS release that I thought I got a great deal on eBay before there was a DVD release. But that was almost twice the price of this! And this is widescreen! Also one of the few movies involving a plot to dominate the world by Canada.

IRON GIANT,THE (SE/WS) $ 11.11
"Superman..." Special Editon/Wide Screen. FINALLY. One the best movies I've ever seen. Finally, a "kid's" movie where the "message" isn't something lame like "accept people who are different. Now go buy all our product placements, and mock those who don't!" It just works so well on so many levels. There's comedy, there's emotional resonance, there's stuff blowing up, there's a moral, there's a disembodied robot hand playing with toilet paper. What else could you want? Well, I wanted to buy it Monday at 9PM, and the sale didn't extend to pre-orders like Iron Giant. So I waited until midnight and it became Tuesday, and saved $3.

CITIZEN KANE (2DISC/SE) $ 16.32
Hey, how'd THAT get in there?! All of these movies I already own on worn-out VHS tapes. But they're ones I know that I'll always come back to. I don't know how much of the supplemental material I'll watch, but I will listen to Roger Ebert's audio commentary. He's incredibly picky about what movies he does commentary for; I don't think he's done more than five. (And to get an idea how into this particular movie he is, he recently wrote an article about how he'd never before noticed a chair moving out of the way of a tracking shot. And it wasn't that short of an article)
Oh, here's a spoiler for those of you who've never seen the movie:
"Rosebud" was the name of his monkey.

11/17

When the household was just me and Killsy, if I heard a loud noise during the night, I'd leap to my feet. With Byron here, it requires a second loud noise for it to be worth my time investigating.
Last night there was a CRASH! and I just rolled over in bed. Then I started hearing ding-ding-ding-ding. I stumbled from bed to find a pot lid on the floor, and Byron whacking a souvenir dinner bell. ding-ding-ding-ding! That boy has silliness issues.

Always read the fine print on an eBay auction! If you're wondering who'd be so dumb as to bid on that, check the buyer's feedback.

11/18

Several years ago, I was taking Jessica for a ride in my new car. I pointed out the plaza that caused me to get a new car: I was the only car on the road, and a pickup truck pulled out of it and pulled into the left lane. I was in the right, and thought, "The only way he couldn't see me is if he didn't look." And then he, without signaling, without looking, without reason, crossed into my lane going 20 MPH slower than me. He didn't total my car, but he did more damage than it was worth, which was the same thing. Then he ran off in a hit & run. And the exact second I made note of this to her, a different retard pulled out of the same plaza and did the same thing.
Since every accident I'd been in for decades involved someone doing THE most shitheaded thing possible (taking a left into incoming traffic without looking to see if there were cars coming, rear-ending me at the emissions station because he slammed the gas pedal to the floor, then let off the brake, racing into traffic when someone waved in him without looking to see if I was there, etc), after that last one, I came up with a new driving philosophy: Just because someone would have to the biggest moron in the world to drive like that, it doesn't mean that I'm not sharing the road with the world's biggest moron. As I saw this rerun of my last car crash pulling out, I slowed down, then slammed on my brakes. And there was no accident.
And it happened again today! SAME plaza, SAME retard crossing 4 lanes of traffic without looking and then cutting into my lane at half my speed. And I slowed enough to come to a dead stop while this old man (surprisingly, without a hat) drove in both lanes at once. I hit the horn, and he repeatedly gestured with his left hand. No, not that gesture. He held his hand straight up. No idea what that meant. ASL for "I'm sorry" or "I have the mental capacity of a soggy bowl of Froot Loops"?
For the 4th time! Every other year, it's the same thing from a car coming from the same plaza. Which has an alternate exit: a stoplight on a sensor that changes 30 seconds after someone pulls up to it. Idiots! Go that way!
On the way home on the same road, I cruised up to an intersection. There's a left-turn-only lane, 2 travel lanes, and a right-turn-only. There was a big car in the left turn lane. As I came up at about 45/50 MPH, he suddenly decided that he didn't want to go to Taco Bell, he wanted to go to CVS. And without warning, spun his car 90 degrees across the 2 travel lanes.
Unlike my other moron encounters, hitting the brakes would've be the worst thing to do. So I swerved into the right-only lane and prayed. Well, the prayer was "OH MY FUCKING GAWWWWD!" And I missed by inches, because he finally did that thing you're supposed to do every now and again while driving. LOOK where you're GOING. If he hadn't, it would've been me and my little sedan going head-on into a big car's engine block.
Today I got a quote from an auto insurance company that's half the payment from my current provider. There are a few details they don't go into in their quote. After today, I'm not sure that I want to pay less without knowing what they are. What's my deductible for retarded morons?

As a former toystore employee/victim, I always look forward to the Year's Most Dangerous Toy Awards. Sounds like a comedy site, but it only is in the way that the conglomerates try to get away with this shit every year. The actual misfit toys--no, wait, they're less misfits than they are sociopaths--are listed here. Hey, let's all buy the kids on our Xmas lists Air Burst Rockets! From the package: "Misuse of this product can cause SEVERE INJURY, including loss of an eye or death." Whee, death!

Atlantis:The lost city that's always being found.

"Want to take the family to a different theme park next time? 'If you want to experience some of the torture that political prisoners underwent … just come along,' said Josip Modric, an architect who is promoting the project." I think we just found the reason Ashcroft resigned--he's going to his dream job running the Unhappiest Place on Earth!

11/21

As promised, new Byron pics. I wish that I knew enough Photoshop to make my place look less of the sty it is. It's not dirty, it's just not clean! THERE'S A DIFFERENCE!

BYRON'S BLOG!

OKAY SO THOSE BAD PEEP CATS ARE GONE. EXCEPT FOR SOME BITS OF THEM, I LEAVE THEMS WHERE MOMMY CAN KNOW WE SAFE FROM THEM WHEN HE STEPS ON THEM. MOOMY MUST LIKE FINDING THEM, HE MAKES A LITTLE DANCE AS HE PULLS IT OFFEN HIS FOOTS AND THROWS THEM AWAY WHILE CHEERING "EWWWW!!"
SO ANYWAY. YOU CAN NEVER BE TWO CAREFUL ABOUT BAD CATS SNEAKING IN THE HOUSE! I AM ALWAYS ON THE GUARD. SO WHEN MOMMY SAID SOMTHING ABOUT "LETTING THE CAT OUT OF THE BAG," I KNEW WHAT MY DUTY WAS!!! CHECK ALL THE BAGS!!!

&nbsp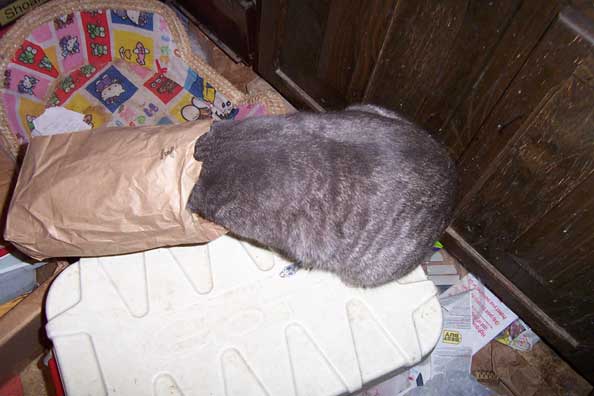 ARRGGHH! STUPID INVADER CATS! ARE YOU IN HERE? OKAY, GUESS NOT. I'LL JUST--
&nbsp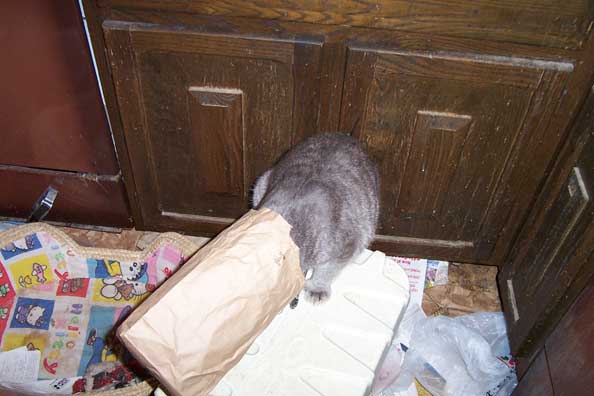 HEY THIS STUPID BAG IS STUCK ON MY HEAD!!! WTF!!! GEEEEET OFFFFF!!!! AND MOMMY, STOP LAFFING!!!
&nbsp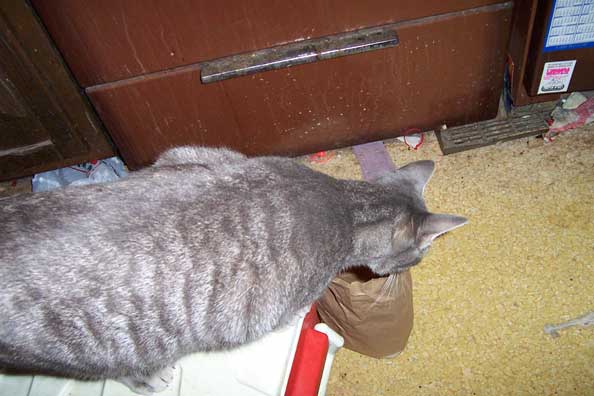 WHEW! THIS CAT'S OUT OF THE BAG! THAT WAS CLOSE I FELT LIKE I WAS A BALONEY SAMMITCH IN THERE!
&nbsp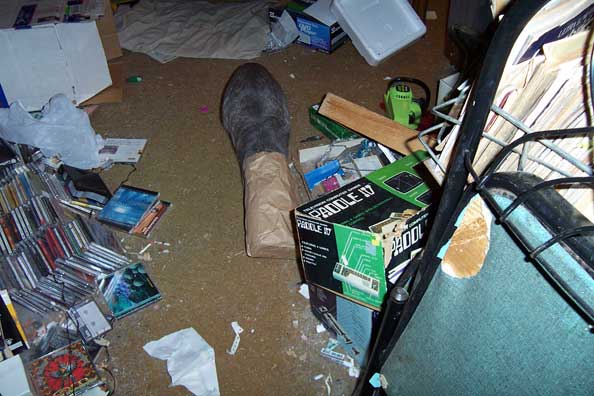 ...BUT THAT DOESN'T MEAN THAT THERE NO BAD CATS THAT SNEEKED IN SINCE 2 MINUTES AGO!! ARRRGGH, STUPID BAG! GET OFF MY HEAD! AGAIN! MOMMY, WHITE CAT, STOP LAFFING! ARRGGHH, I CHASE YOU INTO THE NOT-CLEAN LIVING ROOM!
&nbsp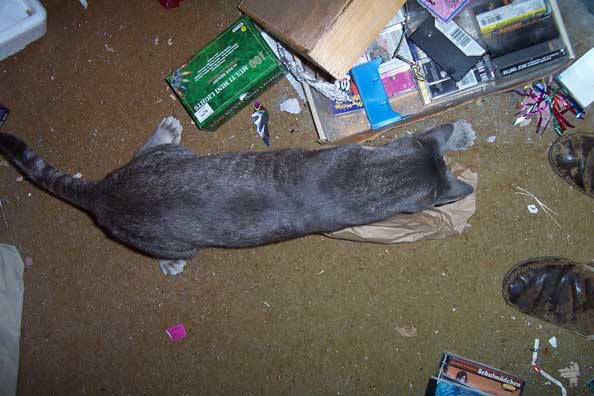 STUPID STUPID BAG!! HOW DO LIKE THESE APPLES! I HOPE YOU LIKE APPELSAUSE, CUZ I SQUISH YOU! STUPID STUPID BAG!
I WILL FIND YOU, SNEAKY CATS OF MASS DESTRUCTION!!
11/22
"I Refuse To Surrender My Freedom": Sign the ACLU Petition to Bush.
"Hey, grandma! I got you a gift! A jet-propelled wheelchair!"
11/23
My store has a Thanksgiving flier out. Here's a sample:
&nbsp

No, I had nothing to do with the creative process.
Too cute for words, unless the word is "Awww!!": a dog that always wanted puppies nurses 2 stray kittens. It's even cuter than it already sounds.
11/25
My turkey day was pretty good, with the exception of the folding chair I had to sit in. It gave me a backache so bad that I had to take 2 Vicuprofen. On the plus side, I got to take home plenty of turkey, mashed potatoes, 3/4s of a pumpkin pie, and an entire loaf of cranberry bread Mom forgot to bring to the table. For some unfathomable reason, neither of my kids want to eat the turkey.
I may not be very busy here, but I added some funny comments to a funny post on Big Picnic, involving greeting cards for Jewish gun-nuts.
11/29
Well, I had an exceptional day! Not an interesting one for you, unfortunately, as I'm about to recap it in detail.
It was 65 degrees on Thanksgiving, so I thought that would be my last hike in the state park for this year. It was 50 today, and my cutoff is usually 55. 5 degrees makes a big difference in the comfort level. But there was a cloudless sky, so I figured I'd give it a shot. My shin-length black coat helped. It's my good coat, the one I don't wear to work. The work trenchcoat is on its deathbed; ripped, stained, buttons falling off, and because of the winter lining's half-busted zipper, it takes 45 minutes to put the lining in. I know I need a new one, but my mind has a problem with buying another one new, when it's just going to be used to take out the store garbage and get ruined in turn.
Chore time. This is one of the last days when it'll be safe to go to the Maul, so I went to Sears to see if they had replacement frames for the glasses that got pummeled during the Infamous Standing on the Spinning Desk Chair Incident. They're wearable, but off just a bit, just enough that the progressive bifocals make viewing things goofy. They didn't have the same frames, and if I wanted new ones, I'd have to get new lenses ground. I didn't spend $400 on these lens to throw them away after 18 months, so that's off the to-do list for a while. Like for years, or until they become too annoying to wear.
I started to see if they had a camera department, as the digicam's battery isn't holding its charge like it used to (which has lost us several cute cat pics, especially of Kill Kill, who doesn't like the flash and will move when she knows she's the photo's subject). I searched a bit, then decided to head over to Best Buy, where I know where the camera stuff is. As I left, a really big guy waddled through the store. Like 400 pounds of big guy. Hey, I thought, that's a big guy! Then he asked a Searsian "Where's your men's room?" and I had a mental picture of big guy's big dump and a collapsing toilet. As Violence Man once said, "WHOA, that's no good!"
At Best Buy, they had the exact battery I was looking for. Except that it said "1850 mAh" instead of "1600 mAh" like the old one. I know not this "mAh," but a blue-shirted salesclerk assured me that it wouldn't blow my camera up. And they gave me a free CD! Which turned out to be of Xmas music by Elton John and Kenny "I stepped in pooh's corner" Loggins. Anyone want a free CD?
Next stop (well, after many stops, as I hit every light on the way) was the Salvation Army by the Dumpstore (Co-worker Shelley has Mondays off, so I didn't go in there). Everything was 25% off, so I decided to half-heartedly check their trenchcoat selection. And there it was, a 36S with a removable lining! Yeah, it's green, not my preferred black or storm grey, but it came to $15. And this is the third time that this has happened--the first time that I decide to check a SalvArmy for a trenchcoat, I find a good one in my size, and on sale. It's almost like those 2 times I went to work with the last thing on my mind being "In a few hours, I'll find out that I'm adopting a new cat!"
I could've charged it, but I felt guilty about a charitable organization losing 3% of the sale to the credit card company, so I paid cash. This left me with $3, and I still had to go to BIG!Lots. Where I walked out with toothpaste and Killsy's fave cat treats and a tin of fish steaks, all of which cost me $2.48. Thing that's at BIG!Lots for a reason: A PC game about the sport of my Scots forebears, Curling. Amazingly, it was titled Curling 2, meaning that the original game of big rocks and brooms sold enough to engender a sequel.
Then I went grocery shopping and dropped a big plastic jar of fruit salad on the floor, which landed on its lid and splattered. So I sheepishly picked up the fruity shrapnel and asked a bagger to page a clean-up in aisle 5. Not all our shopping expeditions can end as well as the others.
Best news I've heard in a while: Entire Goon Shows on Quicktime! They change monthly, so of course I find out about it on the last day of the month. I don't have the time to listen to these on a work night!
Or maybe I should find the time: The WORST news I've heard in a while, bird flu is mutating and could kill 100 million people. And that's the conservative guess.
Let's cross our fingers and count our blessings. Here are my two blessings: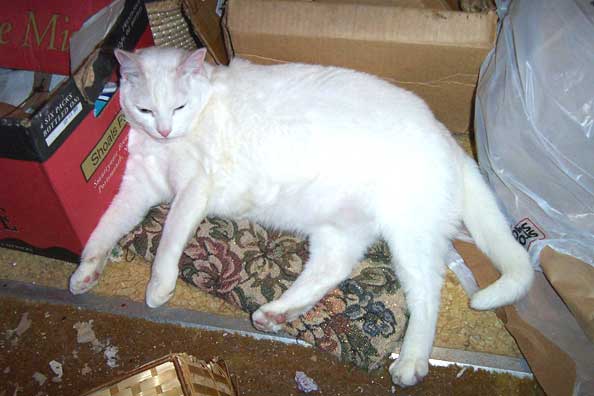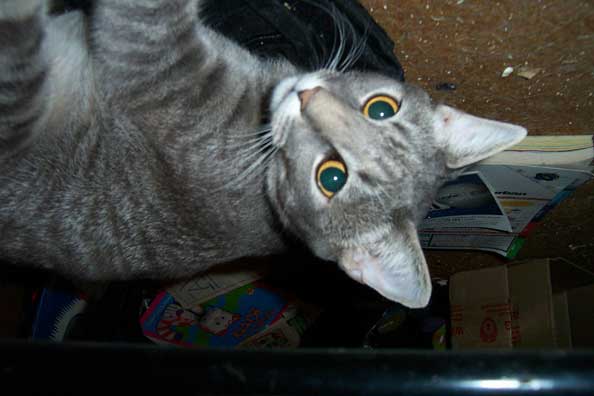 General Comments for 11/04: