INEXPLICABLE OBJECT OF THE WEEK
Week of 2/27/00:
WEEK 98
Bird Clock: The Revenge
Aware of my unnatural fetish for clocks, last year KMDS gave me a bird song clock. Oh, not any old bird song clock of course. Not one where the birds went "chirpy-chirp" & you'd go,
"Aww, such a sweet birdy song!"
Nah, he got me the freakin' Audobon anal-retentive birdwatcher's clock.
Here's a fun game! Let's match the bird with the song!
Goddamn Loud Hoot Owl
Goddamn Stupid Canada Goose
Goddamn Fuckin' KMDS, You'll Pay For This! Woodpecker, Fucking WOODPECKER, fer cry eye!!!
HOOT HOOT HOOT HOOT HOOT HOOT!!

HONK HONK HONK HONK HONK HONK HONK HONK HONK have we grasped the HONK aspect of this yet? HONK HONK!





RATATATATATATATATATATATATTATATATATATATATTATATATATAT
(pause)
RATATATATATATATATATATATATTATATATATATATATTAT
(pause)
RATATATATATATATATATATATATTA...

One good tern deserves another, yes?
So I got him this clock.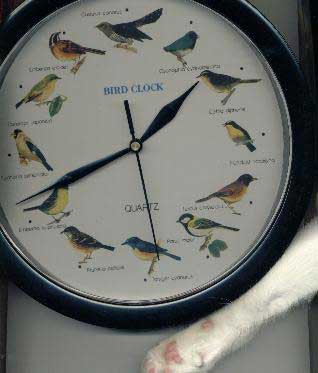 It was nicely lined up straight in the scanner when Kill Kill proved that cats love to chase birds, even when they're only clocks in the scanner.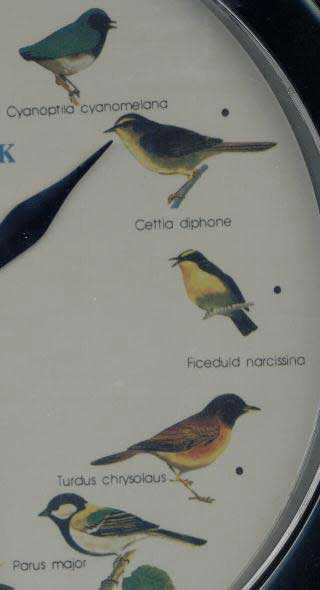 Mister Ornithologist
must've had a
VERY
bad experience
with that one bird,
given that he
named it
"Turdus."

Whoever made this thing must've realized a tad late into mass production that most Americans won't recognize the Latin names of the bird species, as most Americans can't read the TV Guide without moving their lips.
So they included this helpful sheet: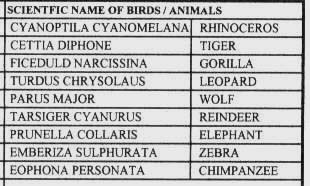 Doesn't this always happen?!
You get your car out of the car wash, then some damn flying leopard craps all over it it and eats your antelope!
I HATE that!!
Inexplicable Link of the Week
It never hurts to learn a new skill.

©2000 Bill Young