INEXPLICABLE OBJECT OF THE WEEK
Week of 10/24/99:
WEEK 80
FASTER, JONNY KATZ! KILL! KILL!
A Play in Four Acts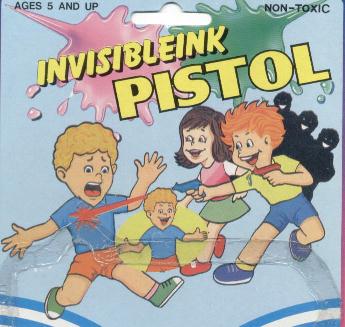 ACT ONE
(Scene: The Katz Household)
JONNY: Uh, Mom...Mr Fluffernutter's had...an accident.
MRS KATZ: What?! AGAIN?! Jonny, this is the fifth hamster of yours that's died this week! There's something seriously wrong here, little mister, something seriously wrong!
JONNY (nervously): Uhh....
MRS KATZ: ...meaning, it's obvious that the pet store is selling defective merchandise! I'm not buying any more small animals from them!
JONNY: W-what?? N-no more little friends--to give as "gifts"?! But then--without the gifts--They will be back--!
DARK DEMONIC VOICES IN JONNY'S HEAD: HA! HA! HA! Jonny, where are our GIFTS?! We need GIFTS, Jonny!
JONNY: N-nooo! Mommy took my little friends away! Get out of my head! Can't I just go back to burning ants with a magnifying glass?
VOICES: Have you looked in Daddy's sock drawer lately?
JONNY: WOW! A couple of 9-mm Glocks! With 22-round magazines and no trigger locks!
VOICES: HA! HA! HA!
ACT TWO
(Scene: Kip Kinkel Grade School, the next day)
JONNY: Hey, Brillo Head! You're head's like...uhh...Brillo! Now, I kill you!
BOBBY: JESUS FKING CHRIST! I'VE BEEN SHOT!!
JONNY: AWWWE-SOME! I'm never going back to hamsters again!
JESSICA: Wow! Thrill-killing is NEAT-O! Let's play "Natural Born Killers" and go on a cross-playground shooting spree!
ACT THREE
(Scene: St Vitus Children's Hospital, 18 months of intense physical therapy later)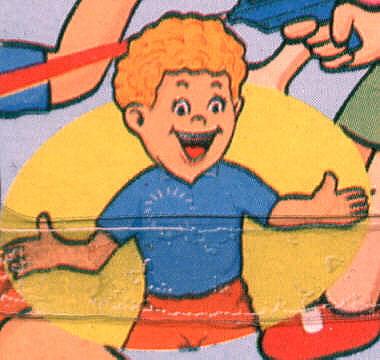 BOBBY: Isn't this great?! They had to remove my right lung and amputate my legs, but after 18 months of intense physical therapy, I can move my arms THIS much!!
Gee, I wonder what happened to Jonny, after they tried him as an adult?...
ACT FOUR
(Scene: Tim Allen Maximum Security Prison)
BIG OTTO: "Jonny," huh? Well, forget that! From now on your name is BITCH!!
VOICES: HA! HA! HA!
THE END
Remember:
Invisible Ink Guns don't kill people.
Real guns do.
Inexplicable Links of the Week
And Moses spaketh: You knowest, I didst not have mine head screweth on right during that Sixth Commandment. Tis overuled by the Second Amendment. BRINGEST UNTO ME A BLOOD SACRIFICE!
Preferably five, from four different American ethnic groups.

What, you need more proof Ameri-duh is a fucked-up country?

©1999 Bill Young