INEXPLICABLE OBJECT OF THE WEEK
Week of 9/12/99:
WEEK 74
"STORY" CARD: SPACE SCENE--THE STRUGGLE OF THE MARTIAN AND EARTHMAN
Peabody Language Development Kits (Level 1)
Last week's InExOb had 2 sides. Here's the back.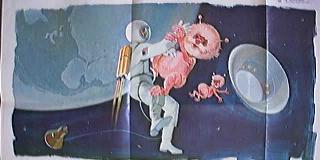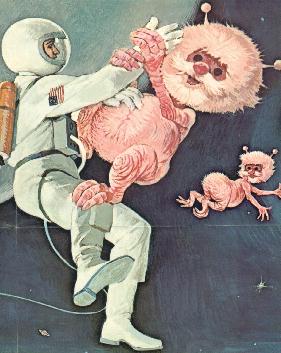 Oh, GIVE ME A BREAK!
It's a race of aliens that evolved from fuzzy bunny bedroom slippers!
When did Mars stop being the Angry Red Planet, Bringer of War and become the Silly-Willy Pink Planet, Bringer of Roly-Poly Fumblekins?
Anyone got Jerry Falwell's email address? If he was suspect of Tinky Winky the Teletubbie, seeing Maurice the Martian oughta give him that long-deserved fatal heart attack.
I do, however, like the way the second Martian is Deimosing John Glenn here.
Geddit? "Deimosing"? Deimos is a moon of Mars! Geddit? I can explain it if you don't geddit!
Inexplicable Link of the Week
The Disfunctional Family Circus

©1999 Bill Young