INEXPLICABLE OBJECT OF THE WEEK
Week of 9/5/99:
WEEK 73
"STORY" CARD: ACCIDENT SCENE - THE INJURED PAPER BOY
Peabody Language Development Kits (Level 1)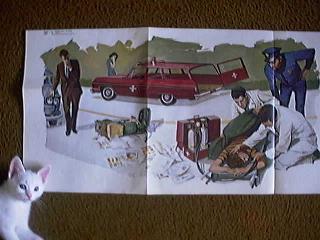 A 1965 teaching aid, here pictured with my scene-stealing new & faster pussycat Kill Kill, seconds before she decided what the InExOb needed was a good clawing.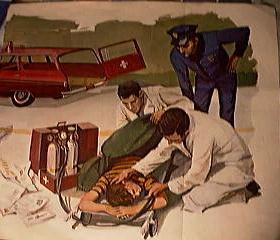 Little kids were supposed to make up stories to go with this heart-warming scene. What fun the little tykes must've had, dreaming up cute descriptions of Little Timmy's internal injuries and massive hemorrhaging!
"Who'd like to go first? How about you, Jimmy?"
"Here is my story. See Dick run. See Dick run into traffic. See Dick get run over. See Dick's blood burst from his ruptured veins like a crimson torrent, spilling into the gutter. Run, Dick's blood, run!"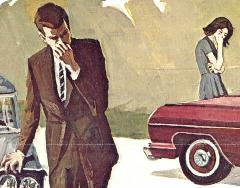 Hoo-WEEEE!!
Looks like the paramedics are a little late!
Better get that kid on ice before he stinks up the whole neighborhood!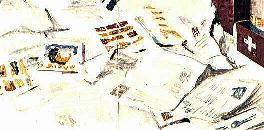 Hmm, what's this in the want ads...
"PAPERBOY WANTED.
Immediate Opening.
Free bicycle, slightly dented."
Inexplicable Link of the Week
Thanks to Spottiswoode for the link

©1999 Bill Young