INEXPLICABLE OBJECT OF THE WEEK
Week of 7/11/99:
WEEK 64
Oatmeal Cookie
But not just any Oatmeal Cookie--

OATMEAL 2000!!
The Cookie of the
FUTURE!
Created by the awesome technological wonders of the far-off, super-advanced future world of--
...ummm, 5 and a half months from now.
But I mean, what kind of loser would eat a cookie called Oatmeal: 1999?
That would be like soooo Barbara Bain!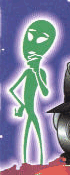 "Zlog damn it! Where did I leave my good anal probe?"


"Oh, yeah! That asshole on the Art Bell show!"
Inexplicable Links of the Week

©1999 Bill Young