INEXPLICABLE OBJECT OF THE WEEK
Week of 6/20/99:
WEEK 62
The First Day of Summer

" AAAUUUGGGGHHHHHH!!!!!
MY EYE, MY EYE!!!"
Mother told you what would happen if you ran with lollipops!


Oh, SHUT UP.
So it's stupid!
I'd like to see you do this page for a year and see how long it takes you to crack!
I work--I SLAVE--over a hot scanner, just to put InExObs on the table,
and THIS is the thanks I get?!
Hey, you think it's EASY to do this page?!
(okay, it is, but that's not the point)
Well, why don't YOU try it sometime,
Mr Tough Guy/ Tough Gal /Tough Non-Gender-Specified Individual!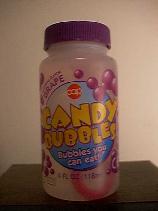 Hey, lookie here, edible soap bubbles! Edible if you like the taste of SOAP!
Bet a guy could make a sarcastic comment on that, if he felt like it!
Well, MAYBE I DON'T FEEL LIKE IT!
It's Summertime, and the time is right for Dancin' in the Street!
Thanks to Jessie Baby's Dad for the bubbles
Inexplicable Links of the Week
Star Wars = SATAN!!
and
SATAN Trek!!(Not Recommended for the Satirically Challenged)

©1999 Bill Young