INEXPLICABLE OBJECT OF THE WEEK
Week of 5/23/99:
WEEK 58
Who Named The Business? Part Two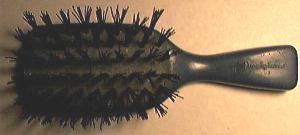 Hmm, that's a little hard to read...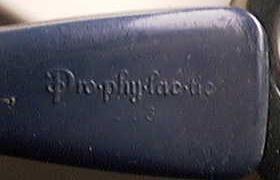 "Prophylactic"?
Is it supposed to be used as an IUD, or should I lash it to my weiner?
I suppose the ultimate condom would be one that prevented penetration in the first place.
Believe it or not...This was one-half of a comb & brush set my parents gave me when I was about 10. Don't know what happened to the comb.
In High School, I used to show it to my friends after saying "Guess what! My parents gave me a pair of prophylactics!"
I guess my sense of humor hasn't improved much since then.

Inexplicable Link of the Week
WOULD YOU LIKE TO LIVE THERE??
IF REAL, WHO WOULD REFUSE??
THIS IS THE ULTIMATE OPPORTUNITY!!!
THE JOURNEY IS ALMOST FREE. YES, YOU HEARD THAT RIGHT, ALMOST FREE!!
IT COSTS A LITTLE MONEY TODAY.
THE EQUIVALENT OF AN AVERAGE AMERICANíS LABOR FOR ONE MONTH.
INVEST ONE MONTH IN THIS VISION OF TOMORROW.
LET YOUR DNA LIVE AGAIN AND SEE WONDERFUL!!!
WHAT VALUE WILL ONE MONTHS LABOR HAVE IN FOREVER?? NOT MUCH!!!
THIS IS WHY WE SAY, IT IS PRACTICALLY FREE.
So, start your thinkers.
Objects from Previous Weeks


©1999 Bill Young