INEXPLICABLE OBJECT OF THE WEEK
Week of 2/14/99:
Dimensions For Children
The fine folks at DFC open up your child's mind to a fun & imaginative new world!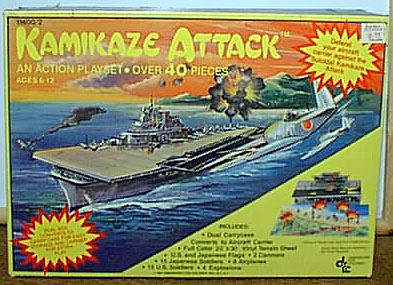 Junior sets up his toy aircraft carrier, carefully places the toy American sailors on board, then
BLOWS THE LIVING SHIT OUT OF THEM WITH JAPANESE SUICIDE ATTACKERS!!
Whee.
"Includes *8 Airplanes *15 U.S. Soldiers *4 Explosions"
I suppose it's cheaper to buy that budding young serial killer on your Xmas list this, rather than getting him a new hamster every week.

©1999 Bill Young