I'm still recovering from last week's Ob, so I'm turning the hosting chores over to the people in the magazine.
So if this sucks, that means it's not my fault.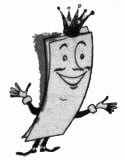 I am NIBROC, KING of the DISPOSABLE PAPER TOWELS!
GROVEL BEFORE ME, HUMANS!
I SEE HUMANS, BUT I DO NOT SEE GROVELING!!
DON'T FUCK WITH KING NIBROC, HUMANS! OBEY MY EVERY WHIM!
DON'T MAKE ME COME DOWN AND SMACK YOUR ASSES WITH MY...Mighty Army...of
...Paper Towels...
WAAAHHH!! **sob!!**
I'm the King of FUCKING PAPER TOWELS!! Humans NEVER grovel before me! They wipe their pizza-stained mitts on me! They mop up their tequila vomit pools with me! I am the King of NOTHING!
Oh, how sad to be a sentient piece of wood pulp, ruler of an empire of paper towels! Sure, I know I'm better off than SPHINCTON, Tsar of Toilet Paper! Or MENSTRA, Empress of Sanitary Napkins! Or even SNOTRAG, Kaiser of Kleenex!
But...to be PAPYRUS, Regent of Writing Paper, who bears your thoughts! Or SOARA, Siren of the Air, of whom you make paper kites and who sings with the birds! Or even NOTPLASTICA, the Sultan of Shopping Bags that carries in his mighty pulp your groceries!
But NO! I'm the king of WET RAGS! *sob*
**ahem**
I apologize for that unkingly outburst.
Now, I will make fun of you humans!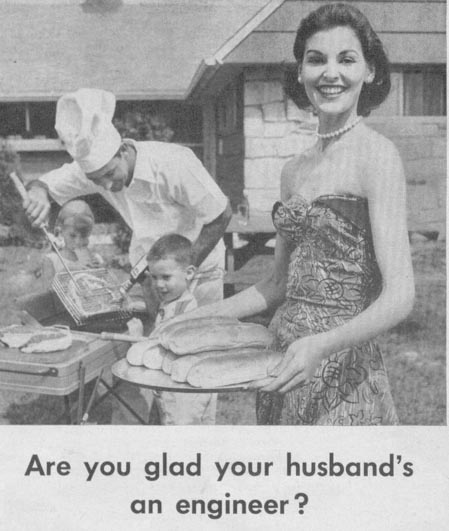 Are you also glad that--HE'S GAY?!
LOOK at his stupid HAT! I think your husband is not an engineer, but GA--
King Nibroc's advisors advise that that joke is not funny. King Nibroc thinks that it is always funny to call someone gay! It causes many a human to go "LOL" on Nibroc's chatrooms!
Nibroc, LORD of Absorbency, will labor to give you another joke!
WASSUP?!??!
NIBROC laughs most majestically at his droll jest!
Hey, what the f--Some ancient human grabs great NIBROC, and wads him up! WADS great NIBROC! As if he were but a wet old paper towel!
*fling*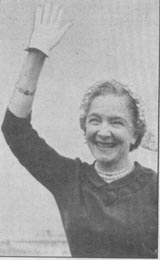 Hello, dearies! I'm actress Helen Hayes! Yes, even in 1956 I was REAL OLD. I don't think we need to hear that filthy towel's potty mouth any longer, now do we?
I think we should all take a nice look again at the picture of the engineer. Now, wouldn't we all like to live in a nicey-nice world where our mom wore an evening gown to a backyard BBQ? And pearls, too! Oh, that Marge Simpson, she made the pearl wearing seem all tacky. You kids today! I used to wear pearls in the shower. But I didn't take my clothes off, as that would've been obscene.
I'm not sure what they're having for dinner...Big slabs of steak, plus a pile of grinder rolls? For 2 adults & 2 toddlers? Notice that Little Missy is already chomping on a roll, so impatient she is to have her 10 pounds of steak! Perhaps the question here should not be "Are you glad that your husband's an engineer?" but "Have you thought about the word 'tapeworm' recently?"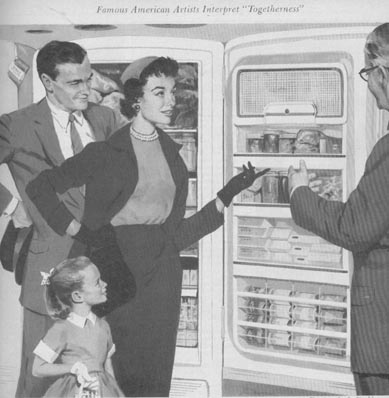 Look, it's 1956's version of Casual Friday! You can tell by the fact that Dad's not wearing a vest with his suit.
Make sure all the womenfolk wear gloves while shopping for a new refrigerator. They might accidentally touch the salesman, and get service worker cooties!
The rest of the ads are--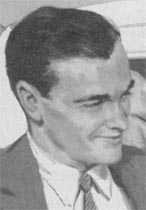 Take a powder, sister! The rest of the ads are too manly for a mere woman to describe! Go make me dinner now!
I'm a man's man! I'm a 50s American man, which makes me a man's man's man's man! I'm not like you pansies in the 21st Century. Open up one of your magazines, and the ads are for designer label clothes, none of which are suits! And there's perfume samples in there! What's with you pantywaists?
This magazine has about 20 ads for liquor, almost all from the whiskey family. Now THAT'S manly!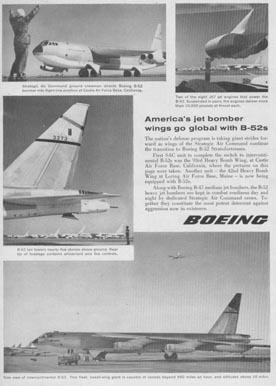 Even more manly are the three ads for nuclear power plants and the two involving B52 bombers. And, yeah, Mr 21st Century Limp-Wristed Man, there's an ad for Nikes.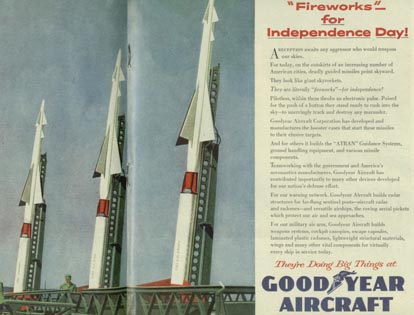 Nike anti-aircraft MISSILES!
And I suppose you soft babies think that there's one type of ad that isn't in here, and you're as wrong as you are effeminate!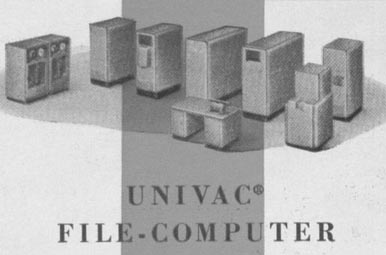 COMPUTERS!
Not your little cutesy lilac-scented iMacs, either! Big manly computers! You milksops probably think that this is the selection of Univac CPUs. Wrong, that's ONE computer! If you want to know how big and masculine it is, that thing in the front is a desk! And you have the gall to say your PC has a "tower"! These ARE towers! You could be killed in a fall off of one of these!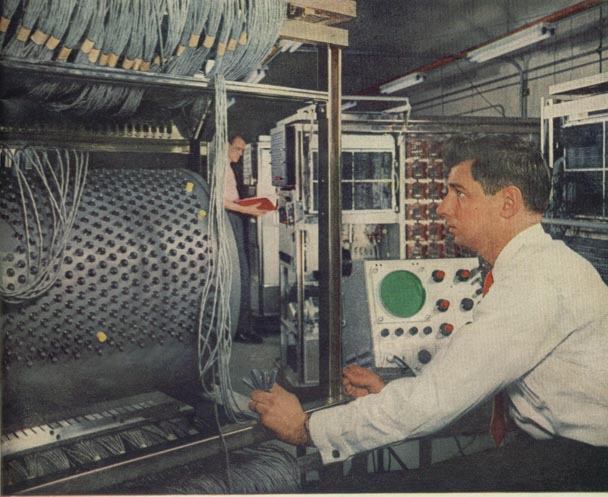 Here one of our technicians attempts to hook up the keyboard to the Giant Roll of Wiring. This baby is so powerful, we hope to calculate pi to the fiftieth digit in only a week!
Sure, it's not quite as powerful as the computers you use to download filthy pictures. But Univac was powered by harnessing the mighty energy found in human chins, and this guy's clearly tapped out. We could've run programs as huge as Pong if we but had Jay Leno!
And don't think all we had were these giants. Here's the Palm Pilot 0.1 beta model!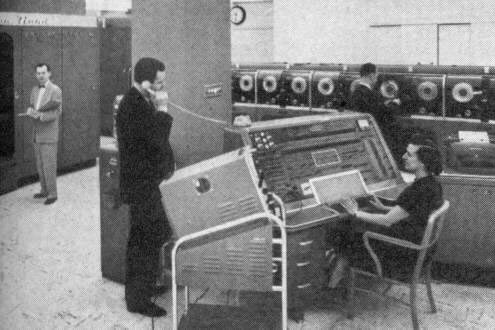 It's carefully supervised by Pee-Wee Herman there in the background.
The articles in Newsweek are always careful to make it clear whether they're talking about "Russian Communists" or "Chinese Communists" before simply calling them "the Reds" for the rest of the story. Which brings me a little thing I call--

This is where I get drunk on whiskey, and beat your Commie head until your Red noodle is a pulp! Just to make sure that I don't get blood on my best three-piece beating suit, I'll grab something to mop it up...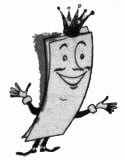 NOOO! The humiliation never ends!
INEXPLICABLE LINKS OF WEEK
Sit-Com Character or Dictator?
Thanks to Karl D'Annucci for the link!

©2001 Bill Young