INEXPLICABLE OBJECT OF THE WEEK
Week of 4/29/01:
WEEK 157
More Signs
"Welcome to Hell Paso," says Heidi Crabtree.
She sent photos from a pair of local businesses.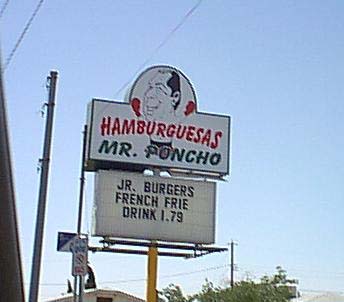 "WELCOME to my restaurant, the only hamburguesas joint where all the food is prepared by shirtless, sweaty ex-boxers!
The sign company screwed up--My name is obviously 'Mr Puncho.'
Now I will sing our happy restaurant song!
'Oh, for dinner, lunch or bruncho,
Visit Mr Puncho!
Eat until you're full;
Our steaks are made from Raging Bull!
I hope you leave a tip,
Unless you'd rather have a busted lip!
From our menu you can chooses
Cuts, abrasions, and some bruises!
I coulda been a contender, but let's face it,
I'm just a chef, come and taste it!
Are you laughing at me?
Are you FUCKIN' LAUGHIN' AT ME?!
I'll kill you! I'LL KILL YOU!!
La la la!
OLE!'"

Next up, we have El Paso's version of the Piercing Pagoda.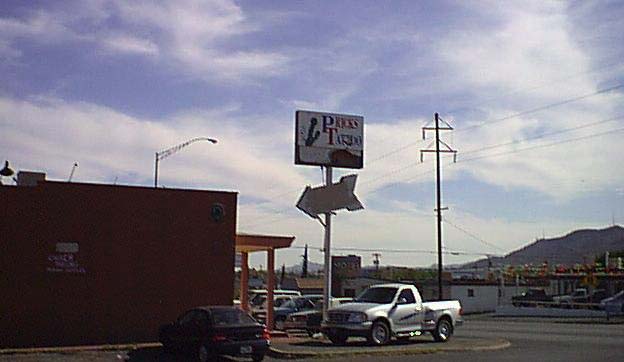 I asked Heidi if I was correct as to what I thought was on the sign...Oh no, she said. That's a cactus.
Then she went back for a closer look...
"You were right. It IS a...tallywhacker. They tried to make it look like a cactus, but when we got under the sign, it is a cactus with a 'head,' and there is a stud earring through the head. All in all, pretty sick. It's a...PRICTUS!"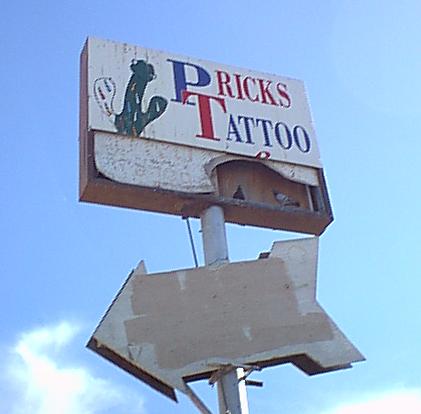 The pigeons nesting in the rotting sign are a nice touch. This really looks like a nice, safe, sterile place to have some dude pound a nail through my dick.
"Free tetanus with every piecing!!"

INEXPLICABLE FETISHES OF WEEK
If my Mail-Order Bride is missing a leg, do I get her for 25% off?
"This site is for who feel beautifully and love women's farts. Please enjoy this site slowly.."
Thanks to Jack Nutting for finding the smut!

©2001 Bill Young