INEXPLICABLE OBJECT OF THE WEEK
Week of 3/4/01:
WEEK 150
Mmmmm...IncrEdibles
"Guh-LUBB!"

"HI KIDS! It's TONGUEY, the friendliest Jello Mold made from Pig Tongues in the WHOLE WORLD!
You'll be happy to know that Tonguey is not alone! No, there are other dishes that combine meat byproducts with dessert!
A big Tonguey lick of thanks to serial submitter Johnny Bananapeel for finding this!
Guh-lub!"
JOHNNY:
"Not far up the road in working-class-and-proud-of-it hamlet of Marina there is an enterprise that calls itself the Grocery Outlet- kind of a Big Lots devoted entirely to food (a frightening thought in and of itself). Sometimes a great bargain to be found there for a man like me with a large family to feed, but always a guaranteed treasure trove of InExObs. Sometimes we play the game of 'How do you suppose it ended up at the Grocery Outlet?' Usually the answer is obvious..."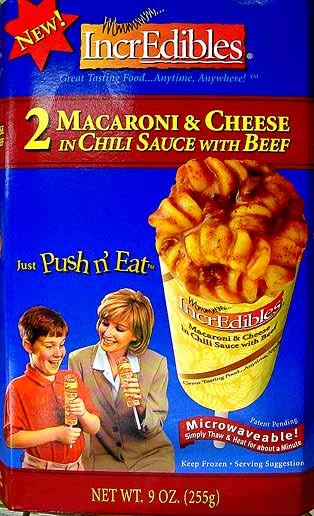 "BLUGG!
Yes, it's a Push-Up Pop made of Beefaroni!
It's a Meatsicle!
Heat 'n' Squeeze that Eatin' Cheese!"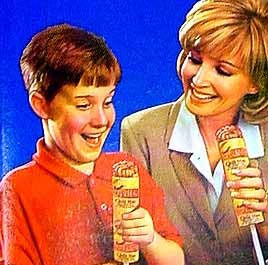 "Boy, and you thought that Kathie Lee Gifford was a meanie mommy, what with the sweat shops and the talking on national TV about Cody's bowel movements!
This is Take 175 of the IncrEdibles photo shoot. By now, exhaustion and the pure horror of the experience have numbed the poor child to the point where he stopped screaming in terror at the sight of an IncrEdible.
Stage Mom was so proud when the kid won a Best Acting Clio Award in the category 'Pretending That A Crime Against Nature Is Tasty'!
Sadly, he was now type-cast as 'The Meatsicle Boy.' The whole scarring experience drove him insane, leading to a criminal record longer than that of the entire combined cast of Diff'rent Strokes."
JOHNNY:
"And of course anybody with anything approaching a working knowledge of Photoslop could not resist the temptation to do this:"

"THAT'S NOT FUNNY, JOHNNY!
Know what's inedible? BANANAPEELS!
How do YOU like being called that?!
We consider ourselves 'Digestably Challenged.'
Now that Meatsicle Boy is gone, IncrEdibles needs a real mascot, one that isn't vulnerable to the frailties of you mere Humans! He should be from the Planet of Meat-Men, like me! Ladies and Germs, I give you--INCREDIBLE EDDY!!"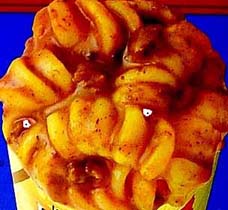 "Bleeeaarrrgghh..."

"Say something to the children of America, Eddy!"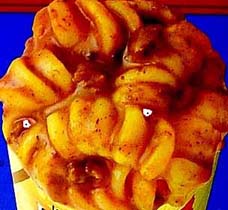 "Glooorrgulll..."

"Uhhh, you have some drooling action going on there, Eddy..."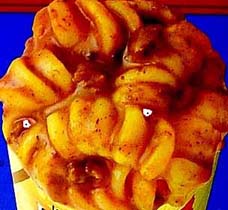 "BAAAARRRRFFFF!!!"

"This is why I went insane!
THEY MADE ME EAT ONE!"

"MEATSICLE BOY!"

"DON'T CALL ME THAT!
I'm a grown man now! And do you what monster I grew into?!"

"GASP! And Guh-LUBB!
Did you become Jeffrey Dahmer? Slobodan Milosovic? Adam Sandler??"
"WORSE than ALL of them!
(Except Adam Sandler)
I became..."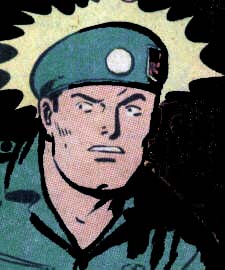 "...TOD HOLTON, SUPER GREEN BERET!"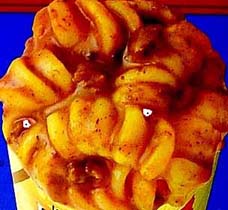 "EEEEEEEEEEEEEEE!!!"

INEXPLICABLE LINKS OF WEEK

©2000 Bill Young