INEXPLICABLE OBJECT OF THE WEEK
Week of 2/25/01:
WEEK 149
BAD MONKEY!
Well, ha ha on you! Thanks to Karen Maneater's Japanese Mall, I now have my very own package of Sanrio rubbers! Not Hello Kitty-styled ("The convenience stores stopped carrying Badtz Maru condoms," says Karen), but something even better. Or worse.
If you were around in the mid-Eighties, maybe you remember a line of toy monkeys...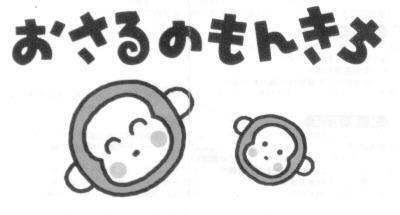 MONCHICHI RUBBERS!!
That says "Osaru no Monkichi", according to the closest thing I have to a Japanese translator, Luna.
(Other translations will appear in italics above each picture)
On this side of the instructions, we have cute, oh-so-spankable monkeys. On the back, we have this:

That's, uhh, rather graphic.
Although I kinda pity Dirk Diggler-San if his schlong really sticks out sideways like it does in #4.

I am without scent!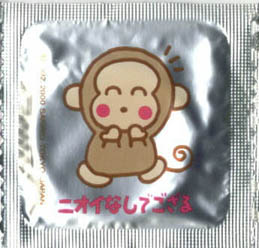 OH!!
Monchichi is the happy of monkey! Pretty Office Lady is agree on date with! Monchichi now have the pleasure of the sex perhaps!

Have peace of mind!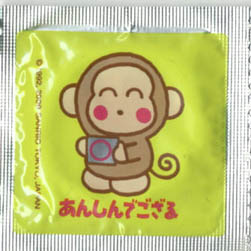 I HAVE RUBBER!
Monchichi is so smart to buy the pack of condom rubber that is the Monchichi brand of quality weiner wrapper! Proud of best is he!!

Give it your best!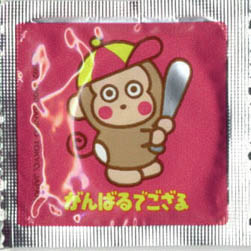 OHH!!!
Office Lady will find that Monchichi wang is of BASUBALL BAT SIZING! There is "home run" to "third base" of hitting on her tonight I think!

"Something about it having importance. They could mean reading the instructions, or practicing safe sex, or handling lice-ridden monkeys."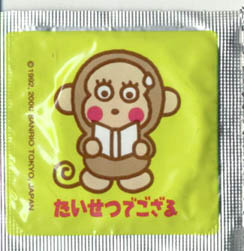 IT IS ASTONISH!
There is too many of Kama Sutra book pleasures to see! Drawings of coital niceness make Monchichi to have big sweat on brow, and to grow the eyelashes large!

Have etiquette!

TIME FOR THE CLEAN!!
Monchichi is the brush of teeth while drinking coffee! Wait, teeth all cleaned, so now brush ear drums to make the pearly whiteness everywhere!
OH OH!
It is the ring of the doorbell! Here is Office Lady walk in, but she all NAKED without clothing! NOW is TIME for GETTING IT ON for MONCHICHI! Hot monkey sex endures soon!!

Have modesty!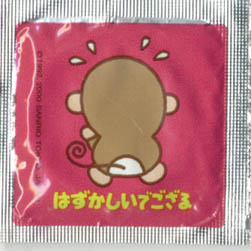 BUDDHA DAMN IT!
These condoms are harder to get on than the instructions enlight!!

Have paradise!


WHAT IS!
There is defective of rubber! Sperm leaks to make accidental childs! And all are Siamese quadruplets joined at the ears! Plus one is a mutant of frightening eyebrow!!

There is transparency!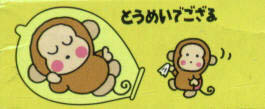 WHAT IS NOW!
Monchichi fly away in condom?!
OH! Is Monchichi but dreaming in the bed? YES!
Is this Office Lady all dream too? YES! she is!
It was all a dream, and a dream of wetness!
Monchichi will mop up sheets with his Kleenex!!

THE NOT-EXPLAINABLE LINKS OF WEEK FOR YOU!
All The Many Hello Kitty Of Mimi!
Thanks to Luna (again!) for the link!
Thanks to about a dozen people over the years who've recommended it for the link!
(You can stop recommending it now)

©2001 Bill Young