INEXPLICABLE OBJECT OF THE WEEK
Week of 1/7/01:
WEEK 143
It Had To Happen
SDawson sent me an email with "You never forget your first..." as the subject line. The attachment was named babyorgan.jpg. He added the following:
Copy on box:

My first baby organ 

Specifications:
- Little baby outlock
- 7 Note press key
- One function key with famous melody
- Perfect tones & accurate Musical scales
I sighed. Yeah, ha ha, baby organ. I suppose I could crack a joke about it waking up in a bassinet full of ice and missing a kidney or something.

Then the picture loaded.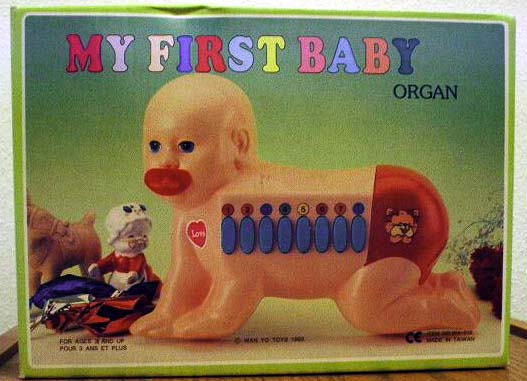 AAAAAAAAAAUUUUUUUGGGGGHHHHHH!!!!!!
WHAT THE FUCK!!!
I thought that the joke was "Organ" but--IT'S AN ORGAN!!!
(looks again)
AAAAAAAAAAUUUUUUUGGGGGHHHHHH!!!!!!
What the hell is this freak of technology?! Where does the sound come out of? MY GOD, WHAT IS WRONG WITH THIS WORLD?!
Remember the fart bombs of a couple weeks ago? Maybe it's made by the same company!
Maybe...maybe I don't want to know where the sound comes from.
So it finally had to happen.
I'm speechless.

INEXPLICABLE LINK OF THE WEEK

©2001 Bill Young