INEXPLICABLE OBJECT OF THE WEEK
Week of 8/20/00:
WEEK 123
Not Affiliated With Any Motion Picture
James Rice is this week's Inexketeer:

"Yes, this is real.
I don't know who's idea it was, but I couldn't believe
it when I first saw one at a park.
I checked the Internet, and
there were 69 web pages for it.  Some
times you just have to wonder what the world is coming to..."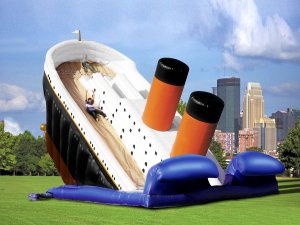 "Participants climb to the top of the stern through the cabin of the great ship. The first one to get to the top of the stern of the Titanic has one last feat to accomplish. The wild 30' ride down the deck of the awesome dual slide! Add the Iceberg Challenge and incorporate an obstacle course into you attraction. Participants must climb the iceberg, slide down and encounter an array of life preservers before entering one of the broken smokestacks. Titanic Adventure Slide and Iceberg Challenge TM are not affiliated with any motion picture."

NEXT RIDE: The LUSITANIA Roller Coaster! When will the secret ammo cargo EXPLODE? You won't know until you spot the UBOAT!
The ANDREA DORIA Bumper Cars! WHOOPS! You've been hit,
and this bumper car ride simulates the actual incident by randomly KILLING the riders!
WHEEEE!
Ride the ACHILLE LAURO Pirates of the Mediterranean ride!
It's FUN to make the guy in the wheelchair walk the plank! SPLOOSH!
And don't forget the HINDENBURG PARACHUTE JUMP!
You'll cry
"OH, the Hu-FUN-ity!"
All this and more at America's greatest theme park!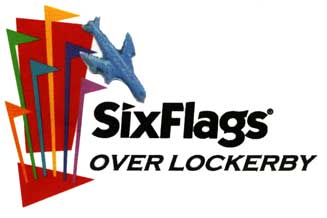 And don't forget the snack bar,
where every day we're throwin' a Donner Party!
Inexplicable Link of the Week

©2000 Bill Young