INEXPLICABLE OBJECT OF THE WEEK
Week of 7/16/00:
WEEK 118
A Potholder
And when does one use a potholder?
When you're making dinner, of course.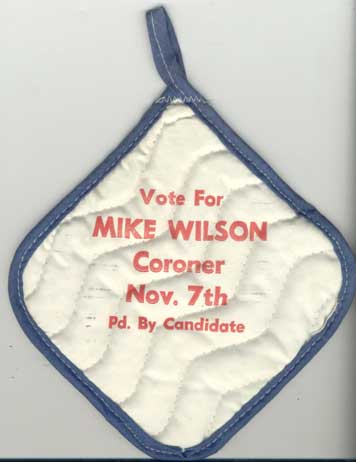 ...And when I'm cutting up some bloody meat for dinner, the image I want constantly in my mind is some guy with his fists shoved up some stiff's intestines.
All this needs is a pair of "Quincy and Sam" salt and pepper shakers, and a matching "Kiss the Corpse-Cutting Cook" apron.
Uhh, I would've thought that you had to go to some kind of Cadaver College before you became coroner, but in this city, apparently you actually get to vote for your favorite defiler of corpses.
"Vote for Mike Wilson, a necrophiliac for the next century.
MIKE WILSON: For a Deader America."
Inexplicable Link of the Week

©2000 Bill Young